Joanne Catherall, one of the two female vocalists of the English synthpop band 'The Human League', has shared her outrage on Twitter after Qantas Airways denied her entry to a business class lounge in Melbourne Airport because she was wearing Ugg boots.
The pop star took to the social networking service to vent about her experience."Denied access (to) Qantas business class lounge in … Melbourne Airport," she wrote. "Apparently Ugg (Australia) Boots are deemed sleepwear by the lady working there although no problem in any of the other lounges so far. Helpfully she suggested I go to one of the shops and purchase some shoes."
Joanne Catherall also shared a photo of the sheepskin boots she was wearing:
Joanne Catherall's UGG sheepskin boots that got her banned from an airline lounge in Melbourne Airport
The Australian airline deems UGGs sleepwear and has banished them from its business class lounges. Following the recent sheep killing controversy, it seems like UGG boots are the most controversial footwear in the world.
Americans can relax though, airport lounges in the United States seem to have no problem with sheepskin boots. Just take a look at the following celebrities who all proudly wore their UGGs to the airport. Dwight Howard, an American professional basketball player, even sported a pair of red sheepskin slippers.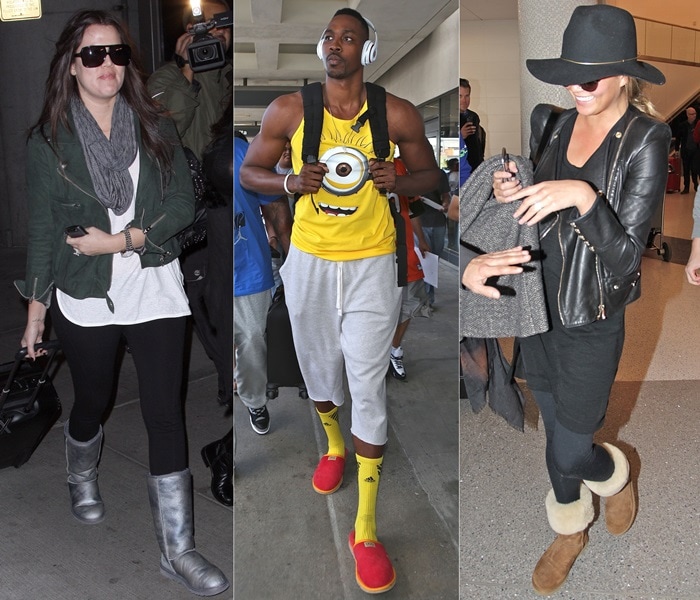 Celebrities wearing UGGs at the airport: Khloe Kardashian arrives at JFK airport on December 9, 2009 / Dwight Howard, wearing a Ugg red slippers and a minion top, at Los Angeles International Airport (LAX) on September 8, 2014 / Chrissy Teigen arrives at LAX airport in Los Angeles on January 23, 2015

Credit: JDH / JCP / WENN