Designer sneakers are like designer handbags. Once you have one, it becomes an obsession. While sneakers are now some of the most sought-after designer items, they didn't always have a cult following.
The Origins of Sneaker Culture: Air Jordans
The phenomenon of 'sneakerheads' who battle it out to buy the must-have sneakers of the season can be traced back to the original cult-favorite sneakers: the Air Jordans.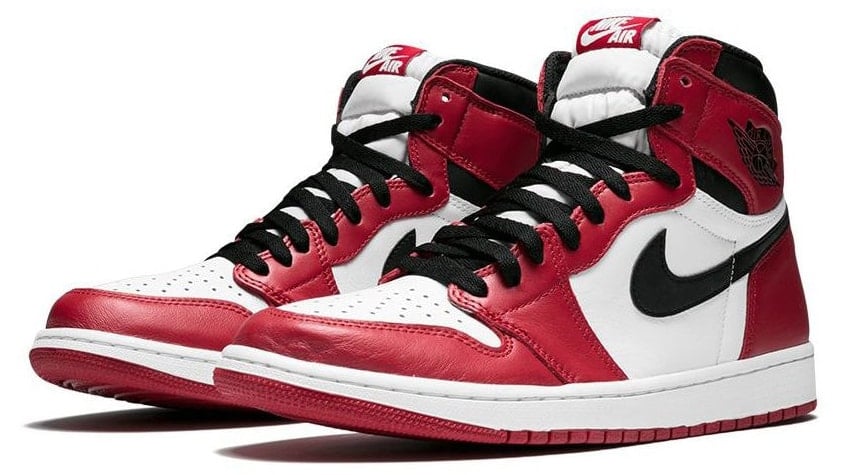 The Nike Air Jordan shoes are the original cult favorite and are considered the biggest catalyst for sneaker culture
These iconic sneakers are still going strong today. It is one of the most successful celebrity collaborations of all time. The Nike x Jordan partnership would start the trend of celebrities collaborating with athleisure brands and fashion labels.
No sneaker collection is complete without at least one pair of Air Jordans. We're deep-diving into the world of these highly collectible shoes.
How do you spot fake Air Jordans? How much can you expect to pay for them? Read on to learn everything you need about Air Jordan sneakers.
The Iconic Air Jordan Logo
Air Jordan was launched in 1985 as a collaboration between Nike and the legendary basketball player Michael Jordan. The silhouette used for Air Jordan is inspired by Michael Jordan's iconic 'Jumpman' stance.
The Air Jordan logo is as recognizable and iconic as the Nike logo. It's become a legendary symbol within the streetwear community.
The Air Jordan logo is reportedly inspired by a ballet move where Michael Jordan jumped and spread his legs while holding a ball in his left hand
Nike designed the original Air Jordan sneakers for Jordan's 1985 season with the Chicago Bulls. This style has been reintroduced several times, including this year with the upcoming 'Chicago Jordan 1' design.
Identifying Authentic Air Jordans
The popularity of Air Jordans means that it's not uncommon to spot fakes. The best way to avoid fake Air Jordan sneakers is to buy your shoes directly from Nike or an authorized retailer.
If you're buying on the resale market, you must know how to spot a replica pair of Air Jordans. There are several things you should be looking out for:
1. Logo Embossing
Air Jordans will usually feature the iconic 'Jumpman' logo. Some designs also incorporate the wings and basketball logo. Regardless of what logo features on the shoes, the embossing should be deep into the leather.
Aside from the iconic Jumpman logo, Air Jordans also incorporate the wings and basketball logo deeply embossed on the heel strap
2. Stitching
Nike is one of the world's most reliable activewear brands and is famous for its quality. You can spot fake Air Jordans by their poor stitching.
Air Jordan shoes should have neat stitching, with two lines of stitching on the heel straps
One area you want to pay attention to is the heel strap stitching. You should see two lines of stitching across the tab, while fake Air Jordans typically only use one.
3. Interior Tongue Label
You always want to check the labels when authenticating Air Jordan sneakers. The inner tongue label will help you determine if a pair is fake. Genuine Air Jordans will use a slim text style that is evenly spread across the label. Fake styles will use a more compressed font.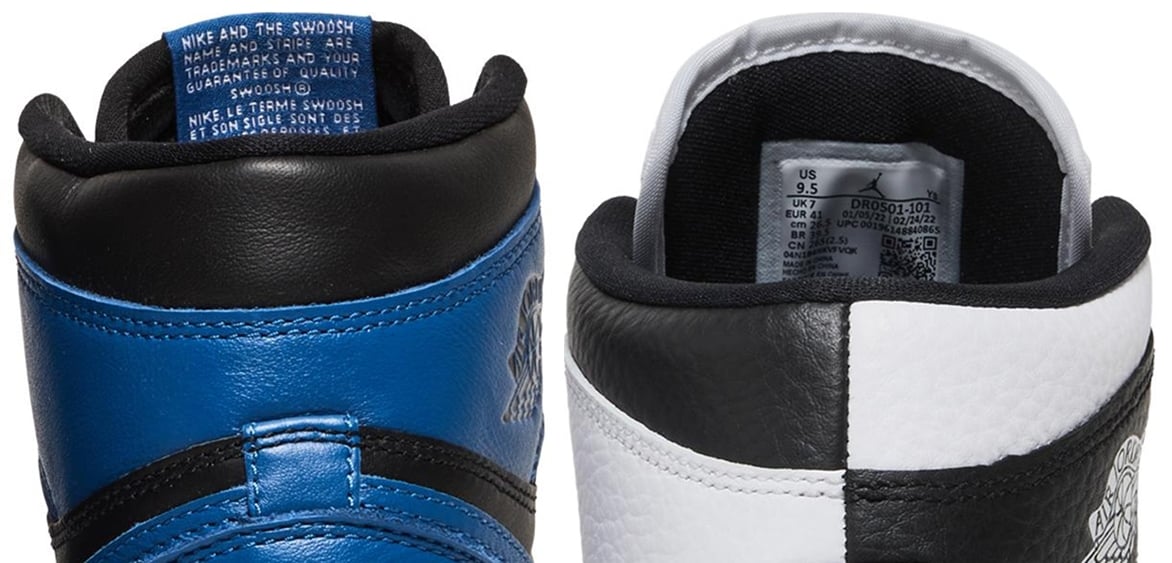 The interior tongue of Air Jordan shoes should feature a 'made in' label done in a slim text style
Another common error on the interior tongue label is the 'made in China' text. It should also read 'Fabrique En Chine' below the English. If the 'en' is lowercase, it's usually a sign of a fake.
Where Air Jordan Shoes Are Manufactured
A 'made in China' hallmark usually means an item is fake, but this isn't true with Air Jordans.
These sneakers are manufactured by Nike and not a luxury fashion house. It means that most Air Jordan shoes are made in Asia, most commonly in China or Vietnam. Most Air Jordans that you find on the market today will be made in China.
Pricing and Value of Air Jordans
Most Air Jordan sneakers retail between $135 – $200, depending on the style. The popularity of Air Jordan sneakers means they make up a sizable portion of Nike's footwear collection for men, women, and children.
It means that Air Jordan sneakers are only marginally more expensive than what you would pay for other streetwear sneakers. Most Nike shoes retail for roughly $110, making Air Jordans only a little more expensive.
The Air Jordan 1 Zoom Comfort in Stadium Green (left) retails for just $115, while the Air Jordan x Off-White collaboration (right) sells for $2,500
You can expect to pay a higher price tag for designer collaborations, particularly with luxury fashion houses. Virgil Abloh was deeply involved in several collaborations, including with Supreme and Off-White.
It's worth noting that Air Jordans do depreciate in value. It's not uncommon to see rare Air Jordan sneakers go for thousands of dollars on the resale market. You can start building your collection with more affordable new releases before hunting down older styles.
The 4 Most Popular Air Jordan Styles
There are dozens of Air Jordan styles to choose from. If you're buying your first pair, you'll likely pick up a new style directly from Nike.
We're rounding up some of the most popular Air Jordan styles, from new releases to cult favorites. You can also find many of these shoes at Nordstrom.
1. Air Jordan 1 Mid, $135 – $500 at Farfetch
The Air Jordan 1 Mid is the most common style and is often re-released each season in a new colorway. These sneakers are inspired by the original AJ1 sneakers and blend contemporary trends with their classic design.
The Air Jordan 1 Mid features the original '80s Air Jordan 1 DNA blended with contemporary elements
You can find Air Jordan 1 Mid sneakers in a variety of colors, from subtle neutrals to bold neons. These sneakers retail between $135 – $500, making them a great first pair of Air Jordans.
2. Air Jordan 1 Chicago, $2,180 at Farfetch
The most sought-after style is the Air Jordan 1 Chicago. These sneakers are being re-released in October for the first time since 2015. You'll want to grab these shoes in the iconic red and white colorway.

The most iconic Air Jordans of all time, the Chicago colorway is the cornerstone of any sneaker collection
3. Air Jordan 11 CMFT Low, $180 at Farfetch
If you want a more understated look for your Air Jordans, try the 11 CMFT style. This current style takes a more contemporary approach with a traditional gym sneaker silhouette.

Inspired by the classic Air Jordan, the Air Jordan 11 CMFT has a patent leather toe, webbing lace loops for quick lacing, and the signature Jumpman logo
4. Jordan II Concord, $449 at Farfetch
These sneakers are just as legendary as the plane they're named after. The Jordan II Concord sneakers were launched in 1995 as a revolutionary new sneaker silhouette. Although they were last released in 2018, they're a style that collectors still fight over.

A remastered version of the Air Jordan 11 worn by Michael Jordan in 1995 and 1996, the Air Jordan 11 Concord features the number 45 — the uniform number Jordan initially wore when he returned from his first retirement in 1995 — replacing the traditional 23 on the heels
The Timeless Appeal of Air Jordans
Air Jordans are designer sneakers that everyone should have in their closet. The Nike collaboration has been going strong since 1985 – with no sign of slowing down. These sneakers sit at an attainable price point, making them an ideal addition to any collection.
Start your collection by exploring the latest Air Jordan styles at Nike.