Have you designed your own shoes before? This trend has gained popularity over the last couple of decades or so, as companies realized that people want to express their individuality through their footwear.
Many brands offer customization and the technology and user interface on the websites continue to improve year over year.
Below, we've included some of our favorite options for custom shoe design in 2021 and 2022. Our favorite brands for custom design today are Nike, Vans, Converse, and PUMA.
1. Nike By You Custom Shoes
Nike is one of the pioneers of retail custom shoes. Their original branding for custom footwear was called NikeID, which launched online in 1999.
Today, their custom option is called Nike By You and customers have the option to create their own footwear online.
Nike By You allows you to personalize and design your own Nike sneakers
"Put more you in your shoe," reads Nike's webpage for custom footwear. It continues, "Whether you make it loud or keep it neutral, customize a shoe that's more like you with Nike's co-creation service."
Have you ever wanted to design your own Air Force 1, Blazer Mid, Air Max, or any other Nike shoe? Now you can. The web interface walks you through every element of the shoe to make it uniquely yours.
Down to the laces, color of their signature swoosh, and even personalization, by the time you click 'purchase,' these shoes will be unmistakably yours.
Customize a shoe that's more like you with Nike's co-creation service
To create the best design possible, Nike has a series of short, fun videos to help you get started and get your creative juices flowing.
The Nike design team provides tips and tricks to help your vision come to life. You can also draw inspiration from other people's custom designs, shown on their website and under the social media hashtag #nikebyyou.
2. Vans Custom Shoes
Vans is credited with originating made-to-order sneakers. It was founded in Anaheim, California, in 1966, and the retail store was right by the factory. So, if a customer wanted something a little different, they would simply make them for the customer.
Steve Van Doren, one of the founders of Vans, told Sneaker Freaker, "In the sixties, we had Catholic schools that had uniforms, so we'd make shoes out of their plaid uniforms and stuff."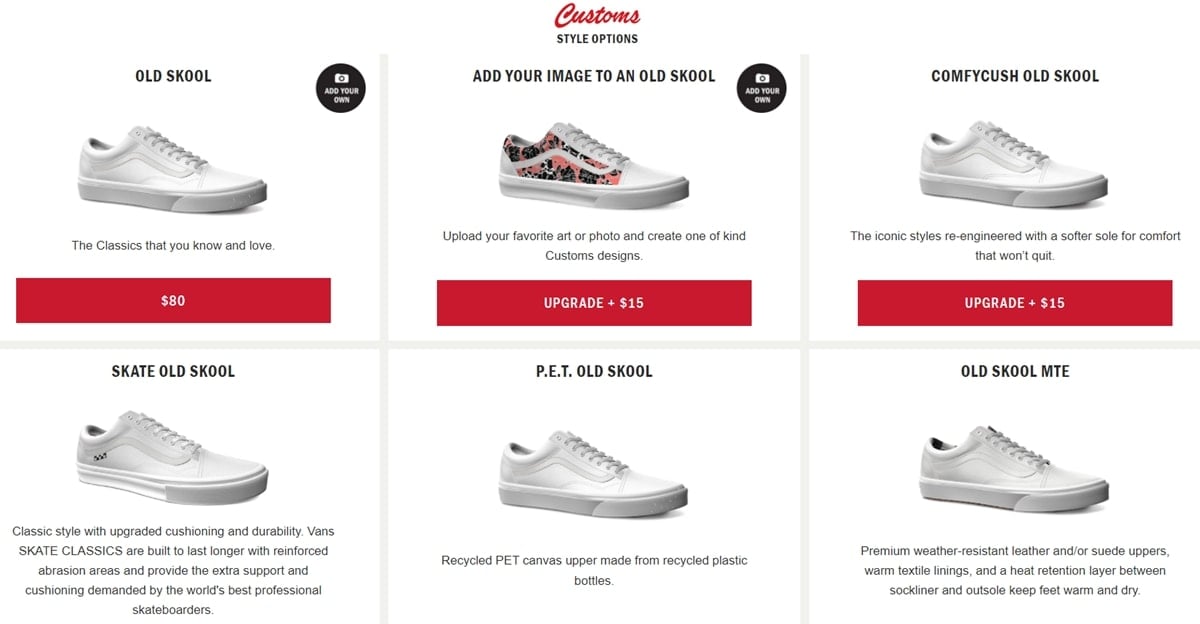 From bright solids to bold patterns, customize your favorite Vans shoes for a one-of-a-kind look
Van Doren continued, "I remember a lady coming in with a mink coat who had just divorced her husband and didn't want the coat anymore. She made a pair of Vans out of that mink coat. I remember Jackson Browne sent some pants down to us that was a snakeskin-looking fabric and we made shoes out of that for him."
Today, you can design your own Vans online using their web tool. The Customs feature allows you to add your favorite image, create your own pattern, or design your own checkerboard for your custom footwear. You can see other customers' creativity by following the hashtag #VANSCUSTOMS.
3. Design Your Own Converse
Whether you are a skater looking to show off your custom kicks, or a bride or groom wanting to stay comfortable and custom on your wedding day, or somewhere in between, Converse has a customization offer for you.
Their website allows for customization of all their popular styles like the new platform lugged Chuck Taylor or the more traditional slip-on style.
Choose from unique colors, patterns, and materials and add personalized text to create a Converse shoe you can call your own
To design, you begin by selecting the silhouette that calls to you. Some prefer the low top, while others like the high top or platform. You can then select the patterns, materials, and colors that excite you most.
Suede and leather are both options, and then you can personalize by adding your name and customizing the shoelaces and stitching. Men, women, and children can all customize shoes with Converse.
4. Create Your Own PUMA
PUMA is another great option for custom footwear. As their website states, there are no rules and it is pure fun for all ages. Get inspired by exploring other customers' designs before you even begin.
You can design your favorite PUMA shoes and share your designs with others
Design your own slides, cleats, basic everyday shoe, or something else. There are a variety of options to get you started. Customers are encouraged to upload a photo of their own design for a chance to be featured on the website.
Other Ways to Customize Shoes
If your favorite footwear designer doesn't offer customization on their website, there are still ways you can bring your creativity to a pair of their shoes.
You can switch out the laces with a different color to make the shoe pop. You can also doodle on your shoe with markers or paint that is suitable for clothing or whatever material your shoe is made from. Lastly, you can add some studs or pins to amp up your shoe and make it your own.
While Adidas no longer offers custom shoes, in June 2021, they launched a wearable Adidas Originals LEGO Superstar sneaker.
The wearable LEGO Superstar sneaker in adult sizing features a classic white and black leather construction with custom three stripes, sheltie, and heel tab, carefully crafted to emulate the LEGO brick pattern (Credit: MEGA / WENN)
Keep your eye out on your favorite shoe websites to see if customization becomes an option over the next year or two. This trend isn't going anywhere, and we expect to see more and more companies offer this option as a treat for their customers.
Custom shoes are a great gift; just remember, for some companies, the customization element makes the shoes unreturnable. Be sure to double-check the policies before ordering to save yourself a headache and wasted money later.