White sneakers are a timeless trend that works with almost any outfit. The trends point to comfort over aesthetics, with the athleisure and loungewear trends showing no sign of slowing down.
We have sent our once beloved stilettoes to the back of the closet and replaced them with stylish white sneakers.
The right pair can take you from a casual day at the office to dinner with your girlfriends. Every woman needs at least one pair of white sneakers in their wardrobe.
Now you know that the white sneaker trend is here to stay and have a few ideas of how to style them, you're ready to click the 'add to cart' button. There are hundreds, if not thousands, of sneakers, for you to choose from.
Finding the right pair of white sneakers for your personal collection is an important step in curating the ultimate wardrobe, and we're here to help you find your perfect match. Here are the 13 best white sneakers for women:
1. Experience Iconic Style and Unmatched Comfort With Nike Air Force 1, $95 on Farfetch
The Nike Air Force 1 sneakers have been in circulation for decades, and they've always been stylish. There's a reason they keep getting manufactured.
Debuting in 1982 as a groundbreaking basketball shoe that revolutionized the industry with the introduction of Nike Air technology, the Nike Air Force 1 has evolved into a versatile lifestyle sneaker, continuously reinvented and offered in various iterations to cater to diverse style preferences and fashion-forward individuals
Though there have been different iterations since their inception, any pair of Air Force 1s will add a major coolness factor to your 'fit. Chunky without being too much, every cool girl needs these Nikes in her closet.
2. Step into Timeless Elegance and Unrivaled Comfort With Reebok Classic Leather Shoes, $80 on Zappos
A leather sneaker is always a good idea. The Reebok Classic leather shoes are perfect for any woman in the market for an iconic piece of footwear that still looks as stylish as ever.

Embodying timeless appeal, the Reebok Classic Leather stands as an iconic retro style renowned for its clean and minimalist design, exuding a sense of effortless elegance that has captivated sneaker enthusiasts for generations
These sneakers are perfect for casual outfits and will keep wearers comfortable for hours, thanks to their rubber soles. They're the perfect shoe for a busy day.
3. Elevate Your Style With Puma CA Prow OW Sneakers, $119 on Farfetch
While many sneaker options feature stark white hues, not everyone prefers such brightness.
For those seeking a more understated choice, the Puma CA Prow OW sneakers provide a subdued and sophisticated option, deviating from the norm with their subtle color palette and versatile appeal.
Exuding a touch of elegance, the Puma CA Prow OW showcases exquisite craftsmanship with its leather construction, accentuated by a captivating gold-tone logo adorning both the sides and rear, adding a luxurious and distinctive touch to this stylish sneaker
These chunky sneaks incorporate the perfect amount of gray to make the overall effect a bit softer. These Pumas make for just as clean a look as a classic white sneaker but a little less in-your-face.
4. Adidas Grand Court Cloudfoam Lifestyle Court Comfort Shoes, $70
The Adidas Grand Court Cloudfoam Lifestyle court comfort shoes will never go out of style.
Able to be paired with leggings, jeans, dresses, skirts, and more, their versatility is unmatched in the white sneaker department, and they come at an affordable price.

Featuring a remarkable commitment to sustainability, the Grand Court shoes by Adidas are crafted using a combination of recycled materials, while the inclusion of Adidas' Cloudfoam Comfort cushioning ensures unparalleled all-day comfort that's truly exceptional
If you want an updated version of the classic Adidas black stripes, check out some of the newer stripe options with different colors and patterns.
5. Step Into the Classic Appeal of Vans Slip-on Shoes, $64.95 – $69.95 on Zappos
Vans knows its worth in the white sneaker game. The brand's slip-on shoe has acted as a simple dressing piece for women for decades, and they're not disappearing any time soon.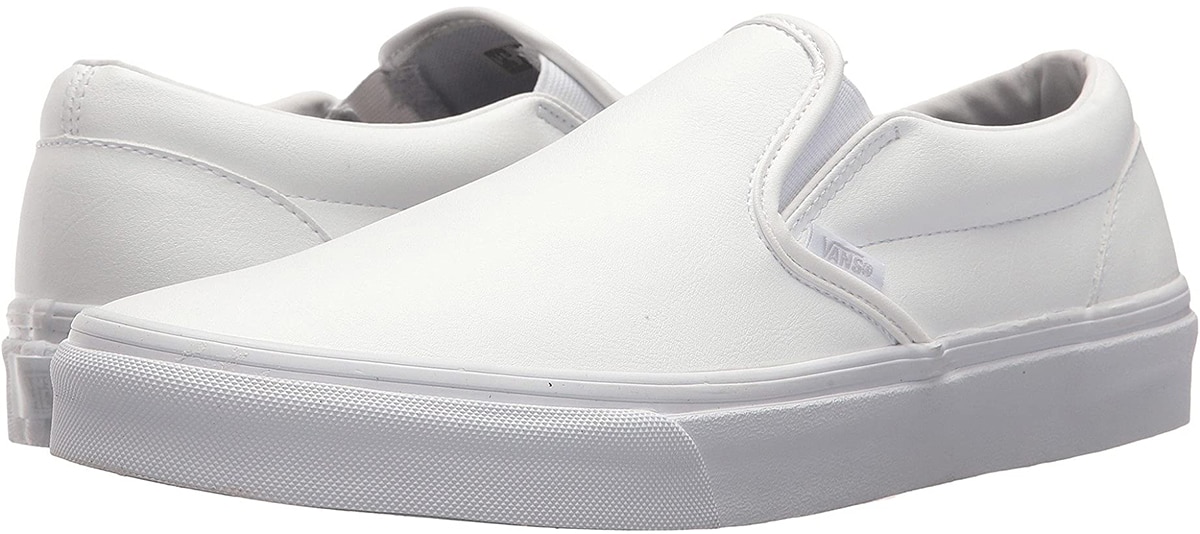 A beloved and enduring style, the Vans Classic Slip-On showcases a relaxed and casual profile, accentuated by a padded collar and footbed, while its gum rubber vulcanized outsole provides exceptional grip, making it the ultimate choice for comfort and traction
Sleek and comfortable, these are the perfect sneakers to slip into before a full day, and they look great with a multitude of outfits. They're a great shoe to keep by the door to put on at a moment's notice.
6. Unleash Your Chic Side With Tory Burch Howell Court Sneakers, $198 – $238 on Zappos and Nordstrom
The Tory Burch Howell court sneaker offers a more sophisticated take on the classic white sneaker.
Made with leather, these shoes feature pretty details on every part of the foot, including delicate stitching on the sides, the designer's name on the aglets, and gold logo hardware on the pull tabs.
Inspired by the timeless allure of '70s tennis shoes, Tory Burch's Howell Court combines vintage elegance with modern functionality, boasting a lightweight cushioned midsole and a high-rebound EVA outsole that ensures traction and stability
Though a little pricier than some shoes, these Tory Burch sneakers will become your go-to white sneaker.
7. Experience Featherlight Comfort and Natural Style With On Cloud Cloud 5 Undyed, $139.95 on Zappos
On Cloud entered the white sneaker chat and changed the game. With its uniquely recognizable sole, the brand has carved itself into a major section of the market, and it's now known for creating some of the most comfortable sneakers in the world.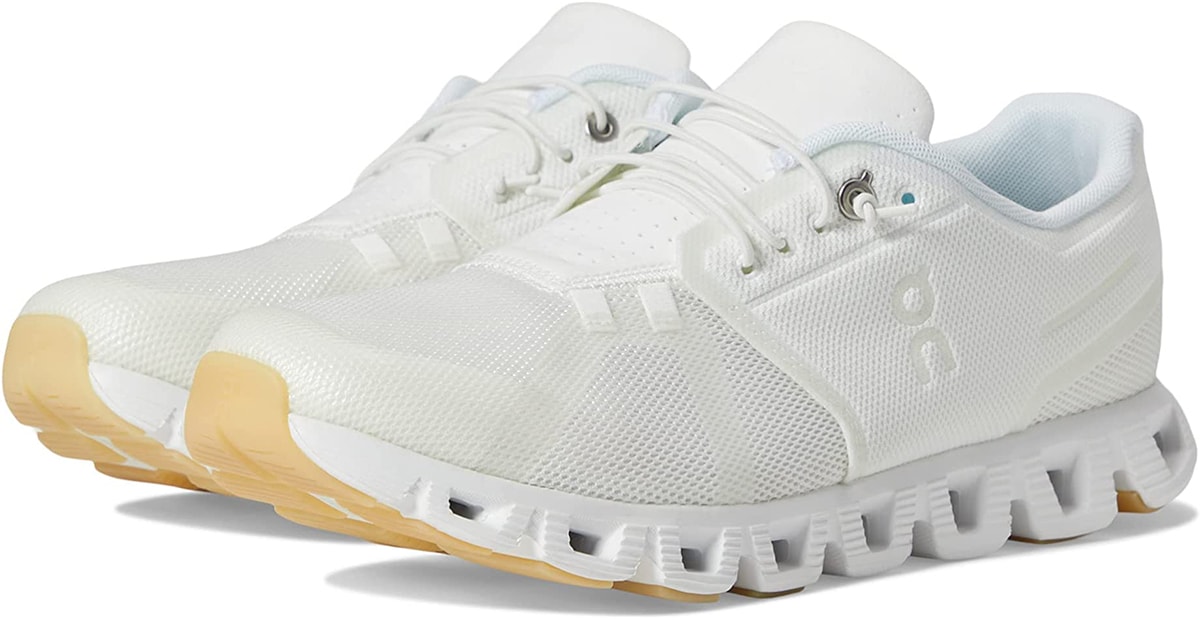 Embracing sustainability and style, On's best-selling Cloud 5 sneakers undergo a re-engineering process to offer an undyed aesthetic, featuring a textile upper and On's distinctive signature soles, creating a harmonious blend of eco-conscious design and exceptional comfort
The On Cloud 5 Undyed is one of the brand's best offerings, and the shoe has been lauded for its sustainability.
8. Cole Haan Women's GrandPro Contender Oxford, $57 – $160 on Amazon
Leather sneakers are nice, but many prefer soft shoes. If you're after a white sneaker made with fabric softer than leather, opt for the Cole Haan Women's GrandPro Contender Oxford.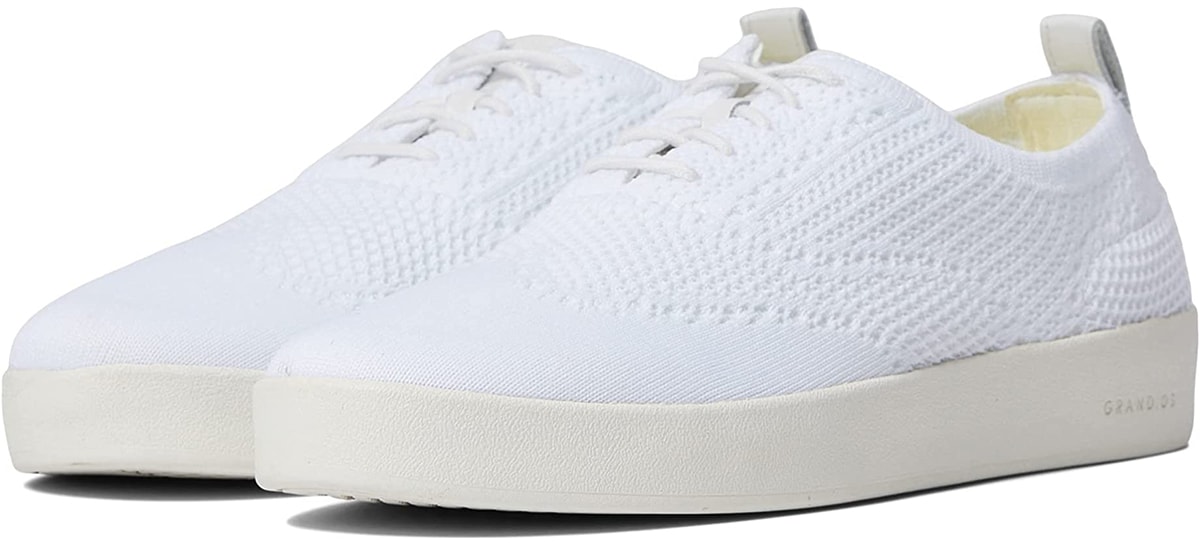 Crafted with utmost attention to comfort and style, the Cole Haan Grandpro Contender Oxford showcases a sleek design, incorporating Stitchlite knitted textile for enhanced breathability, while its molded EVA footbed ensures all-day comfort that surpasses expectations
These shoes are nothing but comfortable thanks to their knit upper, and they won't require much breaking in. Put them on the second you purchase them – you won't take them off.
9. Keds Women's Champion Originals Sneaker, $54.95 on Amazon
Keds is one of the first brands to popularize canvas sneakers, and when you purchase a pair, it's clear why. The Keds Women's Champion Originals sneaker is comfortable, easy to wear, and keeps well for years.

Keds' timeless Champion Originals made their debut in 1916 as a groundbreaking innovation, marking the first-ever rubber-soled canvas shoe, and have since become an iconic symbol of style and comfort
It's well made and can be easily cleaned in the washing machine. To top it off, this shoe comes at an incredibly affordable price.
10. Sam Edelman Ethyl Lace Up Sneaker, $70 on Nordstrom
Sam Edelman has proved time and again that it knows how to make shoes. The brand makes designer-quality shoes at affordable prices and has a wide offering of iconic pairs, including the Sam Edelman Ethyl lace-up sneaker.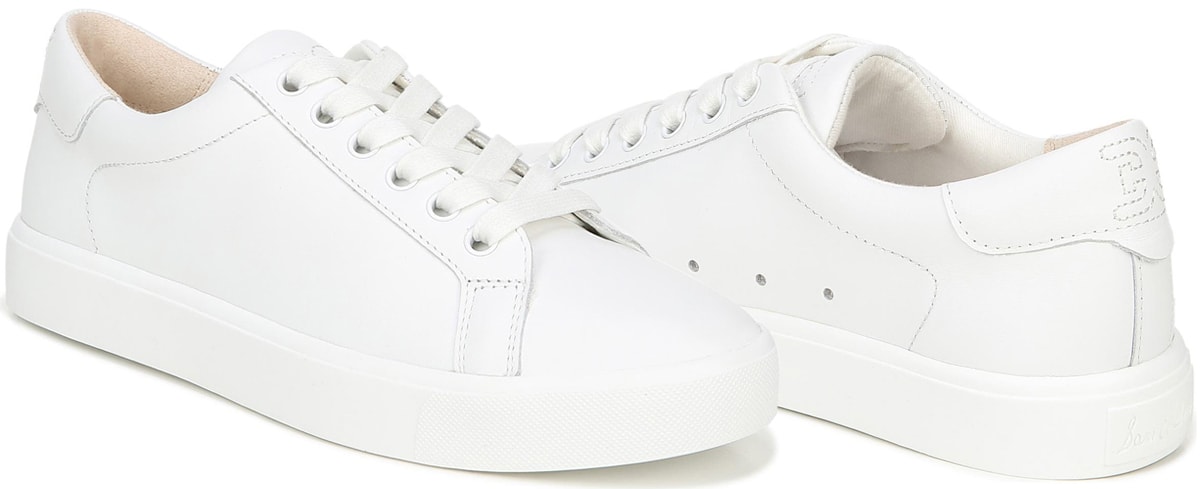 Exuding a fashionable vibe, the Ethyl sneaker from Sam Edelman showcases sleek and clean lines, crafted from reconstituted leather, making it a trendy choice for the fashion-forward individual
Experience this great shoe's unparalleled comfort and effortless style, and witness its timeless appeal grow even stronger over time.
11. Fila Women's Memory Workshift Slip Resistant Shoes, $33.90 – $109.95 on Amazon
The Fila Women's Memory Workshift slip-resistant shoe is not for everyone. But for those who are fans, there's no other white sneaker worth having. These are chunky and bold and have made a major fashion resurgence in recent years thanks to Gen Z.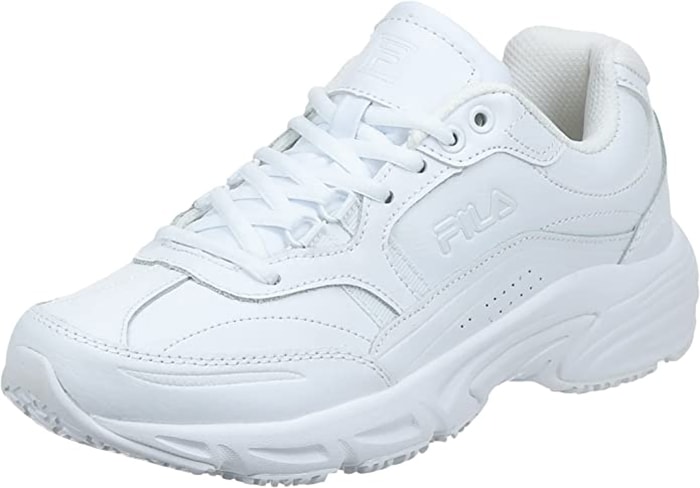 Designed to provide both style and functionality, the Fila Memory Workshift work shoe stands out as a chic option that offers slip-resistant features, ensuring optimal comfort throughout long shifts
Love them or hate them, these sneakers have stood the test of time – their impact on the fashion industry can't be denied.
12. Michael Kors Emmett Logo Slip-On Sneaker, $135
Everyone has a fashion item they can't live without, and for some, it's a good old pair of white logo sneakers. The Michael Kors Emmett Logo slip-on sneaker is a perfect example.

Michael Kors' Emmett sneakers effortlessly combine comfort and style, as they are expertly crafted from the brand's signature-print canvas and feature a rubber platform sole
A structural cross between the Vans slip-on shoe and the Adidas Grand Court Cloudfoam Lifestyle court comfort shoes, these sneakers are adorned with the Michael Kors logo print, ensuring everybody knows exactly where they're from.
They're a stylish twist on the classic white sneaker.
13. Converse Chuck Taylor All-Star Classic, $65 on Nordstrom
Let's be honest; the Converse Chuck Taylor All-Star Classic is the most iconic pair of white sneakers in history. With their high top, carefully placed logo, and red and blue accents, no shoe is as recognizable as these sneakers.
Converse's Chuck Taylors, the original basketball shoe, captivate with their timeless silhouette, featuring the iconic All Star ankle patch and signature red and blue stripes
Comfortable and versatile, Chuck Taylors look just as good when they're dirty as they do when they're pristine. No other white sneakers will evolve with you quite like these.