Sam Edelman is a footwear brand driven by experience, inspired by luxury, and valued for fit, quality, consistency, and integrity.
Married shoe designers Libby Edelman and Sam Edelman attend the 2018 Footwear News Achievement Awards at IAC Headquarters on December 4, 2018, in New York City (Credit: Ron Adar / Shutterstock)
Since its inception in 2004, the American shoe designer's eponymous shoe label has been the modern woman's go-to brand for iconic gladiators, chic flats, and trend-forward yet laid-back shoes.
1. Is Sam Edelman a High-End Brand?
No, it's not a luxury brand. While shoes from the label may look luxurious, Sam Edelman is known for relatively affordable prices.
2. Who Owns Sam Edelman?
Sam Edelman is owned by Caleres, an American footwear company that also owns and operates Via Spiga, CARLOS by Carlos Santana, and Fergie Footwear.
3. Are Sam Edelman and Libby Edelman Related?
Yes, they are married. The couple met for the first time in 1979 when Libby attended a preview of Sam Edelman and his father's shoe brand, Lighthouse. At the time, she was an editor at Seventeen.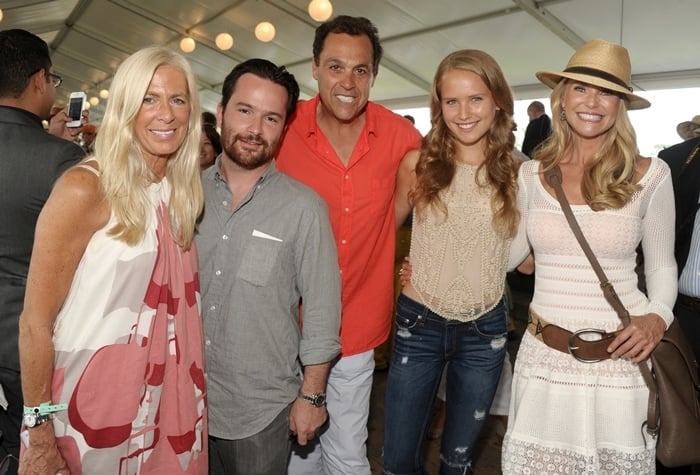 Libby Edelman, Jesse Edelman, Sam Edelman, Christy Brinkley, and Sailor Cook attend the 38th Annual Hampton Classic Horse Show – Grand Prix Sunday on September 1, 2013, in Bridgehampton, New York (Credit: Rob Rich / WENN)
Sam Edelman and Libby married in 1980 after just one year of dating. In 1987, they launched their first shoe brand, Sam & Libby, which was sold to Maxwell Shoe Company in 1996.
4. Where to Buy Sam Edelman Shoes?
You can find the best selection of shoes at Sam Edelman, Amazon, Nordstrom, Bloomingdale's, and Zappos.
Headquartered in New York City, Sam Edelman operates retail stores across the United States (Credit: JHVEPhoto / Shutterstock)
5. Who Is Sam Edelman?
Sam Edelman is an American shoe designer who has dominated the industry for the last forty years.
He co-founded his namesake shoe brand in partnership with his wife and style muse, Libby Edelman. It's a lifestyle brand devoted to bringing whimsical designs to life with a classic American feel.
The brand strives to bring together aspiration and attainability to redefine the idea of modern luxury.
You'll find 13 flagship Sam Edelman stores across the United States, with the brand's international presence growing across Asia and the Middle East.
Sam Edelman is owned by Caleres Inc. – an American footwear company that owns several American brands, including Diane von Furstenberg and Fergie Footwear.
6. Why Your Closet Needs Sam Edelman Shoes
The attraction to Sam Edelman is that their shoes can rival some of the more expensive name brands.
Since its launch in 2004, Sam Edelman has grown a loyal fan following amongst celebrities, influencers, and magazine editors.
Sam Edelman could be your new signature brand if you're looking for attainable luxury shoes with the same look and quality as high-end shoes.
7. Which Celebrities Own Sam Edelman Shoes?
Sam Edelman is the go-to attainable luxury footwear brand for dozens of celebrities.
You'll regularly see numerous A-listers stepping out in the same pair of budget-friendly Sam Edelman shoes. The 'Ariella' sandals are a popular style owned by Meghan Trainor, Ashley Graham, and Issa Rae.
Other celebrities, including Carrie Underwood and Camila Cabello, are loyal fans of the brand.
Designer Sam Edelman's eponymous brand has since 2004 defined laid-back luxury and timeless American style
Sam Edelman even has the royal seal of approval from Meghan Markle, the Duchess of Sussex, and Pippa Middleton, the sister of the Duchess of Cambridge.
The 'Yaro' ankle-strap sandal is among the most popular styles for celebrities, including Amanda Stanton and Emily Blunt.
8. What Is the Difference Between Sam Edelman and Circus by Sam Edelman?
Circus by Sam Edelman is a diffusion line within the brand, designed for the trendsetter at heart.
These shoes have a more rebellious edge than the classic and understated designs that you'll find in the mainline.
Circus by Sam Edelman embodies a youthful spirit with a signature wit and whimsy
Sam Edelman describes its sister brand as being for "the cultural renegades and the bold spirits with fashion wanderlust".
You can think of 'Circus by Sam Edelman' as the chic younger sister to Sam Edelman, who parties all night and is always ahead of the trends. With this diffusion brand, you'll find playful and edgy designs with their finger on the pulse, allowing you to explore your creativity and quirky personality.
If you find the mainline shoes too classic or understated for your tastes, you'll be right at home with Circus by Sam Edelman. These shoes are unapologetically bold and will ensure you're always the center of attention.
Sam Edelman is the perfect brand to experiment with if your shoe closet needs a refresh. These high-quality shoes will carry you through every season while working for any occasion.
Whether you prefer the mainline or the younger 'Circus by Sam Edelman' collection, they offer something for every personality.
17 Sam Edelman Shoes We Love