Do you want to feel like you're walking on a cloud? Your everyday walking shoes don't have to be uncomfortable. The latest athleisure shoes are designed to empower you every step of the way.
One of the most popular sneaker styles is 'On Cloud,' the best-selling shoe from the brand On.
The On story starts in the Swiss to revolutionize running with soft landings to re-create the effect of running on clouds.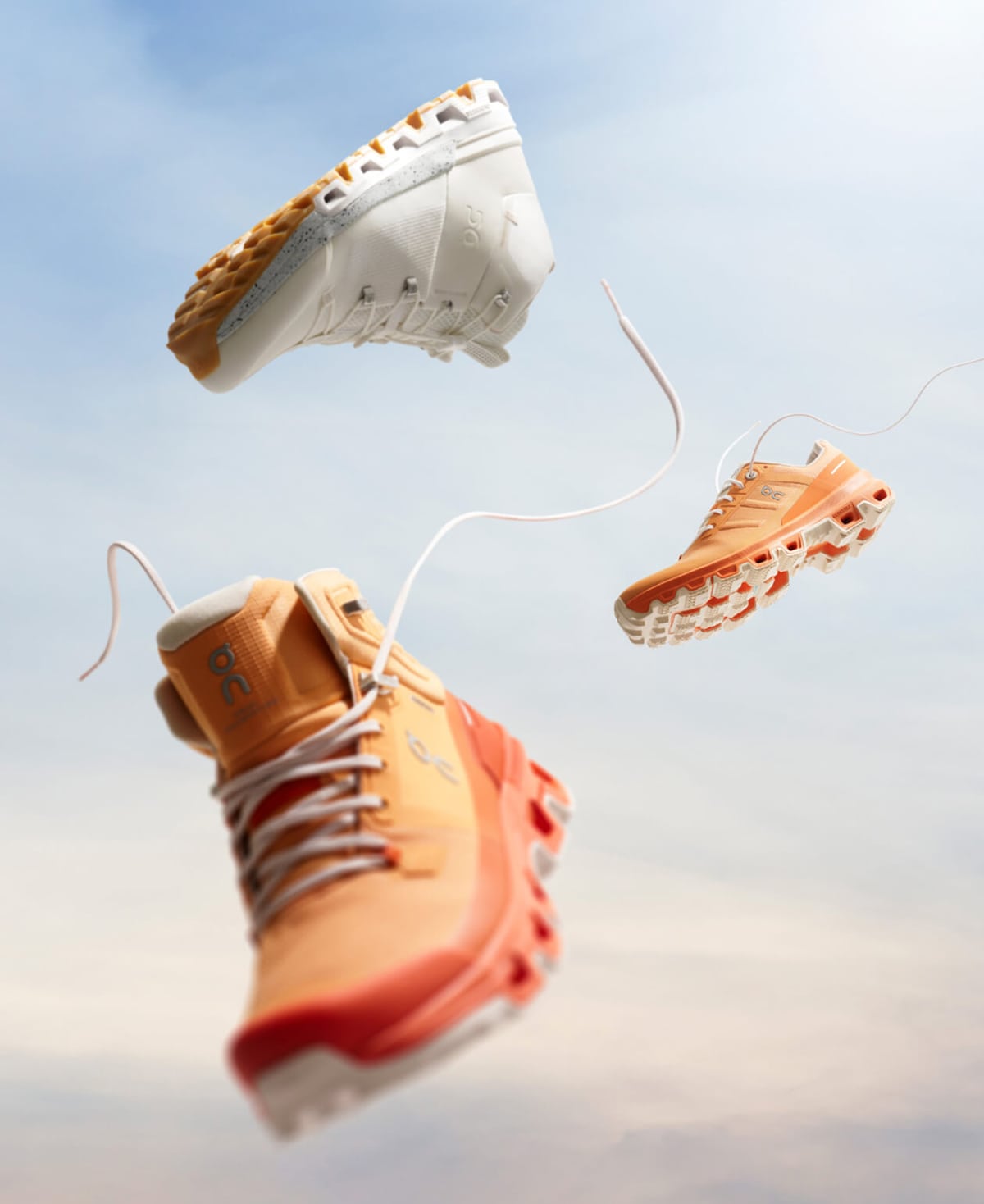 On Cloud shoes are a major rival for mainstream sports brands like Nike, Adidas, and Brooks Running (Credit: On-Running)
The brand has grown in leaps and bounds since 2010, with a community of over seven million runners across over 50 countries. The brand's 'On Cloud' shoes are a major rival for mainstream brands, including Nike, Adidas, and Brooks Running.
We're exploring everything you need to know about 'On Cloud' and why their shoes are so popular.
On Cloud Shoes: The Science of Running Comfort
On's permanent footwear range for women includes the Cloudmonster, Cloudstratus, Cloudgo, Cloudflow, Cloud 5, and Cloudnova shoes.
The brand also offers a range of limited-edition styles, including 'The Roger,' an all-day wear sneaker designed for travel in collaboration with Roger Federer.
On has collaborated with Swiss professional tennis player Roger Federer for a range of limited-edition styles (Credit: On-Running)
The 'On Cloud' sneakers are the world's lightest fully-cushioned running shoes. The style was launched in February 2014 and won the ISPO Gold Award for the 'Best Performance Shoe for 2015/16'.
In 2017, On released its next generation of sneakers with an improved 'Cloud' style and an all-new performance 'Cloud X' sneaker designed for runners.
The Cloud X sneaker is lightweight and ultra-reactive, designed to provide the stability and agility runners need
The brand has been stepping up the game, releasing new styles every year while updating old favorites with innovative waterproof features.
The Unique Technology That Makes On Cloud Shoes So Popular
On sneakers are popular because of their simplistic but revolutionary idea – shoes that offer a cushioned landing but firm take-off for optimal support.
The brand has also gained a following because of its sustainability as a forward-thinking activewear brand.
On works towards reducing its CO2 footprint through different initiatives on a product and operational level. Their sneakers are made using recycled polyester, organic cotton, and wool, where possible.
On shoes have become popular for their sustainability, with a mission to work towards 100% certified organic cotton and 100% mulesing-free wool (Credit: On-Running)
The brand's sustainability mission includes working towards 100% certified organic cotton and 100% mulesing-free wool. On is also using vegan fabrics in its sneakers and running shoes.
One of On's most popular features is the 'speed-lacing system.' The feature appears across the On Cloud family of sneakers and is designed to allow you to easily slip your shoes on and off in a flash. The speed-lacing system is exclusive to the On Cloud sneakers.
If you have wider or slimmer feet, you can swap the speed-lacing system out for conventional shoelaces.
On Cloud is also known for its speed-lacing system that allows for easy slip on and off
On Running: A Swiss Startup That's Revolutionizing the Running Shoe Industry
On Running is owned by a former professional athlete, Olivier Bernhard, and his friends, David Allemann and Caspar Coppetti. Bernhard is a three-time world duathlon champion and multiple Ironman winner.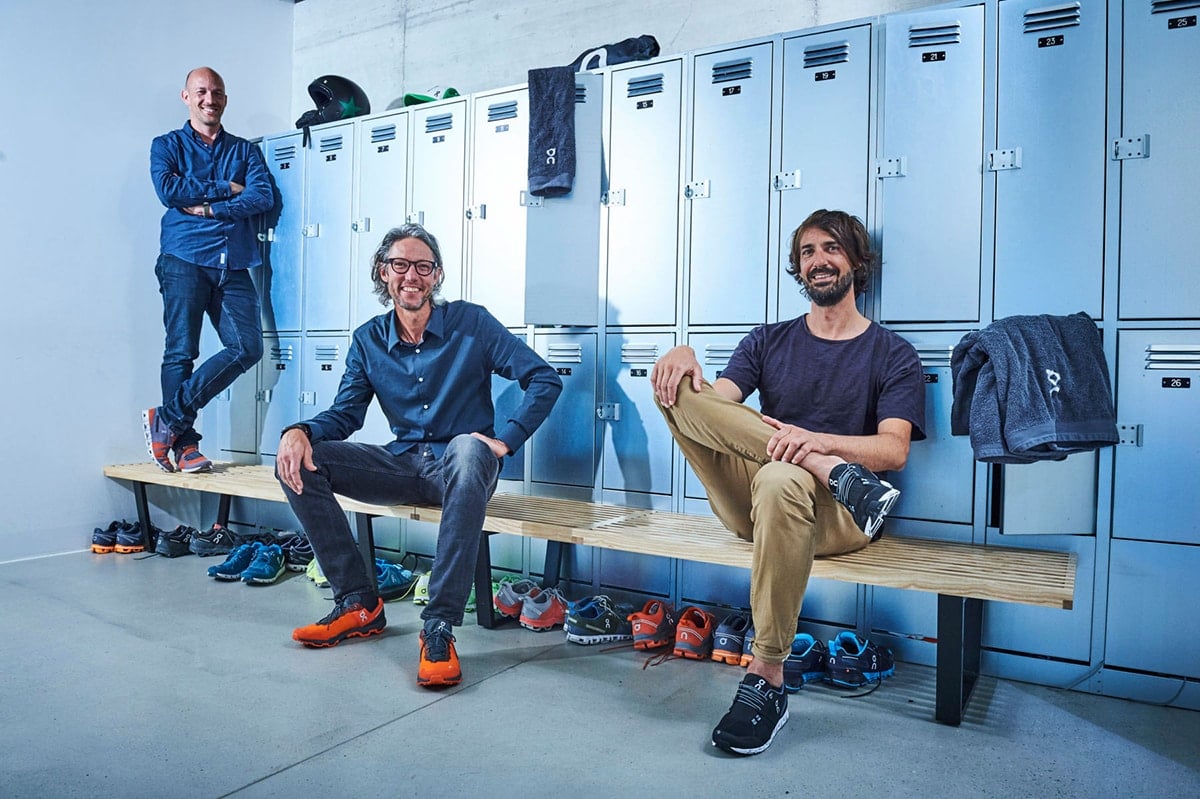 David Allemann, Swiss Ironman champion Olivier Bernhard, and Caspar Coppetti founded On Shoes in 2010 (Credit: On-Running)
They launched On in Zurich in early 2010 to create a range of products fully engineered in Switzerland. The first 'On' sneakers hit shelves in July 2010. A decade later, ' On' sneakers are sold in over 8,700 retail stores across more than 50 countries.
The popularity of 'On' has led to the brand expanding beyond sneakers to activewear and running socks.
On Cloud Shoes: Swiss Design, Asian Manufacturing
'On' manufactures its shoes across the world and is transparent about its international factories and warehouses. The brand has several factories, including one in Latvia that specializes in performance apparel.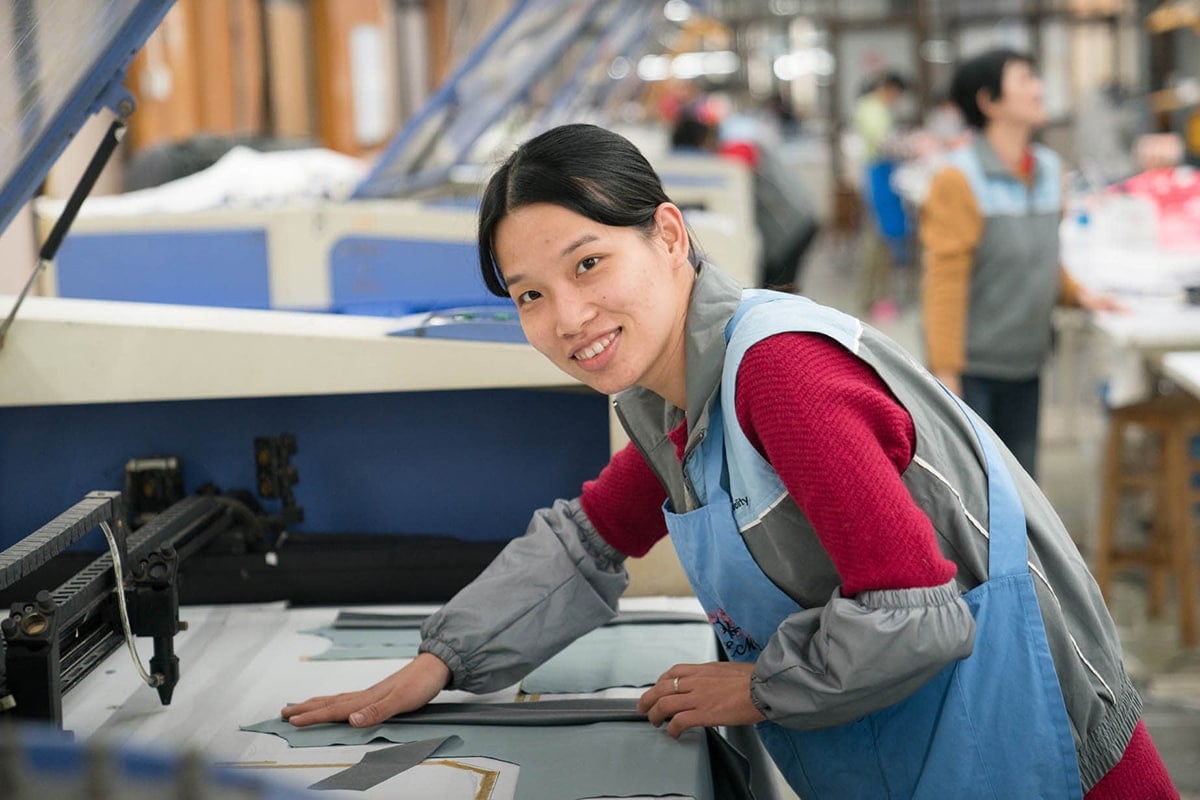 On running shoes have factories in Vietnam and China (Credit: On-Running)
Most of the On Cloud shoes are manufactured in Asia, with factories in Vietnam and China. You can use On's transparency and responsibility section of its website to explore its factories, offices, and warehouses.
5 Brands That Offer the Same Level of Comfort and Performance as On
On is a relatively new brand on the running scene. There are dozens of brands similar to 'On,' offering innovative sneakers designed to enhance performance. If you're a fan of these brands, you'll be right at home with On.
One of the most popular brands of running shoes is Brooks. The American-based company focuses on innovation and research, developing shoes designed for the multi-tasking modern fitness goer. Brooks is also famous for creating shoes designed for runners of every level.
Brooks shoes are designed for the multi-tasking modern fitness goer
Hoka is another relatively new name in the activewear industry. These shoes have a similar cushioning to the On Cloud sneakers and are designed for long-distance running and all-day walking.
If you love lightweight shoes and own a pair of Hoka, you'll want to slip into the On Cloud shoes.
Hoka shoes have a similar lightweight cushioning to the On Cloud sneakers
Topo Athletic is a brand designed to make running feel like second nature. These sneakers feature a wide-toe box that offers more power, better balance, and extra performance. You can take these shoes through any terrane.
Topo Athletic shoes help runners run naturally with wide-toe boxes and heel-to-toe drops
Karhu is a running shoe brand with a rich history, but it's a brand you might not have heard of. The brand was established in 1916 and is beloved by Olympians and everyday gym-goers alike.
What makes Karhu unique is the brand's 'fulcrum' technology that reduces vertical oscillation to keep you moving forward. Karhu is one of the most popular European footwear brands and uses its fit id outfitting process to create more comfortable shoes.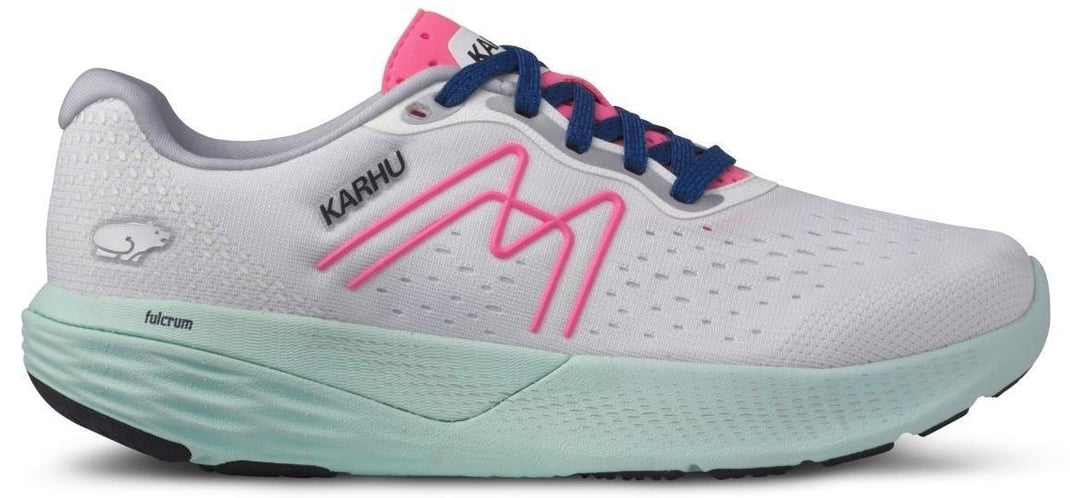 Karhu is known for its use of the 'fulcrum' technology that reduces vertical oscillation
Fans of On's running shoes are often part of ASICS' running community. The brand's high-quality sneakers are a favorite amongst fitness fanatics. ASICS is known for its technologically driven designs, with each style offering different characteristics.
Want shoes made for your workout style? Check out ASICS!
ASICS is known for its technologically driven designs
Where to Buy On Cloud Shoes: Best Online and Offline Retailers
As 'On' gets more popular, it's becoming increasingly easier to find 'On' Cloud sneakers. We're rounding up the best places to buy 'On' cloud shoes and how you can find your local stockist.
The best place to buy On Cloud sneakers is from the official 'On' website. The website ships to over 50 countries and is constantly expanding. You can also use the website's 'where to buy' feature to find your nearest local stockist.
2. Department Stores and Shoe Stores
Renowned department stores and shoe stores like Nordstrom, REI, and Foot Locker offer a wide selection of On Cloud sneakers, making them a convenient option for customers.
3. Online Shoe Stores
You can explore the latest On Cloud sneakers by shopping on Amazon and their subsidiary Zappos. It's worth looking out for discount codes and special promotions that can be applied to On Cloud shoes.
Are you looking for shoes that feel like walking on a cloud? Look no further than the On Cloud running shoes.