By now, you're probably ready to start styling knee-high boots with your favorite dresses.
As a timeless shoe style, knee-high boots are a shoe worth splurging on. Whatever your budget is, we've drawn together a list of our five favorite brands for knee-high boots.
1. Stuart Weitzman
If there's one brand that offers every style of boots, it's Stuart Weitzman. This classic American brand sits at an attainable luxury price tag, making them a perfect splurge purchase.
Their most popular knee-high boots are the 'Parton' style, with its sculptural heel and a pointed-toe. Available at Shopbop, they make these shoes in Spain, and they are the perfect match for any of your favorite dresses.
Red Patron knee-high boots from Stuart Weitzman made from croc-effect leather
If you prefer a thicker block heel, the 'Willa' knee-high boots are available in both nappa leather and suede at Farfetch. These pull-on boots have a pointed toe and angled block heel.
These shoes get an update every season, with a classic color and a quirkier option to wear with any dress.
2. & Other Stories
For a budget-friendly option, check out & Other Stories. The high-street brand releases at least one style a season.
Most of their boots are classic and timeless silhouettes, making them a perfect choice for investment shoes that you can wear with any outfit.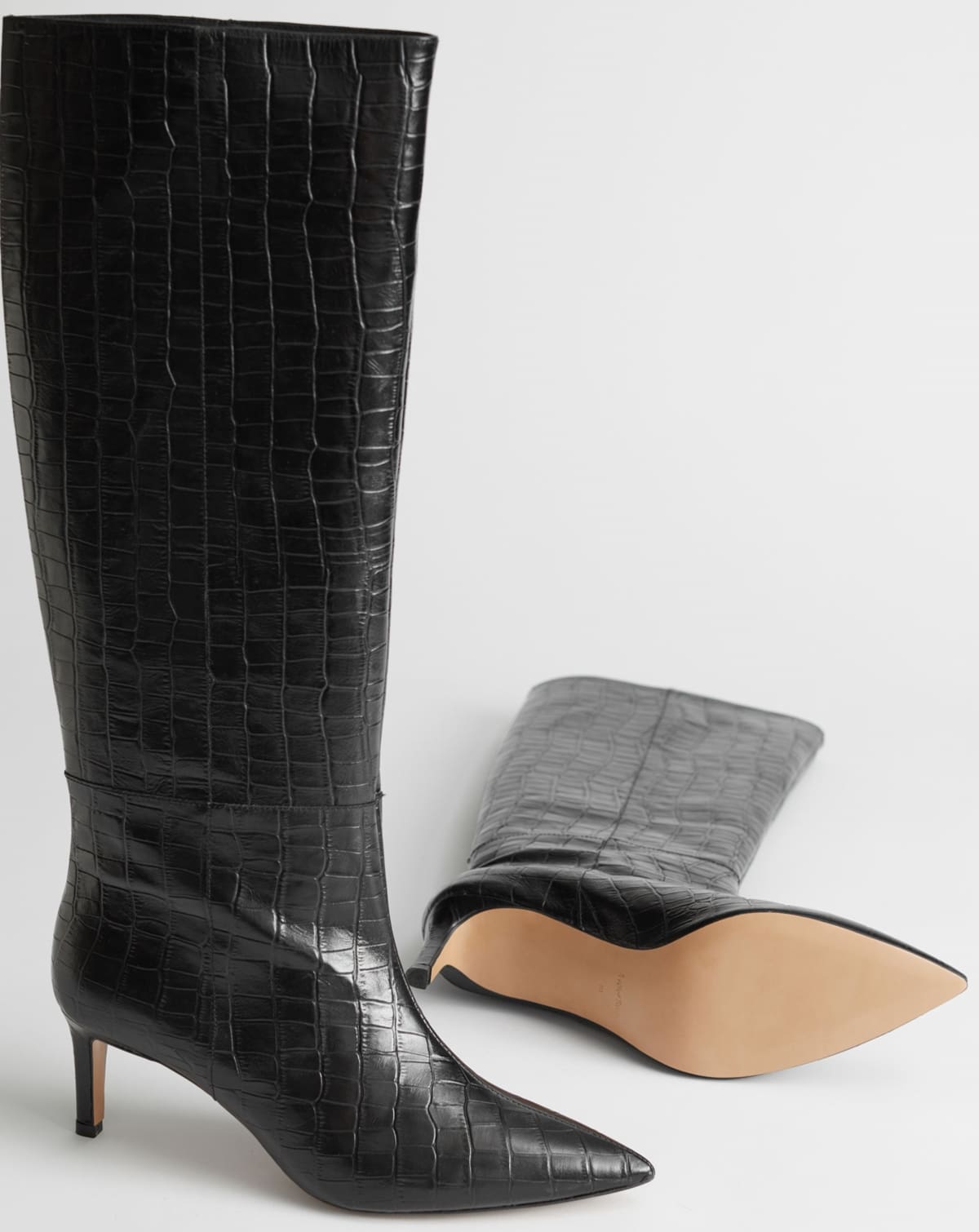 Croc-embossed leather boots with slim, '90s-inspired stiletto heels and a pointed silhouette
The brand's croc leather knee-high boots are designed in Stockholm and add an extra layer of texture and dimension to any dress.
3. Jimmy Choo
Another designer shoe brand with an extensive knee-high boot collection is Jimmy Choo. The British design house makes classic boots with polished accents that complement any dress.
Their 'Mahesa 85' boots at Mytheresa have a unique silhouette with shiny calf leather, slightly squared-toe, and thin stiletto heel. These knee-high boots are utterly chic, giving you a contemporary look with a nostalgic feel.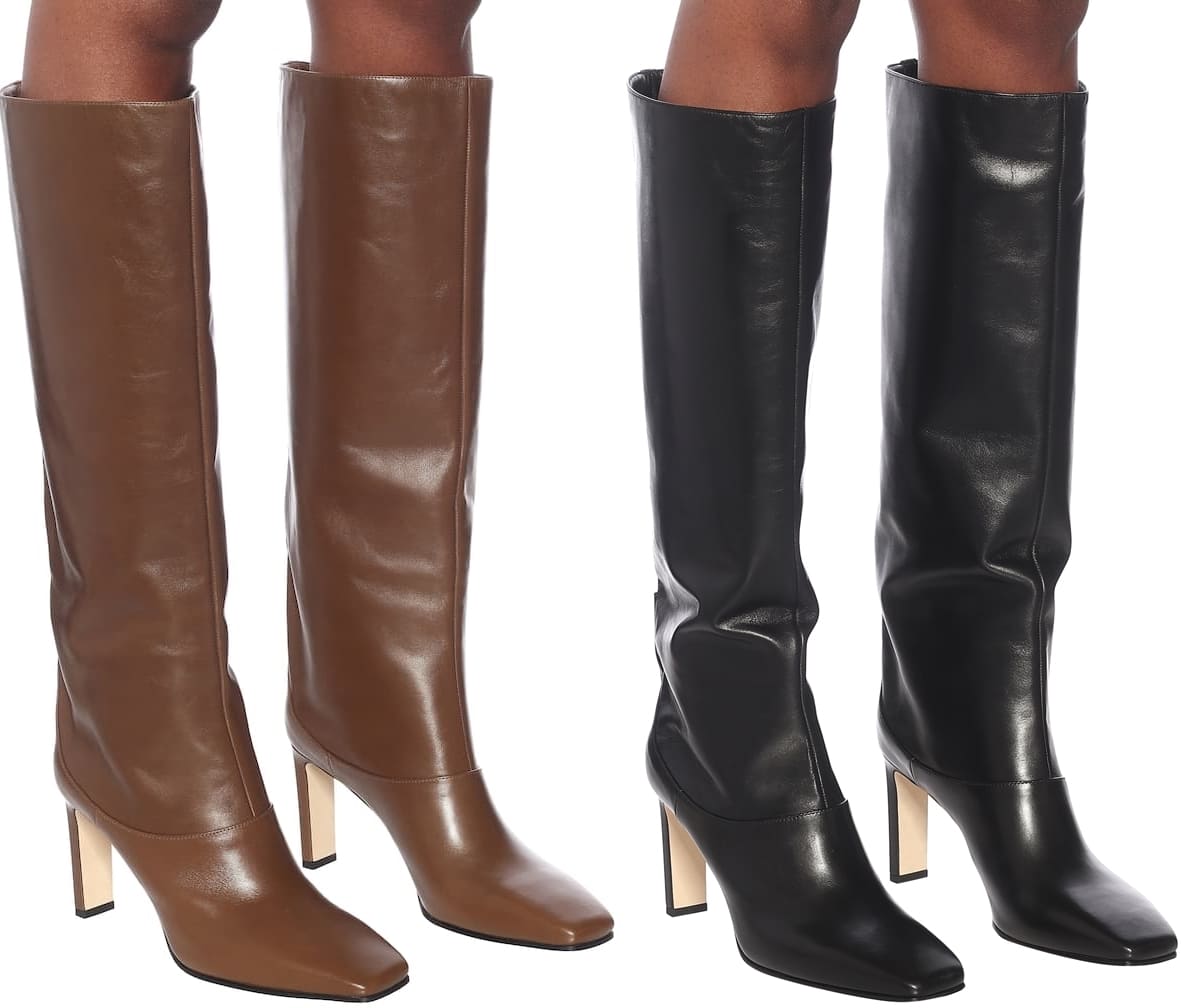 These buttery leather Mahesa knee-high boots from Jimmy Choo are a sleek and sophisticated investment
Although Jimmy Choo shoes are a splurge purchase, they'll stand the test of time and be your go-to choice for pairing with dresses and flowy skirts.
4. Amina Muaddi
One of the most exciting shoe designers of the moment is Amina Muaddi. After several successful collaborations with Rihanna's brand, Fenty, the shoe designer is coming into a league of her own.
Amina's hallmark is her structural heels and sharp pointed toes. Her croc-effect leather knee-high boots at Mytheresa have all the signature features of an Amina Muaddi shoe.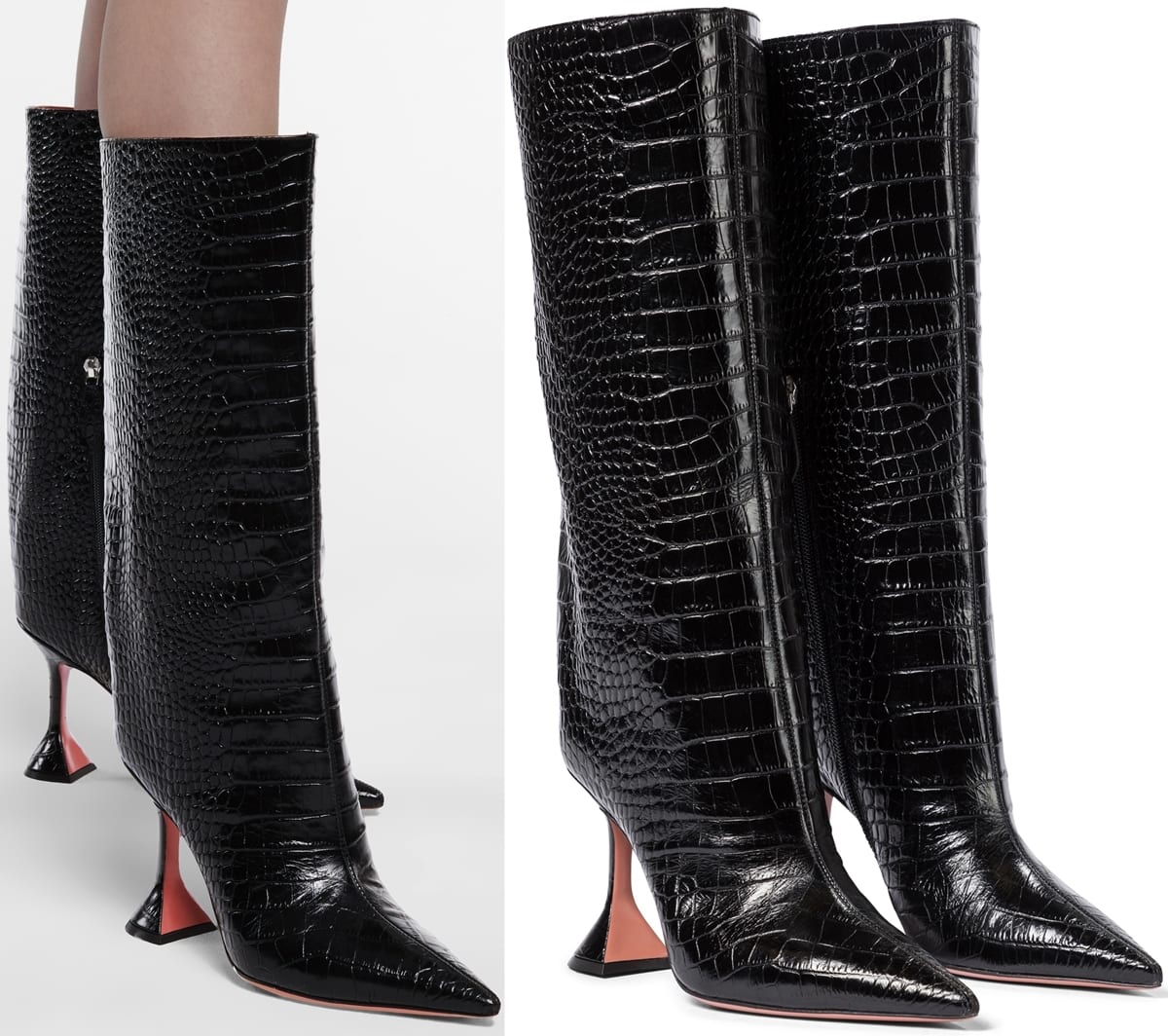 These black croc-effect leather Amina Muaddi knee-high boots are replete with some of the label's most defining features
These black croc-effect boots have a tapered heel, inspired by the shape of a martini glass. Amina Muaddi boots are the perfect choice for anyone who likes a classic look with a contemporary twist.
5. Anthropologie
For fans of a vintage-inspired or bohemian look, Anthropologie has a curated collection of knee-high boots.
Like most of their shoes, Anthropologie's boots have a classic silhouette that is ideal for wearing with dresses of any length.
As Anthropologie changes up their shoe line every season, it's worth checking back every few weeks to see what new additions have been added to their collection.
Knee-high boots are a staple shoe, just as classic and timeless as ballet flats. These shoes are worth investing in, especially if you intend on only owning one pair.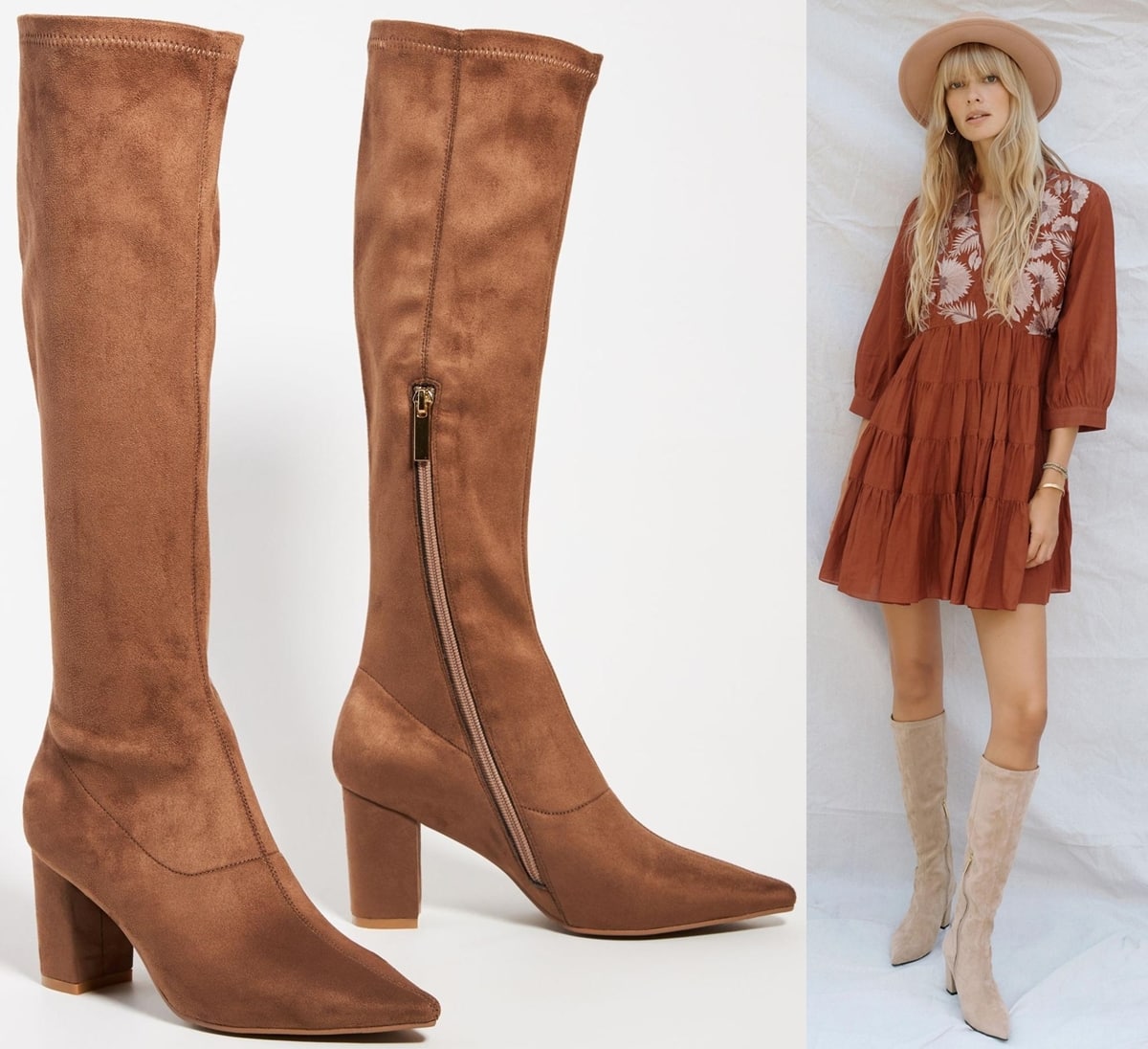 These vegan suede knee-high boots pair perfectly with slim-fit denim or statement-making skirts for an effortless ensemble any time of year
The functionality and versatility of knee-high boots mean that their cost per wear is low.
Instead of wearing your everyday ballet flats or sneakers, you can change up your look by adding knee-high boots to your favorite dresses.