Knee-high boots can take a feminine look like a dress and jacket and give it a slight masculine twist.
While we all love our ballet flats and espadrilles, knee-high boots can add a new dimension to your dresses.
1. Add Leggings or Go Bare
If you want to add a quirky twist or show off your personality, you can add a pair of fun leggings underneath your knee-high boots.
Charlize Theron bares legs in knee-high boots with a sparkly mini dress, while Reese Witherspoon keeps warm with leggings and knee-high boots (Credit: WENN)
You'll need to make sure that the color and design flatters your chosen dress.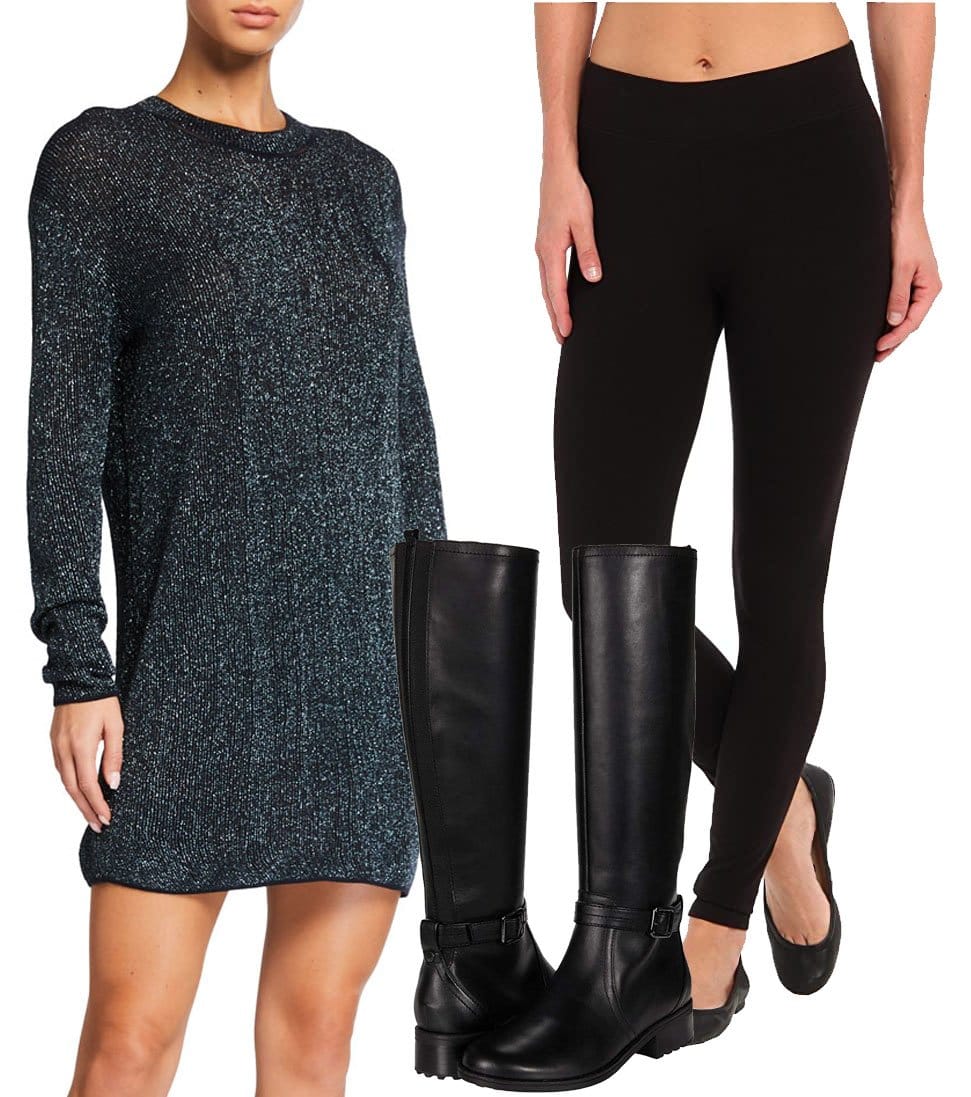 Rag & Bone Cherie Mini Sweater Dress, $122 at Neiman Marcus, HUE Ultra Leggings, $36 at Zappos, and Easy Spirit Reverie Knee-High Boots, $189 at Zappos
Although tights and socks are a staple, wearing your knee-high boots with bare legs can be the perfect choice for dresses with a mini-skirt silhouette.
2. Flattering Midi Dresses
Midi dresses are a perfect choice to wear with knee-high boots as the fabric will cover the top of your boots.
Olivia Palermo, Myleene Klass, and Kate Bosworth pair their knee-high boots with midi dresses (Credit: Avalon / Instar / WENN)
If you're not a fan of exposed skin, this dress silhouette will create a more seamless and elegant look.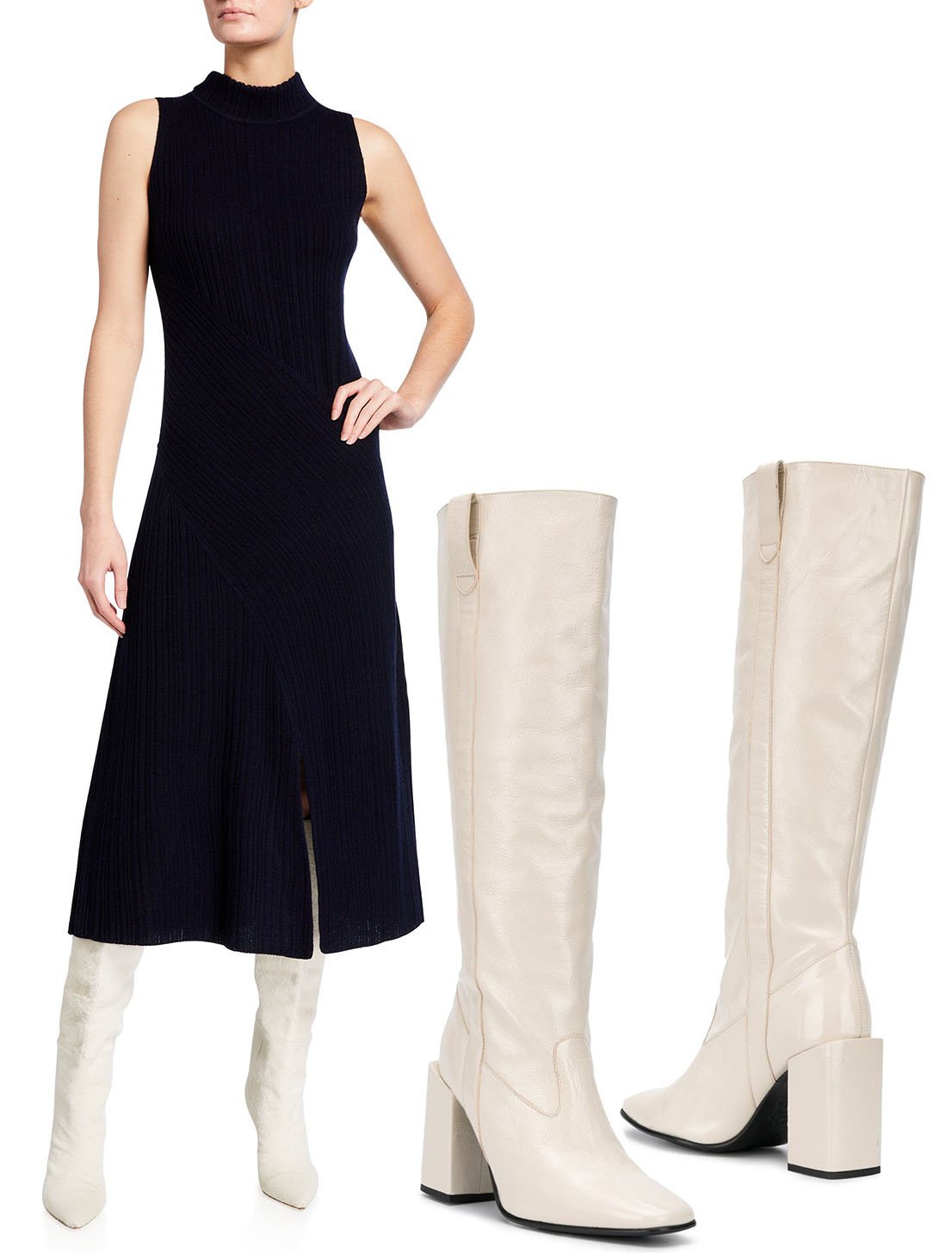 Vince Diagonal Ribbed Sleeveless Midi Dress, $425 at Neiman Marcus and AMI Paris Block-Heel Knee-High Boots, $900 at Farfetch
Most midi dresses will cover the first few inches of your boots, keeping your legs warm while making your boots a little more wearable.
3. Sexy Blazer Dresses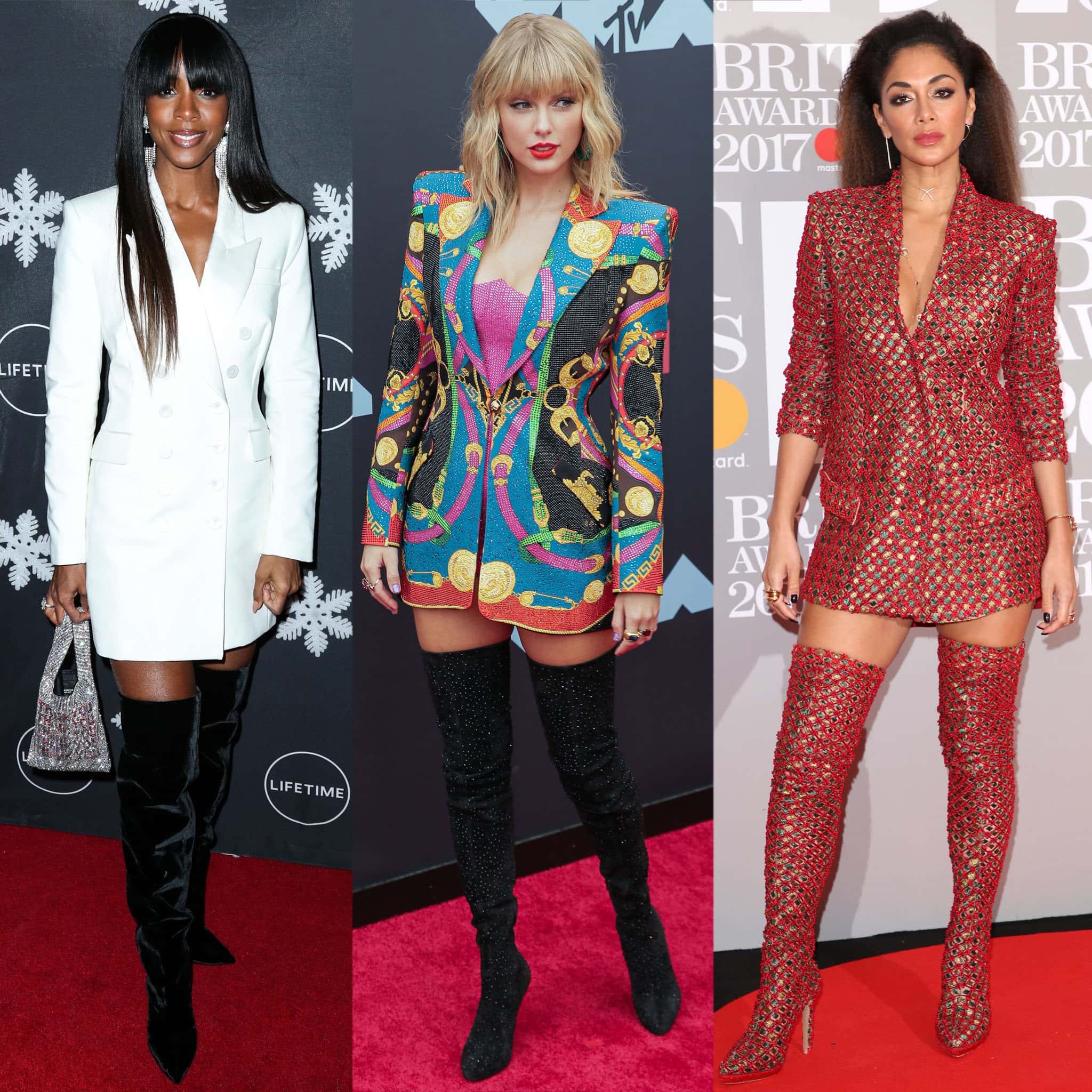 Kelly Rowland, Taylor Swift, and Nicole Scherzinger look hot in blazer dresses with knee and thigh-high boots (Credit: Lia Toby / Avalon / WENN)
If you're looking for a sexier look, take a leaf out of the Kardashian-Jenner styling book and wear your shoes with a blazer dress.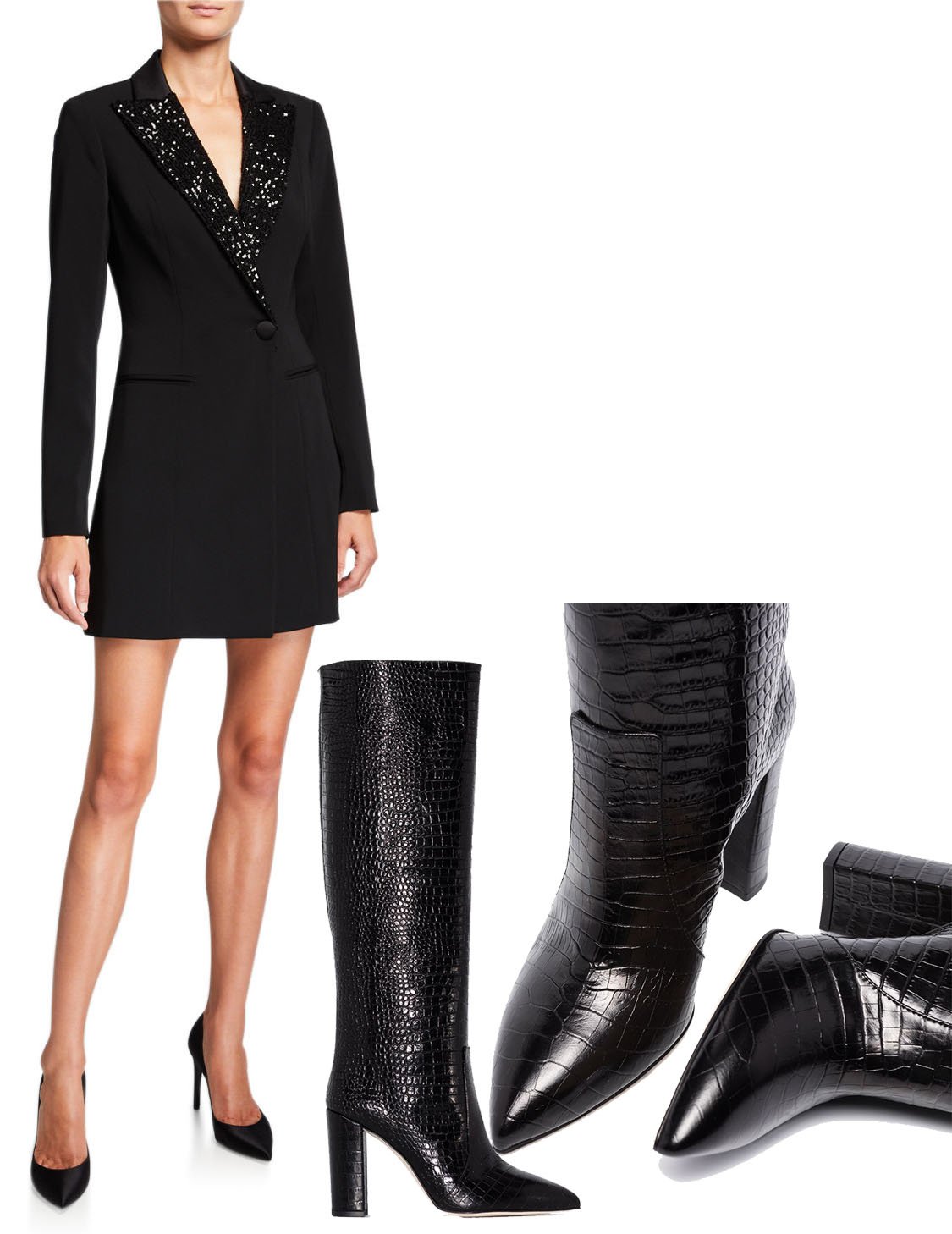 Jay Godfrey Ace Long-Sleeve Sequin-Collar Blazer Dress, $375 at Neiman Marcus and Paris Texas 100mm Crocodile-Effect Knee-High Boots, $570 at Farfetch
Knee-high boots are the perfect way to show off your legs and a fresh tan. Wearing a shorter dress can help elongate your legs by flashing a little extra skin.
4. Knee-Length Dresses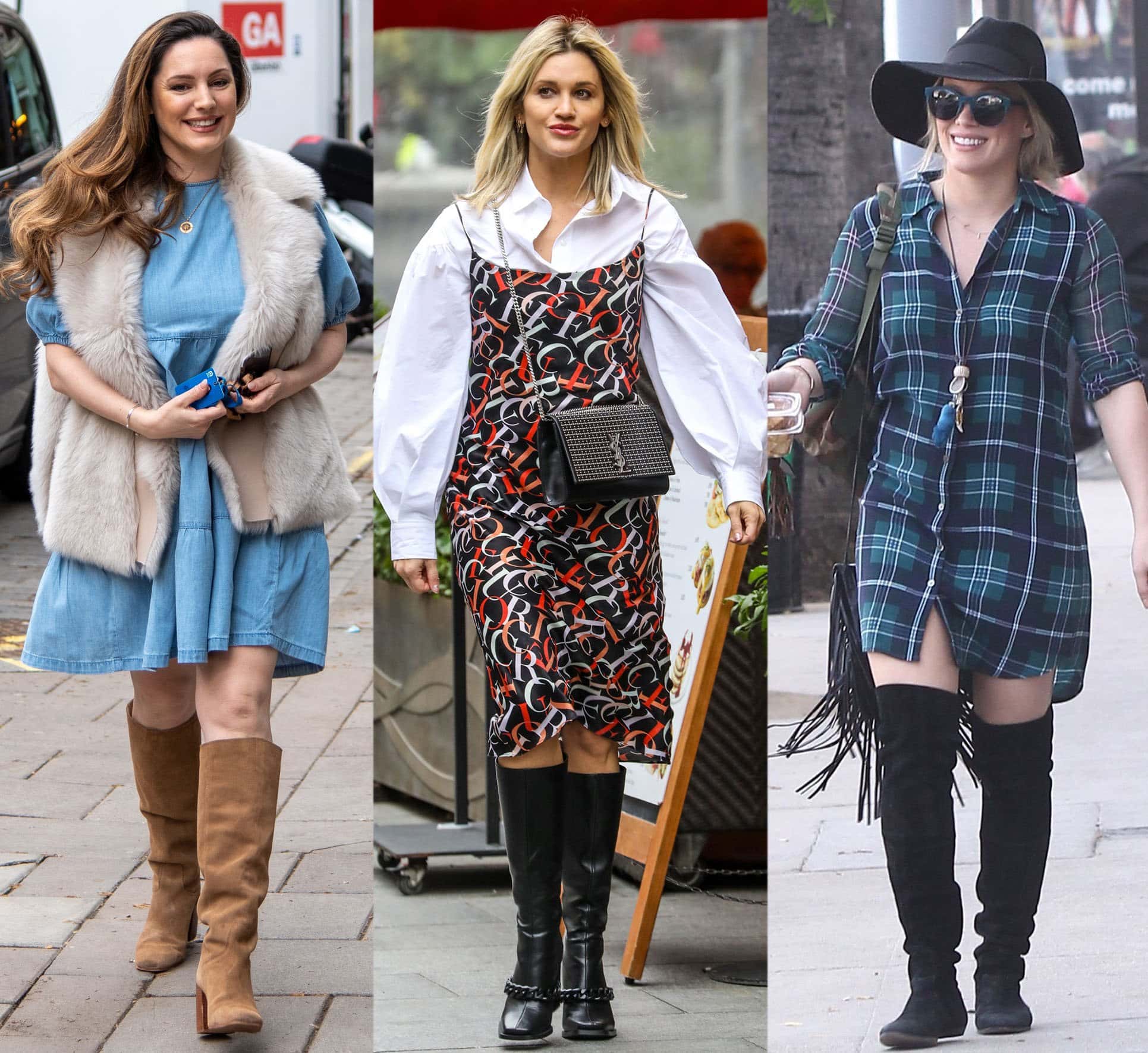 Kelly Brook, Ashley Roberts, and Hilary Duff team knee-length dresses with knee-high boots (Credit: Avalon / WENN)
Knee-length dresses go hand-in-hand with this style of boots as the hem of your dress will skirt the top of your boots.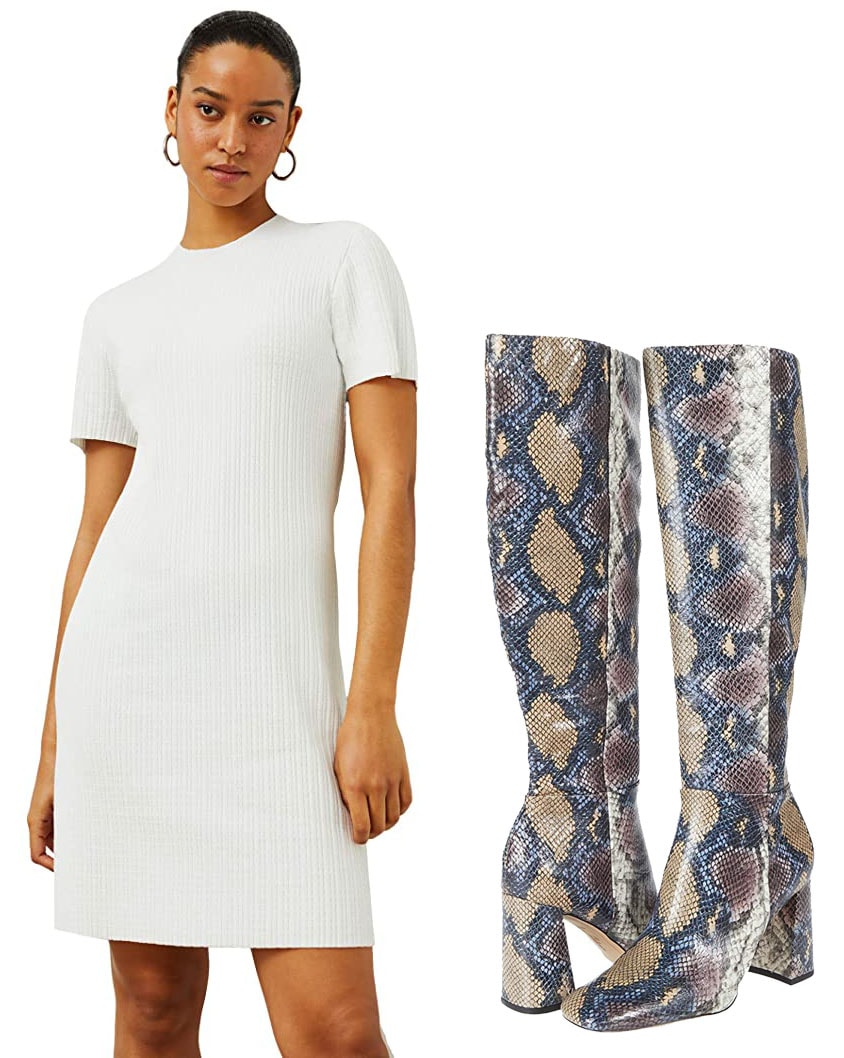 M.M. LaFleur Hayden Dress, $165 at Zappos and Sam Edelman Clarem Snake Boots, $225 at Zappos
Don't be afraid to wear a bolder style of knee-high boots to the office, especially with a knee-length dress. A knitted dress can help get a simple base to complement your shoes and make them pop.
5. Bohemian Hippie Style
Fans of the bohemian style aesthetic reach for knee-high boots more than most people.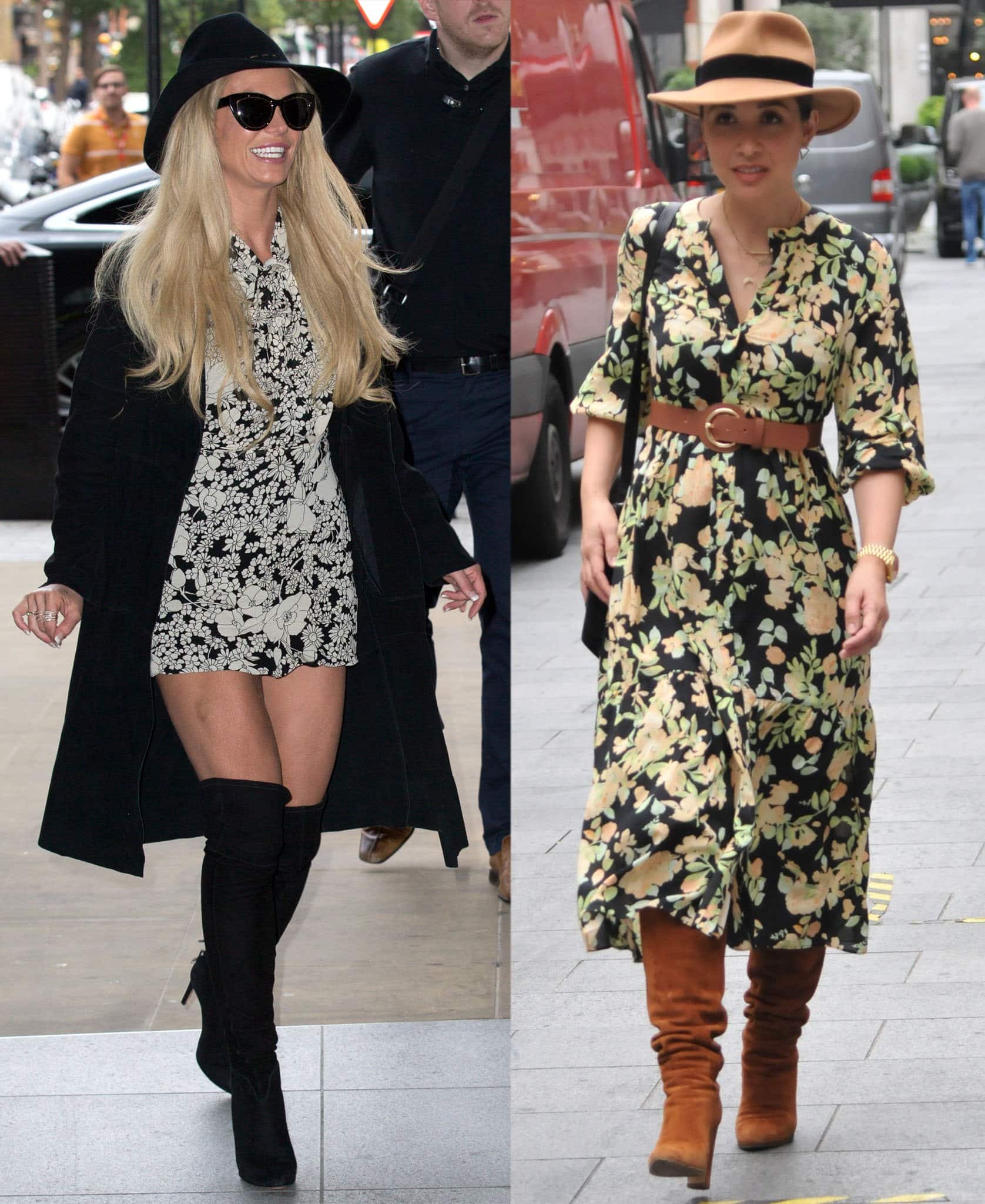 Britney Spears and Myleene Klass go bohemian chic in floral dresses and knee-high boots (Credit: Mario Mitsis / Avalon.red / WENN)
A floral print dress is a great way to juxtapose feminine and masculine elements to create a contemporary look with a vintage twist.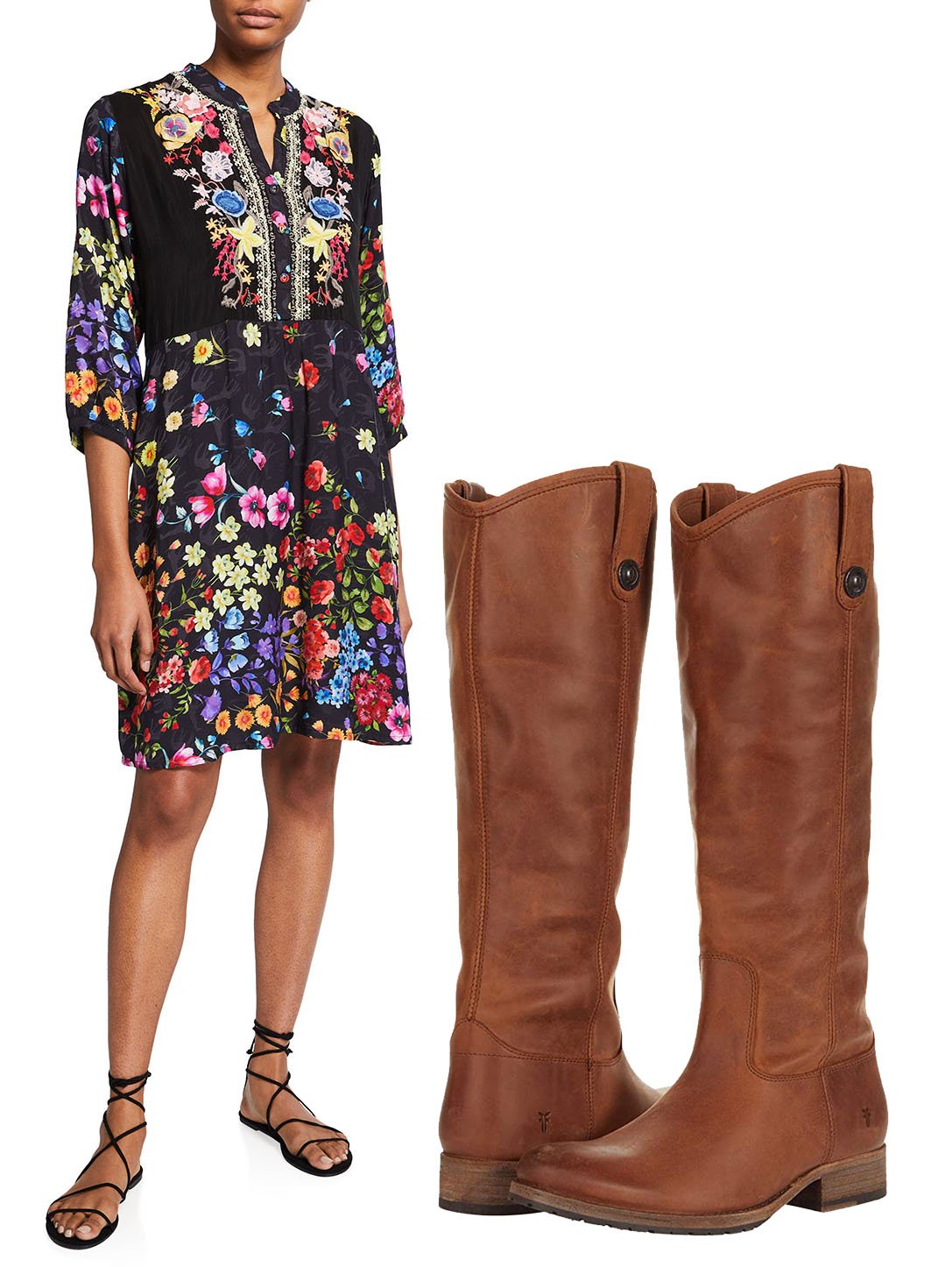 Johnny Was Ciara Floral-Print with Slip, $285 at Neiman Marcus and Frye Melissa Button Lug Boots, $378 at Zappos
If you're opting for this style, brown leather boots are a softer alternative to traditional black knee-high boots.
6. Don't Forget Socks
Most people choose to wear socks with their knee-high boots, even if they're hidden under the shoes.
Geri Halliwell and Myleene Klass style their knee-high boots with tights and socks (Credit: Karl Piper / WENN)
Wearing socks or tights will help absorb the moisture in your feet and reduce odor while making it easier to walk around in your boots for longer.
You can even experiment and add fishnets or logo-embossed tights with your knee-high boots for a sexier look.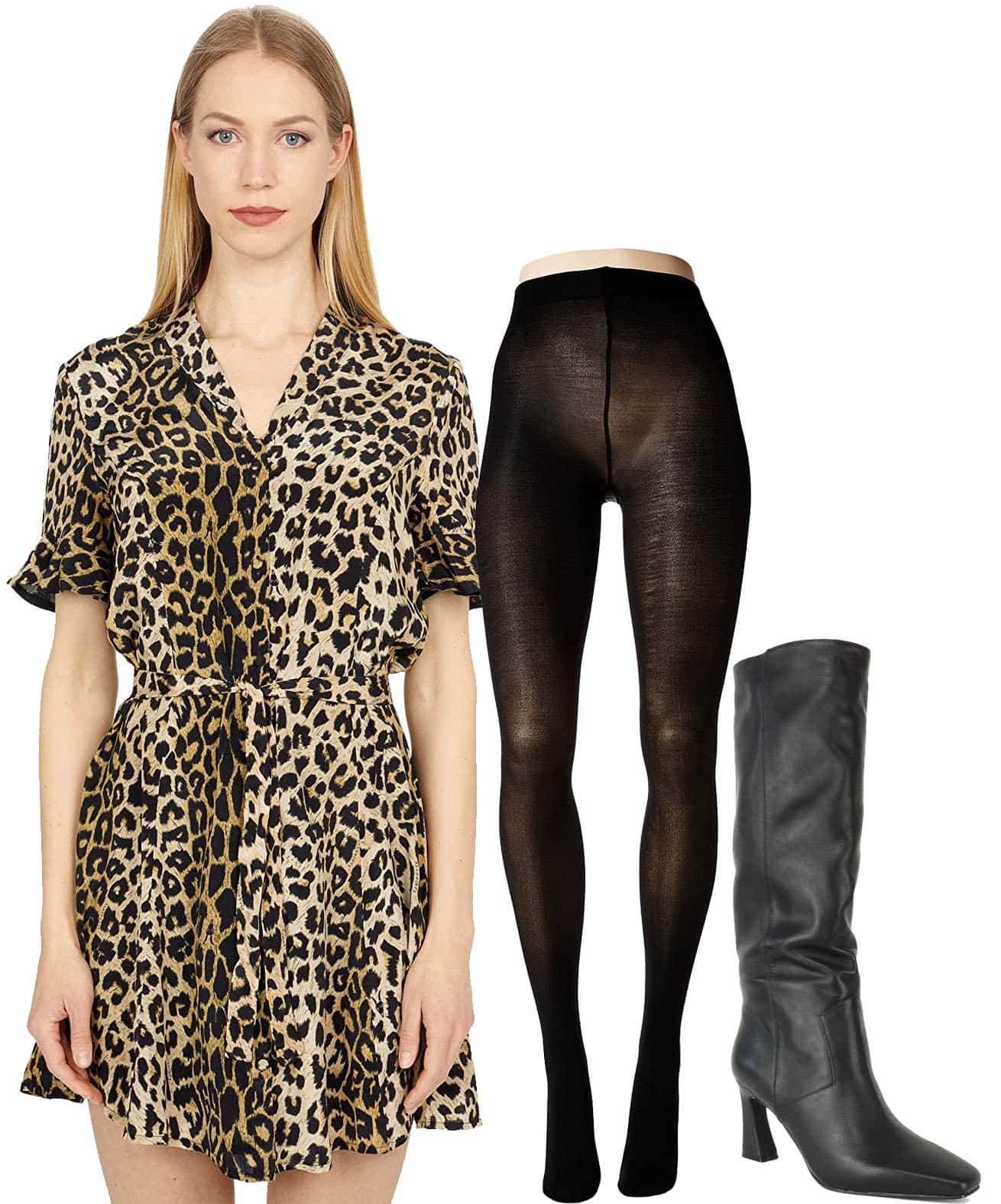 All Saints Fey Leppo Dress, $215 at Zappos, Bloch Contoursoft Footed Tights, $10 at Zappos, and Caverley Candy Slouchy Leather Knee Boots, $270 at Nordstrom