No woman's closet is complete without a pair of riding boots. They're a classic piece of footwear that can instantly elevate your look and give it an equestrian twist. You don't have to be a horse rider to appreciate the aesthetic of riding boots.
Add an equestrian twist to your look with leather riding boots
This style is fundamentally different from other shoes like Chelsea boots or over-the-knee boots. Some women are put off by this shoe because they're not sure how to style them.
Our guide tells you everything you need to know about riding boots and how you can incorporate them into your daily wardrobe.
The History of Riding Boots
Riding boots first became popular during the 1600s when they became a standard part of military uniforms. They protected the legs while riding to prevent them from rubbing against the saddle and were made using leather.
Their height was determined to stop the saddle from irritating the rider's leg. This early style of riding boots had a short block heel to keep the rider's foot inside the stirrup.
Riding boots became popular in the 1600s as part of the military uniform
You might think riding boots look similar to Wellington boots. You would be right to make the connection. The Duke of Wellington took inspiration from the riding boot to create the Wellington boot, which was first made in rubber in 1852.
Riding boots have changed little since they first appeared in the 1600s. Most styles are still made using leather, and the original shape remains. Your riding boots today are going to be more comfortable, incorporating the latest in footwear innovation.
Riding boots tend to have a low heel, although you will find styles that offer a higher heel. While leather is still the most common material, you can often find vegan leather alternatives and vinyl options.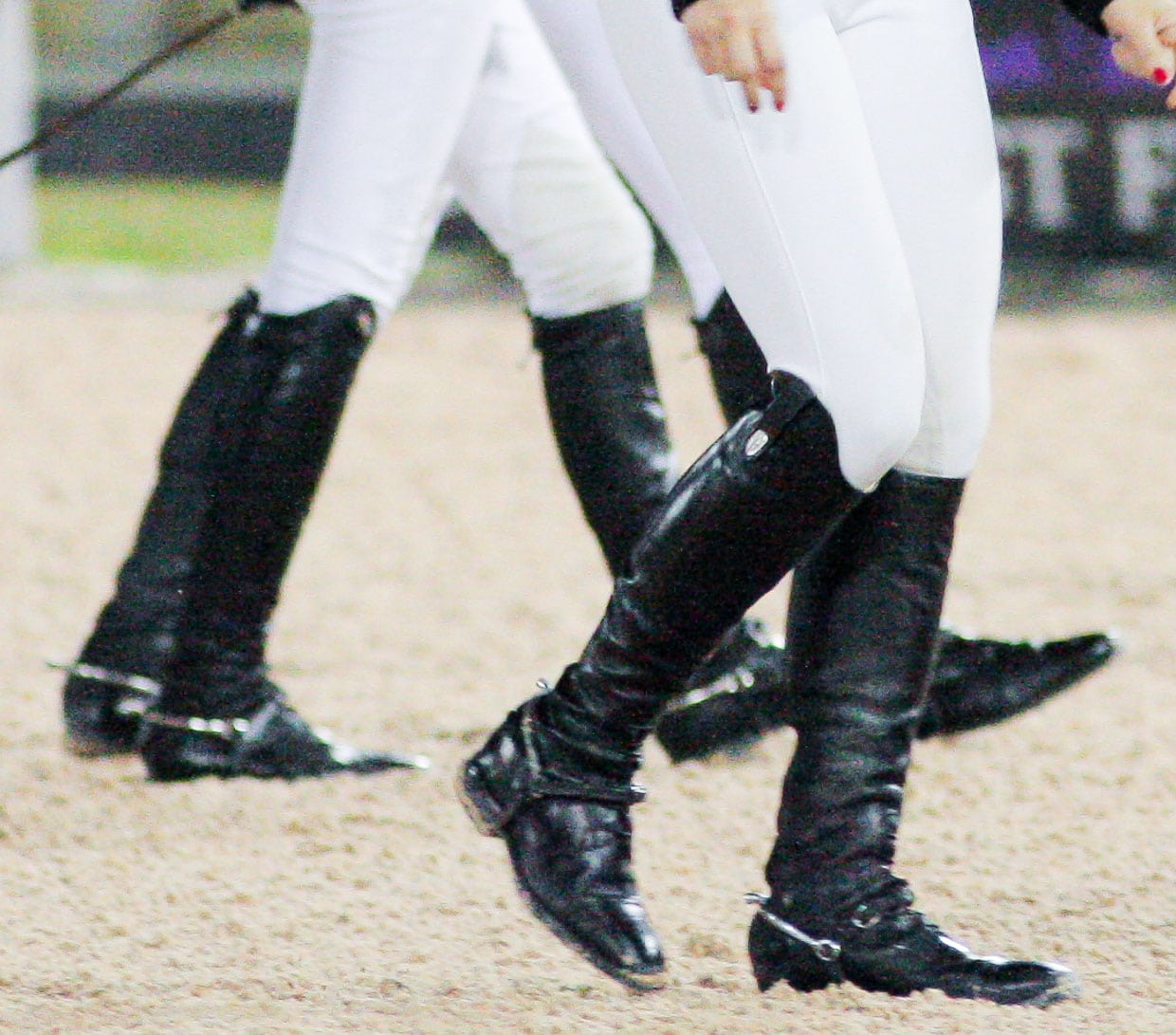 Riding boots are usually made from leather and have low heels
These shoes have transcended from an equestrian shoe to the ultimate fashion staple while staying true to their heritage. Almost every brand will offer at least one style of riding boots in their permanent collection.
These boots are a go-to shoe for when the temperature drops, and you want to bundle up against the cold. Riding boots will forever be associated with their equestrian heritage, and they have become synonymous with classic English style.
What is the difference between riding boots and regular boots?
The first thing which will distinguish riding boots from regular boots in your closet is their height. The chances are that you typically wear a short boot, most likely at an ankle height.
Riding boots come up to just below your knee, giving you mobility while covering your calves. Depending on your height, a pair of riding boots should come up a few centimeters below your knee. You can also find shorter options that sit just above your mid-calf.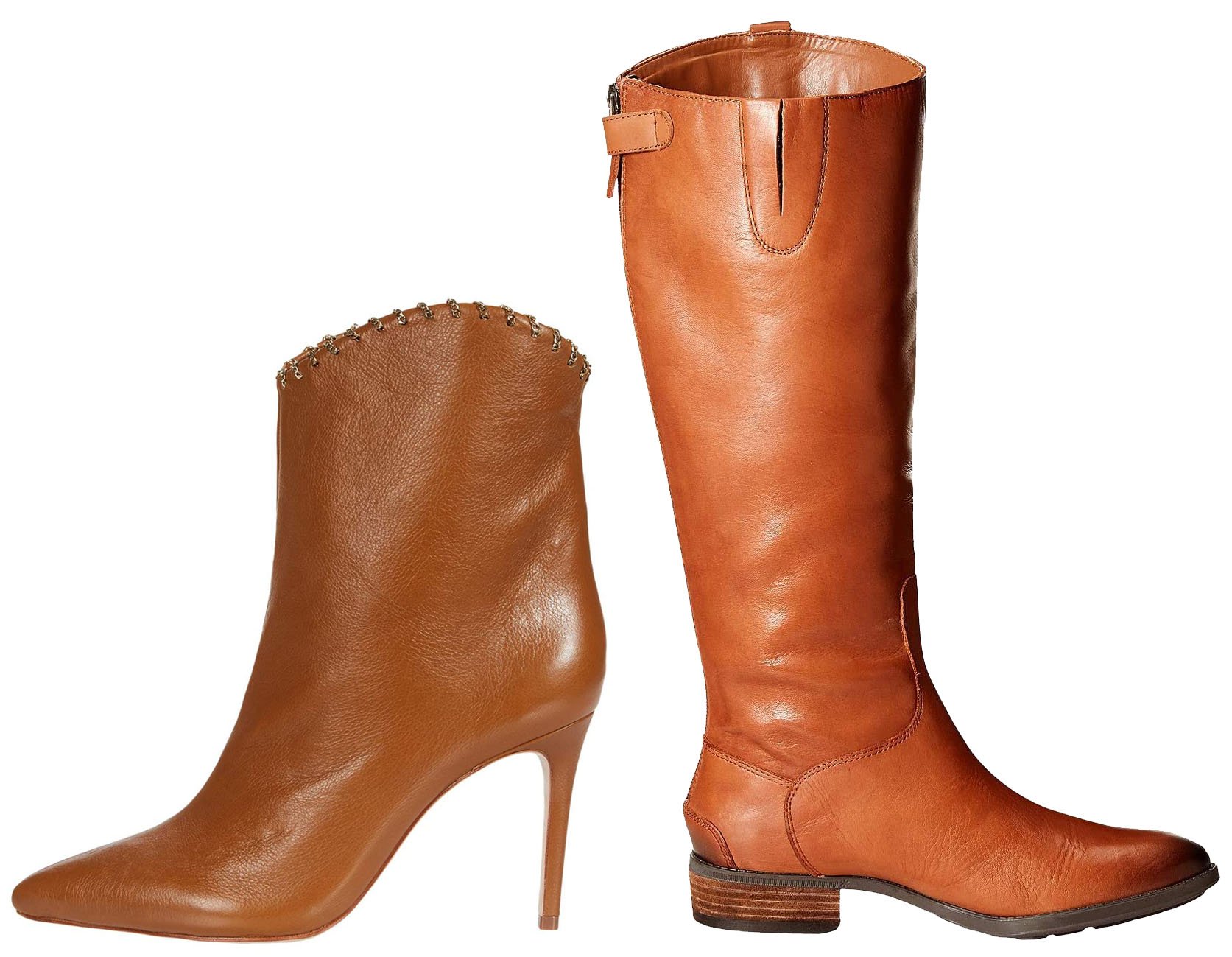 Riding boots (right) cover the calves and come up below the knees
The sole of a riding boot is different than your regular boots. These shoes are designed with a textured sole to make them easier to walk in. You'll rarely see a pair of riding boots with a heel higher than 2 or 3 inches, whereas other boot styles can incorporate a stiletto heel.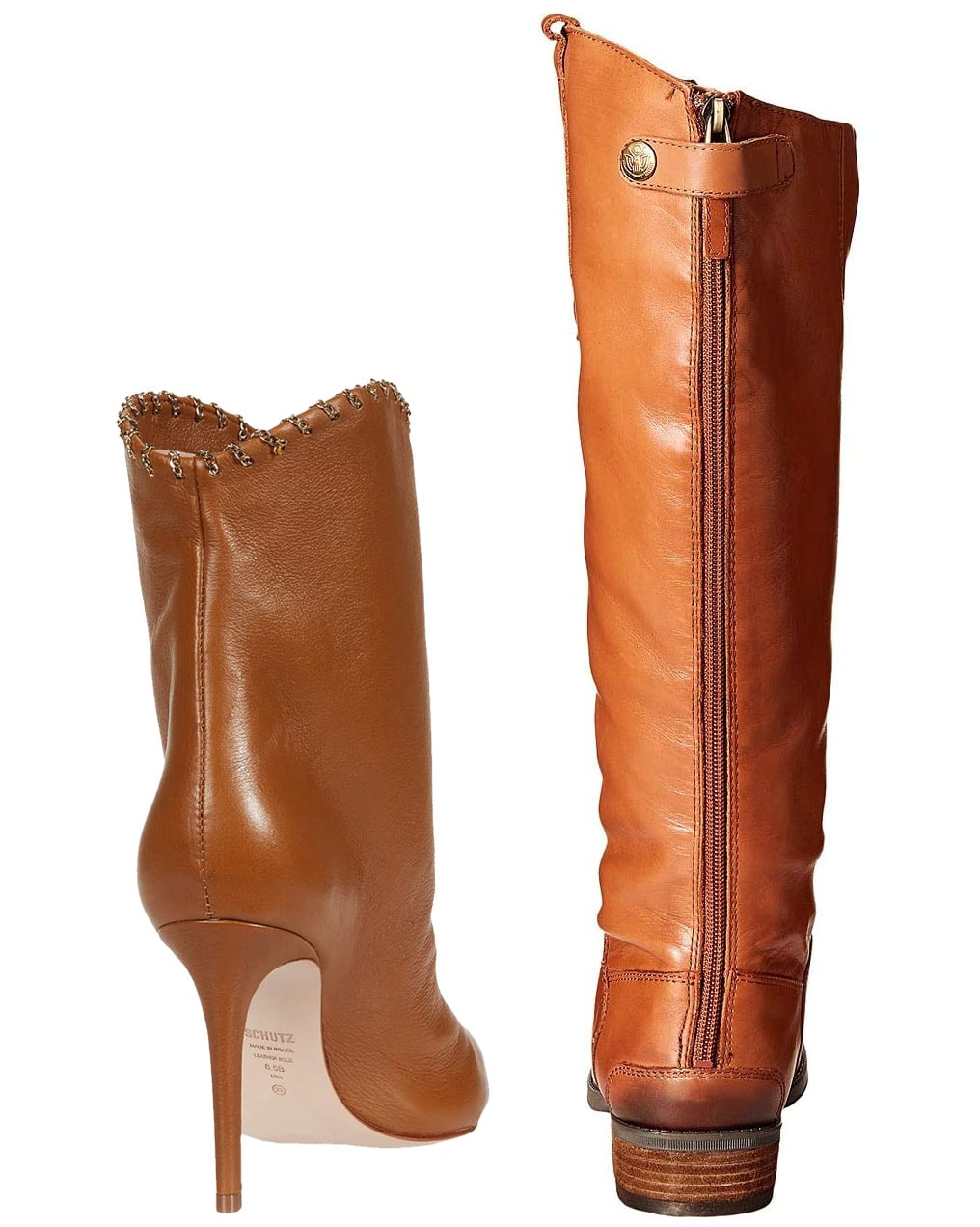 Regular boots (left) can incorporate stiletto heels while riding boots (right) can only have less than two inches of stacked or blocked heels
While most boots are pull-on shoes, riding boots tend to incorporate a full side zipper. This feature makes it easier to wear the boots over a pair of jeans or traditionally with fitted leggings for horse riding.
When Should You Wear Riding Boots?
Riding boots are a casual shoe that looks more elevated than your sneakers and gives you a polished look without having to take out a pair of heels. You can think of them as a way to bring comfort to your outfit without compromising on style.
The easiest way to style a pair of riding boots is with your favorite jeans. Channel your inner equestrian with a blouse and a leather belt.
Equestrian Athina Onassis de Miranda wearing the typical equestrian look, which includes a polo shirt, pants, belt, and riding boots
Riding boots are essential for anyone who wants to encapsulate the New England preppy style synonymous with American brands, such as Ralph Lauren. You can make an outfit like this winter-appropriate by throwing a knitted sweater over your blouse.
Claudia Schiffer and Gwen Stefani team their riding boots with knit sweater tops
If your office culture allows for jeans, you can wear a pair of riding boots to work. You can give your outfit a more professional feel by adding a fitted blazer or a silk blouse.
Leather riding boots are more appropriate for the office than vinyl alternatives, and it's best to choose a pair with a patent finish.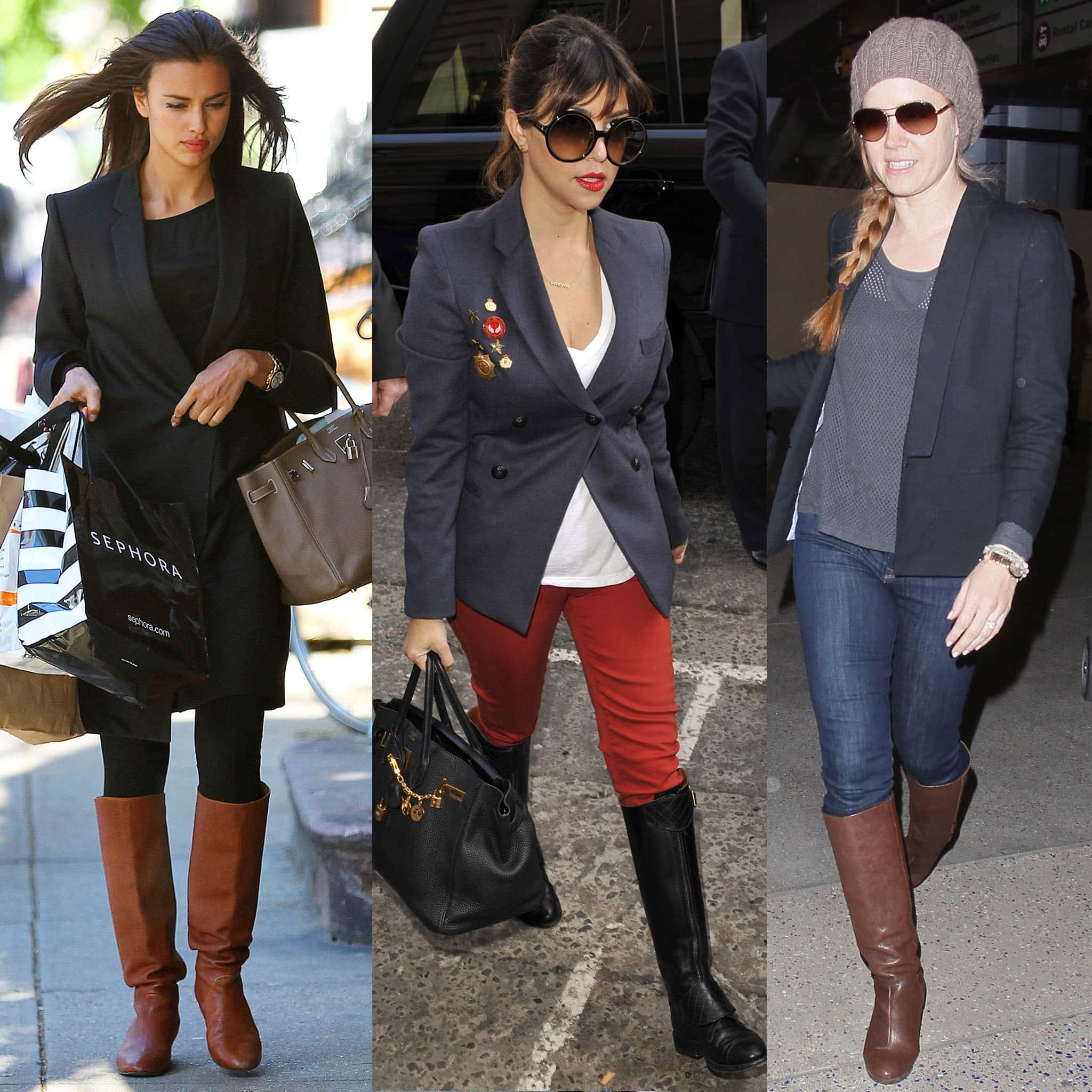 Irina Shayk, Kourtney Kardashian, and Amy Adams show how to wear riding boots with blazers for a chic office look
You can pair your jeans and riding boots with a color-block tunic top if an off-the-clock look. Anything you would wear with jeans is almost certain to work with riding boots.
Don't get trapped with the idea that you can only wear riding boots with jeans. It'll largely depend on the finish of your shoes and your style.
If you have a pair of classic riding boots in a leather finish, you can wear them with tights and a fit-and-flare dress. This outfit is a great go-to for transitional months when you want to wear a dress but don't want your legs to get cold.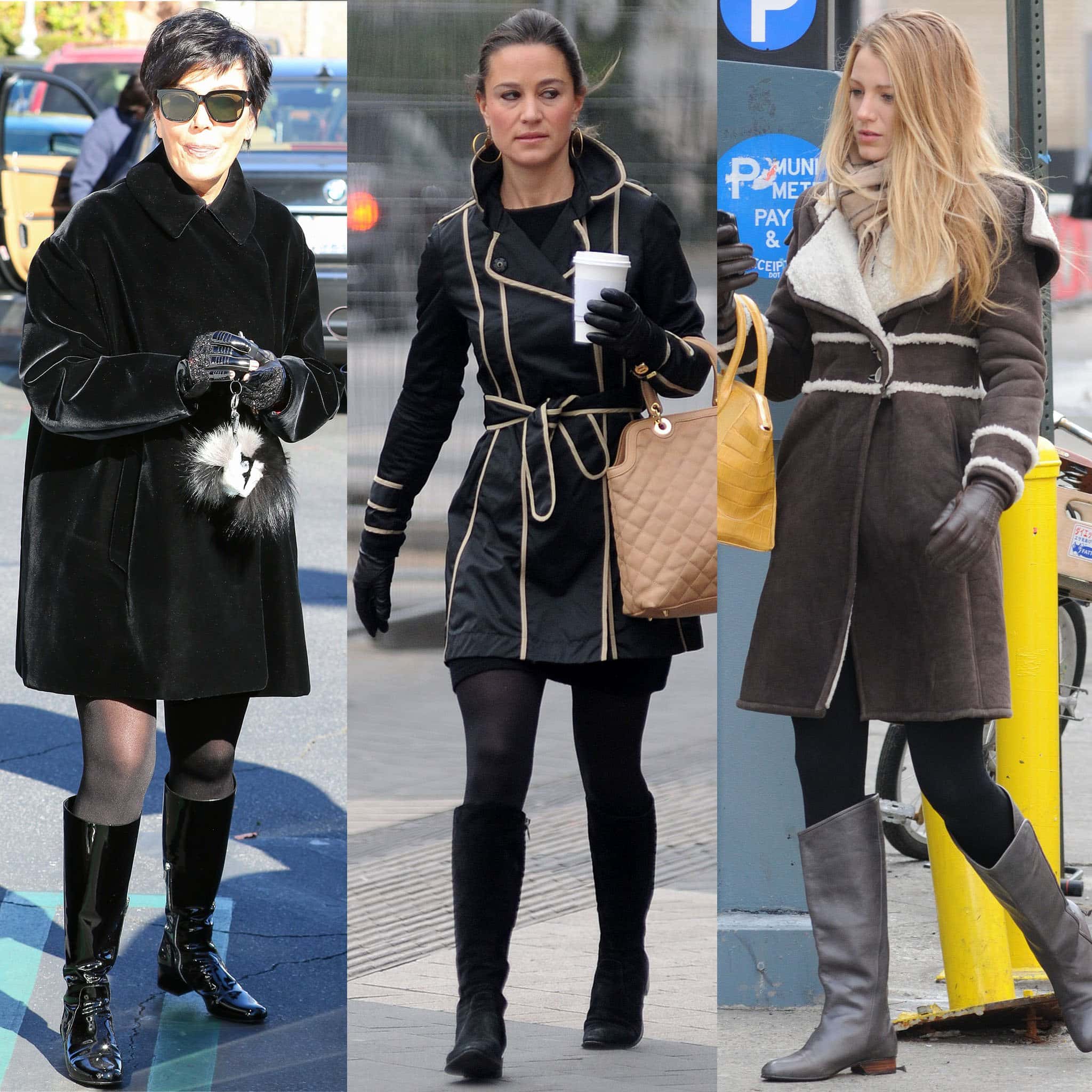 For the colder months, take it from Kris Jenner, Pippa Middleton, and Blake Lively and wear your riding boots with tights and winter coats
Sweater dresses make a perfect combination with riding boots, and the looks can become a winter staple for your wardrobe.
Sweater dresses look great with riding boots as shown by Ashley Roberts and Taylor Momsen
When Are Shorter Boots Better Than Long Riding Boots?
While riding boots are versatile, there are a few occasions where a shorter boot is more appropriate. In most cases, you change out a pair of riding boots for a shorter style like combat boots.
Vince Cabria Lug-Sole Leather Water-Repellant Combat Boots, $395 at Nordstrom
A lace-up boot with a tough, utilitarian look is crafted in a variety of textures and finishes—and is sure to end up on heavy rotation all season long
Though, there will be times where boots won't be appropriate for where you are going.
Wearing denim shorts with riding boots will make your legs appear shorter and can make you look stouter. Swap out the shoes for a pair of Chelsea boots or a shorter style to elongate your legs and show off your fresh tan.
Scarosso Buckled Chelsea Boots, $283 at Farfetch
These Scarosso buckled Chelsea boots feature side buckle fastening
Unless you live in a climate where it's freezing all year round, you'll want to retire your riding boots during the summer.
The style isn't practical once the temperatures start rising and you can quickly become uncomfortable, particularly with leather riding boots.
Swap them out for a shorter pair of ankle boots if you can't do without wearing boots.
Pikolinos Daroca Ankle Boots, $200 at Zappos
Keep your ankle jeans near to show off these fabulous booties in a luxe calfskin leather upper
Riding boots are not a pair of shoes for more formal occasions. If you're heading to a bar or an up-market restaurant, you'll want to wear a pair of boots with a heel.
Riding boots look a little too casual to wear to a family event or a friend's birthday celebration.
Schutz Crocodile-Embossed Leather Booties, $262 at Farfetch
Black crocodile-embossed leather booties from Schutz featuring a pointed toe, a back zip fastening, and a high stiletto heel
A good rule of thumb is that riding boots are shoes you would wear in place of sneakers or ballet flats. If neither of these would be appropriate, then your riding boots wouldn't be either.
Are Riding Boots in Style?
If you want to get the most out of your riding boots, try and choose a pair in a versatile color. Black is classic while brown is the perfect neutral. Make sure to consider your wardrobe and what style will be easiest to incorporate.
Anyone who loves vintage fashion will want to own a pair of riding boots. They're a classic staple that will never go out of style. They might ebb and flow with shoe trends, but you'll never look out of date in riding boots.
Riding boots are timeless shoes with a unique heritage. They instantly remind of their equestrian origin, and they can make even jeans and a t-shirt look elevated.
Riding boots are a staple in classic English fashion, whether your style icon is Princess Diana or Kate Moss. As fashion trends look to the past for inspiration, you can expect to see riding boots becoming a must-have shoe.
These shoes make a worthwhile investment into your wardrobe, and they're a style you'll reach for from autumn through to spring.
Credit: Patricia Schlein / Avalon / ATP / Oscar Gonzalez / Mario Mitsis / 
Rocky / Aaron Gilbert / revolutionpix / STS / Stuart Castle / WENN