There's nothing quite like a good pair of leather shoes. Whether it's a pair of pumps, boots, loafers, brogues, or sneakers, leather shoes are a wardrobe staple.
Leather shoes can come with a hefty price tag, but despite the cost, there are a lot of advantages to owning genuine leather shoes.
Not only are leather shoes attention-grabbers, they're also durable, breathable and fit well.
However, despite being a hard-wearing tough material, leather can also get damaged over time. To keep your leather shoes looking fresh for years, you need to give them a certain amount of TLC.
Knowing how to clean and properly care for your leather shoes will not only extend their lifespan, but will also help you protect your investment.
Thanks to the shoe experts at Sears and Nordstrom, we've compiled nine easy steps showing how to clean your leather shoes and keep them in tip-top condition. Also, don't miss our guide showing the best way to clean suede shoes.
Step 1: Remove the laces
Laces need to be removed from the shoes in order to avoid getting shoe products on them.
Since laces are usually made of cloth, leather polish and cleaner might stain them. They can be tossed in the washing machine for a cleaning, or just replaced entirely if they're worn out.
Remove the laces and either run them through a washing machine or replace them
Step 2: Remove loose dirt
Gently rub the surface of your shoe with a soft-bristled brush or cloth to remove any loose dirt, debris or grime.
Do not use a brush with hard bristles. This could scratch the leather and damage your shoe.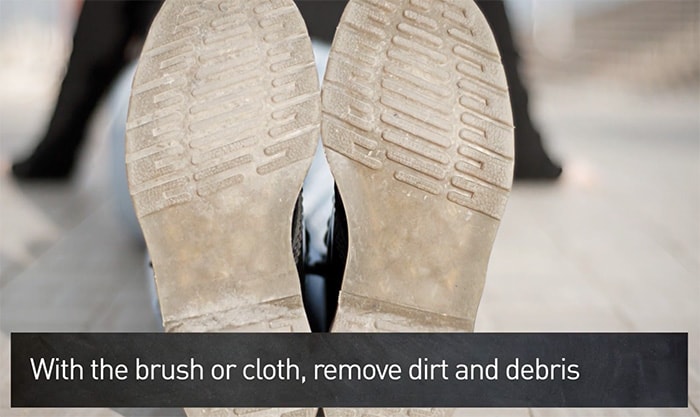 Use a soft cloth or a brush to clean loose dirt and debris
Step 3: Use a mild sudsing cleanser or a saddle soap
You can remove stubborn dirt, grime, and scuff marks on unfinished leather using saddle soap.
For finished leather materials, a mild sudsing cleanser — or a mixture of mild dishwashing detergent and warm water — is best.
Apply saddle soap to a microfiber cloth and then use it to clean your shoe
Pour a small amount onto your microfiber cloth or soft-bristled brush and gently wipe the surface of your shoe.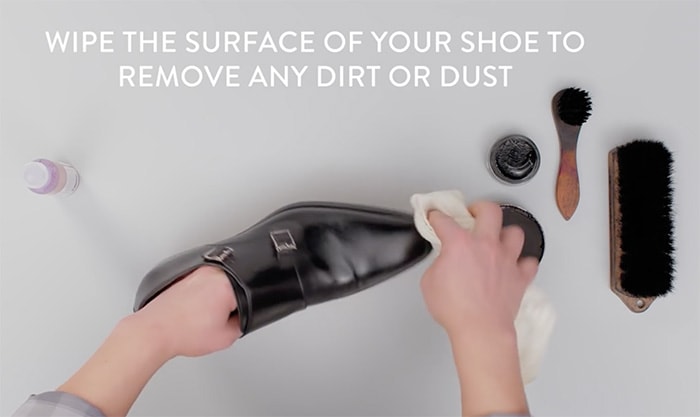 Take care to use gentle wiping motions so as not to damage the leather
Step 4: Wipe excess soap away
Use a soft damp cloth to wipe excess soap off of your shoes before you dry them.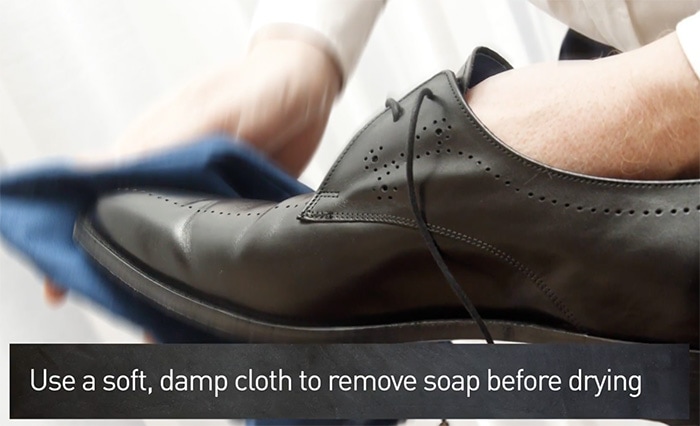 Wipe off the soap with a clean, damp cloth
Step 5: Apply leather conditioner
While your leather shoes are still damp, use a soft-bristled brush or a cloth to apply leather conditioner. This will keep the material supple and prevent it from drying and cracking.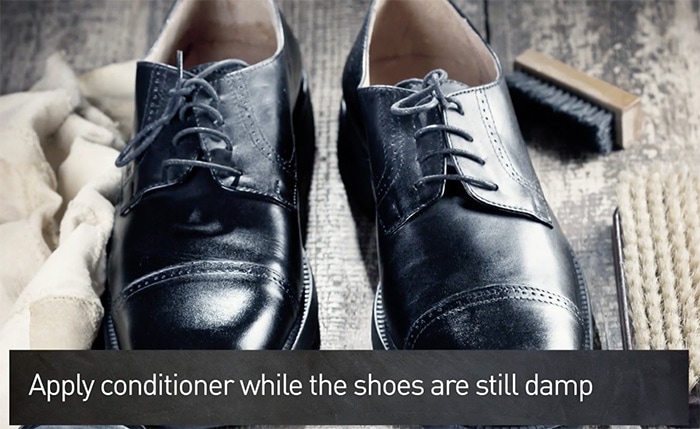 Protect your leather shoes from stains by applying leather conditioner
Spread it onto the surface of the leather and let it sit until it dries. You can brush or wipe off any excess cream.
Make sure to use a leather conditioner that closely matches the leather shade of your shoe so as not to inadvertently stain or dye your shoes.
Once your shoes have dried for about 15 minutes, remove excess cream with a brush or a soft cloth
Step 6: Air dry your shoes
Let your shoes dry in the open air away from heat and sunlight.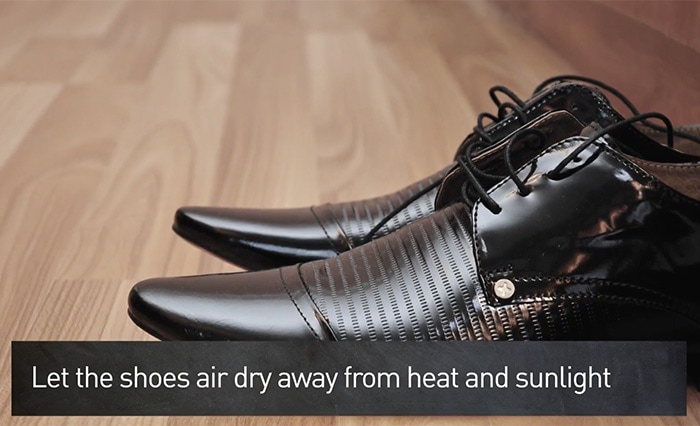 Give your leather shoes and boots plenty of time to dry in the open air
Step 7: Polish your shoes
Use a clean cloth or a small brush to rub a small amount of wax or protective cream polish onto the leather surface in a circular motion.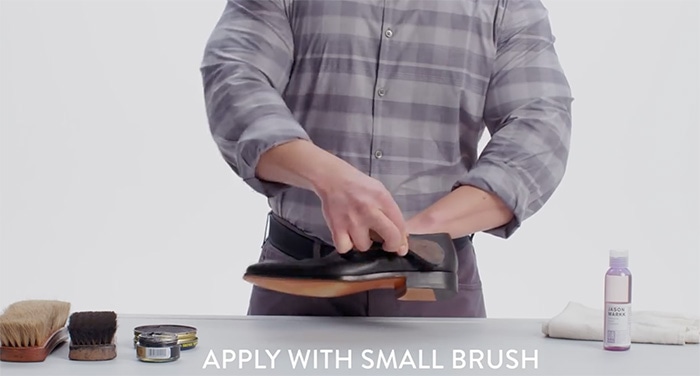 If you wear your leather shoes daily, they should be polished and conditioned a couple of times each month
Use a brush to buff your shoe until the leather shines.
You can use wax to get a shinier finish on calfskin and patent leather, or a cream polish on napa and tumbled leather.
Buff the leather shoes using brisk, back-and-forth movements
Step 8: Dry your shoes
Air dry your shoes again away from heat and direct sunlight. Harsh elements could crack the leather and cause discoloration.
Step 9: Regularly polish your leather shoes
Polishing your shoes regularly will help them last longer. You can also apply a leather protector spray between polishes to keep your shoes supple and waterproof.
Proper shoe care not only prevents shoe leather from drying out, it also preserves the shine and suppleness of your footwear