Making an appearance on The Ellen DeGeneres Show during a special Halloween-themed episode on October 29, Kris Jenner came dressed as Cruella de Vil to discuss her reality television daughters.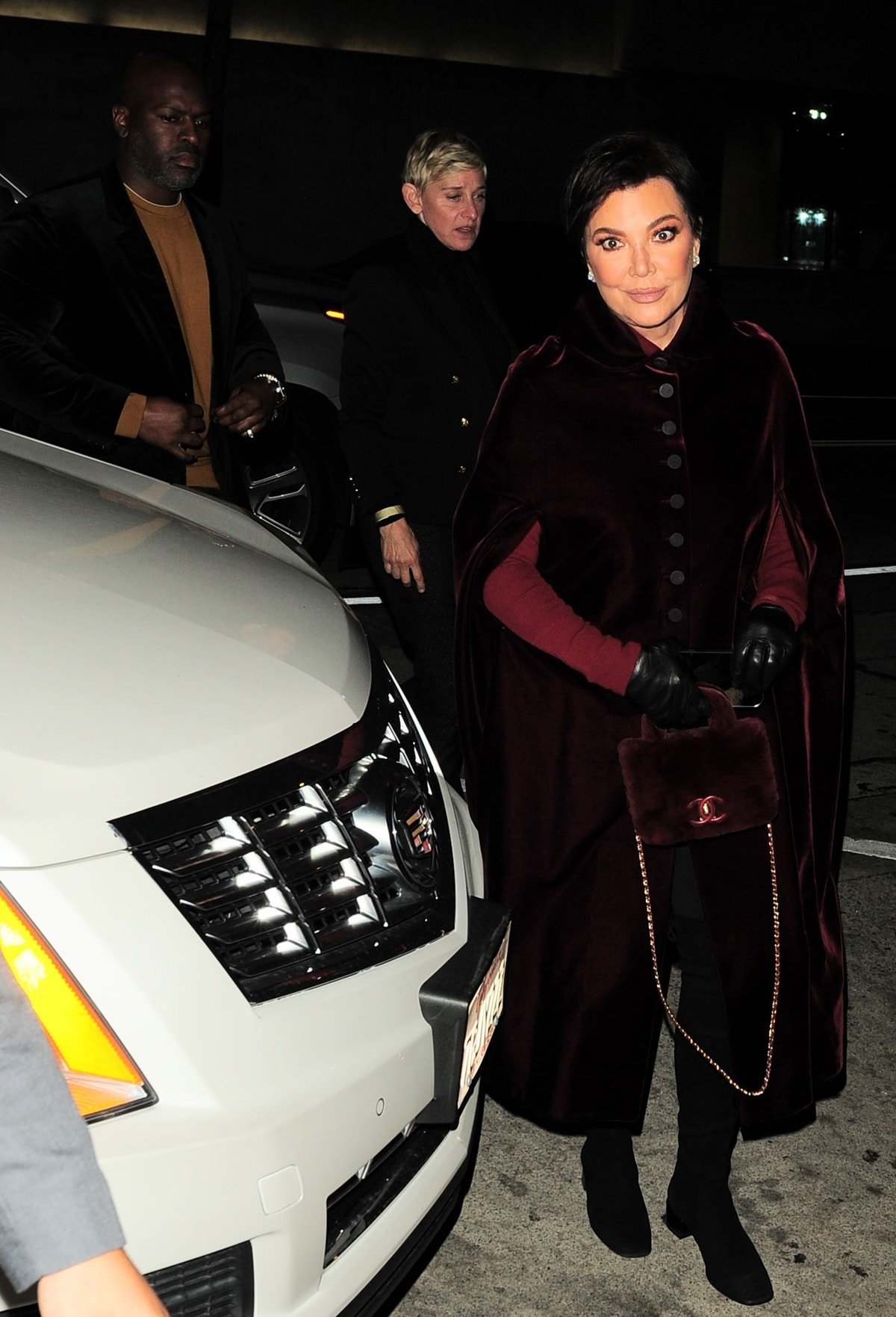 Kris Jenner says Kourtney Kardashian and Travis Barker are made for each other (Credit: MEGA / WENN)
"There was a day I used to pray that my kids would have kids…and suddenly, there's 11! What a blessing. Kylie's doing great," the Keeping Up With the Kardashians matriarch said about Kylie Jenner being pregnant again.
Television host Ellen DeGeneres joins Kris Jenner and Corey Gamble at Craig's for dinner on October 25, 2021 (Credit: MEGA / WENN)
"Kourtney and Travis. They are really made for each other. They're the cutest couple. They're so in love. They let us know that they're so in love constantly," she joked about Travis Barker and Kourtney Kardashian, who got engaged earlier the same month.
Kourtney Kardashian and Travis Barker hand-in-hand leaving their hotel in NYC on September 13, 2021 (Credit: MEGA / WENN)
"It's wild. You feel like they're the only two people in the room and we almost don't know what to do with ourselves…but they're in that stage and it's really, really special, and I'm so excited. He did that all on his own," she added about his beach proposal outside of the Rosewood Miramar Hotel, the only five-star resort on the beach in Southern California.
View this post on Instagram
The proposal was filmed for the family's upcoming Hulu series. "I think people at the hotel thought they were setting something up for, like, The Bachelorette or something," Jenner told Ellen.
"I don't think they were expecting that, but we had so much fun doing that whole thing and planning it."
"Travis escorted Kourtney down to the beach, where he had red and white florals set up in the shape of a heart," an eyewitness source told E! News.
"It looked very romantic. I could see Kourtney smiling from ear to ear and put her hand over her mouth looking surprised. The family cheered for them and went back into the hotel."
View this post on Instagram
In March 2016, Kourtney Kardashian looked every inch the doting mom as she took her kids, Penelope and Reign, to a music class in Beverly Hills.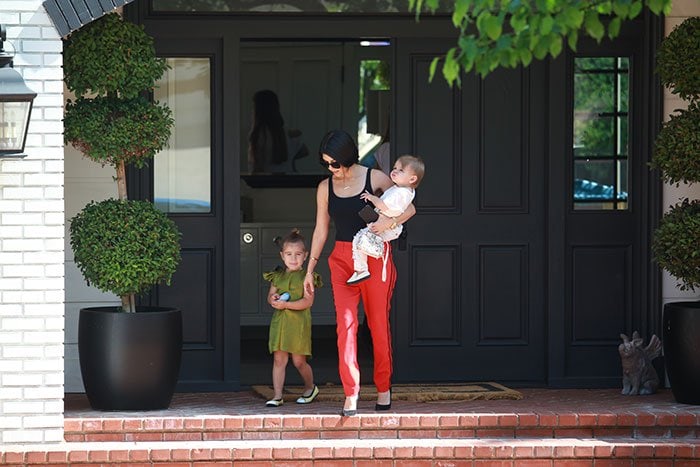 Kourtney Kardashian takes her kids to a singing class in Beverly Hills on March 17, 2016 (Credit: WENN)
The then 36-year-old reality TV star was surprisingly fresh and chic early in the morning following a late-night party with P Diddy's son Quincy Brown.
Kourtney embraced the sports luxe trend in a black Wolford bodysuit (available at Shopbop) and a pair of red Zadig & Voltaire pants that highlighted her slender figure thanks to sporty black stripes down the sides.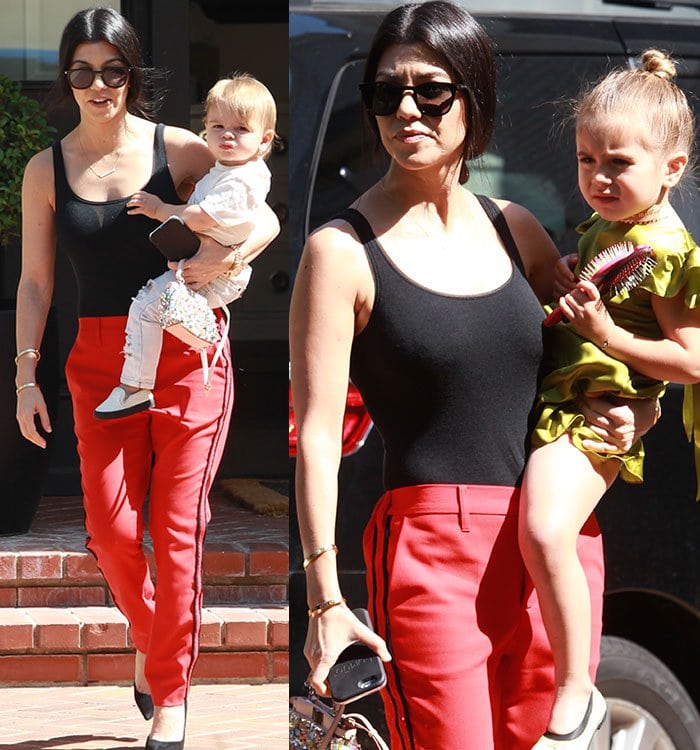 Kourtney Kardashian carries Penelope and Reign to a waiting car (Credit: WENN)
The shortest of the Kardashian sisters amped up the rather casual ensemble with a pair of black pumps and accessorized the look with Cartier bracelets, a gold necklace, a gold watch, and a $7,250 Fendi mini satchel bag.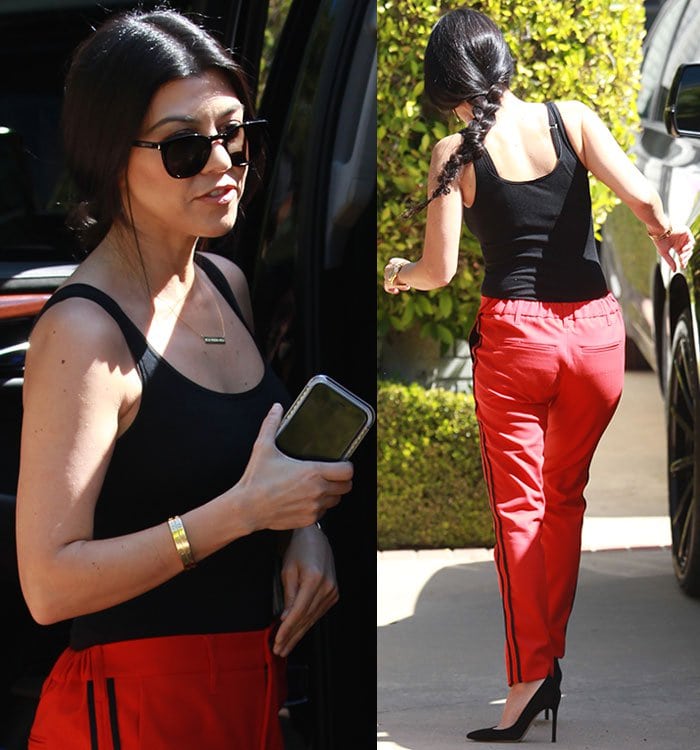 Kourtney Kardashian tucks a black tank top into a pair of red Zadig & Voltaire pants (Credit: WENN)
Koko finished off her look with neutral makeup and a braided ponytail. She hid her eyes behind a pair of black sunglasses.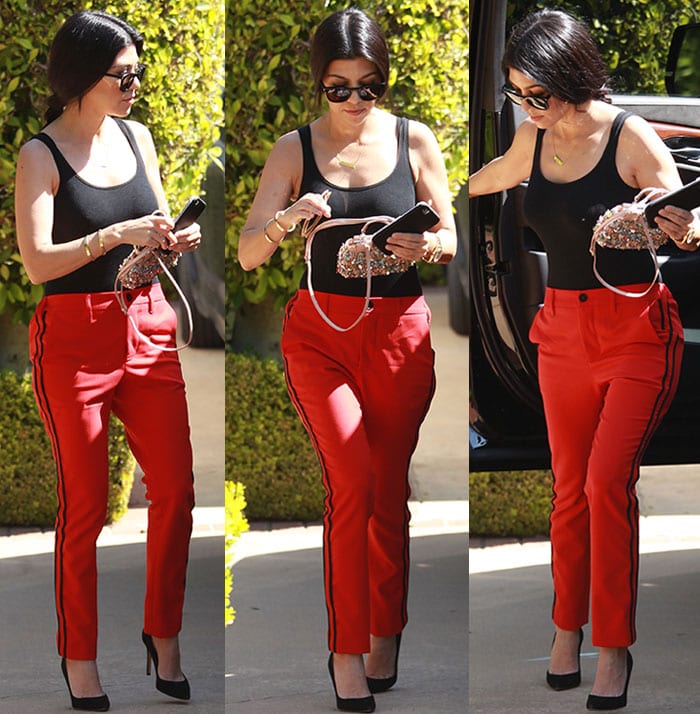 Kourtney Kardashian wears a Wolford top and Zadig & Voltaire pants (Credit: WENN)
Kourtney's pumps are from the Kardashians' favorite go-to shoe designer Gianvito Rossi.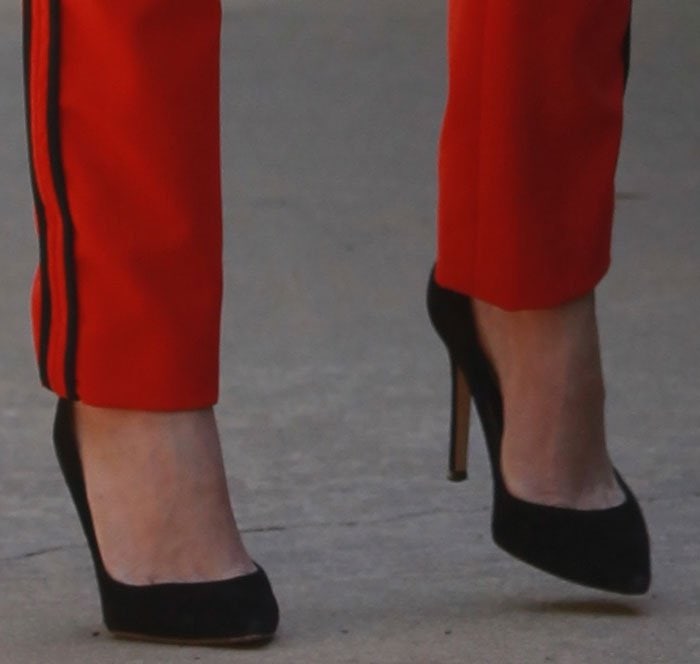 Kourtney Kardashian's feet in black suede Gianvito Rossi heels (Credit: WENN)
These classic black suede shoes from the popular women's shoe designer feature pointed toes and about four-inch heels.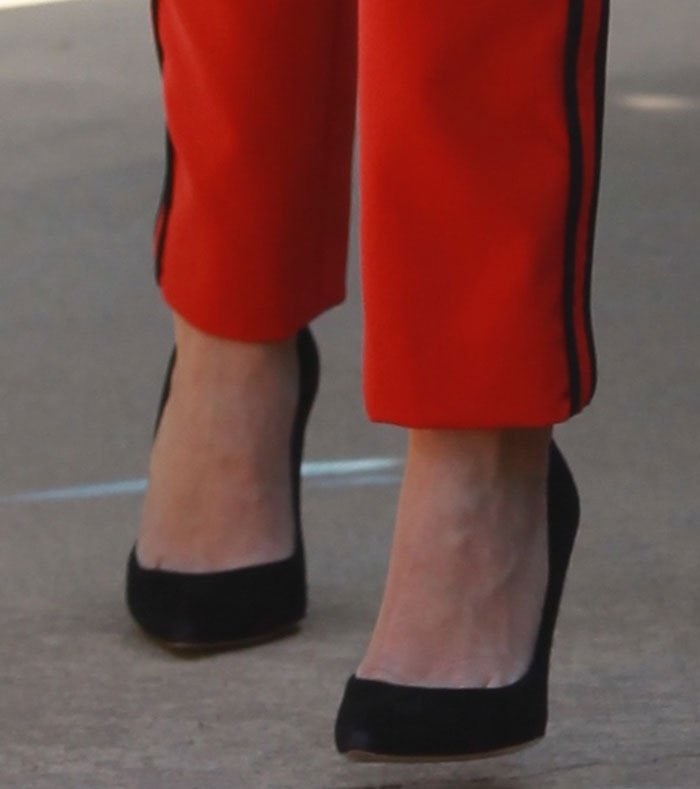 Kourtney Kardashian's feet in black Gianvito Rossi pumps (Credit: WENN)
You can order these Gianvito Rossi pumps at Farfetch and Net-A-Porter.
Black Gianvito Rossi 100 Suede Pumps, $670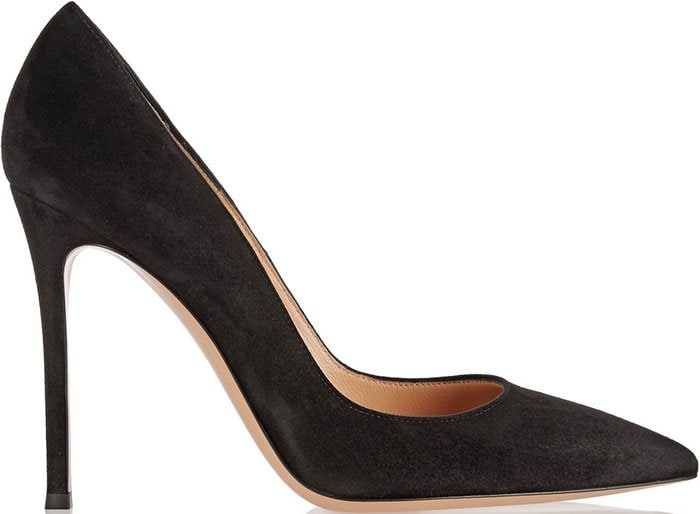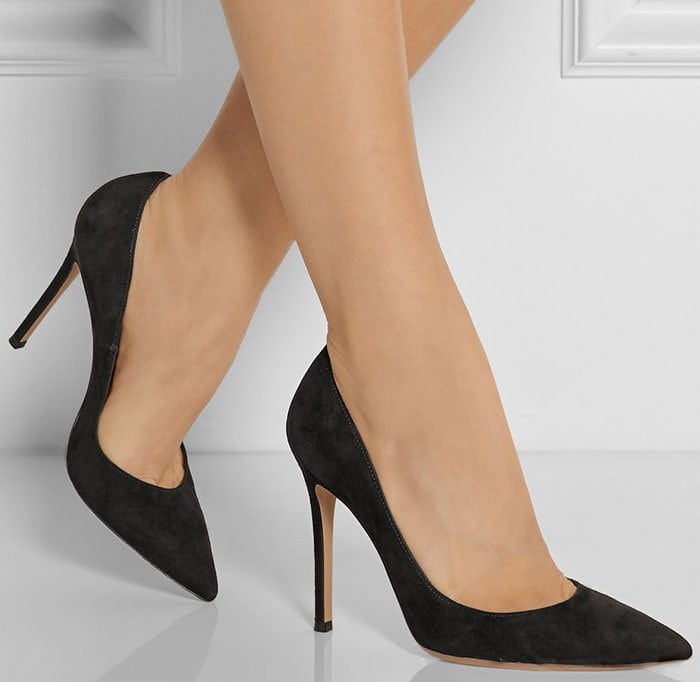 Gianvito Rossi's iconic black suede pumps can be worn with everything from culottes to party dresses