When there's an award show, you can guarantee there will be a Kardashian there. Kim Kardashian graced the red carpet at the Vanity Fair Oscar Party wearing a sky-blue Balenciaga dress.
Kim Kardashian in a blue Balenciaga Fall 2022 dress at the 2022 Vanity Fair After-Oscars Party on March 27, 2022, at the Wallis Annenberg Center for the Performing Arts in Beverly Hills, California (Credit: Jeffrey Mayer / Media Punch / INSTARimages)
With the release of the Kardashians' new reality TV show right around the corner, Kardashian took to the red carpet without her boyfriend Pete Davidson.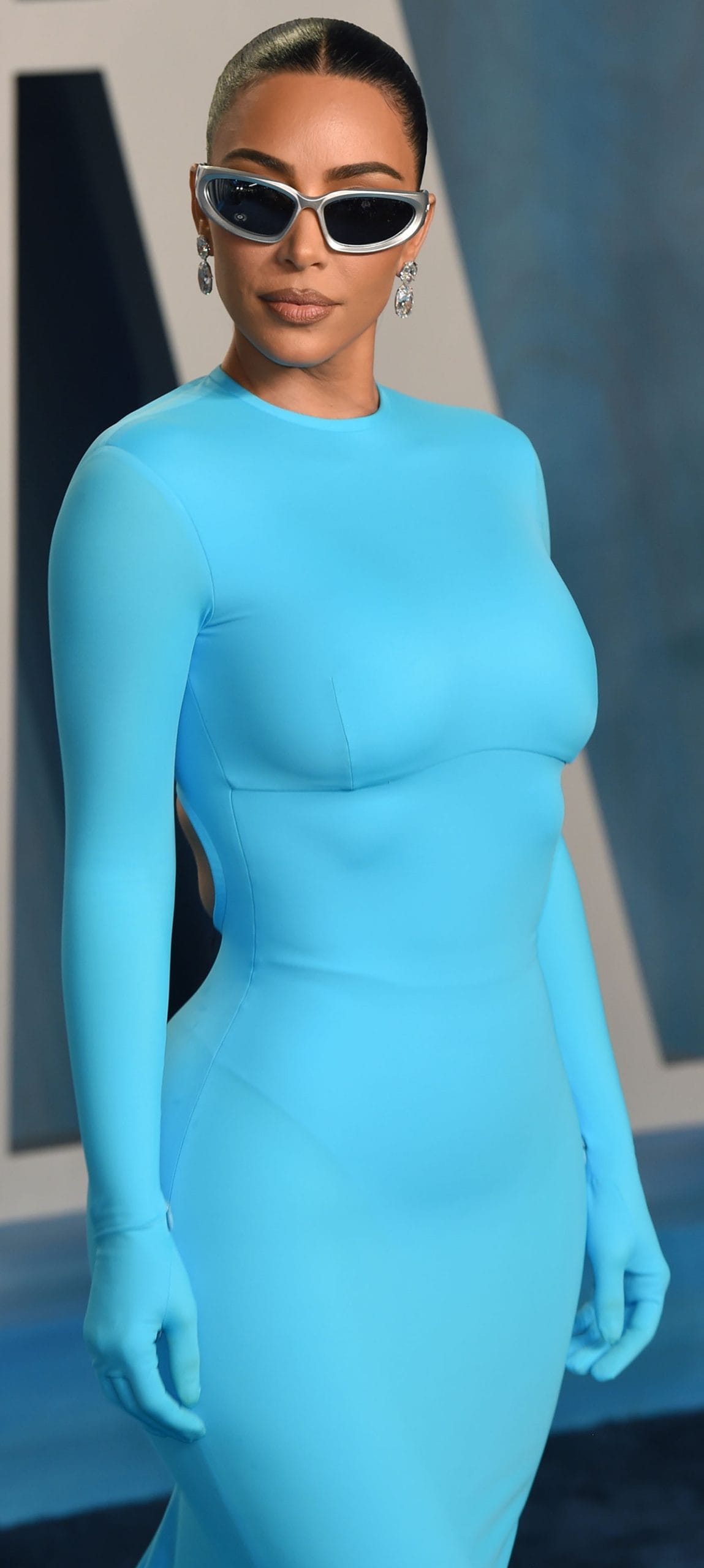 Kim Kardashian styled her bright blue dress with sunglasses, Lorraine Schwartz diamond earrings, and shapewear from Skims (Credit: Jeffrey Mayer / Media Punch / INSTARimages)
The tight bodycon dress accentuated Kardashian's hourglass silhouette with a Rapunzel-worthy sleek ponytail trailing down her back.
The dress incorporated matching full-length gloves for a 'Men in Black' worthy look.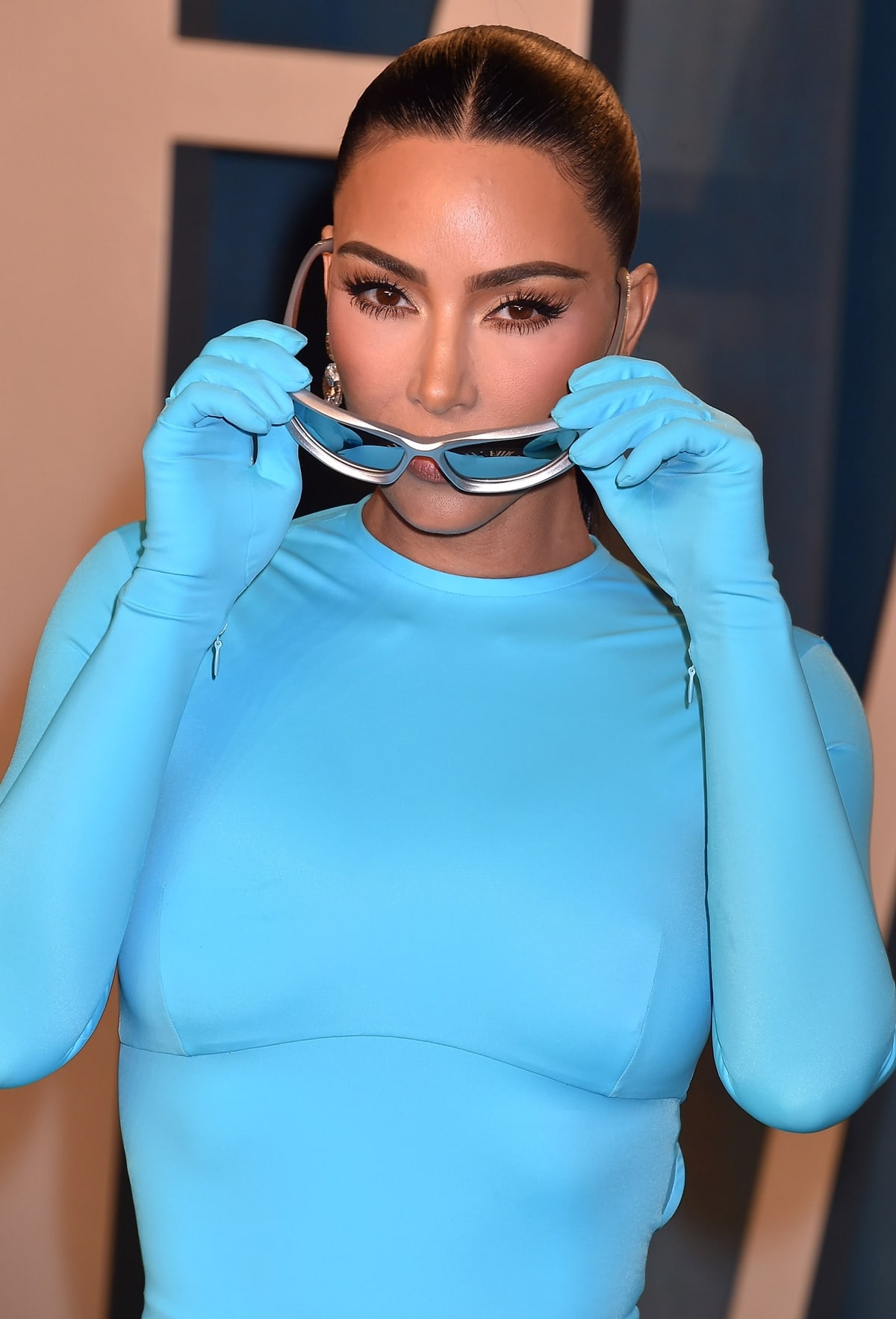 Kim Kardashian takes off her futuristic silver sunglasses (Credit: Jeffrey Mayer / Media Punch / INSTARimages)
Kim accessorized her bodycon Balenciaga dress with futuristic silver sunglasses and a sleek hairdo.
A pair of pointed-toe boots peeked out from under the gown's long train. The reality star finished off her look with a pair of drop earrings from American jewelry designer Lorraine Schwartz.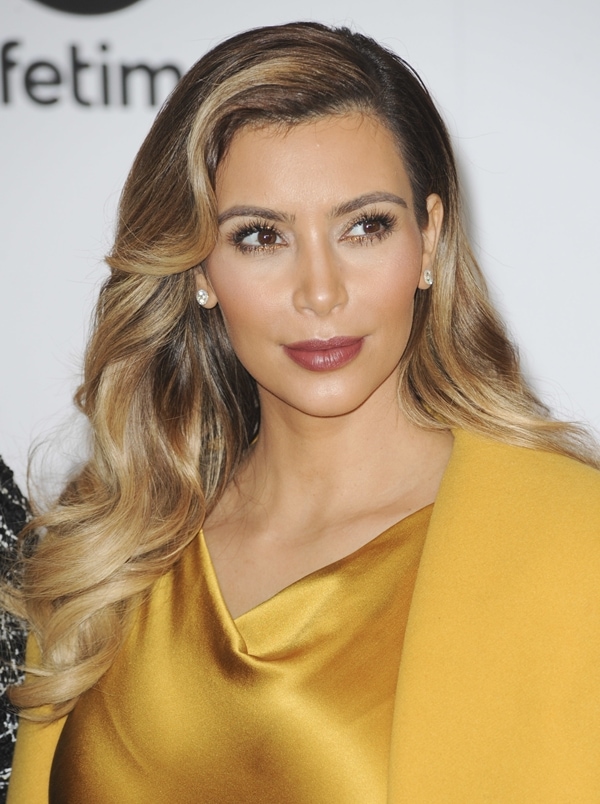 Kim Kardashian made sure her skin was all bronzed out (Credit: WENN)
In December 2013, Kim Kardashian actually looked gorgeous, guys!
The reality star and ShoeDazzle founder was slammed by critics when she gained weight during her pregnancy, but it seemed that all the post-baby weight had been shed off. North West was born on June 15, 2013, at Cedars-Sinai Medical Center in Los Angeles.
"When I was pregnant with my daughter North, I had a condition called preeclampsia or toxemia, which is basically when the mom's organs start to shut down," Kardashian said in a Skims video shared in December 2019. "The only way to get rid of that is to deliver the baby."
"At 34 and a half weeks, I had to go into emergency labor — they induced me. North was 4 pounds. She was almost six weeks early. After I delivered, my placenta never came out, so that's called placenta accreta. My placenta grew inside my uterus and that is what women die from in childbirth."
Kim Kardashian in a Max Mara Teddy yellow coat at THR's Women in Entertainment Breakfast in Los Angeles on December 11, 2013 (Credit: Apega / WENN / FayesVision / Ryan / revolutionpix)
Dressed in a stunning yellow satin Lanvin dress and a Max Mara coat, Kim was a golden diva on the red carpet of THR's Women in Entertainment Breakfast.
Toting a gold metal mesh Bottega Veneta Intrecciato knot clutch, she made sure her skin was all bronzed out, too, so she could be as shiny and eye-catching as her ensemble.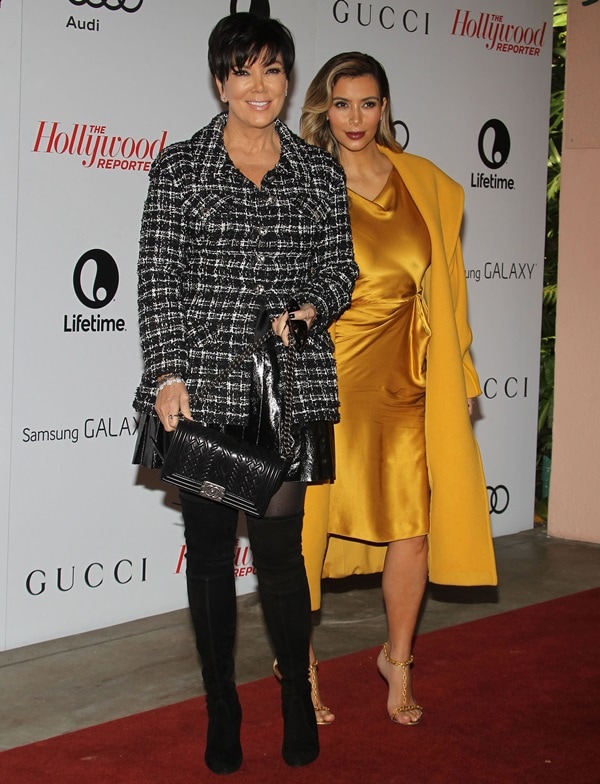 Kris Jenner and Kim arrive at The Hollywood Reporter's Women in Entertainment breakfast (Credit: WENN)
And our favorite part of the ensemble — her Tom Ford golden chain sandals. It wasn't the first time we'd seen her wearing them.
She wore them a couple of months earlier at her 33rd birthday bash and also to the Kardashian Collection launch in London.
Unfortunately, they are not available online. However, you can shop the most recent releases from Tom Ford at Farfetch and Ssense.
Kim Kardashian is known for taking good care of her pretty feet (Credit: WENN)
It was actually surprising to see Kim recycling some of the old pieces in her closet. Even her yellow coat was a repeat.
Kim Kardashian displays her feet in Tom Ford Spring 2012 sandals (Credit: WENN)
She had been photographed several times wearing this gorgeous mustard coat. This is actually a good thing, though!
Re-wearing old clothing makes this reality diva seem more down-to-earth, don't you think?
Kim Kardashian showing off her feet in Tom Ford gold chain sandals (Credit: WENN)