Hulu's new reality series will be missing one familiar face. The Kendell-Jenner family's new show, The Kardashians will be without Caitlyn Jenner.
Despite having a part in multiple seasons of Keeping Up With the Kardashians, Kris Jenner's ex-husband will not be making an appearance.
The show will feature Kris and her daughters Kourtney, Kim, and Khloe, Kendall, and Kylie.
Following the release of a brand-new trailer, the former Olympian shared her thoughts on Twitter: "I was there when this started on day one. I watched it grow. And doing the show for almost 20 seasons was one of the highlights of my life. To be able to work with my family for all those years, connect with the fans, it was incredible. Happy that it continues for my family."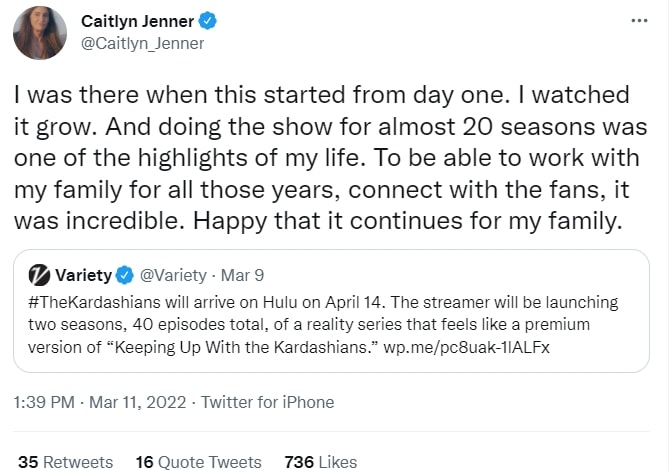 Caitlyn Jenner was disappointed to be "explicitly excluded" from the Kardashians' new reality series with Disney and Hulu (Credit: Caitlyn Jenner's Twitter)
Caitlyn also revealed on Twitter that it wasn't until she read the news online that she found out she wasn't to take part in the show. She was "shocked to learn through the press" about the exclusion.
In recent years, Caitlyn has been estranged from members of the Kardashian family, though fences were seemingly mended after Kris was seen giving Caitlyn advice in a 2021 KUWTK episode.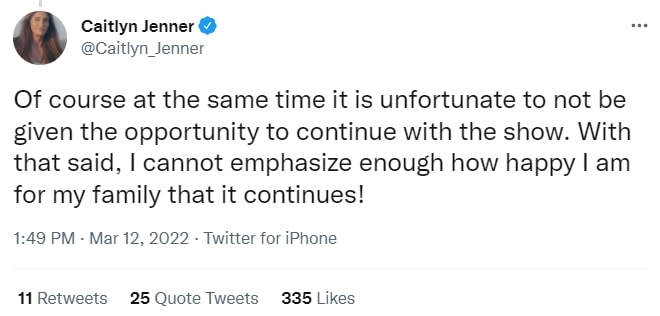 Caitlyn Jenner would have liked to continue starring in The Kardashians (Credit: Caitlyn Jenner's Twitter)
In the same episode, Kim says, "​I'm just proud of my mom for reaching this place of growth where she can be super cordial with Caitlyn. Maybe if it's just baby steps, she doesn't have to put the whole thing aside, but she can communicate and start that little relationship-building."
Despite the apparent fence-mending, Caitlyn felt shocked to learn of the exclusion from the new series.
Caitlyn Jenner was not invited to take part in the family's new Hulu show The Kardashians (Credit: Eugene Powers / Shutterstock)
She also added, "Of course, at the same time it is unfortunate to not be given the opportunity to continue with the show. With that said, I cannot emphasize enough how happy I am for my family that it continues!"
In February 2021, Kylie Jenner gave her dad a makeover while talking about their childhoods at her Kylie Cosmetics office.
Despite the drama, the 72-year-old recently met Kylie and Travis Scott's new baby boy and noted that they are "doing great".
Reality TV just hasn't been the same without Keeping up with the Kardashians; love them or hate them, we can't help but get caught up in the ups and downs of this family's glamorous, rollercoaster life.
With less than a month away, we don't have much longer to wait for their much-anticipated return. Their new show, The Kardashians, is premiering on the 14th of April on Hulu, and if the latest trailer is anything to go by, it's going to kick off with a bang.
Caitlyn Jenner attends a screening of "Walk To Vegas" at the 30th Annual Palm Springs International Film Festival on January 11, 2019, in Palm Springs, California (Credit: Kathy Hutchins / Shutterstock)
With two seasons and 40 episodes to look forward to, what can we expect?
Who's In and Who's Out?
On the out-list is Caitlyn Jenner, who is disappointed not to be featured on the new show, saying, "It is unfortunate to not be given the opportunity to continue with the show."
But the in-list is full of our old favorites, Kris, Kourtney, Kim, Khloé, Kendall, and Kylie.
Scott still appears to be part of the team, appearing at the beginning of the trailer where he says to Kim, "They're gonna like you for who you are, not what you wear," and then adds, "I'm just kidding, obviously."
Trailer-Teasers
The trailer starts with Kourtney saying, "Life without cameras was a big change for us," and Kendall adds, "I think it's time to see a whole new side of the family."
Kris Jenner has called the switch to Hulu a "no brainer" (Credit: Hulu / YouTube)
Previous interviews have suggested that the new series will also focus on their business enterprises and not purely on family drama. And with all the recent goings-on, there will be plenty to see.
Baby News
The trailer gives a sneak preview of Kourtney and Travis's baby plans. Kourtney tells us, alongside scenes from Travis's romantic beachside proposal, that she and Travis want to have a baby.
The trailer then cuts to the Doctor's office, where the couple is asked for a sample, and as the door closes, Kourtney laughingly says, "We'll take our mics off. You don't get the audio." In another scene, Travis is seen lovingly holding and kissing Kourtney's hand as she is lying down in the doctor's room.
Kourtney Kardashian's ex Scott Disick appears in the trailer for The Kardashians (Credit: Hulu / YouTube)
And while we are on baby news, we get sight of a pregnant Kylie saying she feels like her pregnancy is really public this time.
We see scenes of her fighting her way through the paparazzi, which is followed by a clip of Kylie and Kendall driving, with Kendall saying she feels like they are being chased. Previously, Kylie had managed to keep her pregnancy out of the public eye but not this time.
Relationships On and Off
And for those of you wondering what is happening with Khloé and Tristan Thompson, Khloé says that the relationship is complicated before the scene cuts to her telling Tristan that trust takes time.
Seems like this is a work in progress; perhaps we will get more insight into the paternity situation. Towards the end of the trailer, we see Khloé in tears, asking her sisters, "Why are we always making excuses for the people that traumatize us?" Is this related to Tristan? We will have to wait and see.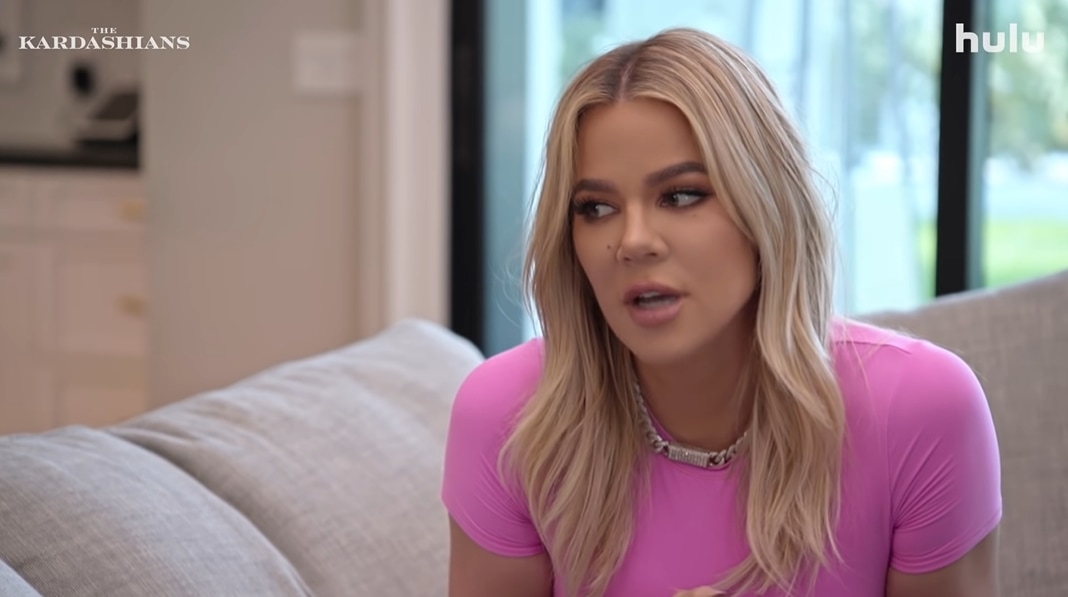 Khloé Kardashian opens up about her complicated relationship with Tristan Thompson in "The Kardashians" trailer (Credit: Hulu / YouTube)
Let's be honest: we can't wait to see how Kim gets on with all the Kanye drama. She shares that it has been really hard with Kanye and we see her sitting with Kourtney, confiding, "He told me my career is over."
But we also see a happy smiling Kim texting away whilst the producer asks, "Who are you texting, Kim?" "Does his name rhyme with 'Feet'?"
Kris sums up everyone's thoughts over Kim's relationship with Pete Davidson, saying, "This is a relationship that I don't think anybody saw coming."
The Cliff-Hanger
But it's the end of the trailer that has left us with many unanswered questions. The camera pans to Kim who is on the phone furiously saying, "We have all the of the time and all of the resources to burn them all the to f*cking ground."
The preview then cuts to a new scene featuring Khloé saying, "Never go against the family." whilst looking at Scott and this is echoed by Kris repeating, "Never go against the family!" Who are they talking about and what did they do? We have so many questions!!!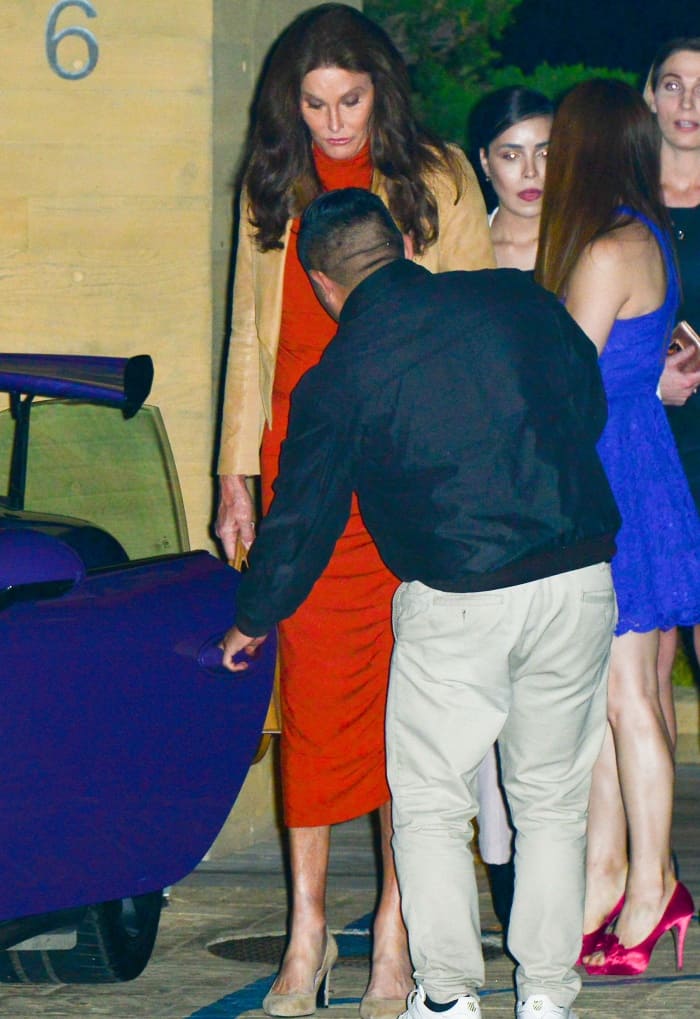 One month before publishing her memoir, The Secrets of My Life, Caitlyn Jenner went for dinner at Nobu Malibu (Credit: WENN)
In March 2017, Caitlyn Jenner was gearing up for the April 25 release of her memoir, "The Secrets of My Life," which she wrote in collaboration with journalist Buzz Bissinger.
Available on Amazon, her memoir appeared on The New York Times Best Seller list and the USA Today Best Seller list.
The popular television personality had also been actively advocating for LGBTQ rights. She earned backlash for her support of Donald Trump, but later on, she expressed her utmost disapproval of his stance on LGBTQ issues.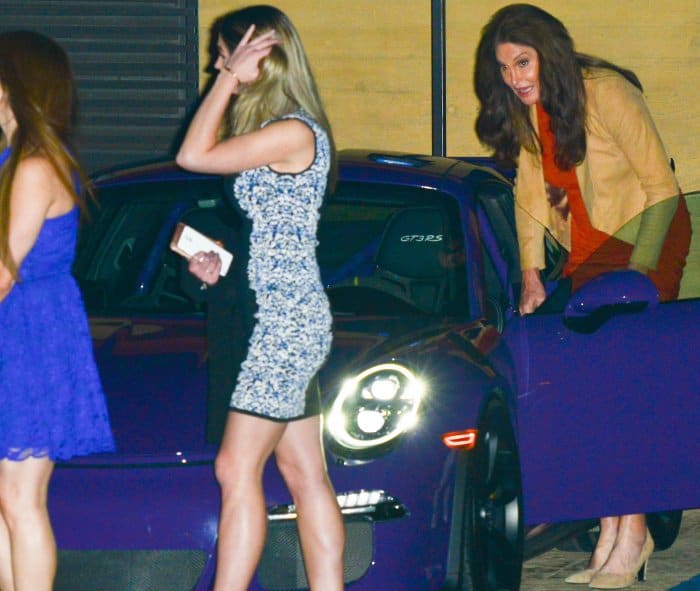 Caitlyn Jenner outside her purple Porche in a tan jacket paired with a red midi dress and tan suede pumps (Credit: WENN)
Even with her hectic schedule, Caitlyn still managed to find time to unwind and enjoy a night out.
One month earlier, she watched the UCLA Bruins win at a basketball game in Los Angeles, and she also managed to fit in an appearance at Elton John's AIDS Foundation Oscars Party with transgender model Andreja Pejić.
Caitlyn Jenner exits Nobu Malibu, a popular restaurant known for exquisite cuisine featuring Nobu Matsuhisa's signature dishes (Credit: WENN)
Caitlyn grabbed some dinner at Nobu Matsuhisa's' Nobu in Malibu. She looked sophisticated in a bright red midi dress, which she styled with a tan jacket.
Caitlyn Jenner drives her purple Porsche 911 GT3 RS (Credit: WENN)
Her hair cascaded down her shoulders in tousled waves. She finished off her look with a pair of tan suede pumps with pointy toes and high heels.
The "I Am Cait" star left the Japanese restaurant in her dark blue Porsche later that evening.
Caitlyn Jenner leaving Nobu restaurant in Malibu, California, on March 4, 2017 (Credit: WENN)