Kanye West's Insta-ban and subsequent cancellation at the Grammy's has been hitting headlines around the world.
The 44-year-old rapper was first suspended for 24-hours on Instagram, following a racial slur aimed at Trevor Noah, the host of the popular Daily Show.
Instagram's parent company Meta came out saying Kanye had violated the group's policies on hate speech, bullying, and harassment.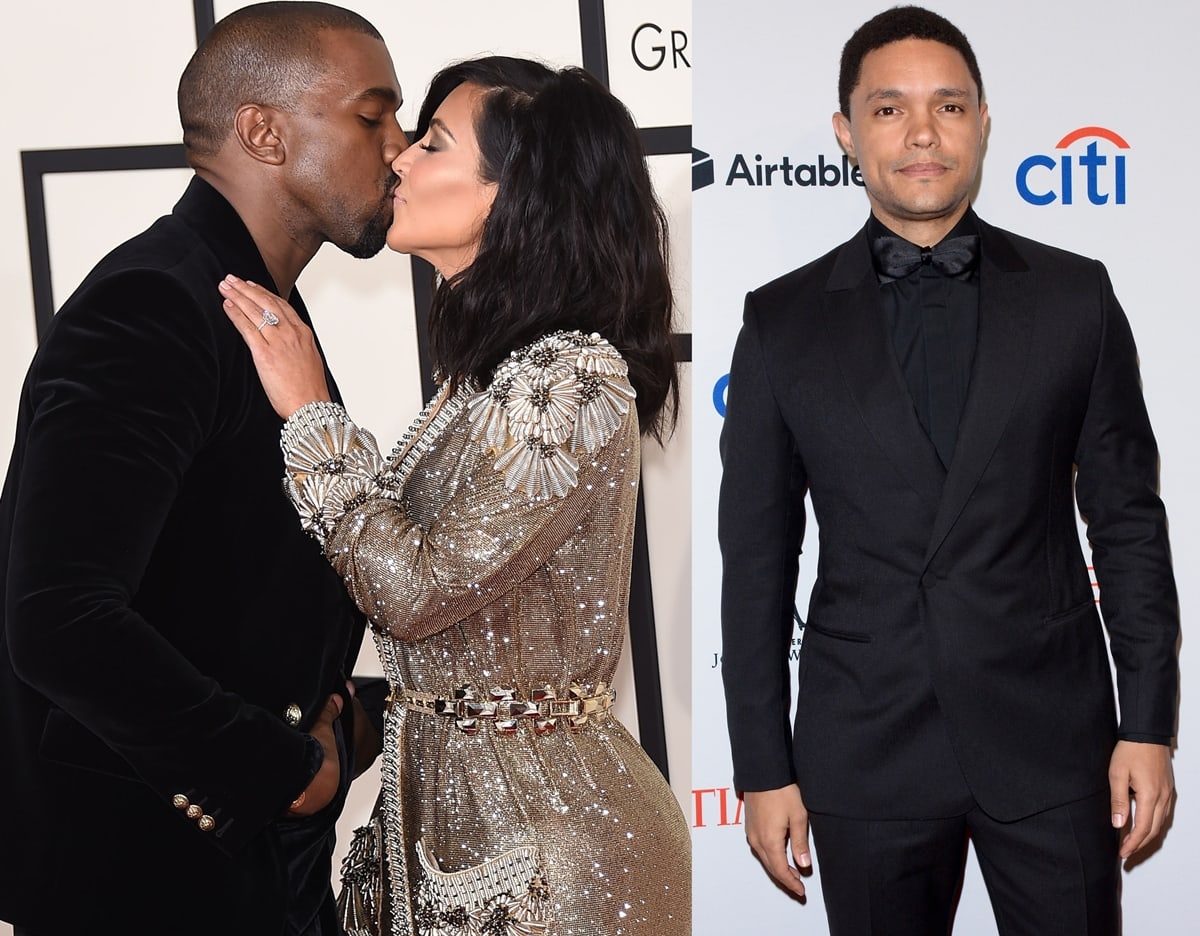 Kim Kardashian thinks Kanye West's 24-hour Instagram suspension was fair after he went after The Daily Show's Trevor Noah with a racial slur (Credit: Debby Wong / DFree / Shutterstock)
And now the Grammys have canceled his performance at the upcoming music award ceremony as a result of his "concerning online activity."
Although, he may just make a stage appearance after all, as he has been nominated for 5 Grammys around his "Donda" album.
Why the Bans?
Instagram hasn't specifically identified which of Kanye's posts violated their policies and let's be honest, there are probably quite a few which have tested the limits, specifically when it comes to Kim Kardashian and Pete Davidson.
View this post on Instagram
He has constantly used the platform to attack Pete in what can only be described as a very odd strategy to get Kim back.
It is however generally accepted that it was the Trevor Noah slur that was the last straw leading him to lose one of his favorite social media tools.
Trevor Noah, who himself is no stranger to controversy, decided to discuss the ongoing animosity between Kim, Kanye, and Pete.
He posted a segment called "Unpacking the Kim-Kanye-Pete situation and the harassment many women face when trying to leave a relationship."
During this segment, Trevor said, "I see a woman who wants to live her life without being harassed by an ex-boyfriend or an ex-husband or an ex-anything …. But what she's going through is terrifying to watch and shines a spotlight on what so many women go through when they choose to leave."
Kanye hit back via Instagram on the 16th of March, sharing a screenshot of Trevor which was captioned with a racial slur used multiple times throughout the post. The post has subsequently been deleted.
Ban Reactions
According to a source interviewed by People, "Kim found the suspension to be fair, but her reaction wasn't very dramatic. She didn't make a big deal out of it and joked that she needed a break for a day. All of Kanye's posts have been exhausting for her though."
View this post on Instagram
The source went on to say, "It's very impressive how calm and collected she is able to stay. She is very happy with Pete. Her kids are doing great. She is trying her best to stay positive and focus on all the amazing things in her life."
Trevor Noah on the other hand has responded quite differently, tweeting – "I said counsel Kanye, not cancel Kanye." We think Kim probably agrees with this statement.
Kim Kardashian officially filed for divorce from Kanye West in February 2021 after seven years of marriage (Credit: Sky Cinema / Shutterstock)
Kim filed for divorce last year February and was declared legally single at the beginning of March after 7 years of marriage. Kanye took to using his Instagram account to publicly voice his unhappiness over custody and childcare issues throughout his divorce from Kim.
Kim had previously told a judge that Kanye's posts on social media caused her emotional distress.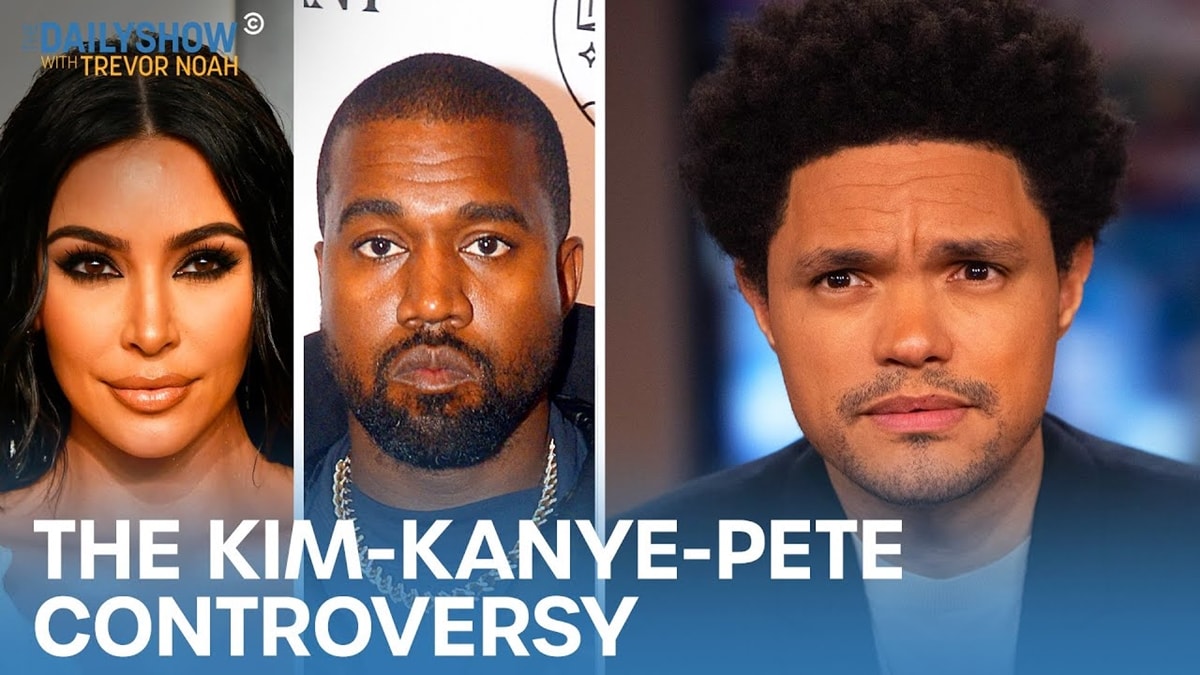 Kanye West lashed out at Trevor Noah after The Daily Show host said Kanye was "harassing" his ex Kim Kardashian amid their divorce proceedings (Credit: The Daily Show / YouTube)
Fans are now speculating that Khloe Kardashian is showing support for Kanye as she was wearing Yeezy sneakers when spotted at Van Nuys Airport.
We think that's a bit of a stretch but on the other hand, nothing is beyond the realms of possibility when it comes to the Kardashians.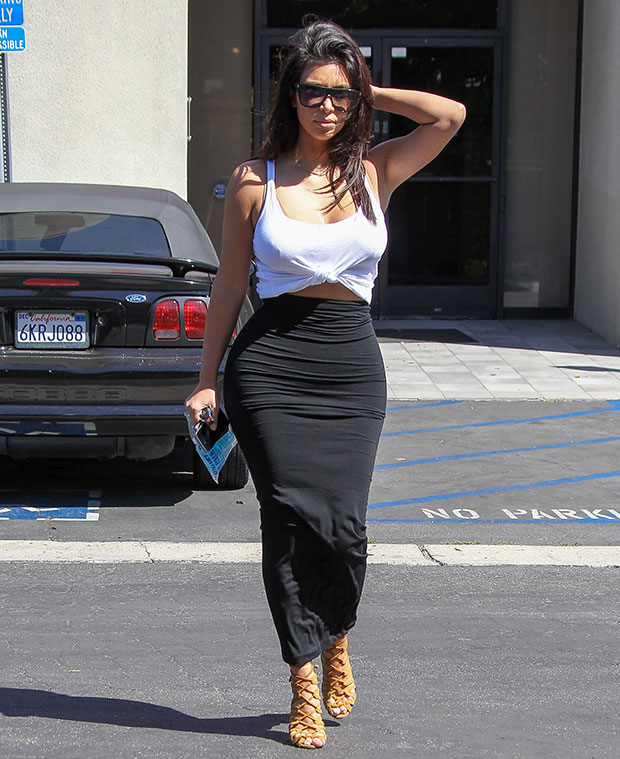 Kim Kardashian turned the car park at Bunim/Murray production studio into her very own catwalk (Credit: WENN)
In September 2014, Kim Kardashian turned the car park at Bunim/Murray production studio into her very own catwalk. She was hard to miss in a hot monochrome number while visiting the said office in Los Angeles for a meeting.
Never one to shy away from flaunting her enviable curves, Reggie Bush's ex-girlfriend wore a high-waisted fitted skirt that showcased her famous bum and a white low-cut tank top, which she tied in a knot, accentuating her tiny waist.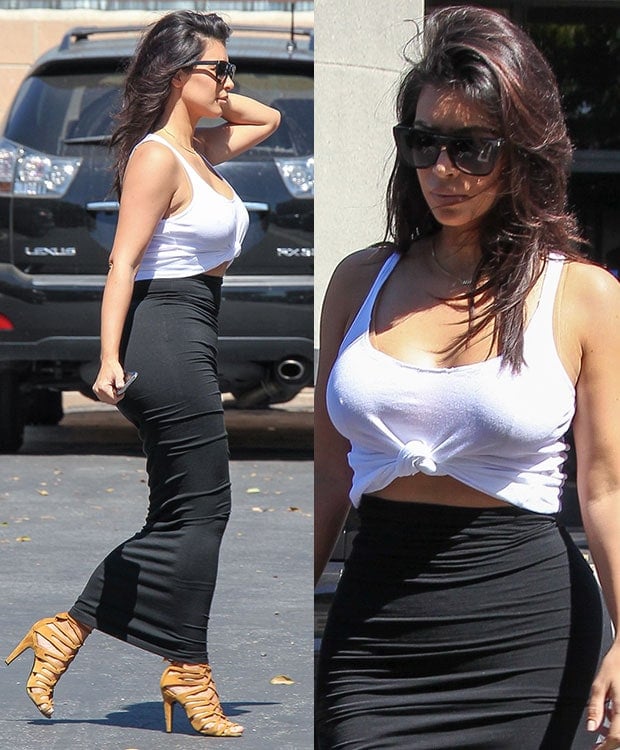 Kim Kardashian at the Bunim/Murray Production studios in Los Angeles on September 17, 2014 (Credit: WENN)
The then 33-year-old reality star and ShoeDazzle founder looked amazing in this simple but hot outfit. She styled it with a necklace, a pair of sunglasses, and her favorite Hermes lace-up heels.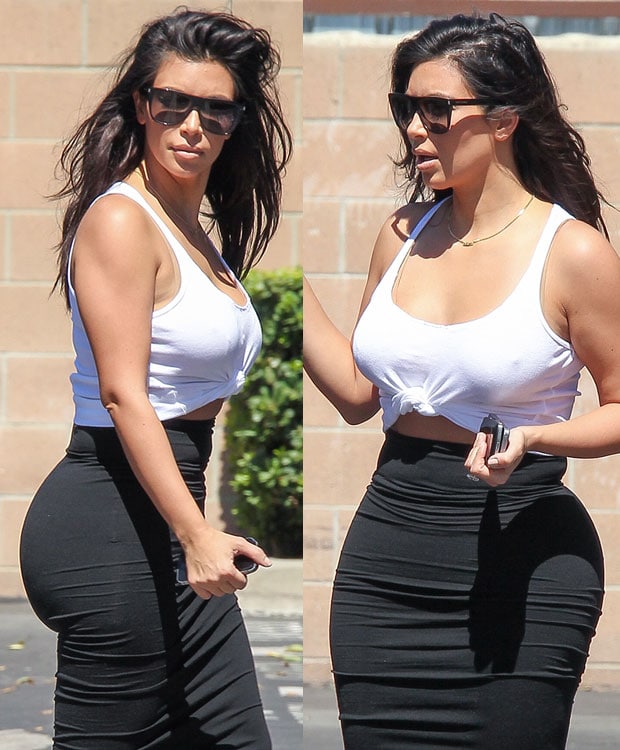 Kim Kardashian in a high-waisted fitted skirt that showcased her famous bum and a white low-cut tank top (Credit: WENN)
We've been eyeing Kim's strappy suede heels for quite some time now, but we can't find them online.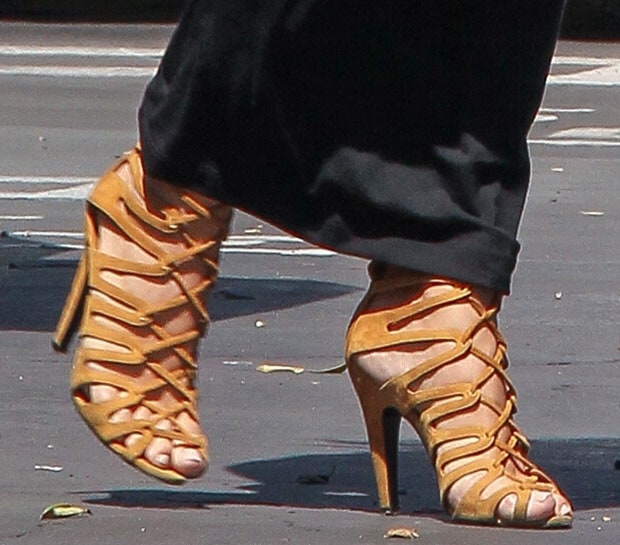 Kim Kardashian displays her feet in her favorite Hermes lace-up heels (Credit: WENN)

You might want to contact Hermes to try your luck. Fortunately, we found some similar heels at Nordstrom and Zappos that are way cheaper than Kim's:
Aldo "Verrasa" Sandals, $89.99
Pour La Victoire "Charlize" Sandals, $265