Adidas and Kanye West terminated their partnership in October 2022. As of November 2023, Adidas is still selling its remaining inventory of Yeezy shoes, but it is unclear how many pairs are left or when they will be discontinued.
Some Yeezy models, such as the Yeezy Boost 350 V1, Yeezy Boost 700 V1, and Yeezy Boost 750, have already been discontinued.
Other models, such as the Yeezy Boost 350 V2 and Yeezy Boost 700 V2, are still being sold by Adidas. However, likely, these models will also be discontinued in the future.
Kanye West wearing Yeezy Boost sneakers at Heathrow Airport in London on April 10, 2016 (Credit: WENN)
In October 2022, Adidas terminated its partnership with Kanye West after he made a series of antisemitic and other offensive public comments. The company said in a statement that it "does not tolerate antisemitism and any other sort of hate speech."
The Yeezy sneakers belong to a new line of modern shoes that combine both comfort and style perfectly. They are capable of instantly upgrading casual outfits and have become the statement trainers for a generation.
To buy authentic Adidas Yeezys, stick to authorized online retailers such as Adidas, Amazon, and Farfetch.
Kanye West wearing Yeezy Boost 350s with a white stripe (Credit: WENN)

As documented by The Los Angeles Times, Adidas Yeezy sneakers are some of the most counterfeited shoe designs in the world because of their huge market and limited production.
Each pair of Yeezys has been produced in a run of just 40,000 pairs. "What designer on the planet can sell, consistently, 40,000 shoes. In two minutes?" West revealed in 2016.
Kris Jenner wearing Yeezy Boost 350 sneakers at Heathrow Airport in London on July 14, 2015 (Credit: WENN)
They are also notorious for being expensive sneakers, which is one of the reasons why many consumers choose to buy from auction sites like eBay and unauthorized stores that offer cheaper prices. We'll also discuss in detail why they are so expensive.
Kris Jenner shows off her coveted Yeezy Boost 350 sneakers (Credit: WENN)
If you've been thinking of buying online to save yourself a couple of bucks, inspect the product for signs of counterfeiting closely.
adidas Originals x Kanye West YEEZY SEASON 1 at the Mercedes Benz Fashion Week in New York on February 12, 2015 (Credit: WENN)
Here are seven easy things to check to ensure you buy real Yeezys.
1. Match tag details to box details
If your Yeezy sneakers come inside a box, inspect and compare the tag and label.
A tag can be found on the inside of the shoe, which indicates details like the size and the serial number of the shoe. These details should match the ones on the box label.
2. Check the wave pattern
The Yeezy Boost 350 has a signature wave-like pattern on its Primeknit uppers. On genuine Yeezy shoes, the wave should be sideways, with irregular or different-sized wave prints.
The Yeezy Boost 350 has a signature wave-like pattern on its Primeknit uppers
Fake pairs have waves that look more like they were printed from top to bottom instead of left to right.
3. Check the middle stitching
The heavy stitching detail in the middle of the shoe should go down all the way to the outsole. You would be able to physically check this with your fingers. The stitching ends right under the tip of the outer sole.
4. Check the heel details
The heel of a Yeezy shoe is filled with intricate details. Make sure to pay close attention to the heel tab, which has red stitch details marked with box stitches.
The stitched square portion of the tab should contain five stitches, while the rectangular portion in the middle should have nine stitches.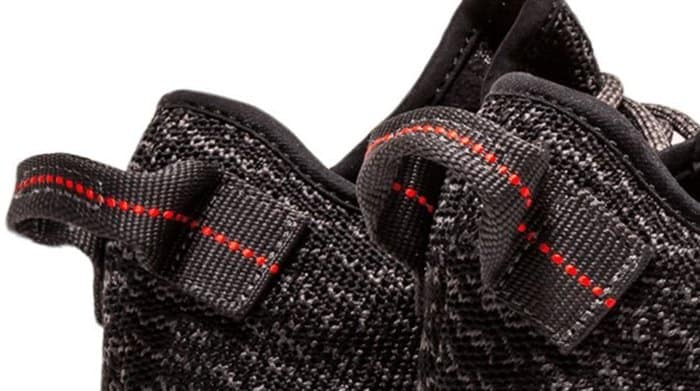 The heel of a Yeezy shoe is filled with intricate details
Another detail to watch out for is the placement of the heel tab, which should be just one centimeter away from the heel collar. In most counterfeits, the tab is stitched a lot further away, creating a wide gap between the tab and collar.
5. Check the insoles
The removable inner soles have an Adidas brand name and logo print. Counterfeiters typically use white ink while the genuine ones have a somewhat grey tone ink. When removed, you should see that the inner part of the shoe has the same material as its uppers.
Fakes usually have a cheap-looking white fabric that's stitched into the shoe. The logos and brand name on the insoles and outsoles should also be in opposite directions and look reflective (or like mirror images) when they are side by side.
6. Check the outsole
One of the most important details, which the counterfeiters often get wrong, can be found on the outsoles. On the bottom of the Boost, there's a white exposed part that has flower-like embossing.
On the bottom of the Boost, there's a white exposed part that has flower-like embossing
The pattern around them should be textured and irregular on both shoes. On genuine pairs, this part should feel a little mushy to the touch. Fake ones will feel more rigid and tough.
7. Check the side logo
The Adidas logo and YZY stamp are placed on the inner sides of each Yeezy pair. These should be centered and placed on the suede-like panel. Counterfeits typically have off-centered logos with fonts a tad bigger than the original.
Pay attention to the texture of the side panels, which should feel velvety to the touch.
Are Adidas Yeezy Boost 350 sneakers on DHgate real?
No, DHgate is a known scam retailer and does not sell authentic products. Fakes are not the real thing and you get the quality that you pay for. It's better to save up instead of buying a low-quality product.
Who makes Yeezys, and where are they manufactured?
Yeezy shoes are manufactured at factories operated by Adidas, primarily in China. However, the multinational corporation also makes footwear in Cambodia and Puerto Rico.
Adidas works with around 800 independent factories worldwide that manufacture our products in more than 55 countries.
Due to the company's complex supply chain structure, it's impossible to determine the authenticity of a pair of Yeezys simply by looking at where they were made.
Are Yeezys made in Vietnam?
According to the most recent list of factories making shoes for Adidas, the factories in Vietnam are not producing footwear.
Why Are Yeezys So Expensive?
While Kanye West helps create hype with his shoe designs, he is not the main reason why Yeezys are so expensive at sneaker reseller websites like Goat and StockX.
Regarding the materials used and the workmanship, his shoes do not even begin to compare with designer shoes from similarly priced brands.
Adidas introduced the Yeezy Boost 750, the inaugural sneaker from Kanye West's Yeezy line, on February 14, 2015
Instead, it's the simple law of supply and demand. Adidas makes an extremely small amount of Yeezys compared to the number of potential customers who want to buy a pair.
If Adidas and Kanye West were to increase production, the price per pair would go down. And the hype would eventually die down as well.
What is the cheapest Yeezy?
The all-black low-top Powerphase sneaker, released in March 2017, retails for just $100 at StockX, an online marketplace for sneaker resellers.
The Adidas x Yeezy Powerphase sneakers are the cheapest Yeezys
What Does Yeezy Mean?
Inspired by his mentor Jay-Z, who gave himself the name J-Hov (or Hov), derived from Jehovah, the Hebrew name for God, Kanye West chose the name of "Yeezus" to instate himself as a high level "God" of rap.
Derived from the name of Jesus, who most Christians believe he is the incarnation of God the Son and the awaited Messiah, Yeezus is also the title of Kanye West's groundbreaking sixth studio album that was released in 2013.
For his fashion collaboration, he followed a hip-hop nickname trend of adding "eezy" to letters in his last name. Other artists who have done the same include Weezy (Lil Wayne), Drizzy (Aubrey Drake Graham), Jeezy (Jay Wayne Jenkins), Eazy-E (Eric Lynn Wright), and Breezy (Christopher Maurice Brown).
One of Kanye West's short names is Ye, which is also the title of his eighth studio album, which was released in 2018.
According to Forbes, Yeezy is a shortening of the "Kanyeezy" nickname that Jay-Z gave him in the intro to the song "Lucifer" on The Black Album (2003).