She had been busy storming several runways for various high-fashion labels during Paris Fashion Week, but Gigi Hadid made sure to take some time to address Kanye West for attacking Vogue fashion editor Gabriella Karefa-Johnson after she criticized his "White Lives Matter" shirts at his PFW show.
Gigi Hadid walks the Stella McCartney SS23 runway during Paris Fashion Week on October 3, 2022 (Credit: Ik Aldama / DPA / Cover Images)
Karefa-Johnson was among the guests at Ye's surprise YZY season 9 runway presentation, which featured tees that bear Pope John Paul II's photo on the front and "White Lives Matter" on the back.
"White Lives Matter" is a controversial phrase used by critics of the civil rights movement Black Lives Matter.
Following the show, the Vogue global contributing fashion editor took to her Instagram Story to voice out her disapproval of the shirt's message. "The t-shirts this man conceived, produced, and shared with the world are pure violence," adding that "there is no excuse, there is no art here."
Talk show host and political commentator Candace Owens and Kanye West wearing White Lives Matters tees at Ye'z YZY SZ9 runway presentation (Credit: @RealCandaceO / Twitter)
Other guests, including Jaden Smith, who previously showed his support for Kanye, walked out of the show and later posted a series of tweets condemning Ye's collection: "I Had To Dip Lol," "True Leaders Lead," "I Don't Care Who's It Is If I Don't Feel The Message I'm Out," "Black Lives Matter," and "We Demand A More Progressive Future."
But although Jaden criticized Ye's collection, the Yeezy founder seemingly ignored it and instead singled out Karefa-Johnson's comment.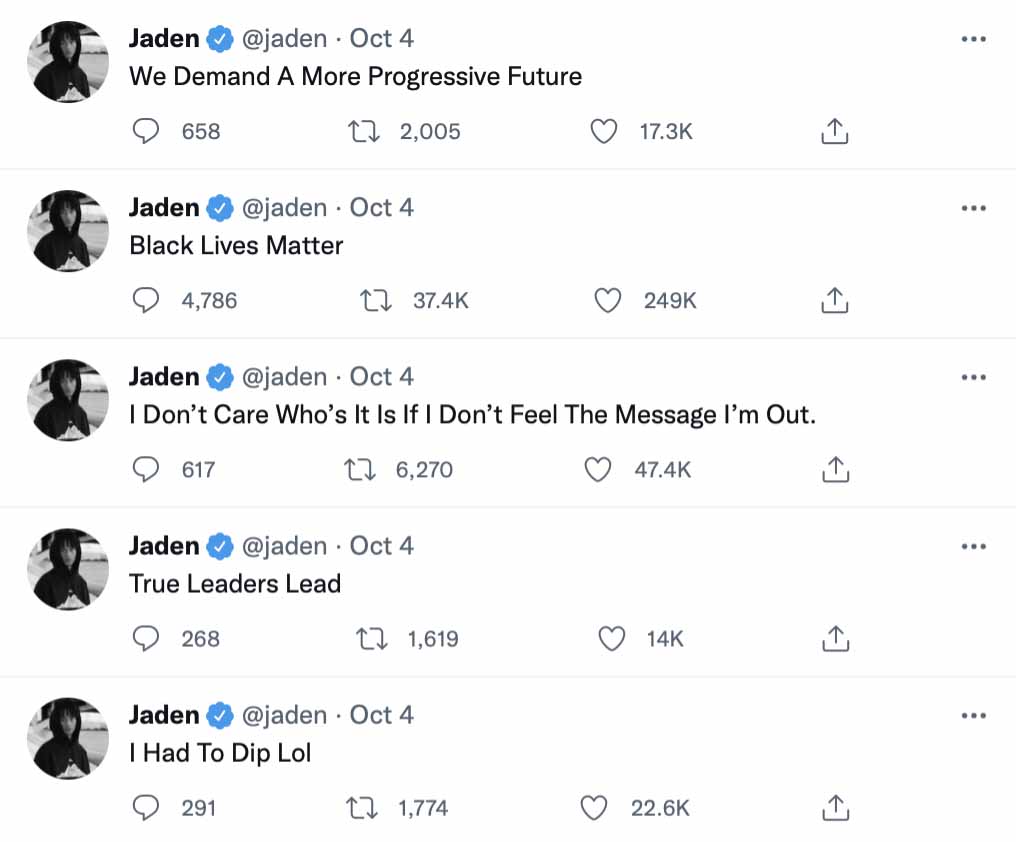 Jaden Smith condemns Ye's White Lives Matter tees in a series of tweets (Credit: @Jaden / Twitter)
In response, the rapper publicly mocked the editor's style in a now-deleted Instagram post, which showed Gabriella's photo wearing a long brown coat, a yellow top, a striped skirt, Timberland lace-up boots, and a blue bag.
Ye criticized her fashion, saying: "This is not a fashion person. You speak on Ye Ima speak on you Ask Trevor Noah"
He also posted a zoomed-in photo of her boots, which were the Timberland Veneda Carter edition, and said Anna Wintour would disapprove: "I KNOOOOOOW ANNA HAAAATES THESE BOOTS."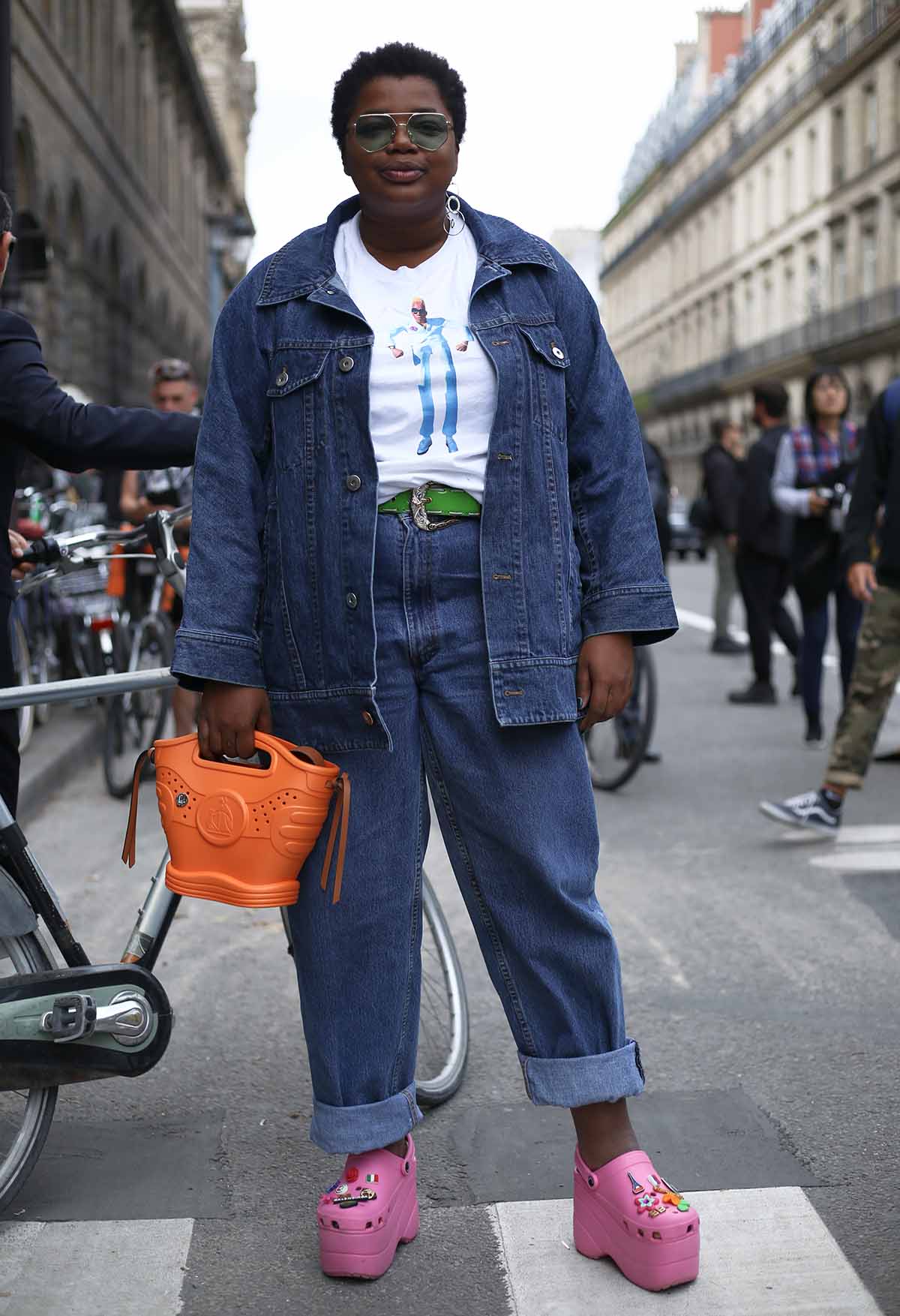 Gabriella Karefa-Johnson at the Giambattista Valli show during Paris Fashion Week in September 2019 (Credit: Runway Manhattan / Cover Images)
Gigi Hadid Defends Gabriella Karefa-Johnson
Amidst their heated Instagram feud, rich supermodel Gigi Hadid, who's rumored to be dating Leonardo DiCaprio, quickly came to Karefa-Johnson's defense.
"You wish u had a percentage of her intellect. You have no idea haha…. If there's actually a point to any of your shit she might be the only person that could save u. As if the "honor" of being invited to your show should keep someone from giving their opinions ..? Lol. You're a bully and a joke," Hadid commented on one of Ye's now-deleted posts.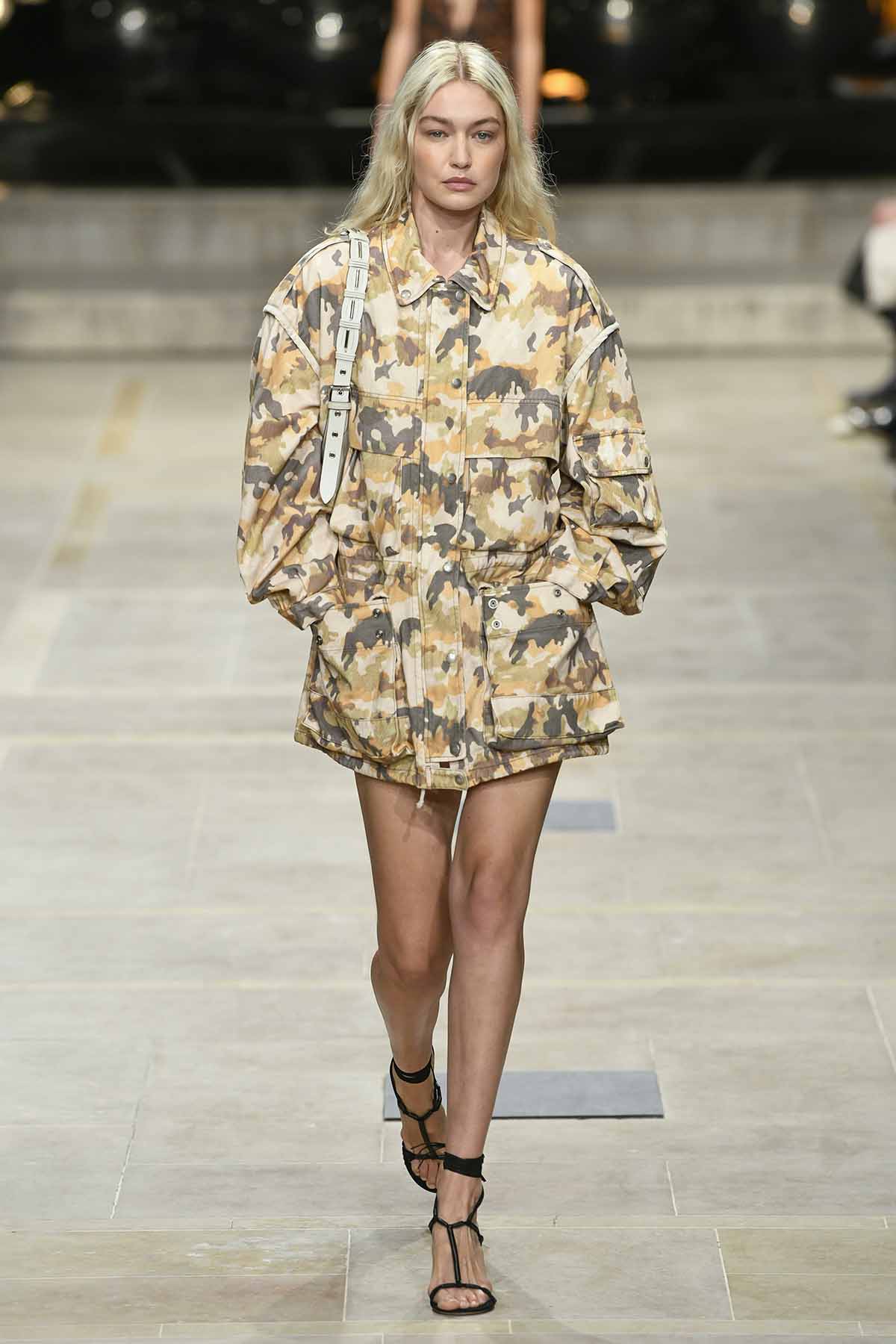 Gigi Hadid in a camo jacket and black heels at the Isabel Marant SS23 runway during Paris Fashion Week (Credit: Ik Aldama / DPA / Cover Images)
Gigi, who has been called one of the great antisemitic hypocrites of our time, also took to her Instagram story to say that Karefa-Johnson is "one of the most important voices in our industry" and that she "could school that disgraceful man in more ways than he knows."
West later posted a photo of Karefa-Johnson and said they apologized to each other. "GABBY IS MY SISTER," he said in the post, to which Gigi Hadid replied, "It's Gabriella*"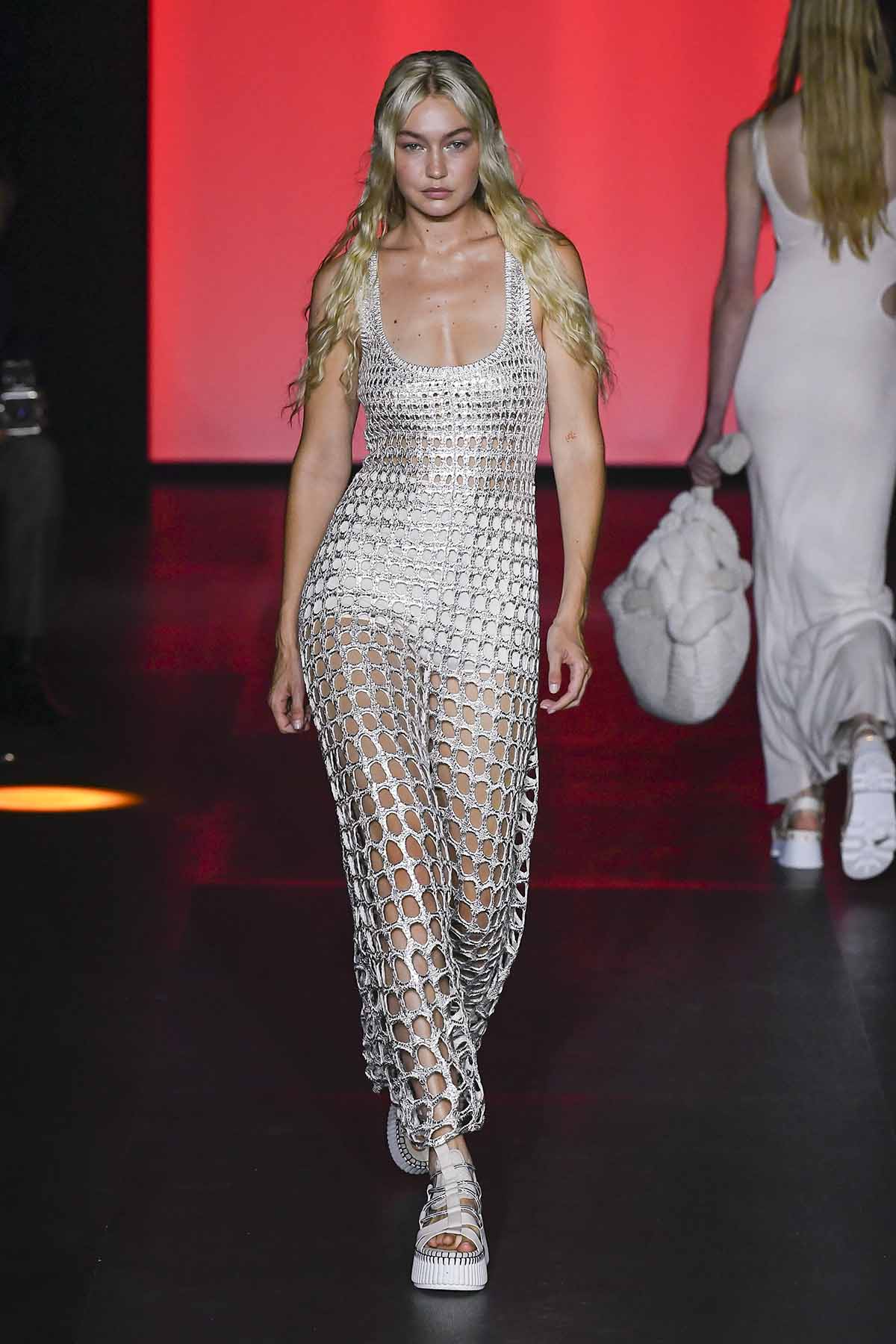 Gigi Hadid flaunts legs and cleavage in a revealing silver cutout dress at Chloe's SS23 fashion show during Paris Fashion Week (Credit: Ik Aldama / DPA / Cover Images)
Kanye continued to fire back at Gigi, calling her a "privileged Karen," after the 5'10.5″ tall model argued that Ye didn't treat the late designer Virgil Abloh like a friend.
"Even people who knew him for a percentage of the time knew Kanye did not treat V like a friend ++ V LOVED GKJ…. He's watching," Hadid said in a comment.
Gigi Hadid wears a denim-on-denim jacket and shorts outfit with bleached eyebrows and white lace-up heels at Givenchy's SS23 runway (Credit: Ik Aldama / DPA / Cover Images)
West countered and said, "I'm not finna get ran over by Hollywood again. Gigi you a privileged Karen. You were born with a silver spoon in your mouth. You're a zombie. You speak up here but didn't speak up when my child was kidnapped on her birthday."
Kanye West Claims He Wasn't Invited to Daughter's Birthday Party
Khloe Kardashian spoke about Kanye's allegations that he wasn't permitted to attend his daughter Chicago's fourth birthday party early this year.
The 38-year-old socialite begged the rapper to leave her family alone, saying: "Ye, I love you. I don't want to do this on social media but YOU keep bringing it here. You are the father of my nieces and nephews and I'm trying to be respectful but please STOP tearing Kimberly down and using our family when you want to deflect."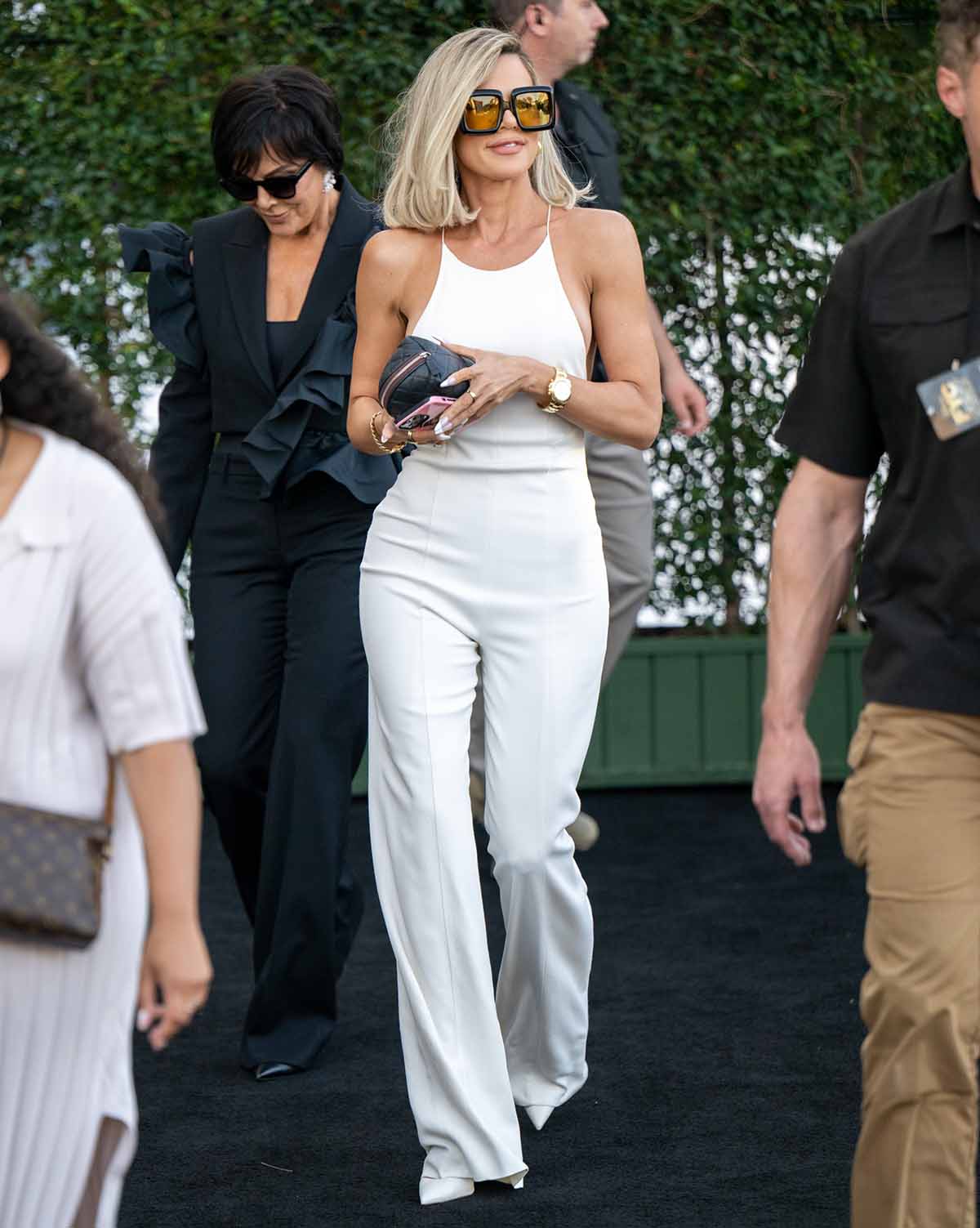 Khloe Kardashian, pictured at the Hulu FYC Event in June, begged Kanye West to leave their family alone (Credit: BauerGriffin / INSTARimages / Cover Images)
She went on to say, "Again with the birthday narrative. Enough already. We all know the truth and in my opinion, everyone's tired of it."
"You know exactly where your children are at all times and YOU wanted separate birthdays. I have seen all of the texts to prove it. And when you changed your mind and wanted to attend, you came."