Gigi Hadid is one of the world's most successful and well-known supermodels. The 27-year-old is also one of the highest earning models in the world, with an estimated net worth of $29 million.
Hadid has made millions as a model and earns about $9 – $10 million per year thanks to her contracts with global brands like Maybelline, Evian, BMW, Versace, and Tommy Hilfiger.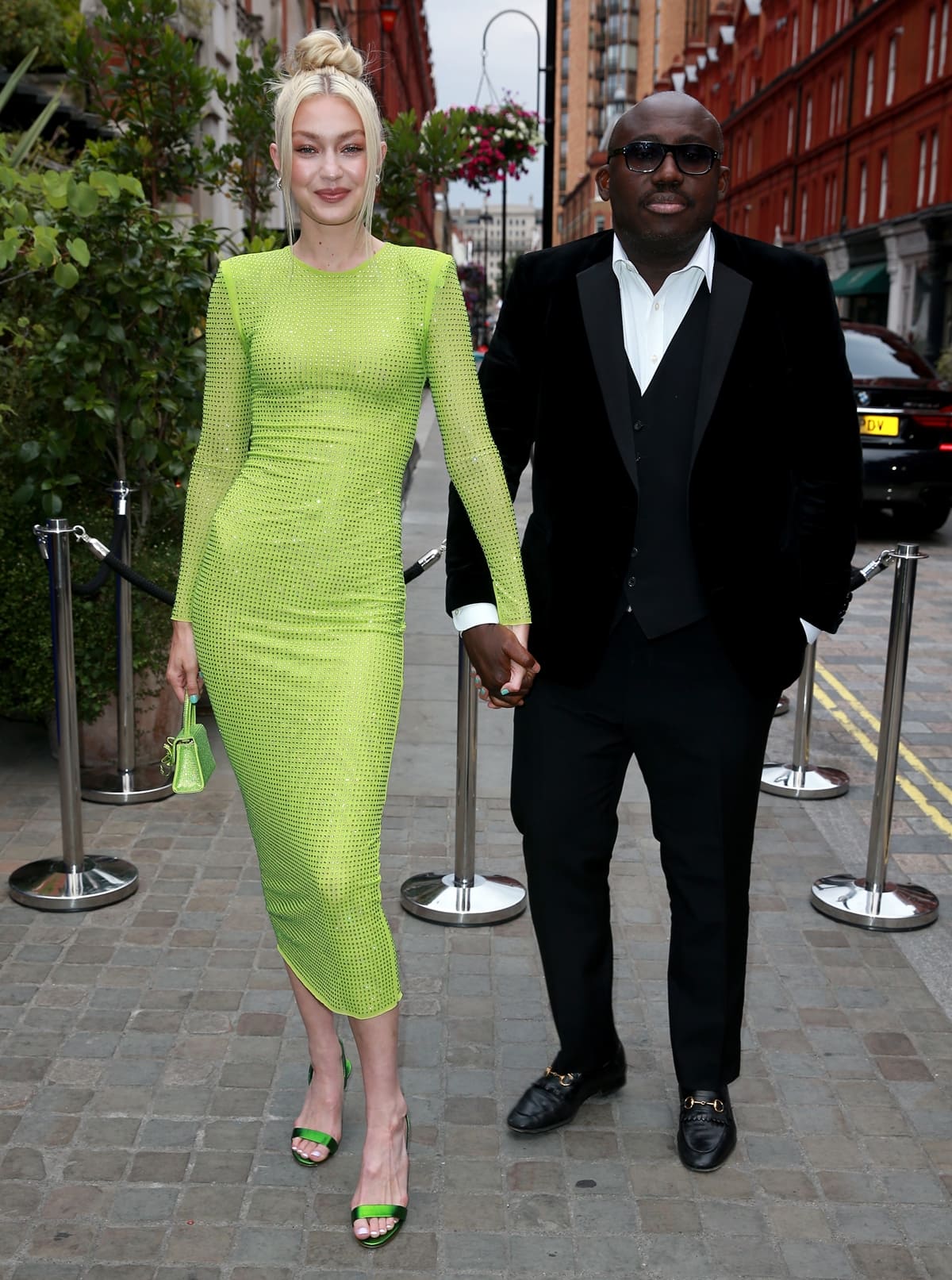 Editor-In-Chief of British Vogue Edward Enninful and Gigi Hadid attend the British Vogue X Self-Portrait Summer Party at Chiltern Firehouse on July 20, 2022, in London, England (Credit: Fred Duval / Shutterstock)
The star's natural good looks and perseverance have made her one of the industry's most successful and wealthy stars. Let's take a closer look at how the tall supermodel became a success.
Gigi Hadid's Early Life
Born as Jelena Noura "Gigi" Hadid on the 23rd of April 1995 in Los Angeles, California, Hadid is the eldest daughter of Yolanda Hadid and Mohamed Hadid.
Her mother is a Dutch-born American television personality and former model, and her father is a Jordanian-American real estate developer who made his fortune developing real estate throughout the United States, particularly the Ritz Carlton Hotels in Washington, New York, Aspen, and Houston.
Yolanda Foster, Bella Hadid, and Gigi Hadid attend the 2017 Glamour Women of The Year Awards at Kings Theatre on November 13, 2017, in New York City (Credit: John Palmer / Media Punch / INSTARimages)
Her parents divorced when she was eight years old, and Yolanda married music producer David Foster in 2011, later divorcing in 2017. Hadid has two younger siblings, Bella and Anwar, who are also successful as models.
Why did Gigi Hadid stop playing volleyball?
Hadid attended Malibu High School, where she captained the volleyball team. She was also a competitive horse rider.
"I wanted to be a volleyball player, [but] I decided to go to college in New York because I wanted to model," Gigi told W in 2016.
"If I had decided to play volleyball, I probably would have gone to a UC in California or somewhere with a Division I volleyball team, but in New York, sports aren't big at universities so I had to give that up."
Gigi moved to New York after graduating in 2011 to study criminal psychology at The New School. She re-entered the modeling industry when she arrived in New York. However, she later left her studies in 2013 to shift her focus entirely to modeling.
Entering the Modeling Industry
Hadid started her modeling career at the age of two when she was discovered by Paul Marciano for Guess clothing.
She stopped modeling after doing Guess Kids because she was a competitive horse rider and a club volleyball player. But she made her reentrance to the modeling world with Marciano in 2012 when she was made the face of a Guess campaign.
Gigi Hadid walks the runway at the Michael Kors fashion show during New York Fashion Week on February 13, 2019, in New York City (Credit: Fashionstock / Shutterstock)
Hadid signed with IMG Models in New York City in 2013 and made her New York Fashion Week debut in February 2014, where she walked the Desigual show.
2014 continued to be a breakout year for the model as she appeared in her first high fashion shoot for the cover of CR Fashion Book Magazine. Hadid's success was cemented when she starred in Tommy Ford Eyewear's Autumn/Winter campaign along with Patrick Schwarzenegger in 2014.
Career Success
Hadid's modeling career continued to grow thanks to her breakout year in 2014.
In January 2015, the supermodel was named Model of the Year by the Daily Front Row, and she also became an ambassador for the cosmetic brand Maybelline.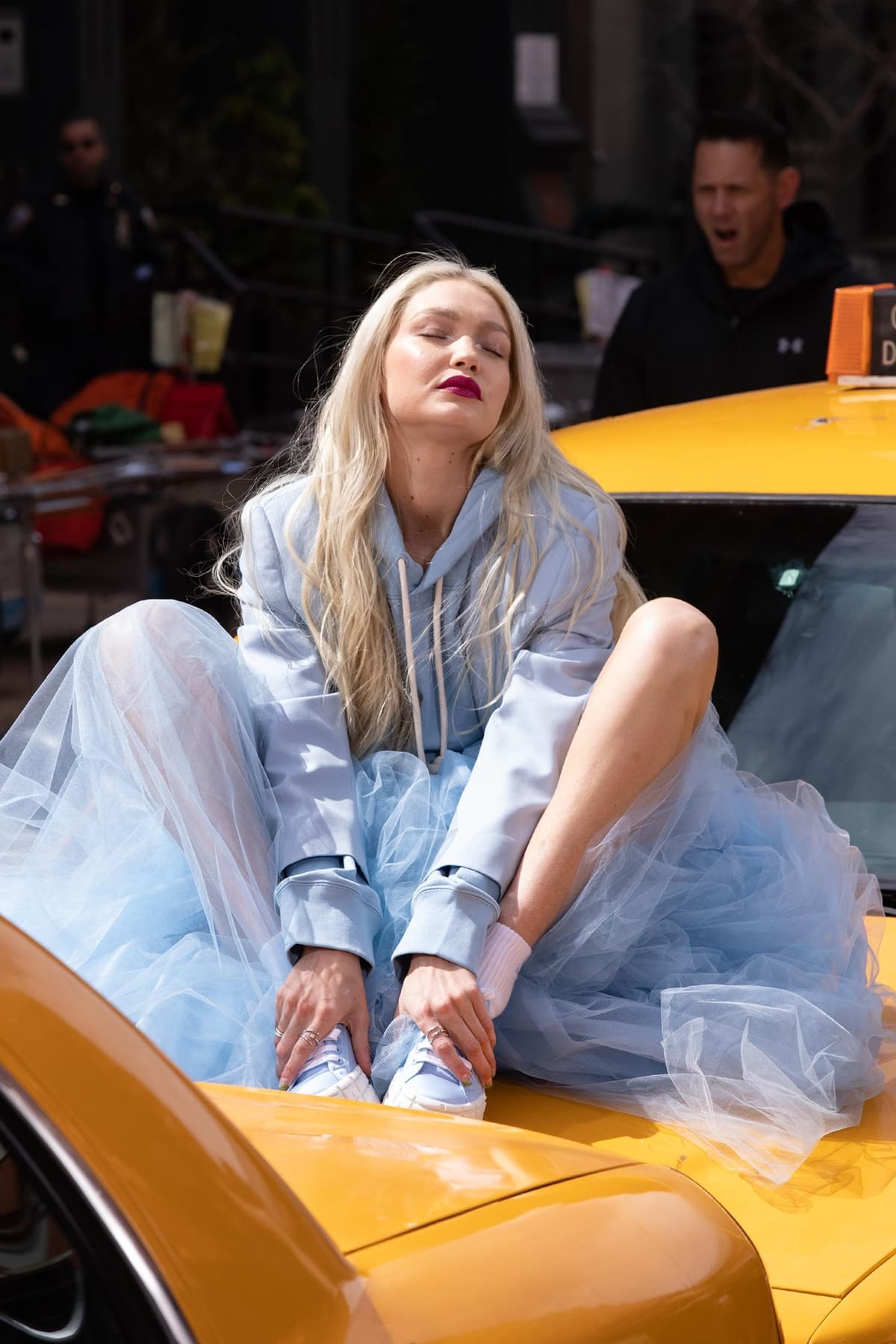 Gigi Hadid, in a blue tulle skirt and Prada sneakers, is seen filming for Maybelline in Tribeca on March 30, 2022, in New York City (Credit: Janet Mayer / Startraksphoto)
By 2015, Hadid's modeling career was well established. She walked for designers like Chanel, Michael Kors, Marc Jacobs, Jean Paul Gaultier, and Max Mara in May 2015 and was also named brand ambassador for the Australian swimwear brand Seafolly.
In December 2015, she made her first appearance at the Victoria's Secret Fashion Show.
Campaigns and Collaborations
Although models on the runway wear glamorous outfits, the pay doesn't always match the fashion. Models often make more money through campaigns and collaborations than on the runway, and Hadid is no different.
Her massive success in her career continued when she became a common fixture on the runway for brands like Anna Sui, Miu Miu, Missoni, and many more.
She has also become a well-known face on Vogue covers throughout the world, as well as Allure, Teen Vogue, Paper magazine, and Harper's Bazaar. The model has also shot editorials for Elle, Grazia, Sports Illustrated, and V Magazine.
Gigi Hadid walks the runway at the Versace fashion show during the Milan Fashion Week Fall/Winter 2022/2023 on February 25, 2022, in Milan, Italy (Credit: Ik Aldama/DPA/Cover Images)
The campaigns she shot for Tom Ford and Guess were the first of many. She has been front and center in campaigns for Versace, Penshoppe, Topshop, Max Mara, Fendi, and many more.
Gigi has become very wealthy in the campaigns she has shot with major brands and collaborated with several fashion brands.
Adding to her renown, Hadid was named Glamour Magazine's Woman of the Year in 2017, along with Solange Knowles, Nicole Kidman, and others.
Creating Her Own Clothing Line
Although she has had a number of successful collaborations, Hadid has announced that she will launch her own clothing line, Guest in Residence.
The supermodel has created several clothing lines in collaboration with other designers. Her debut as a designer came in the 2016 capsule wardrobe called Gigi by Tommy Hilfiger.
Gigi Hadid and fashion designer Tommy Hilfiger walk the runway at the Tommy Hilfiger Ready to Wear Spring/Summer 2018 fashion show during Milan Fashion Week Fall/Winter 2018/19 on February 25, 2018, in Milan, Italy (Credit: INSTARimages)
She co-designed the collection, which launched at New York Fashion Week. She has also collaborated with Vogue Eyewear, Messika Jewelry, and Reebok.
Hadid announced the upcoming brand on Instagram, where she shared some behind scenes of making a new knitwear collection. She captioned the post, "Been workin on something….with love, @guestinresidence :)."
The collection already has several famous fans, including Hailey Bieber and sister Bella Hadid, who commented on the post, "What we've all been waiting for."
Her Fashion Collaborations in 2022
Her own clothing line isn't Hadid's only foray into the design world. She announced in April 2022 that she would partner with her childhood friend, Francesco Aiello, the founder of Frankies Bikinis, on a collaborative swimwear collection.
The pair grew up together in Malibu, California, and they pulled references from their upbringing in the sunny state while creating the swimwear line.
Francesca Aiello, the founder of the female-led beachwear and lifestyle brand Frankies Bikinis, has been friends with Gigi Hadid since she was in the eighth grade at school in Malibu (Credit: Seth Browarnik / Startraksphoto)
In the press release for the collaboration, Hadid wrote, "We designed this collection with so much love, and I believe that really shines through in the details. Frank and I have very social lives but also big homebodies, and the collection embodies that side of us."
In the press release, Aiello also praised her friend's keen fashion insights: "Gigi is someone that is so special and so inspiring to me. She is creative, hard working, kind, and loving, and combining those incredible personality traits with our deep-rooted friendship is what really made this collection not only fun to create together but also to shoot together."
Gigi Hadid Height Compared To Other Supermodels
The average height of a supermodel is 5 feet 9 inches (1.75 m). According to Hadid's modeling agency, the supermodel stands above the average at 1.78 m (5 ft 10 1⁄2 in).
When asked about her height on Twitter, Gigi said her height is 5′ 10″ (178 cm).
Gigi Hadid claims on Twitter her height is 5′ 10″ (178 cm) (Credit: Twitter)
Gigi Hadid is taller than her famous sister, Bella Hadid, Heidi Klum, and Rosie Huntington-Whiteley. However, she is shorter than supermodels Alexina Graham and Jourdan Dunn, who are 6′ 0″ (183 cm).
Supermodels such as Ming Xi, Grace Elizabeth, Cindy Bruna, Gigi Hadid, Kendall Jenner, and Alexina Graham are very tall by most standards (Credit: Kristin Callahan / ACE PICTURES / INSTARimages)
Hadid is also taller than her ex-boyfriend, Zayn Malik, who measures 5′ 9″ (175 cm). She co-parents her child Khai Hadid Malik with Malik.
The former couple split up their co-parenting time so that Khai is "very much part" of her father's life. They dated on and off from 2015 until early 2021 when they split after six years of dating.