She's never afraid to speak her mind. Jameela Jamil isn't holding back on spilling the tea about her new role as She-Hulk's archnemesis Titania.
In a recent interview on Jimmy Kimmel Live! with guest host Nikki Glaser, the 36-year-old actress jokingly said she "created a dispute" between herself and Marvel over a particular stunt idea.
"Why are you messing with Marvel? Don't you want to keep working? They're not going away. So, what did you do?" Nikki asked.
"I'm annoying everywhere," Jameela responded, explaining the first stunt in the show's debut episode, where she was punched by She-Hulk in the stomach.
She went on to say, "I felt, we have seen so many men kicked in the balls on television for such a long time. We've never seen a woman just socked right in the "vagine." And I believe in equality," she added.
View this post on Instagram
"So, therefore, I wanted, I begged for, I can't believe they're so cool that they let me give them the take of what it would look like if She-Hulk punched me in the p****."
"I think we can all agree, thank god I am not in charge of editing Marvel. They made the right decision,' after showing an unaired clip of Titania being punched," she added.
This revelation came just a few weeks after sharing with ET her NSFW injury while performing stunts on the set.
View this post on Instagram
For her interview, Jamil wore a light blue corset top and matching pants by Giuseppe Dimorabito and neon yellow pumps by Stuart Weitzman.
Wearing her signature tresses down, the 36-year-old actress highlighted her eyes with cat-eye makeup and rhinestones. She also wore a swipe of bold red lipstick, which matched her red manicure.
Jameela styled the look with large hoop earrings by 64 Facets Fine Jewelry and several statement rings by Kallati and Djula.
Jameela Jamil looks straight out of a comic book in a red, orange, and yellow chevron trench coat by Gray Scale IC (Credit: BauerGriffin / INSTARimages / Cover Images)
Arriving at the studio for her guesting on the talk show, Jameela looked straight out of a comic book in a fiery trench coat from luxury boutique fashion house Gray Scale IC's Spring/Summer 2023 collection.
The sunburst trench coat features scarlet, orange, and yellow chevron stripes. It comes with a tie belt, allowing the actress to highlight her waist.
The Good Place star wore the coat as a dress, which she coordinated with red Stuart Weitzman pumps.
Jameela Jamil pairs her vibrant trench coat with Stuart Weitzman red pumps and yellow Bulgari bag (Credit: BauerGriffin / INSTARimages / Cover Images)
Jameela stayed with the vibrant color scheme of her look by accessorizing with red cat-eye sunglasses by Illesteva.
She then carried a yellow Bulgari chain top handle bag and further styled with several rings by Kallati and Djula, selected by celebrity stylist Erin Walsh, whose clients include Anne Hathaway, Thandiwe Newton, Adriana Lima, and more.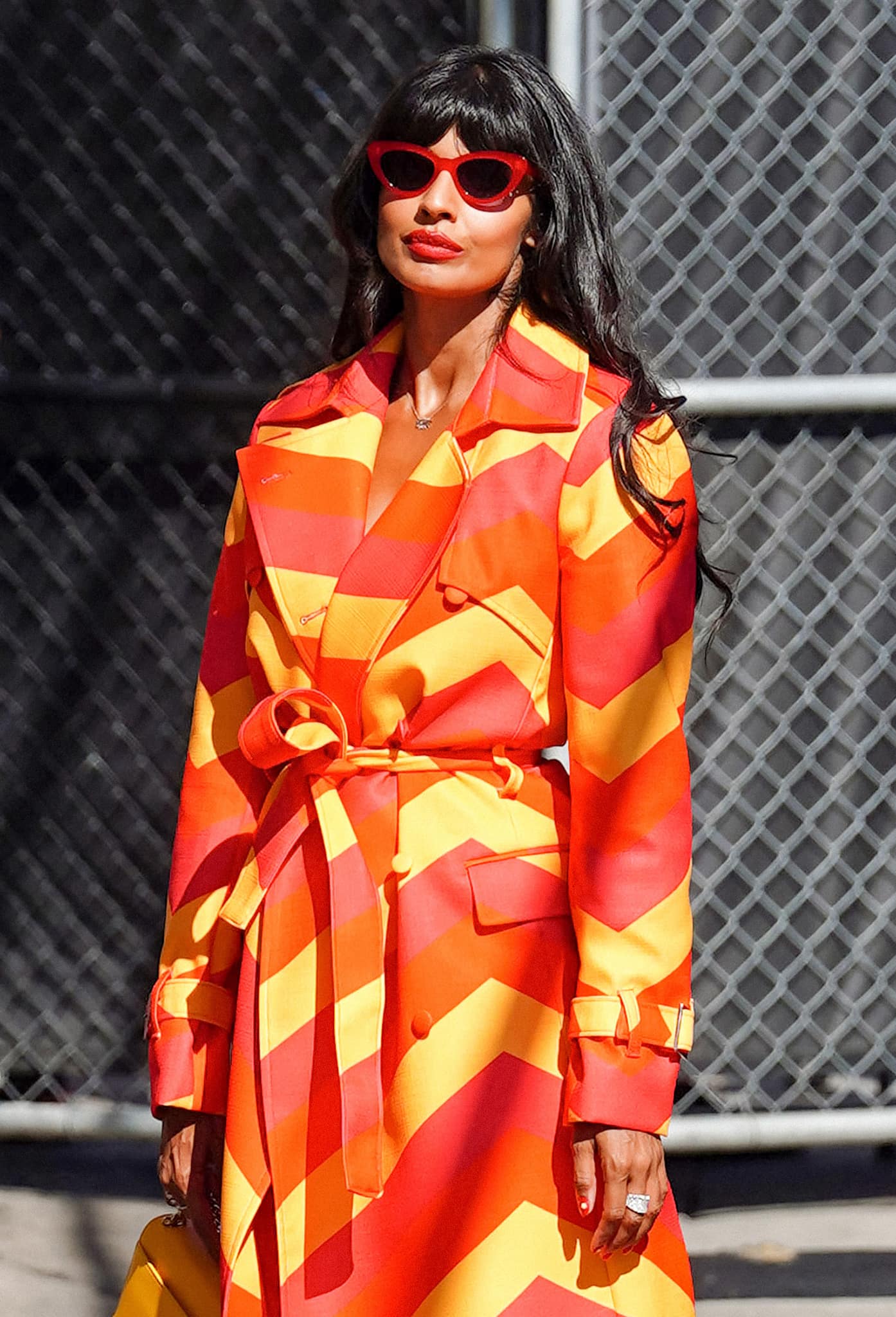 Jameela Jamil continues the vibrant theme of her look by wearing red Illesteva sunnies, red lipstick, and red nail polish (Credit: BauerGriffin / INSTARimages / Cover Images)
Jamil was later spotted leaving the studio in a black pinstripe suit, which she dressed down with a printed white tee underneath and a pair of slip-on sneakers.
She hid her eyes behind a pair of mirrored sunglasses and finished off her outfit with a crossbody bag.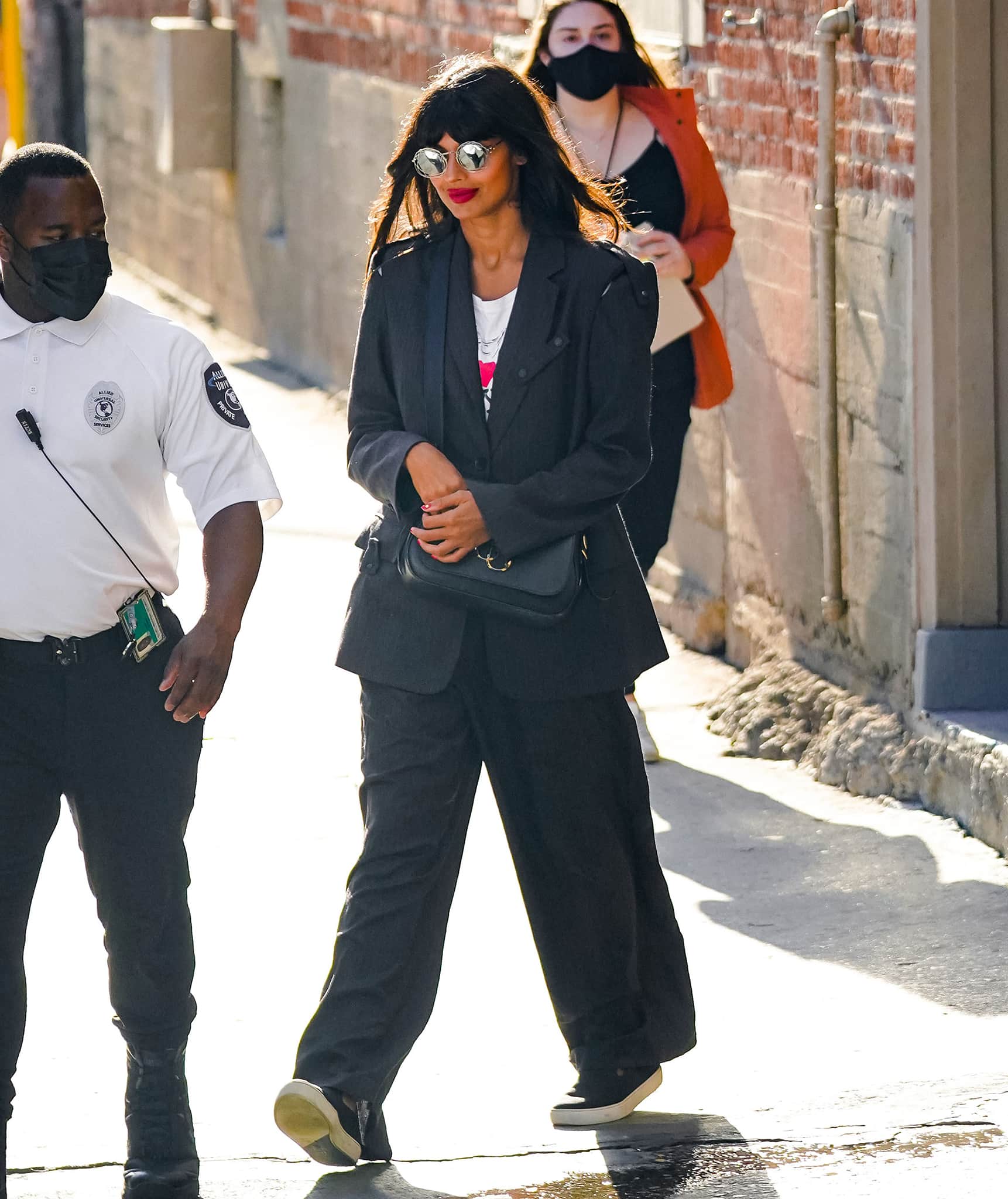 Jameela Jamil leaving the studios in a black pinstripe suit, dressed down with slip-on sneakers (Credit: BauerGriffin / INSTARimages / Cover Images)