Jameela Jamil, who plays villain Titania in the MCU series She-Hulk: Attorney at Law, is so dedicated to the role that she chose to do her own stunt work.
Unfortunately, the 36-year-old actress suffered an NSFW injury while performing some stunt sequences on the set.
Jameela Jamil plays villain Titania in the MCU TV series She-Hulk: Attorney at Law (Credit: Marvel Studios / Disney Platform Distribution)
Speaking with Entertainment Tonight's Matt Cohen about how intense her action scenes were as She-Hulk's archnemesis, Jameela said: "Oh, I did it all! I did it all! I was hurting in a place that I really didn't know exists."
She added, "I pulled a muscle in my a**hole. I didn't know that was possible." For the role, Jamil shared she learned "jiu-jitsu and kung fu and combat in the air."
"I don't know how much of it ever gets to make it to the big screen because CGI is bonkers. But I got to do all my stunts pretty much myself! And that was something I've never done before because I'm the ultimate couch potato. I am just a puddle with bangs."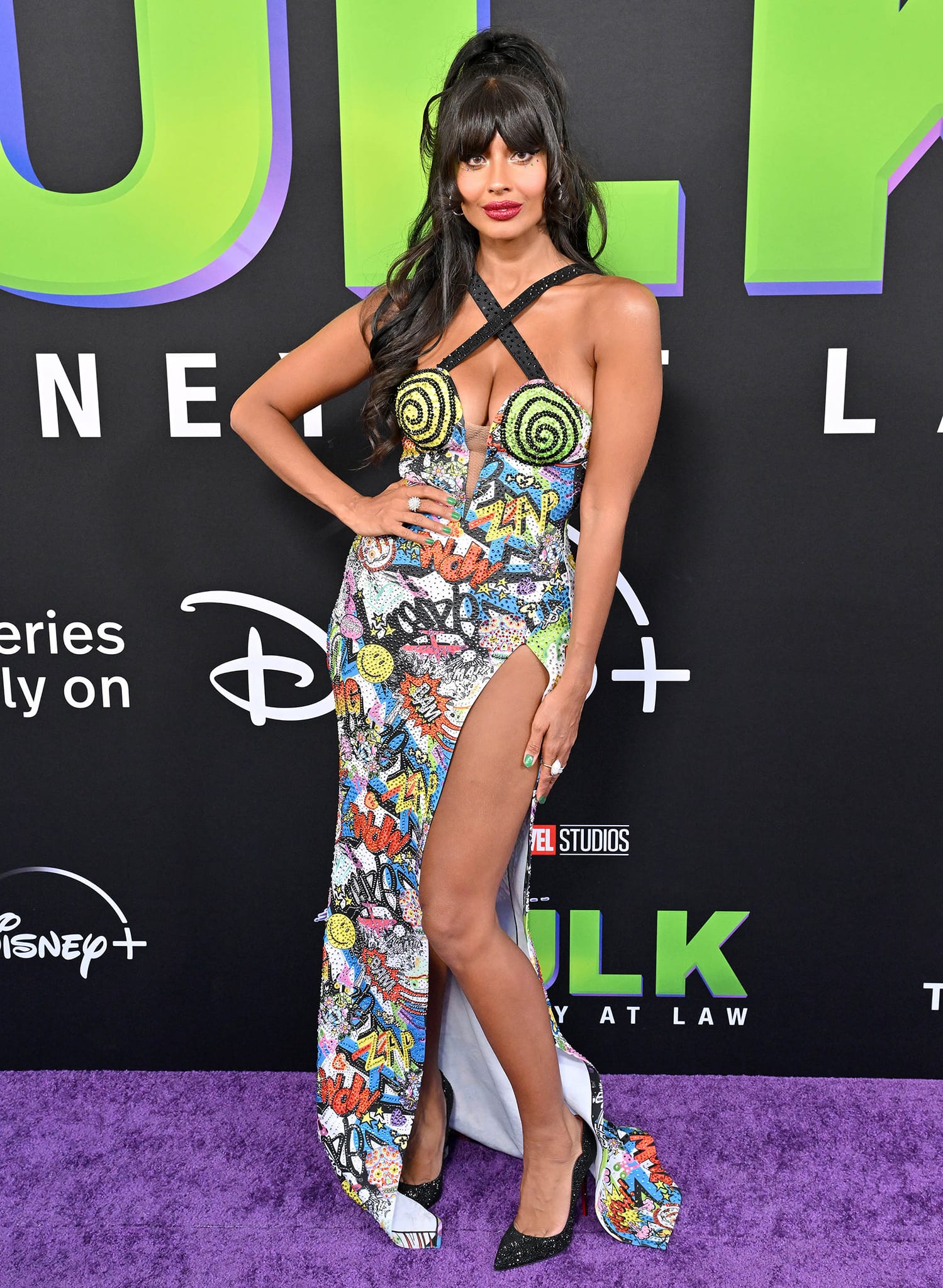 Jameela Jamil turns heads in a daring comic-themed gown at the Los Angeles premiere of She-Hulk: Attorney at Law on August 16, 2022 (Credit: BauerGriffin / INSTARimages / Cover Images)
On Monday, Jameela dressed the part and showed off her hourglass figure in a daring comic-themed dress at the Los Angeles premiere of She-Hulk: Attorney at Law.
She enlisted the help of celebrity stylist Law Roach, who had the dress custom-made by Monique Vee. It's decked out in multicolored crystals and comic prints that include the onomatopoeia words "Wow," "Zap," "Smash," and "Bam."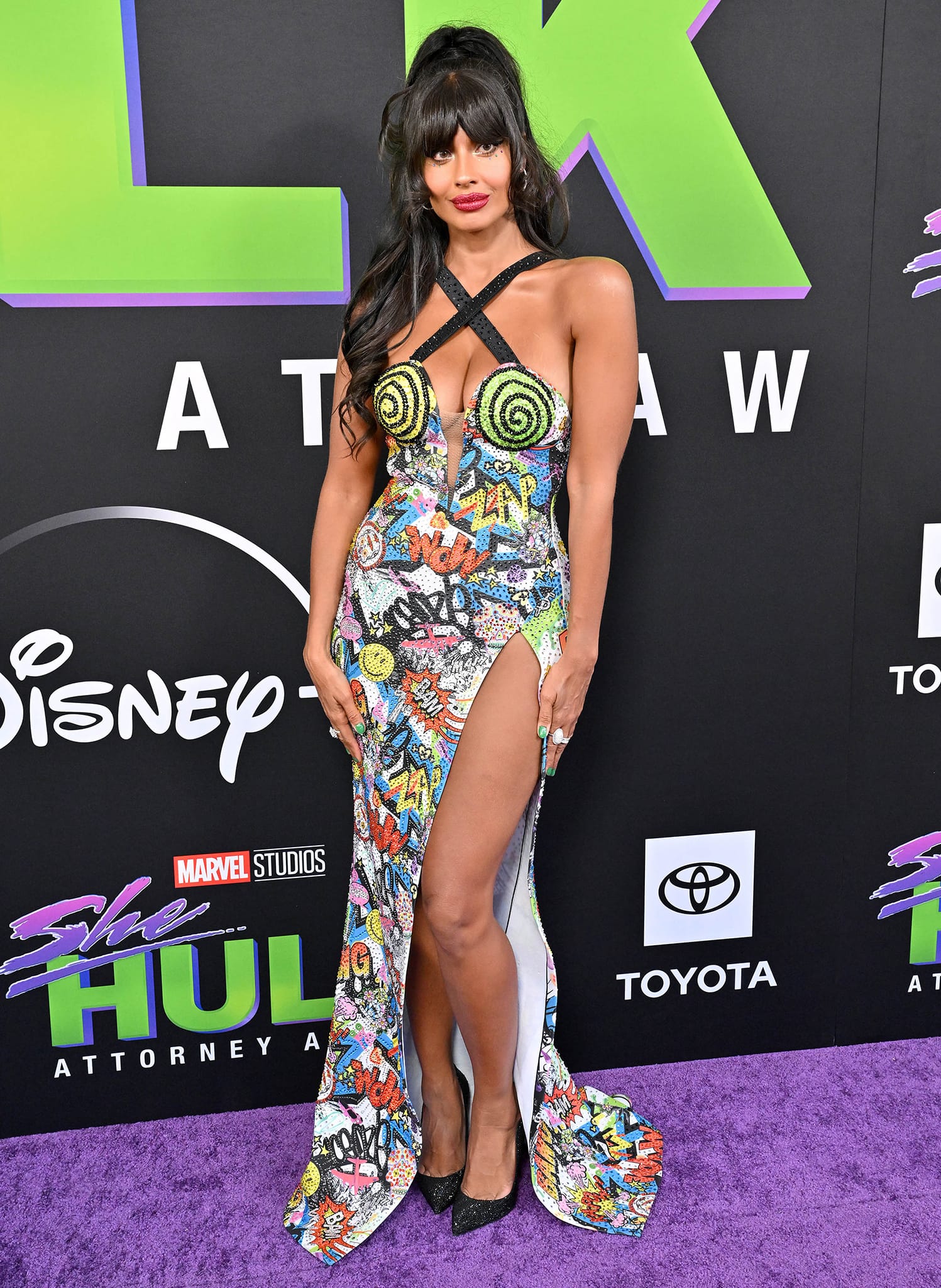 Jameela Jamil's Monique Vee custom dress is decked out in crystals and comic prints with swirl cups and crossover straps (Credit: BauerGriffin / INSTARimages / Cover Images)
The revealing frock also featured a floor-sweeping skirt with a thigh-high slit, embellished swirls on the cups, cross-over black halter straps, and a cleavage-baring plunging neckline with nude mesh inserts that showed a glimpse of stretchmarks on her breasts.
"My extraordinary stylist @luxurylaw had it custom made for me by @vee.monique when I got the Role of Titania, and I haven't had anywhere to wear it to for 18 months. Tonight felt perfect. Even though my period cramps decided to start the second I hit the carpet. So thanks to the perfect dress for distracting everyone for me," Jameela said of her dress.
View this post on Instagram
As for her shoes, Jamil opted to show off her feet in Hot Chick by Christian Louboutin.
These pumps from the popular French shoe designer are encrusted with glistening crystals all over. They also have pointed toes and curved counters, set atop a 4-inch stiletto heel.
Jameela Jamil displays her feet in sparkly Christian Louboutin Hot Chick pumps (Credit: BauerGriffin / INSTARimages / Cover Images)
The English actress accessorized the already busy look with large hoop earrings and several silver rings.
For her glam look, Jameela styled her wavy dark tresses in a high bouffant ponytail with face-framing fringes. She revealed doing her own makeup, which featured metallic ruby red lip color, sparkly inner corner eyeshadow, and winged eyeliner.
She also added multicolored crystals under her eyes and painted her nails metallic green for added sparkles.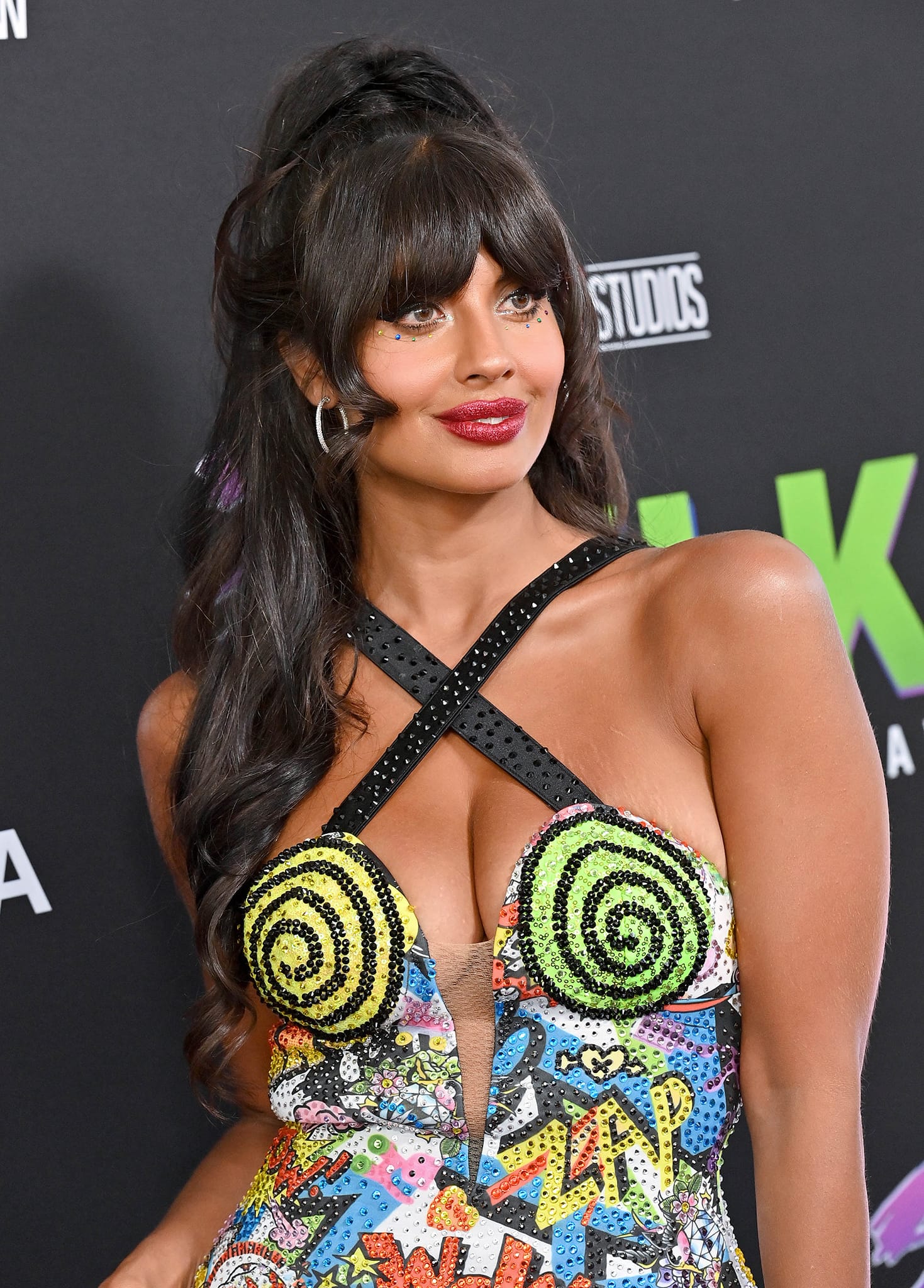 Jameela Jamil wears a bouffant ponytail and highlights her eyes with sparkly inner corners and crystals (Credit: BauerGriffin / INSTARimages / Cover Images)
She-Hulk follows Jennifer Walters (played by Tatiana Maslany), cousin of Bruce Banner, a.k.a. the Hulk, as she navigates life as a lawyer with newfound superpowers.
The nine-episode series premiered on August 18 on Disney+ and will conclude on October 13. It is the eighth TV series and the last of Phase Four in the Marvel Cinematic Universe.
She-Hulk: Attorney at Law stars Tatiana Maslany in the titular role (Credit: Marvel Studios / Disney Platform Distribution)