A legion of powerful women in the industry gathered together to celebrate the International Day of the Girl during the 2nd Annual Girl Up #GirlHero Awards in Los Angeles on Sunday.
This year's awards luncheon, which took place at the Beverly Wilshire Four Seasons Hotel, honored female personalities who are using their voices to empower women and create change in the fight for gender equality.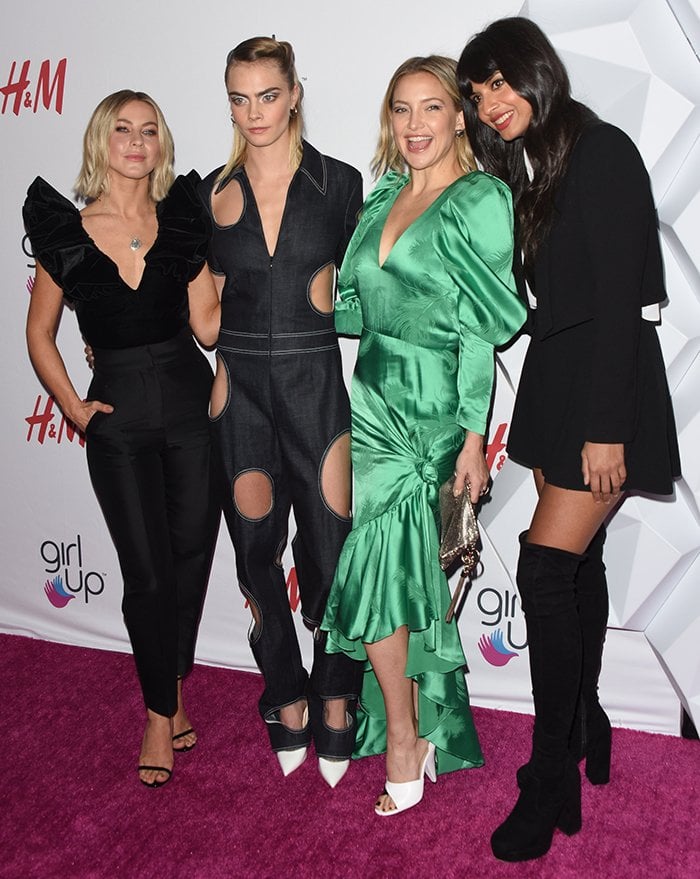 Julianne Hough, Cara Delevingne, Kate Hudson, and Jameela Jamil at the 2nd Annual Girl Up #GirlHero Awards held at Beverly Wilshire Four Seasons Hotel in Los Angeles on October 13, 2019
Aside from Kate Hudson, Cara Delevingne and Jameela Jamil were also recognized at the event, which was presented by H&M. Needless to say, these influential stars and other guests showed off some kick-ass red carpet looks.
1. Cara Delevingne Looks Spot On in White Pumps
Not one to shy away from a fashion risk, Cara Delevingne put on a quirky display in a Guy Laroche Resort 2020 denim jumpsuit.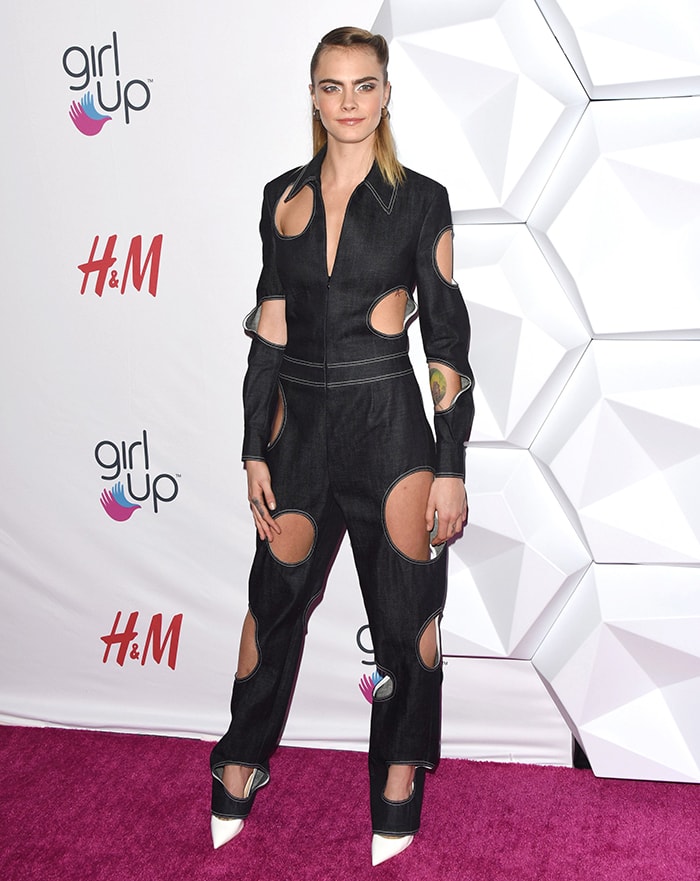 Cara Delevingne puts on a quirky look at the 2nd Annual Girl Up #GirlHero Awards in Los Angeles on October 13, 2019
Cara's bizarre choice undoubtedly turned heads as it's covered in circular cutouts all over. The utilitarian one-piece number, which is a trend this season, features a front zipper that was pulled down just enough to show her braless look.
Cara Delevingne shows some flesh in a cutout-detailed Guy Laroche denim jumpsuit
Cara looked beautiful with her shoulder-length tresses worn in a twisted half-up half-down style. For her makeup, she sported silver eyeshadow and peachy blush and lip shade.
Cara Delevingne wears her shoulder-length blonde hair in a twisted half-up half-down style and sports a sweep of silver eyeshadow and peach lip shade
Allowing her bold outfit to take center stage, Cara simply accessorized with silver hoop earrings and a pair of white pumps.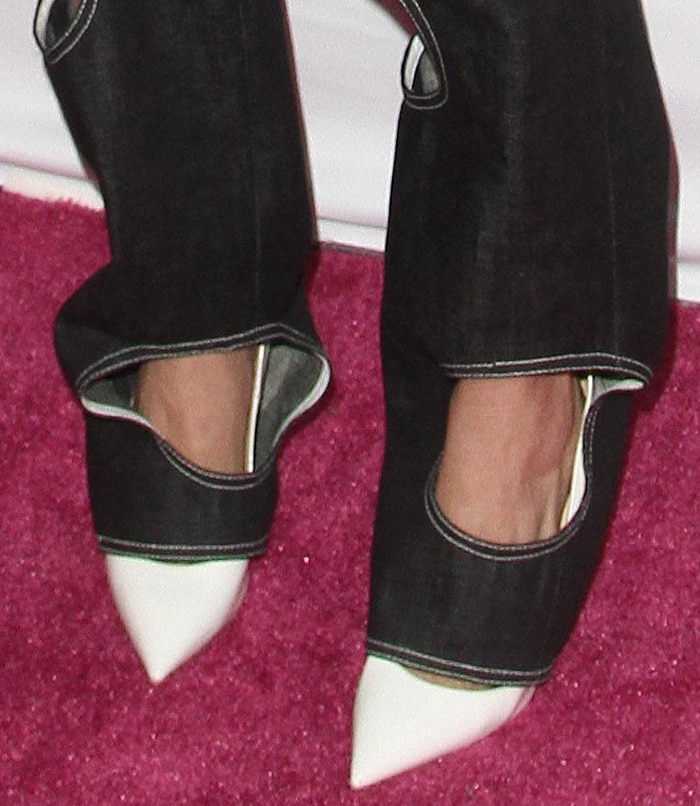 Cara Delevingne wears white pointy pumps
2. Jameela Jamil Channels Schoolgirl in Thigh-High Boots
Radio presenter Jameela Jamil was honored for her work with body positivity movement and cut a chic figure in a more wearable look than Cara's.
The 33-year-old activist opted for a schoolgirl-inspired look, wearing a black blazer with a matching tie, a white shirt underneath, and a thigh-skimming mini skirt.
Jameela Jamil opts for schoolgirl look in a blazer, necktie and mini skirt
She wore her long raven tresses down in luscious waves over her shoulders and sported red lipstick and dark eyeshadow.
Jameela Jamil wears red lipstick and dark eye make-up and styles her long black fringe hair in soft waves
Everything else was kept simple as she chose to skip the jewelry. Instead, she accessorized with a pair of black thigh-high suede boots and carried a large glove-shaped bag that was kind of overwhelming.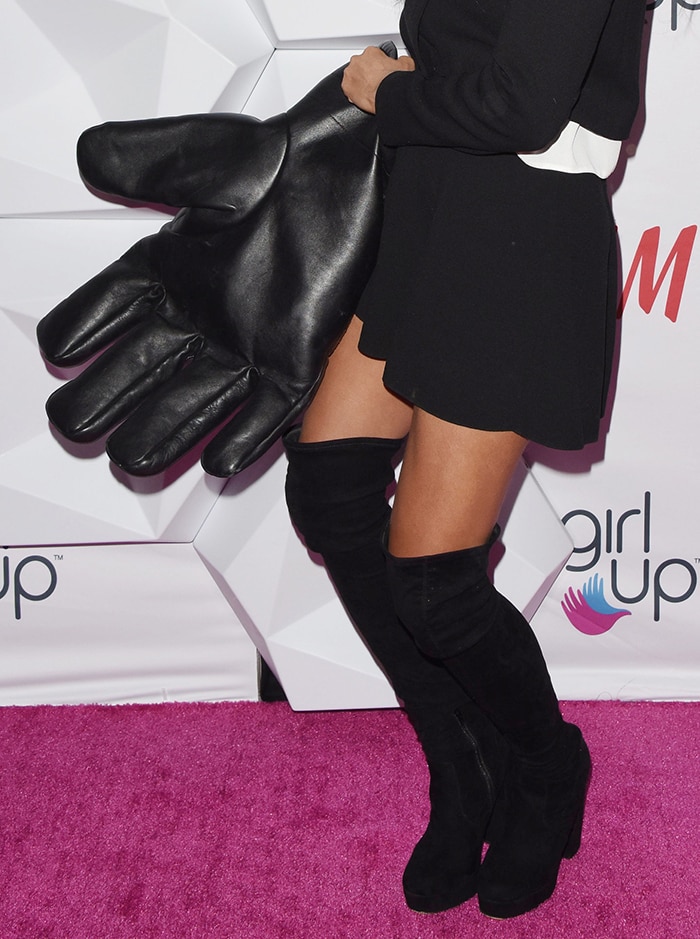 Jameela Jamil tops off her look with a huge glove-shaped leather bag and thigh-high boots
3. Ashley Benson Gets Leggy in Jimmy Choo Pumps
Ashley Benson showed support for her girlfriend and Her Smell co-star, Cara. She made a leggy arrival in a tiny high-waist button-front skirt teamed with a black long-sleeved blouse that revealed a hint of cleavage.
Both pieces are from the contemporary ready-to-wear label, Paris Georgia.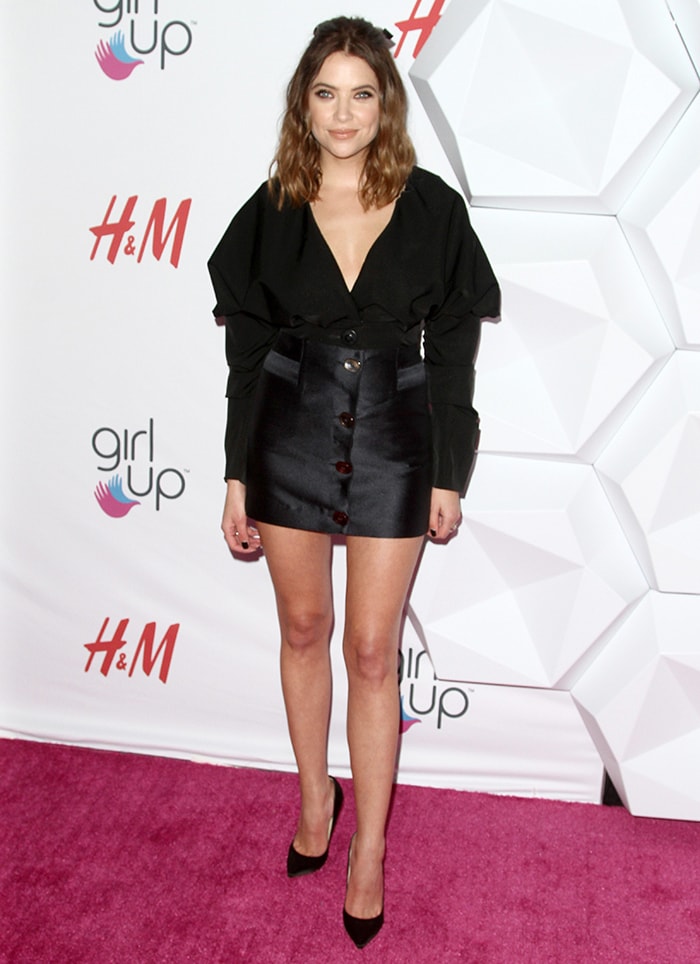 Ashley Benson gives a leggy display in Paris Georgia blouse and mini skirt
The Pretty Little Liars alum had her shoulder-length brown hair down and styled in loose curls with a ribbon at the back by Kylee Heath. Her makeup, done by Kira Nasrat, highlighted her eyes with smoky eyeshadow and finished off with nude blush and lipstick.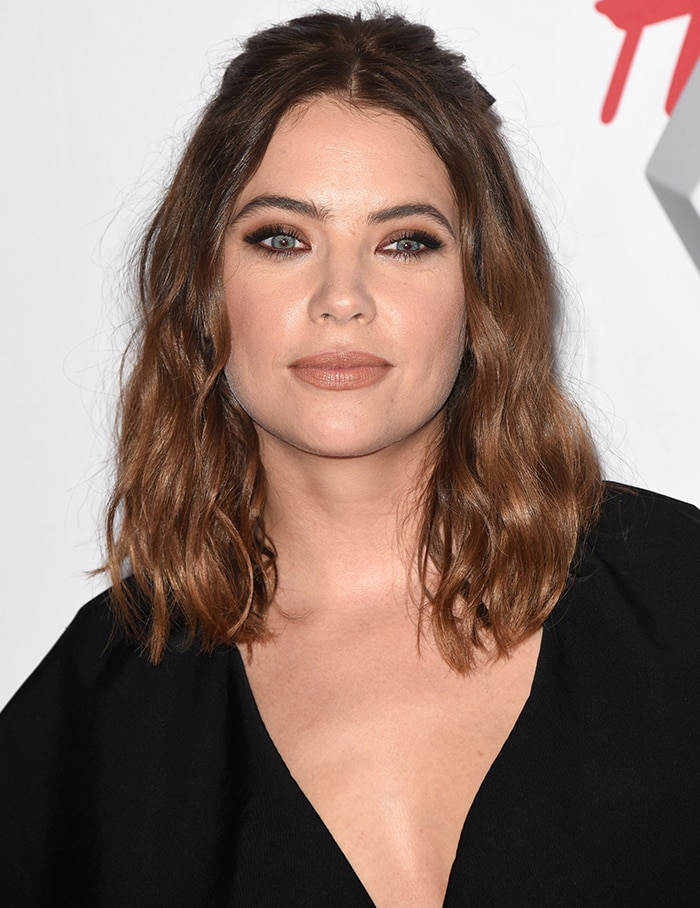 Ashley Benson wears her shoulder-length brown tresses in loose curls and sports nude makeup with smoky eyeshadow
Ashley's stylist Jamie Mizrahi selected several rings and a pair of black Jimmy Choo pumps to complete the look.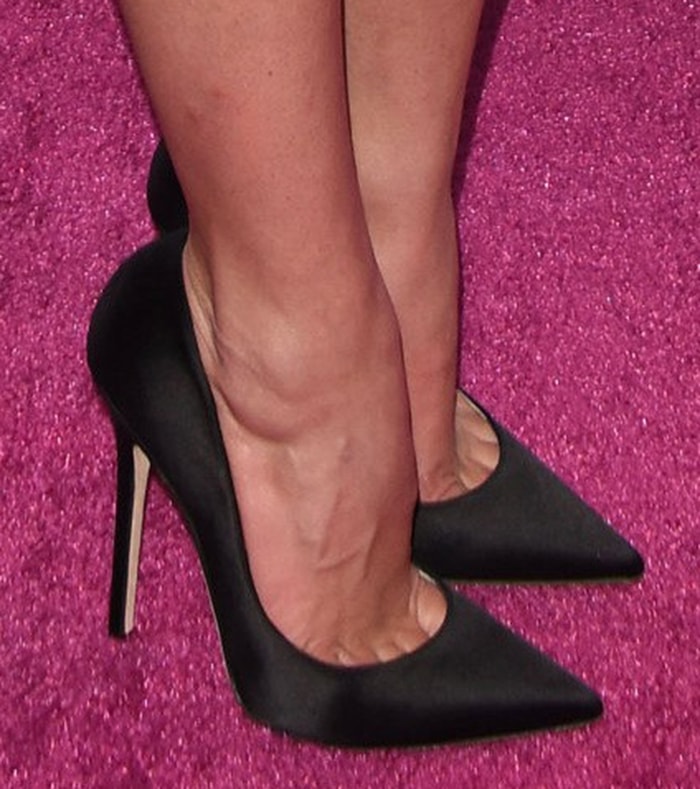 Ashley Benson adds height to her frame with Jimmy Choo pumps
4. Julianne Hough Goes Classic in Stuart Weitzman Sandals
Julianne Hough is back on the spotlight to host the awards luncheon on Sunday, just a few weeks after announcing the passing of her dogs, Lexi and Harley.
The 31-year-old actress strutted on the pink carpet in an all-black ensemble from H&M Conscious. It consisted of a frilly black top with a cleavage-baring V-cut neckline, tucked into a pair of high-waisted trousers.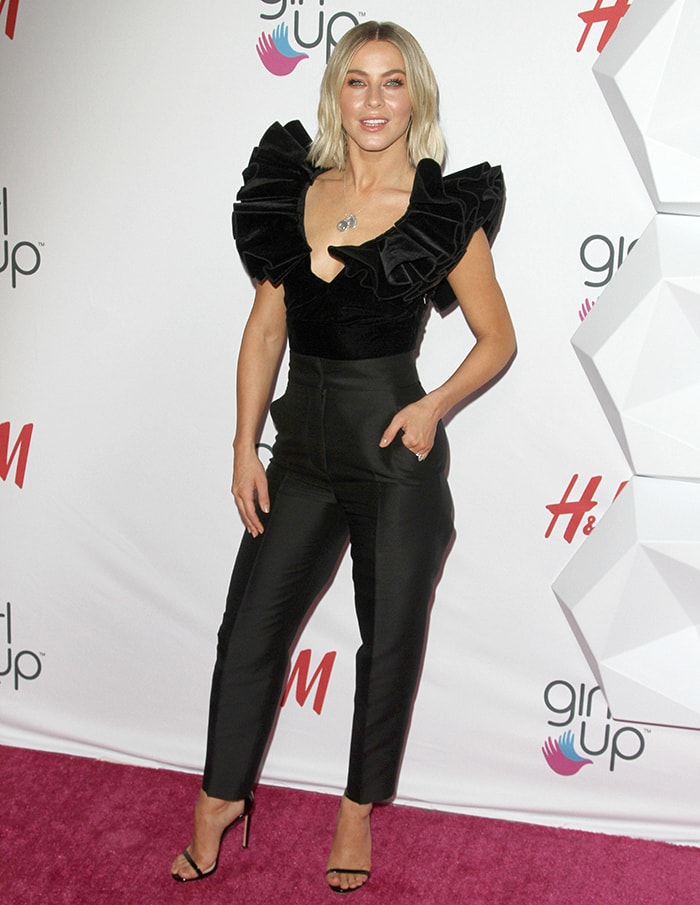 Julianne Hough shows off her figure in an all-black H&M Conscious ensemble
Her short blonde locks were styled in subtle waves, while her makeup was beautifully applied with pink blush, lipstick, and eyeshadow.
Julianne Hough styles her short blonde hair in subtle waves and applies pink-hued makeup on her face
Julianne opted not to wear any jewelry except for a dainty necklace that holds her Cavalier King Charles spaniels' dog tags. She then boosted her height a little with the classic favorite Stuart Weitzman Nudist sandals.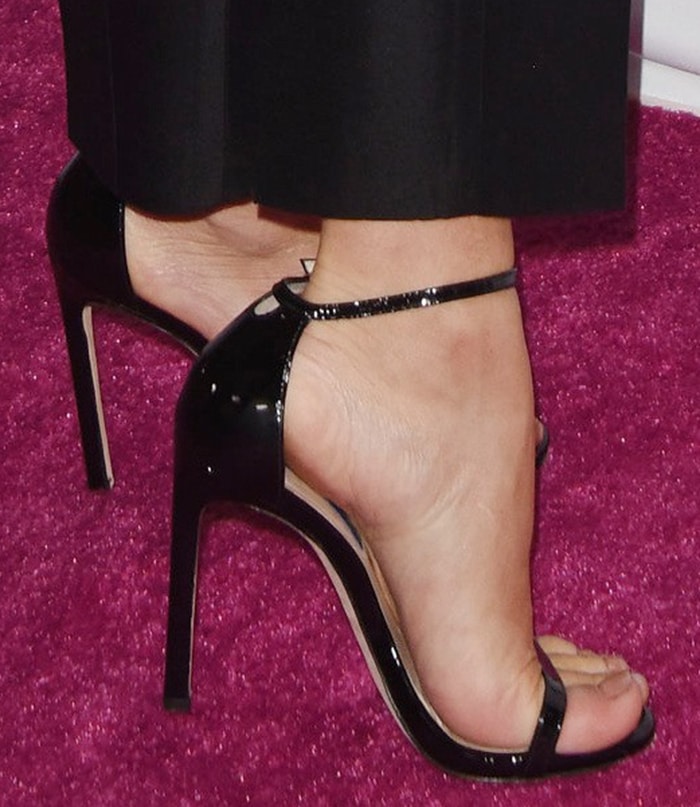 Julianne Hough shows off her feet in Stuart Weitzman Nudist sandals
5. Ariel Winter Dares to Bare in White Sandals
Ariel Winter showed off her revenge body at the luncheon, following her split from her boyfriend of nearly three years, Levi Meaden.
The Modern Family star looked beautiful in a black blazer with bedazzled lapels worn over a revealing low-cut floral bustier top and a bubblegum pink mini skirt.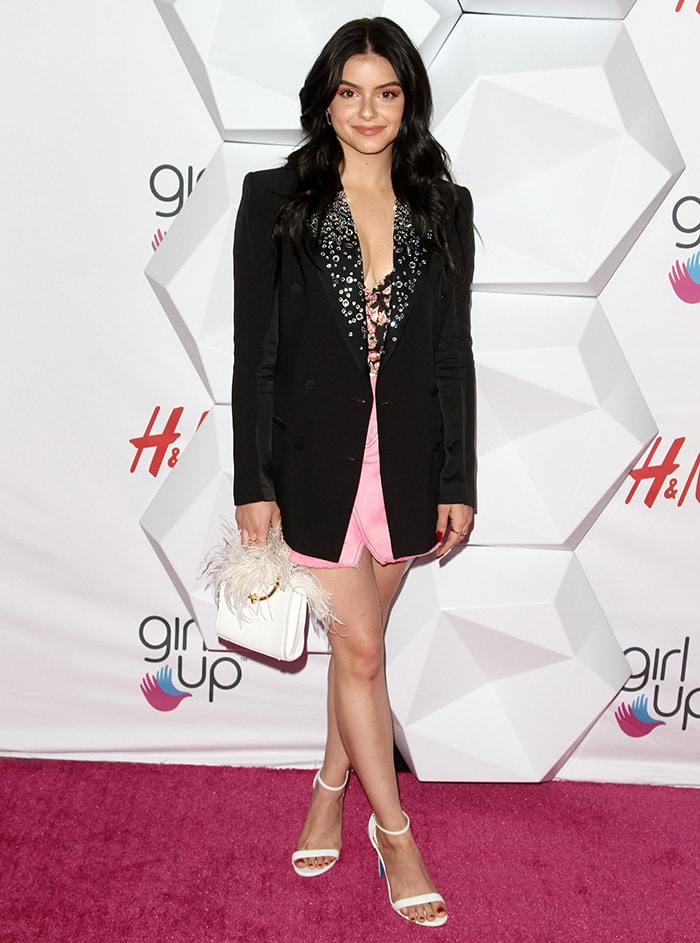 Ariel Winter flaunts her revenge body in a daring bustier and a mini skirt topped with a bejeweled blazer
She wore her raven locks in gorgeous waves over her shoulders and went for a pretty feminine look with pink eyeshadow, blush, and lipstick to match her skirt.
To complete the stunning look, Ariel accessorized with a pair of earrings and several rings. She added a few inches to her height with a pair of white heels, which matched her feather-detailed white purse.
Ariel Winter highlights her eyes with pink eyeshadow and mascara and wears her raven hair in waves over her shoulders
The 21-year-old actress wore these classic white sandals, which feature contrasting blue soles and ankle straps.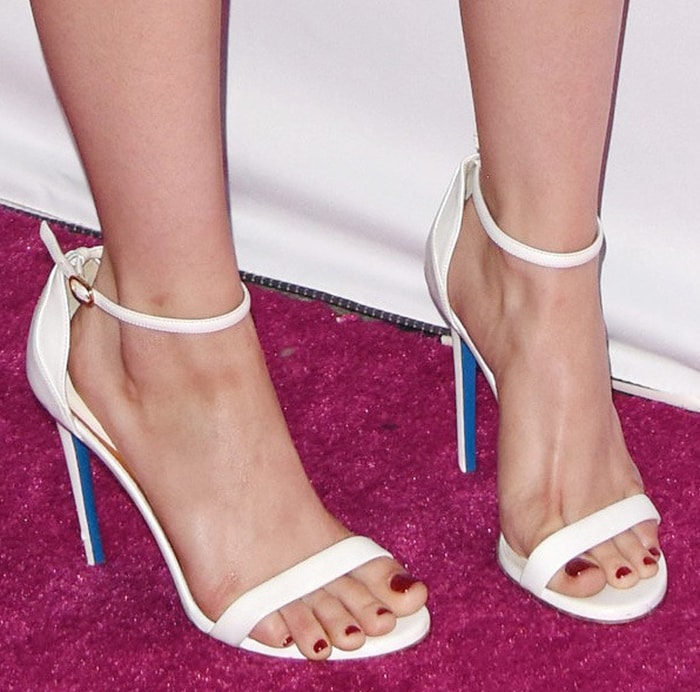 Ariel Winter displays her crimson nail polish and sexy toes
Credit: WENN / Avalon