She has always been proud of her Palestinian roots. Last week, Bella Hadid took the opportunity to show her love for her heritage as she honored her father, Mohamed Hadid, on his 72nd birthday. He was born on November 6, 1948, in Nazareth, Israel
The 24-year-old model posted a series of Instagram stories, with captions paying homage to her roots.
In one photo, Bella is bonding with her dad in the kitchen. In the caption, she thanked him for teaching her about his culture.
"I love learning how to cook Palestinian food with you. Thank you for teaching me about our culture. I love Palestine and you so much."
 

View this post on Instagram
She added: "Your roots will forever be intertwined within our family line. It's my favorite part about us."
She also posted a separate greeting on her Instagram, where she called herself a Daddy's girl.
On Friday last week, Bella, who is also of Dutch descent on her mother's side, stepped out to celebrate her father's birthday.
Her half-sisters, Alana and Marielle, and her brother Anwar joined her for a simple birthday lunch at Il Pastaio in Beverly Hills.
Bella Hadid celebrates father Mohamed Hadid's 72nd birthday at Il Pastaio in Beverly Hills on November 6, 2020
For the celebration, Bella opted to go the casual route, pairing a printed cream-colored top with baggy black jeans. She also threw on a coral leather jacket to add a splash of bold color to her look.
Her dad, Mohamed, wore a light blue printed cardigan over a black button-up shirt paired with black jeans and loafers.
Mohamed Hadid wears a printed cardigan with a black shirt while Bella dons a cream top with black baggy jeans
Bella let her wet hair loose and kept a low-profile with a pair of tinted sunglasses and a printed black face mask.
She then amped up her look with several accessories, including a pearl necklace and a couple of statement rings.
Bella Hadid tops her look with red leather jacket, tinted sunglasses, and black face mask
To complete her off-duty model style, Bella slipped into a pair of New Balance x Stray Rats sneakers.
Miami-based streetwear label Stray Rats collaborated with sports footwear brand New Balance for the 827 trainers in the "Sewer Stompers" colorway.
Crafted from a combination of mesh, nubuck, and nylon materials, these sneakers feature a muddy look with a red and purple N logo, red laces, and green trims. They boast Abzorb tech midsoles and camo heel trims with "Stray" written on one shoe and "Rats" on the other.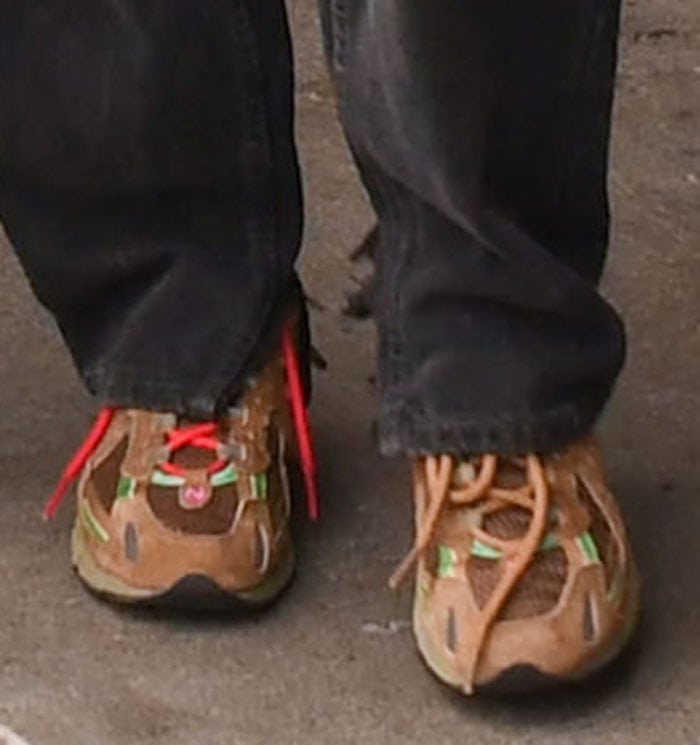 Bella Hadid in New Balance x Stray Rats 827 shoes
Bella Hadid Is an Advocate for Palestinian Rights
The 2016 Model of the Year, along with her siblings Gigi and Anwar, has been vocal advocates for Palestinian rights.
Gigi Hadid, Anwar Hadid, their mother Yolanda Foster, and Bella Hadid, pictured in 2015, are advocates for Palestinian rights
In July, Bella called out Instagram for removing her post of her father's U.S. passport, which showed his birthplace, Palestine.
She later posted an Instagram Story, telling that Instagram deleted her post for going against the platform's community guidelines.
She shared a screenshot of the report and added the text: "Instagram removed my story that only said "My baba and his birthplace of Palestine" with a photograph of his American passport."
"@instagram exactly what part of me being proud of my father's birthplace of Palestine is "bullying, harassment, graphic, or sexual nudity?"
She added: "are we not allowed to be Palestinian on Instagram? This, to me, is bullying."
View this post on Instagram
Credit: Andres Otero / Instar / WENN