Fashion designer Virgil Abloh, the founder of Off-White and artistic director of Louis Vuitton's menswear collection, has died at the age of 41 due to a private battle with cardiac angiosarcoma, a rare and aggressive cancer that develops in the inner lining of blood vessels and lymph vessels.
"LVMH, Louis Vuitton, and Off White are devastated to announce the passing of Virgil Abloh, on Sunday, November 28th, of cancer, which he had been battling privately for several years," LVMH wrote in a statement.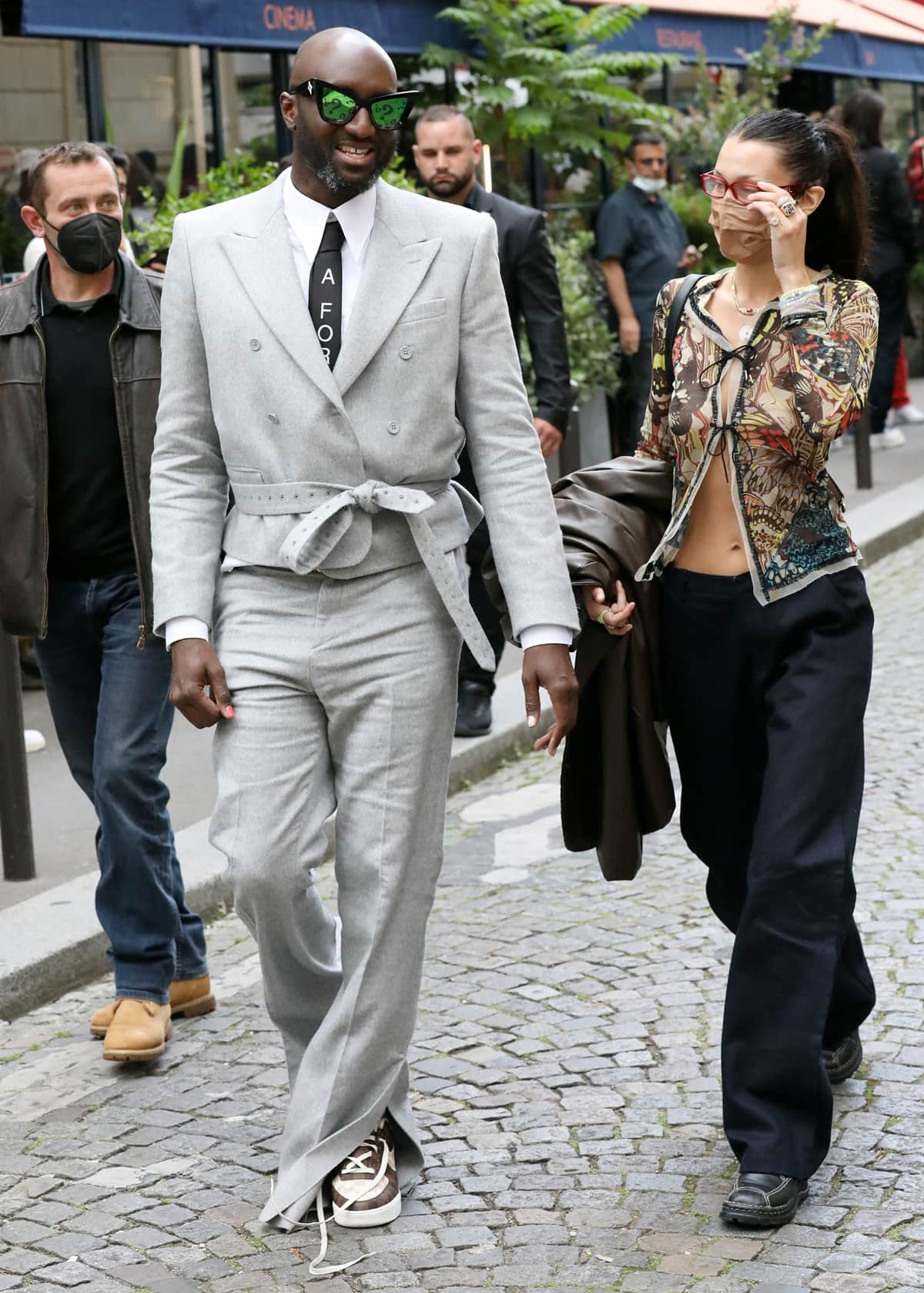 Fashion designer Virgil Abloh and Bella Hadid strolling in Saint Germain on June 24, 2021, in Paris, France (Credit: MEGA / WENN)
"We are all shocked after this terrible news. Virgil was not only a genius designer, a visionary, he was also a man with a beautiful soul and great wisdom. The LVMH family joins me in this moment of great sorrow, and we are all thinking of his loved ones after the passing of their husband, their father, their brother or their friend," Bernard Arnault, chairman and chief executive of LVMH Moët Hennessy – Louis Vuitton SE, said in a statement.
"We are devastated to announce the passing of our beloved Virgil Abloh, a fiercely devoted father, husband, son, brother, and friend. He is survived by his loving wife Shannon Abloh, his children Lowe Abloh and Grey Abloh, his sister Edwina Abloh, his parents Nee and Eunice Abloh, and numerous dear friends and colleagues," an official statement on Virgil Abloh's Instagram stated.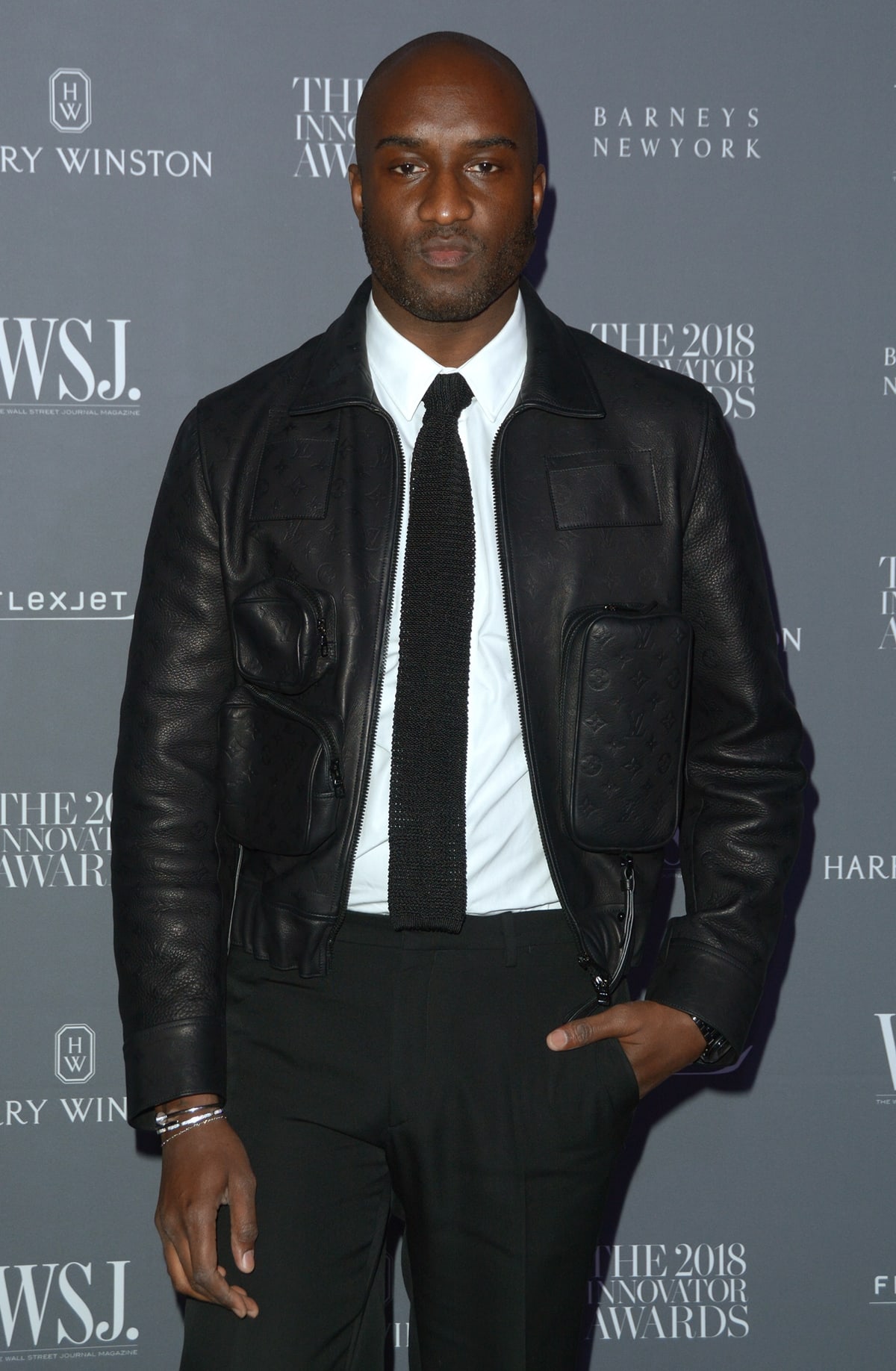 Virgil Abloh died from cancer in Chicago on November 28, 2021, at the age of 41 (Credit: Ivan Nikolov / WENN)
"For over two years, Virgil valiantly battled a rare, aggressive form of cancer, cardiac angiosarcoma. He chose to endure his battle privately since his diagnosis in 2019, undergoing numerous challenging treatments, all while helming several significant institutions that span fashion, art, and culture," the message added.
"Through it all, his work ethic, infinite curiosity, and optimism never wavered. Virgil was driven by his dedication to his craft and to his mission to open doors for others and create pathways for greater equality in art and design. He often said, 'Everything I do is for the 17-year-old version of myself,' believing deeply in the power of art to inspire future generations. We thank you all for your love and support, and we ask for privacy as we grieve and celebrate Virgil's life."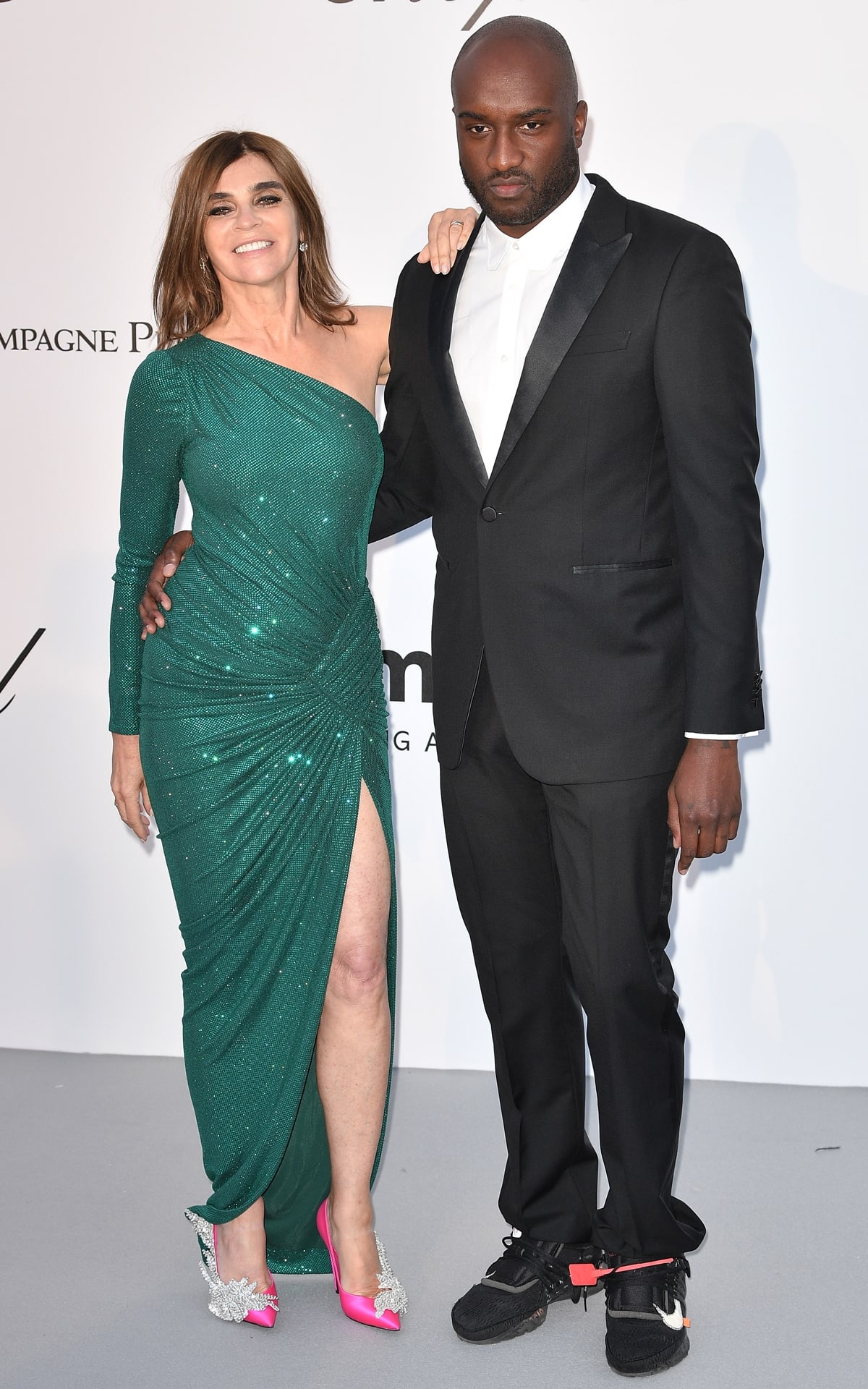 Carine Roitfeld and Virgil Abloh arrive at the amfAR Gala Cannes 2018 at Hotel du Cap-Eden-Roc on May 17, 2018 in Cap d'Antibes, France (Credit: ATP / WENN)
One of his favorite models, Gigi Hadid, paid tribute to Virgil Abloh on Instagram. "I am heartbroken by the loss of my dear friend, and a friend to the world, Virgil Abloh. He was 1 of 1," Gigi wrote.
"His kindness and energetic generosity left a lasting impression on every life he touched— he made everyone feel seen and special. He will be deeply missed, cherished, and celebrated by me and all the people and industries that have been lucky enough to work around & know the true supernova behind this man."
"I picture him now like our Mickey Mouse .. forever with us, forever adored, forever magical, forever guiding us with that special Virgil FUN; I'm sure that's how he wanted to be remembered, but still it will never be the same without him in the room."
Virgil Abloh founded Milan-based label Off-White in 2012 and was made the artistic director of Louis Vuitton's menswear collection from 2018 (Credit: Patricia Schlein / WENN)
"You will continue to inspire me every day, V. I feel blessed and honored by every moment. Rest Easy, my friend. You are so loved. You were the difference. As we always said.. 'See you somewhere, soon™️'."
"Sending my deepest condolences, light, and strength to Shannon, their kids, and his whole family. 🤍"
Before becoming one of the most influential designers in the fashion industry, Virgil Abloh earned a degree in Civil Engineering from the University of Wisconsin-Madison and completed a Master's degree in Architecture at the Illinois Institute of Technology.
Bella Hadid wears an outfit from the Off-White Fall 2021 Ready-to-Wear collection designed Virgil Abloh on the catwalk in Paris on July 4, 2021 (Credit: MEGA / WENN)
After working in street fashion in Chicago, the trained architect entered global fashion with an internship at Fendi in 2009 alongside Kanye West. In 2018, he was appointed artistic director of Louis Vuitton's menswear line.
He is survived by his wife, Shannon Sundberg, whom he met in high school, and their two children.
"I'm at a loss. He was someone to everyone. That was the magic power he held. He made every person he came across feel special in whatever way he possibly could. Even when the world felt sad, he brought laughter and color, and beauty. The way he made a positive impact on anything he touched, and always pushed for his culture/the world is the reason why he was an angel on earth and one to so many. The most beautiful warrior soul. I can't believe this," Bella Hadid wrote on Instagram.
View this post on Instagram
"You broke boundaries and made everything your own. You shared your love infinitely. The way your brain worked was beyond anything, and the way you did every single thing in life for your family, friends, and for the better .. . We're gonna miss you a lot V . You really saw me and supported me on every level. As you did to so many of us. An ethereal light. You always inspired to keep pushing, work hard and be kind. No matter what. I'm thinking about, sending love and prayers to his beautiful Shannon, their kids, and the rest of the Abloh family. I'm devastated. You will be so missed and cherished V. "FOR INFINITY.." Fly high my Libra brother. I know you're watching over the world now. I love you for life .🌎 #FUCKCANCER"
Actress Sasha Lane wearing an Off-White c/o Virgil Abloh ensemble and Toubootfrou boots to the InStyle & Warner Bros. Party following the 2018 Golden Globe Awards held at the Beverly Hilton Hotel in Beverly Hills, California (Credit: Brian To / WENN)
Christian Louboutin's 'Toubootfrou' boots are crafted from beige leather overlaid with black silk-chiffon – the edges are left raw for fluttery texture. Set on a pin-thin stiletto heel, they're finished with the label's iconic lacquered red sole and hit just above the ankle.
Sasha Lane wore this frayed silk boot with an Off-White c/o Virgil Abloh ensemble to the InStyle & Warner Bros. Party following the 2018 Golden Globe Awards held at the Beverly Hilton Hotel in Beverly Hills, California. Do you like how the then 22-year-old American actress styled her boots?
Toubootfrou 100 Chiffon and Leather Ankle Boots, $1,995