Watching herself act on screen in her new Netflix movie, Bruised, hurts more than actually breaking her ribs.
In her recent interview with The Sun, Halle Berry revealed she never watches herself on the big screen. But that changed in Bruised.
The Oscar winner made her directorial debut in the sports drama, in which she plays a disgraced MMA fighter named Jackie Justice, who reconnects with her estranged son.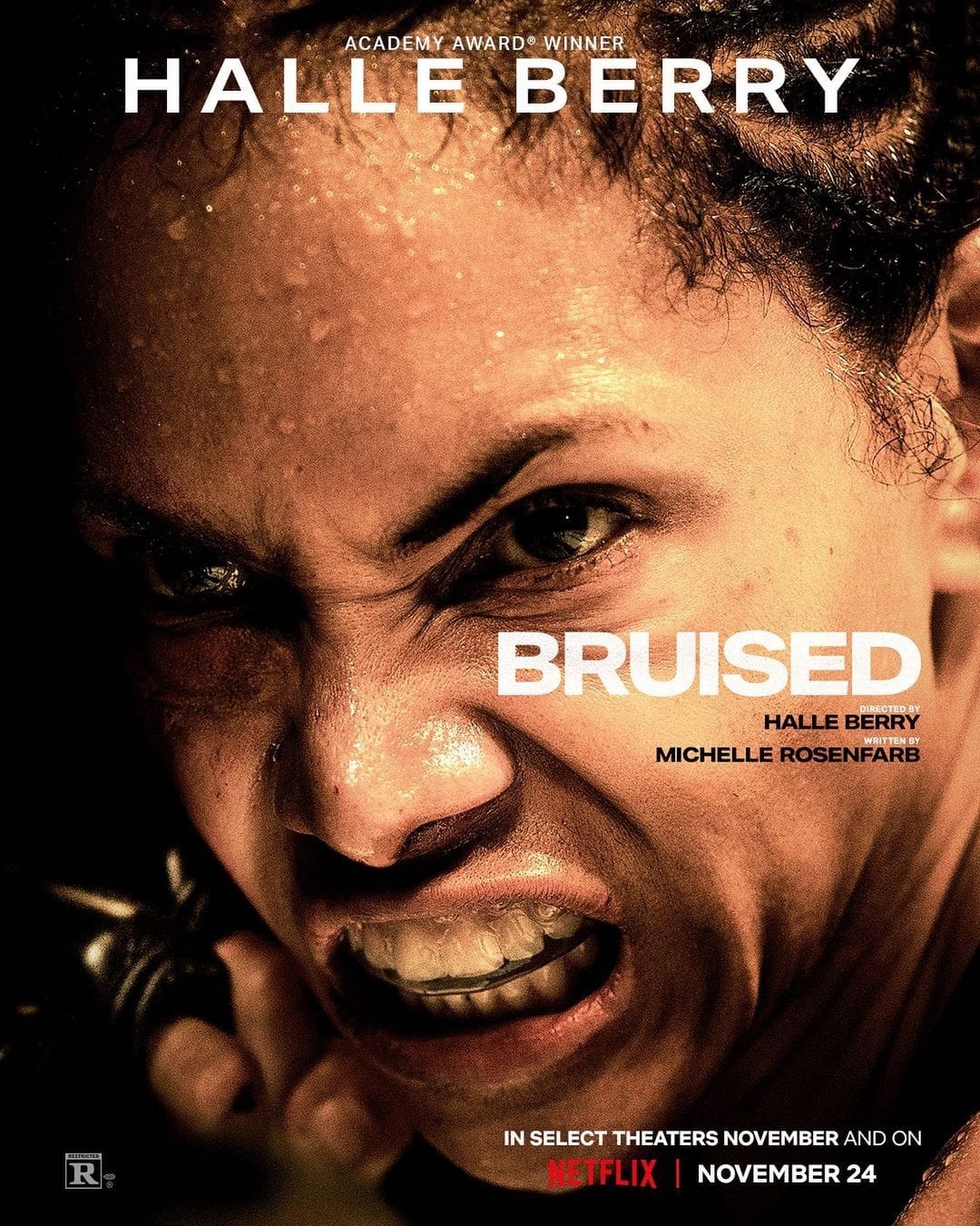 Oscar-winning former Bond girl Halle Berry makes her directorial debut with the 2020 sports drama film Bruised (Credit: Netflix)
"I never watch myself—except for one time before the press junket because we have to talk about it, so I have to know what's in the movie, and then at the premiere and then never again."
"I never go back and watch. That's the hardest thing to do. I had to discover how hard that is with my directorial debut. I had to watch myself over and over and over," Halle Berry said.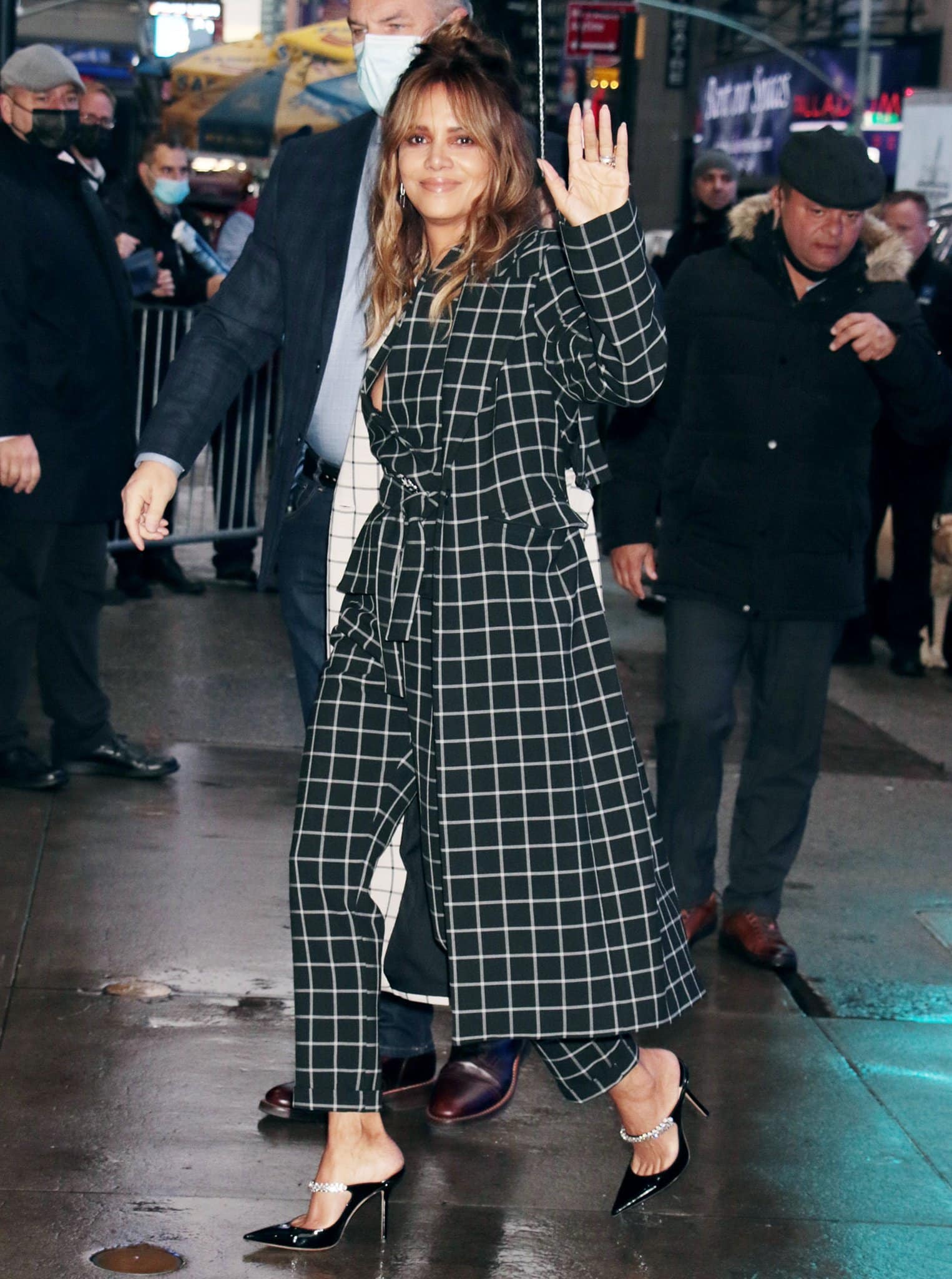 Halle Berry arriving at the Good Morning America studio to promote her Netflix movie Bruised on November 22, 2021 (Credit: Mega / WENN)
The 55-year-old actress has been busy on the talk show circuit, promoting her latest film, which started streaming on Netflix on Wednesday.
On Monday, the Catwoman star looked business ready as she made an appearance on Good Morning America.
She sported a fashion-forward geometric suit, featuring black and white checks, by Indonesian designer Peggy Hartanto. Her stylist Lindsay Flores created the look, which was composed of a belted blazer and a pair of straight-leg trousers.
Halle Berry looks business ready in a black-and-white checkered suit and matching coat from Peggy Hartanto (Credit: Mega / WENN)
She also layered a coordinating color-blocked overcoat to the actress' ensemble, which she finished off with Jimmy Choo "Bing" pumps.
Featuring a crystal-embellished midfoot strap, these mules from the popular women's shoe designer added a fun flair to Halle's outfit.
Halle Berry adds a fun flair to her business-chic look with Jimmy Choo Bing mules (Credit: Mega / WENN)
Available at Farfetch, they are crafted in Italy from smooth patent leather and have pointed toes and 4-inch-high stiletto heels.
Jimmy Choo 'Bing' Patent Leather Mules, $995 at Mytheresa
Jimmy Choo's Bing mules fuse sophistication and femininity with crystal-embellished straps and patent leather uppers
Beauty-wise, the former beauty queen wore her tresses in half-up tousled waves with center-parted fringe, care of Buddy Porter.
Makeup artist Jorge Monroy gave her a natural make-up look with nude lip color and eyeshadow in a neutral palette.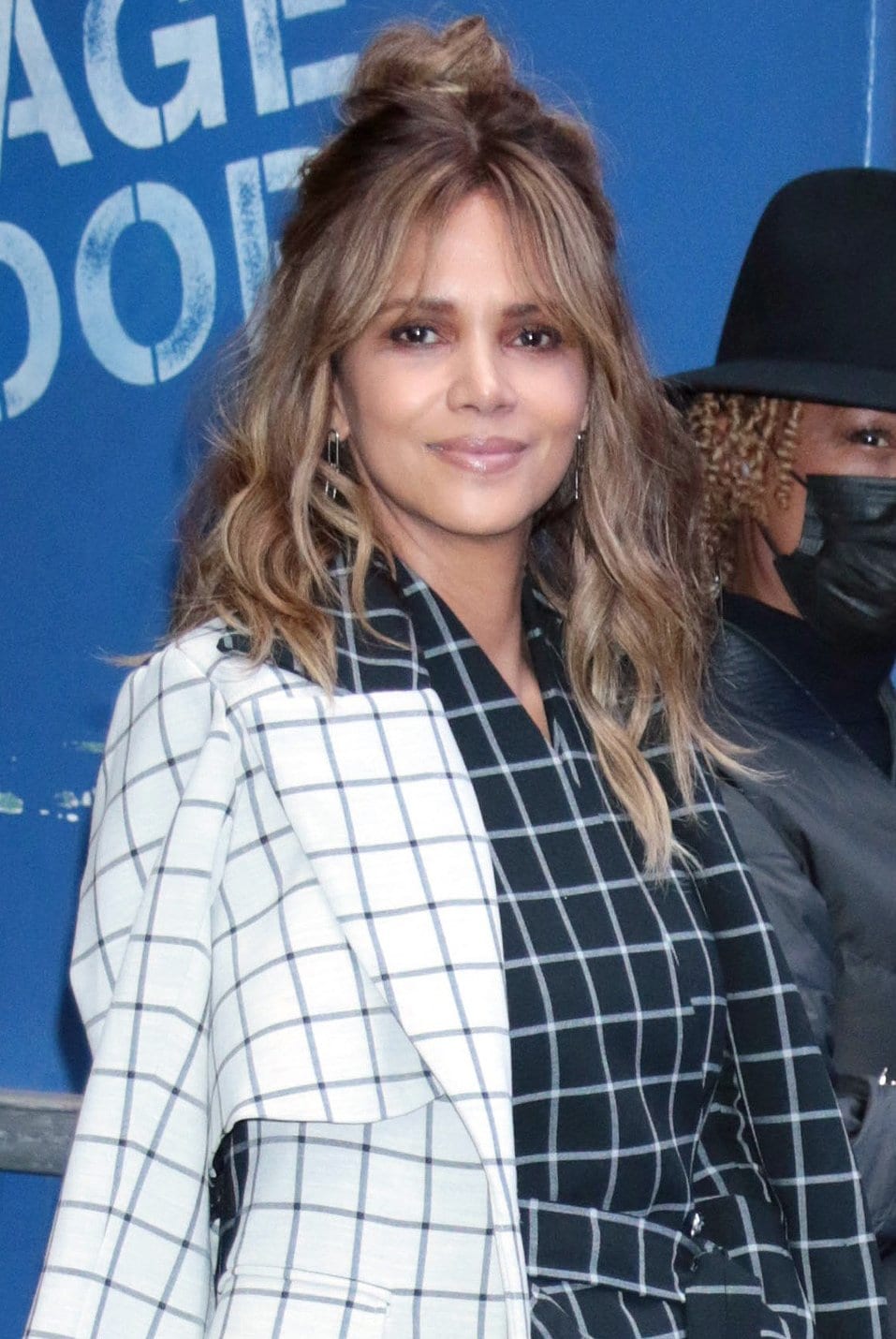 Halle Berry looks beautiful with minimal makeup and a half-up top-knot wavy hairstyle (Credit: Mega / WENN)
On her way to Live with Kelly and Ryan later in the day, Halle swapped her contemporary checked outfit for a funky satin suit from Alex Perry's Pre-Fall 2021 collection.
Halle Berry heads to Live with Kelly and Ryan in Alex Perry floral suit on November 22, 2021 (Credit: Mega / WENN)
The Extant star rocked a black floral-printed suit that included a blazer with distinct shoulder pads and high-waisted bell-bottom trousers.
She gave the look a sultry appeal by wearing a sheer black Fleur du Mal bodysuit underneath, offering a glimpse of her abs and cleavage.
Sporting the same hair and makeup, Halle styled her ensemble with Dena Kemp jewelry and added a few inches to her 5'5" height with peep-toe platform heels.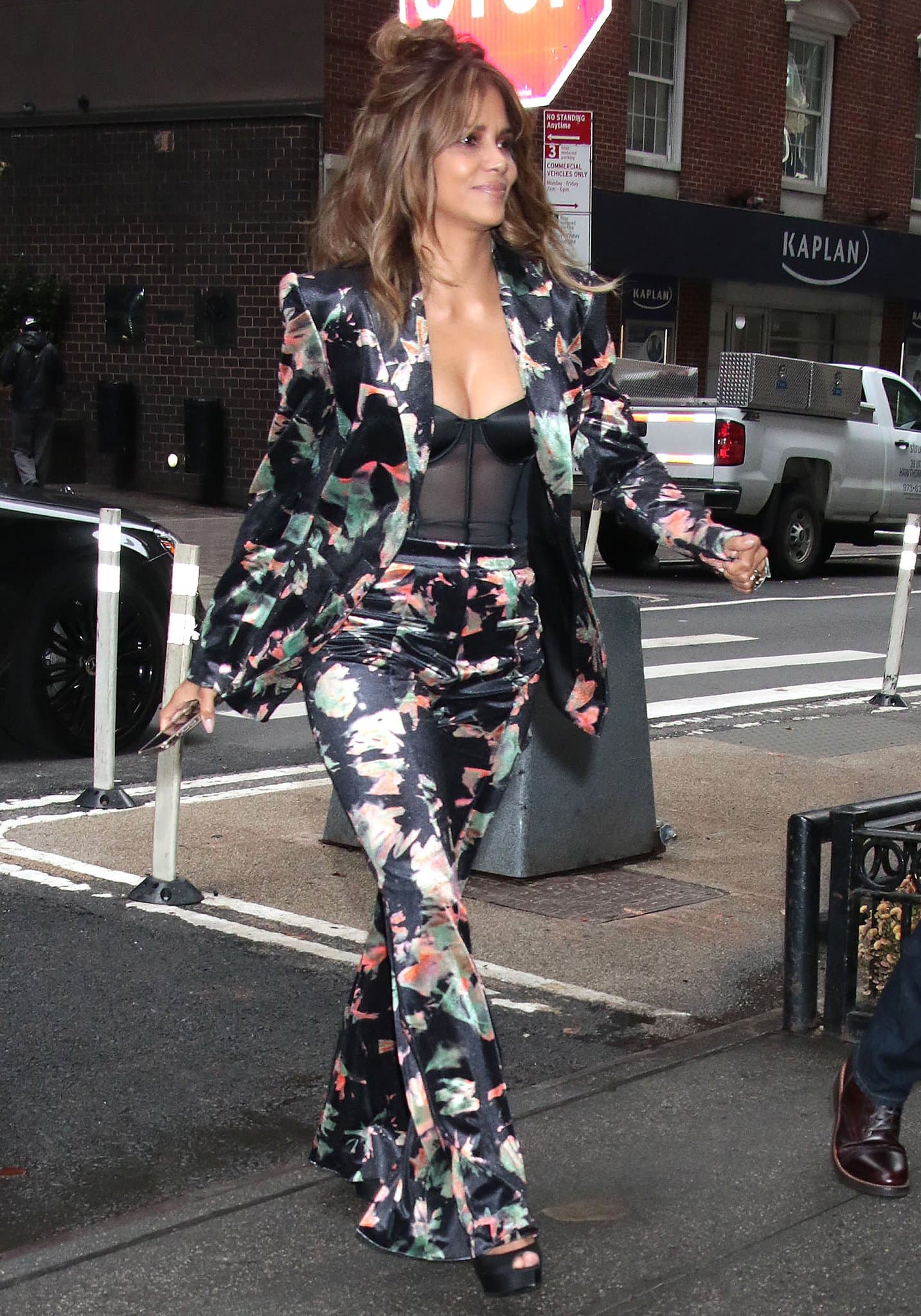 Halle Berry shows a glimpse of abs and cleavage in a sheer bodysuit from Fleur du Mal (Credit: Mega / WENN)
For her final outfit of the day, Halle opted for Dolce & Gabbana.
Taking a break from the promotional tour, the Monster's Ball actress was pictured enjoying a date night with her boyfriend Van Hunt at the DGA Theater Complex in Midtown Manhattan.
Van Hunt and girlfriend Halle Berry step out for a date night at the DGA Theater Complex in Midtown Manhattan (Credit: Mega / WENN)
She decided on a rather quirky outfit for the evening, wearing a daring Dolce & Gabbana sheer black blouse and matching tie decorated with a metallic polka-dot pattern.
Giving a playful twist to the look, Halle paired her top with loose-fitting reflective silky green joggers, which she wore over black fishnet stockings.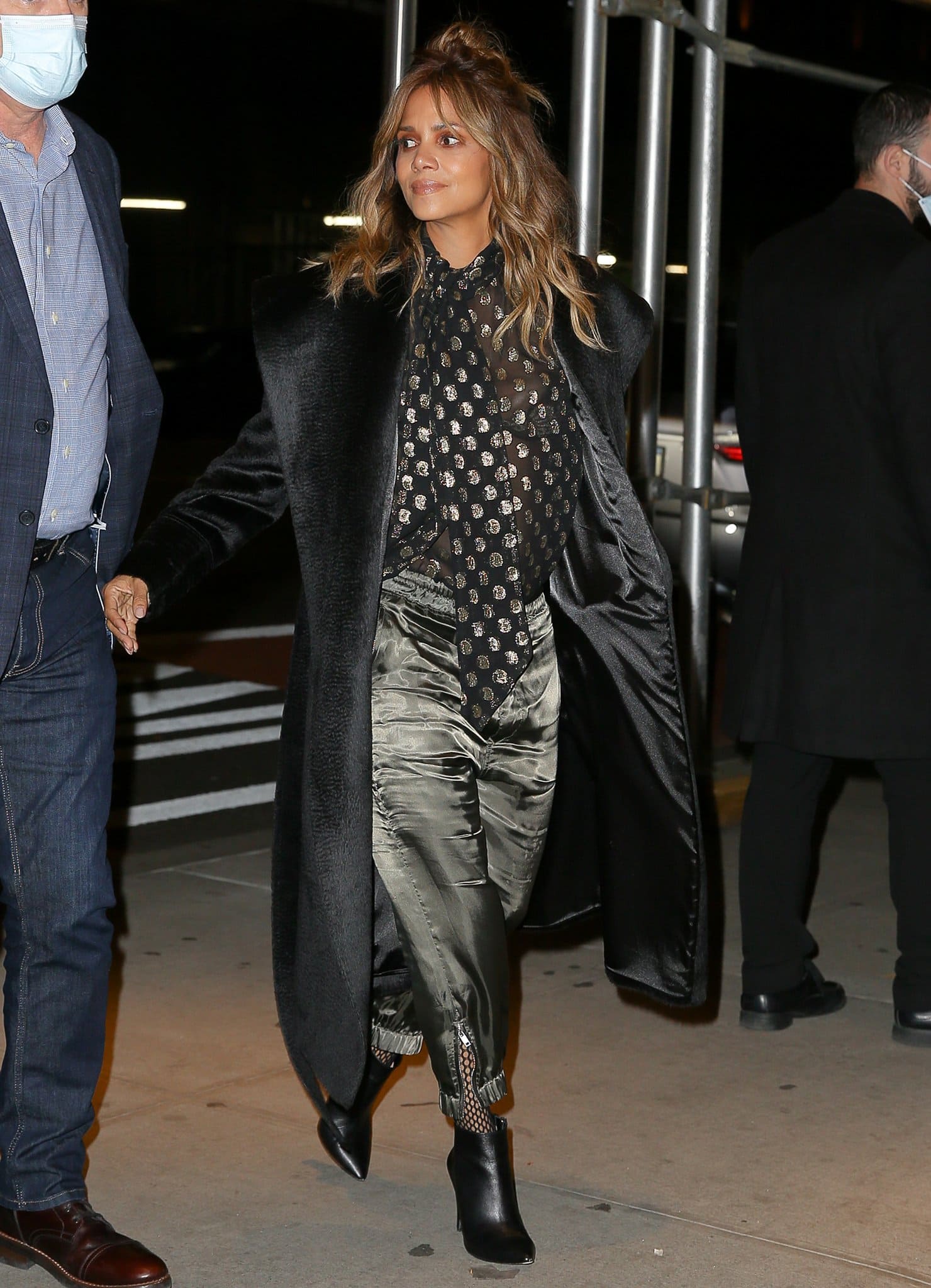 Halle Berry in a Dolce & Gabbana sheer black blouse, silky green joggers, and black velvet coat (Credit: Mega / WENN)
The X-Men star made sure to stay warm by layering her ensemble with a plush black velvet coat and slipping into a pair of pointed-toe ankle boots.
Halle Berry finishes off her quirky date night look with fishnets and pointy ankle boots (Credit: Mega / WENN)
Early this month, Halle made an appearance on Jimmy Kimmel Live, where she confidently flaunted her boobs and cleavage in a sexy black-and-gold outfit.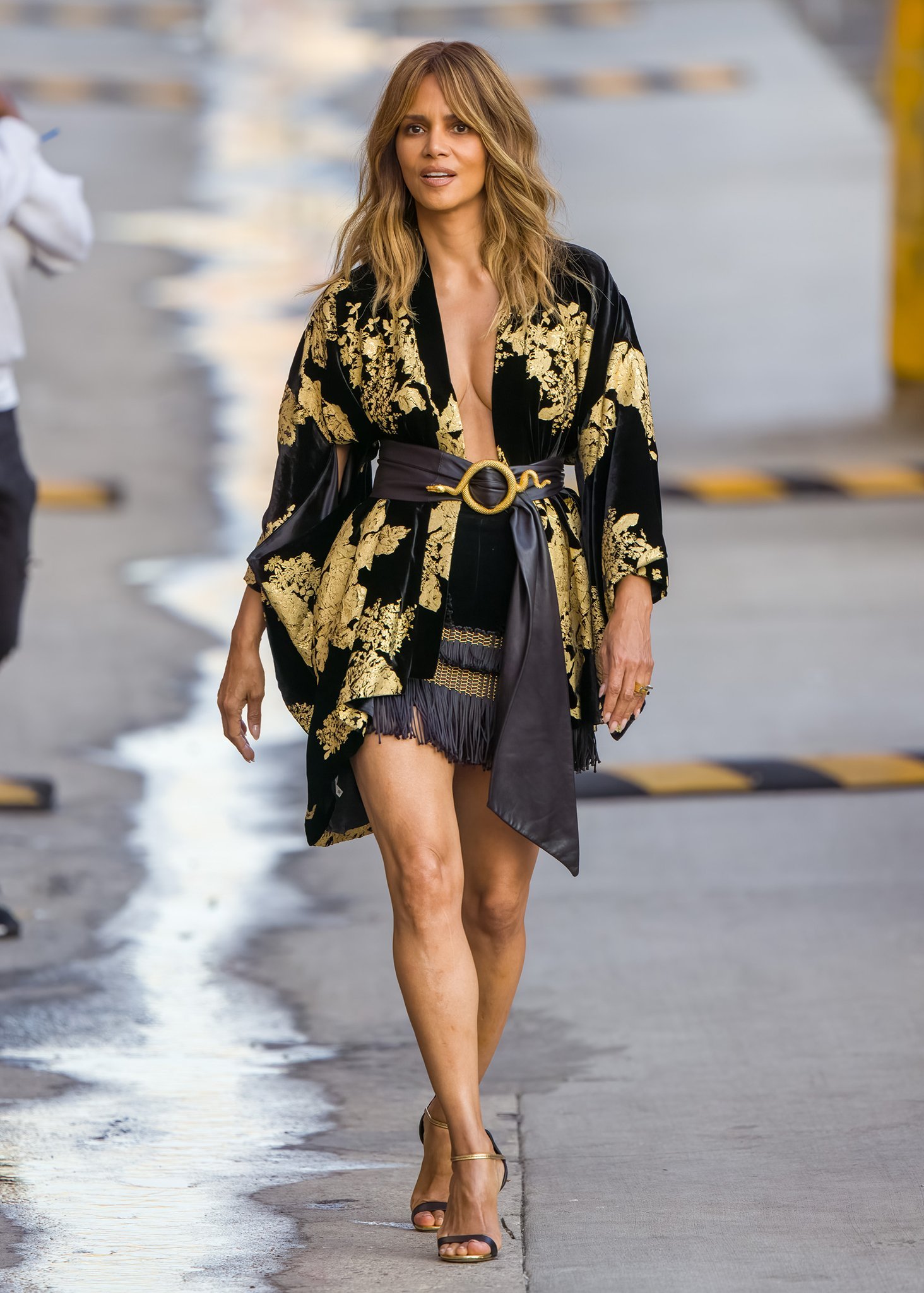 Halle Berry heads to Jimmy Kimmel Live in a Teresa Helbig black-and-gold outfit on November 15, 2021 (Credit: Mega / WENN)
She donned a black silk kimono top and a black fringe skirt, both from Spanish designer Teresa Helbig.
Revealing her boobs, Halle wore the printed robe open and cinched at the waist with a buttery soft black leather sash that's accented with a gold snake buckle.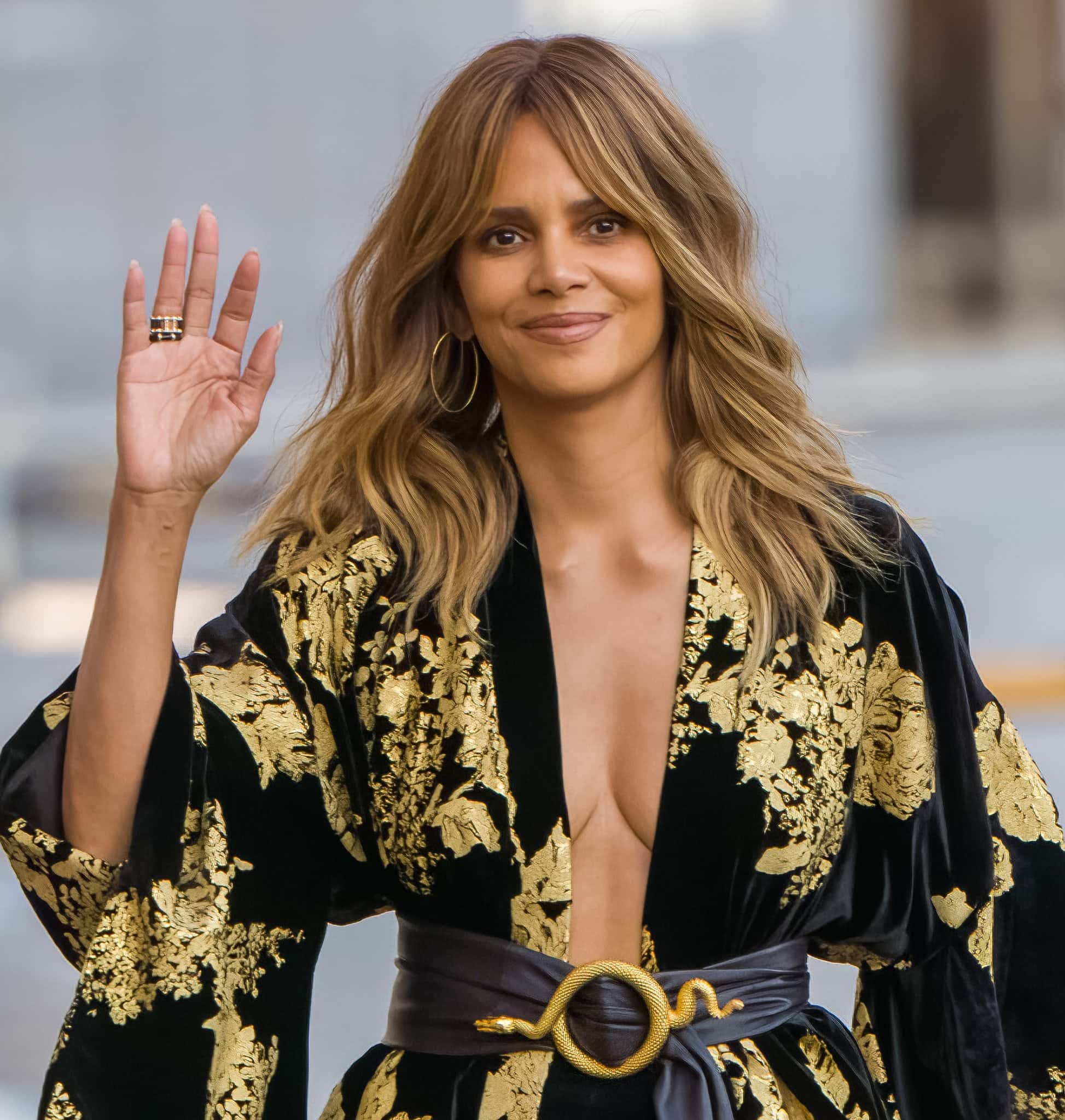 Halle Berry showcases her boobs in a kimono top, which she wore open and cinched at the waist with a black sash (Credit: Mega / WENN)
Keeping the look sexy, the Die Another Day star wore her tresses down in tousled waves and accentuated her natural features with minimal makeup.
When it came down to her footwear, Halle selected a pair of coordinating heels from Casadei.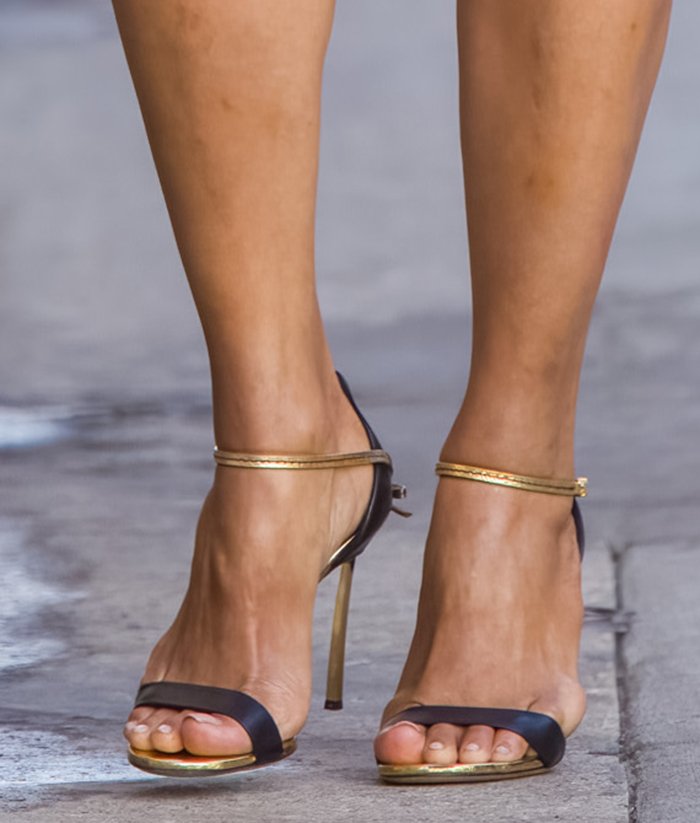 Halle Berry coordinates her look with Casadei Blade Penny black-and-gold heels (Credit: Mega / WENN)
She wore the "Blade Penny" sandals that feature black leather counters and toe straps and metallic gold ankle straps and trims. Available at Casadei in silver and gold colors, they also have 4.5-inches blade stiletto heels that add a sleek element to her look.
Casadei 'Blade Penny' Sandals, $665 at Farfetch
A sleek addition to any outfit, Casadei's Blade Penny features black leather counters and toe straps and metallic gold leather trims
Blake Lively Was Originally Cast to Lead Bruised
In her appearance on Jimmy Kimmel Live, Halle revealed that the MMA fighter role in Bruised was originally offered to Blake Lively.
"My agent just gave this to me. When I got the story, another actress was attached to it. This was for Blake Lively because originally when I got the script, it was written for a very young, Irish-Catholic white girl," she recalled.
"I said to my agent, 'But I love this, I have to play this part. I mean, not like this, I have to reimagine it, but I'm gonna do this.'"
Her agent said, "Well, it's Blake's right now, so if Blake, you know, decides to give it away, pass it up, you'll be the first person you come to."
Halle Berry portrays former UFC fighter Jackie "Pretty Bull" Justice (Credit: Netflix)
Halle said she had to wait for six months "until Blake decided it's not something she wanted to do."
Halle felt a strong connection with Jackie Justice, the MMA fighter in the movie. She had been training in mixed martial arts for three years and saw herself in Jackie Justice after reading the script.
How Halle Berry Pitched Herself to Direct Bruised
Halle was able to convince the producers to have her in the lead. She was then asked to find a director and met with several candidates.
"I talked to many women because I was determined it had to be a female filmmaker to tell this story."
"But the filmmakers I spoke to didn't see the story I saw in my head—they couldn't quite understand all the elements. They weren't fight fans and they'd shy away from that. Some of them didn't want to go as hard-hitting and deal with some of these subjects the way I was wanting to and needing to," she told The Sun.
As per Variety, Halle's producing partner Elaine Goldsmith-Thomas suggested she should take on the directing job herself. Halle then spoke to the producers, and they agreed to hire her as the director.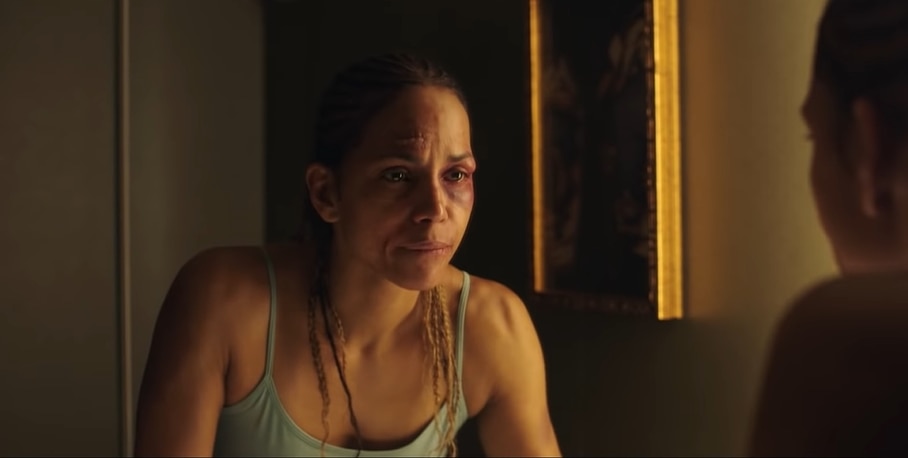 Halle Berry as Jackie "Pretty Bull" Justice in the 2020 sports drama film Bruised (Credit: Netflix)
Unfortunately, the movie isn't very good. "Even her own directorial debut doesn't give her a script worthy of her talents," Polygon wrote in their review.
"The directorial debut from Halle Berry approaches the bloodied, battered tropes of the fight movie genre so earnestly, it's almost as if she simply isn't aware that the plot is chock full of the biggest cliches since the slow motion shot of blood spraying across the canvas," The Guardian added.