Wearing a Dolce & Gabbana dress, Christian Louboutin heels, and Ridano jewelry, Catwoman actress Halle Berry joined her boyfriend Van Hunt at the 2021 Academy Awards at Union Station in Los Angeles.
Van Hunt and his girlfriend Halle Berry attend the 93rd Annual Academy Awards at Union Station on April 25, 2021, in Los Angeles, California (Credit: Avalon / WENN)
17 years earlier, she was reportedly paid $14 million for the title role in the 2004 American superhero film Catwoman. Considered one of the worst movies of all time, it was a massive box office flop and universally panned by critics.
"Everybody around me said, 'Girl, don't do it. It's going to be the death of you. It's going to end your career.' But guess what I did? I followed my intuition and I did a movie called Catwoman and it bombed miserably," Berry said when accepting the Matrix Award from New York Women in Communication in April 2018.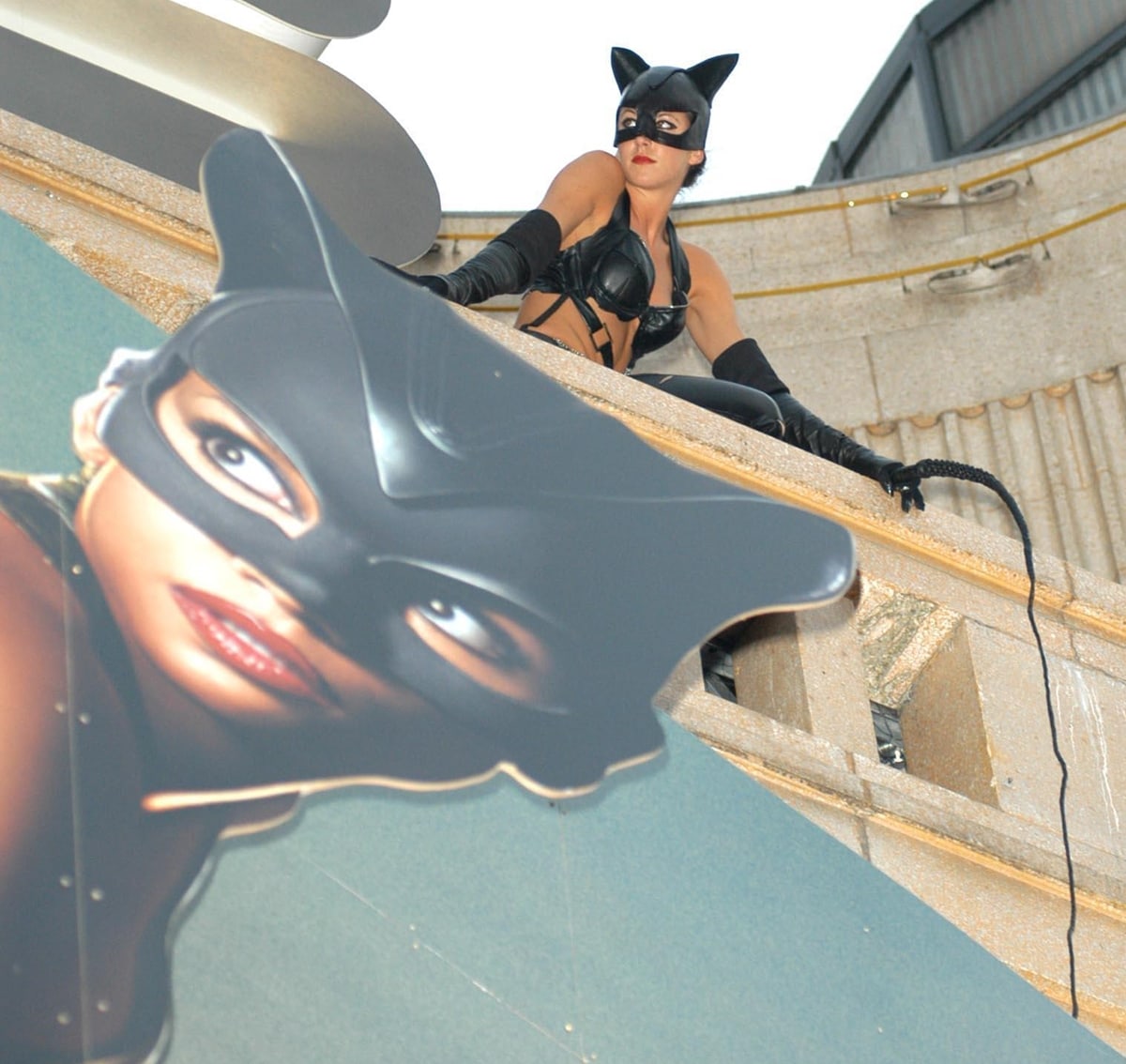 Released theatrically on July 23, 2004, by Warner Bros. Pictures, Catwoman is loosely based on the DC Comics character Catwoman (Credit: Z. Tomaszewski / WENN)
"While it failed to most people, it wasn't a failure for me because I met so many interesting people that I wouldn't have met otherwise, I learned two forms of martial arts and I learned not what to do."
She concluded by saying that she made "a shit-load of money that changed my life."
Halle Berry wearing DeBeers wildflower necklace and earrings at the Catwoman premiere held at Vue Cinema, Leicester Square in London, United Kingdom, on August 3, 2004 (Credit: Benson Adedeji / WENN)
While Halle dressed to impress in the movie wearing a skin-tight leather catsuit costume designed by Australian costume designer Angus Strathie, The New York Post was not impressed.
"A purr-fectly ridiculous and boring cat-astrophe, Catwoman more than lives up to the lethal advance buzz and—even with Halle Berry cavorting like a third-rate dominatrix—is about as sexy as a hairball," the tabloid newspaper wrote in its review.
"The character of Catwoman, definitively embodied by Eartha Kitt in the old "Batman" television series and dutifully updated by Michelle Pfeiffer in Tim Burton's "Batman Returns," has always been a camp dominatrix, a persona not entirely suited to Ms. Berry's soft, eager demeanor. She overacts Patience's flaky timidity and then, to compensate, overdoes catwoman's suave self-confidence, swinging her hips and pushing out her lips as if she were trying to attract the amorous attentions of Pepe le Pew," The New York Times wrote about Halle Berry's performance.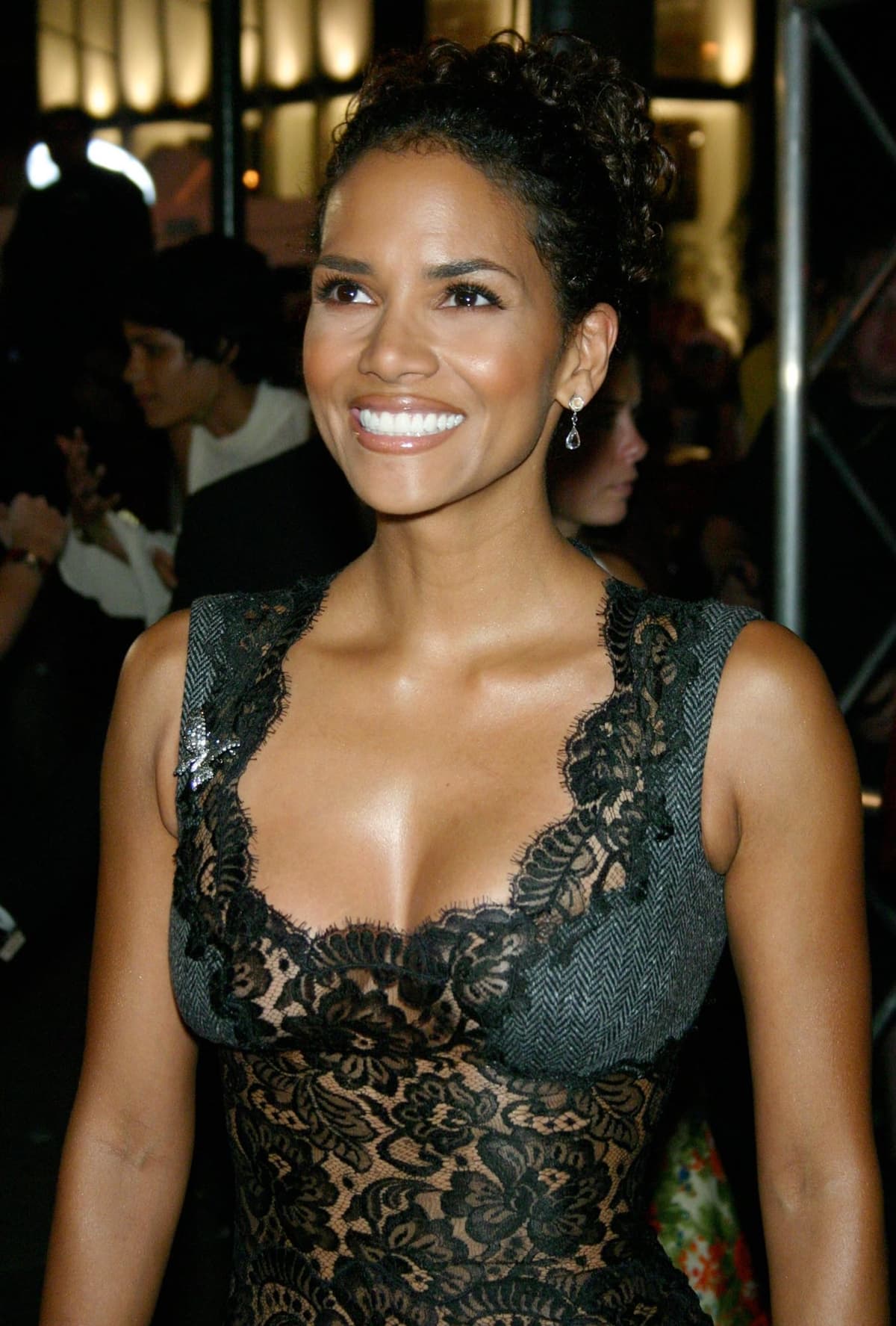 Halle Berry during Warner Bros. Consumer Products and Henri Bendel Host Purr-fect "Catwoman" at Henri Bendel in New York City, New York, on July 21, 2004 (Credit: WENN / Joe Major)
In February 2005, Berry was awarded the Worst Actress Razzie Award for her performance. She appeared at the ceremony to accept her award as the worst actress of 2004
Holding her Oscar from Monster's Ball, Berry was encouraged by her mom to accept the award in person. "My mother told me that if you couldn't be a good loser then there's no way you could be a good winner," she said at the 25th annual Razzie awards in Los Angeles.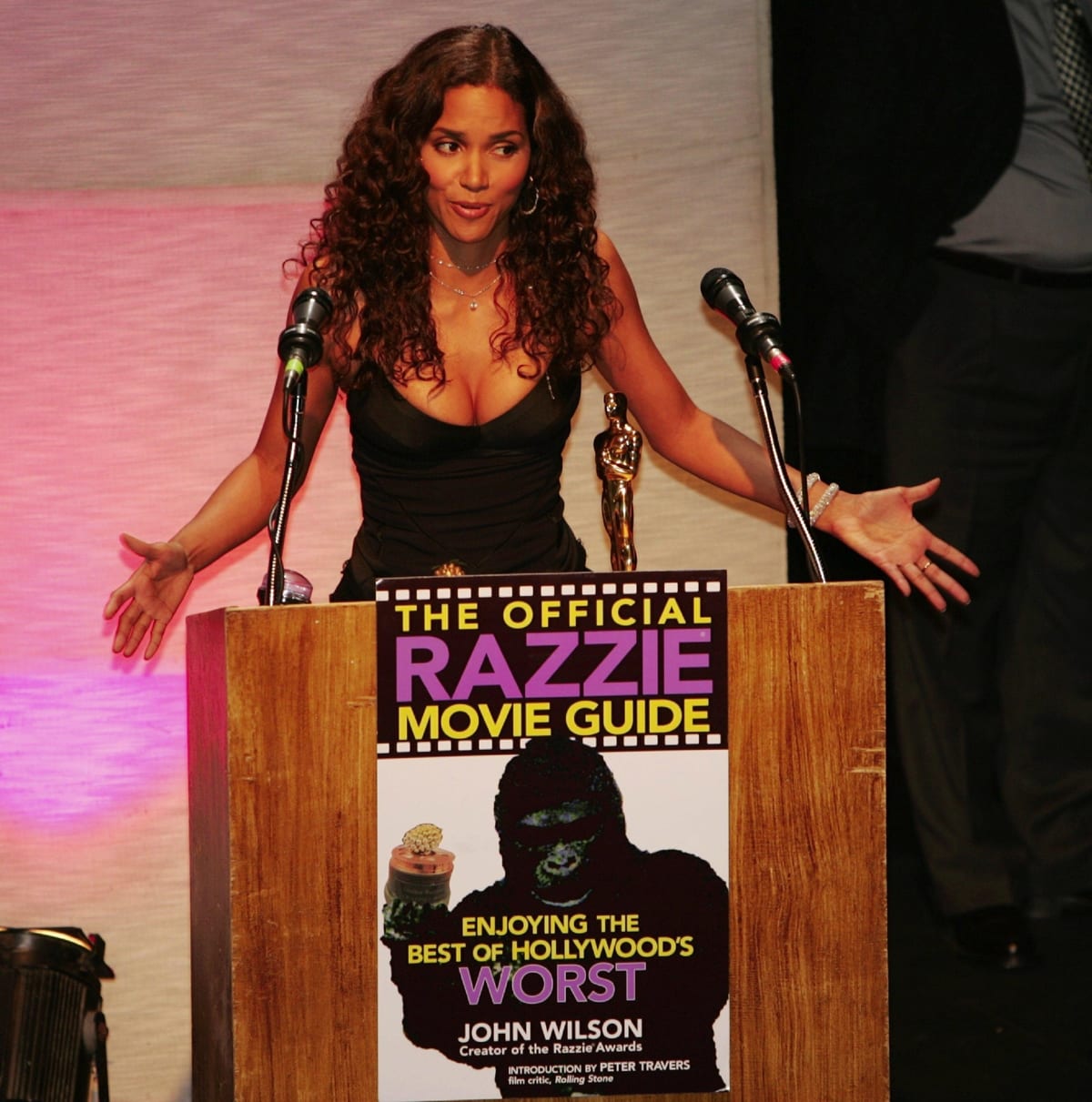 Halle Berry accepting the Razzie for Worst Actress of 2004 for her performance in 'Catwoman' at the 25th Annual Razzie Awards presented by The Golden Raspberry Award Foundation Los Angeles, California, on February 26, 2005 (Credit: WENN)
"I want to thank Warner Brothers for casting me in this piece of shit," Berry joked while accepting the award. She added: "I'd like to thank the rest of the cast. To give a really bad performance like mine you need to have really bad actors."
Halle Berry was 37 years old when principal photography for Catwoman began in late September 2003. Born on August 14, 1966, in Cleveland, Ohio, she turned 38 on August 14, 2004.
In January 2015, Halle Berry returned to California after spending several days in the freezing French capital with her family.
Halle Berry arriving at Los Angeles International Airport (LAX) with her family on January 4, 2015 (Credit: WENN)
She was joined by then-husband Olivier Martinez, her then 1-year-old baby boy Maceo Robert Martinez, and her then six-year-old daughter Nahla Ariela Aubry.
The then 48-year-old American actress and former fashion model sported a partly sheer black top, a soft knitted scarf, black leggings, sexy knee-high leather boots, and a red backpack.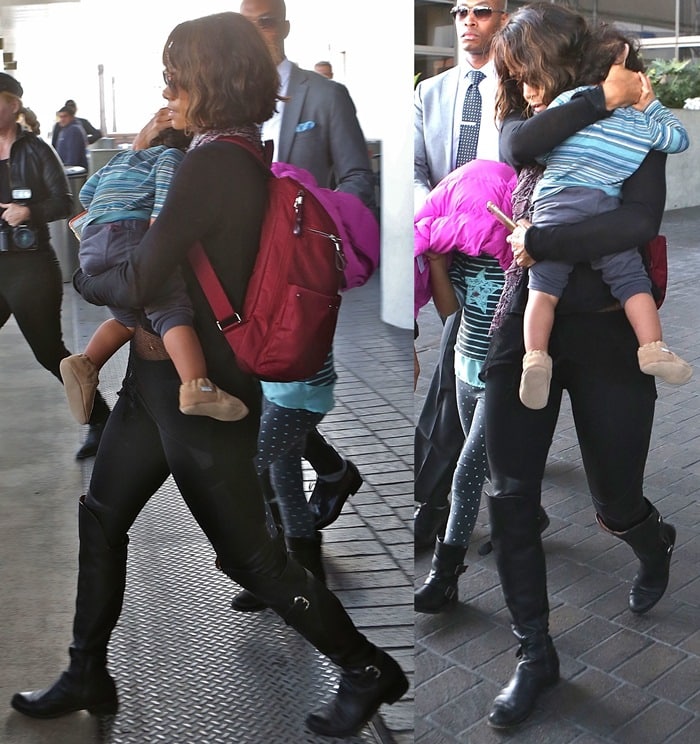 Halle Berry rocks sexy knee-high leather boots (Credit: WENN)
Would you wear an outfit like this to the airport like Halle Berry?
New members at Kim Kardashian's ShoeDazzle can purchase similar buckled knee-high boots for just $10.
Black Andela Pointy-Toe Knee-High Boots, $10