Tom Ford is known for strong designs where classic lines and colors meet fresh new styles! We spotted several shoes from his fall and winter 2013 collection on the runways during London Fashion Week, and I knew that our fellow shoe lovers would go crazy over some of them! If you love beautifully detailed boots or graphic black-and-white sandals, one of these styles will probably make you giggle with joy.
Although they're not available online yet, I know we'll see plenty of these styles on the feet of celebs soon enough. Kim Kardashian is a fan of Tom Ford, and we've spotted stars like J-Lo and Anne Hathaway in his shoes as well.
This upcoming collection has a more bohemian and free-spirited feel than his previous designs that exuded structure (remember Anne Hathaway's bondage-inspired boots?).
Check out these fresh unreleased styles and tell us what you think:
Does it really get much better than blue-suede floral-embellished peep-toe boots?
I love how Tom has taken the black-and-white graphic trend and added an organic twist with these boots!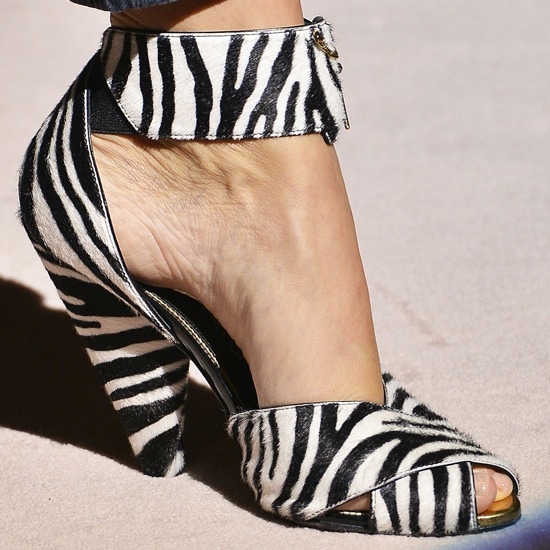 You can relax. This is proof that animal prints are still in for 2013!
More amazing black-and-white graphic prints …
London Fashion Week (Tom Ford Autumn/Winter 2013 Runway), February 18, 2013
We also dug up this video coverage of the show!
What do you think of Tom Ford's Autumn/Winter 2013 collection?
Credit: Marcio Madeira/News Pictures/WENN