You know how when you have a favorite pair of shoes and you just can't seem to stop wearing them? That's how the Manolo Blahnik "Amiela" pumps are to Olivia Palermo right now.
We first spotted Olivia Palermo rocking her Manolo Blahniks during London Fashion Week Spring/Summer 2013 in September of last year. Now, the socialite style icon has not only brought them out again for London Fashion Week Autumn/Winter 2013, but also found numerous ways to style them with different outfits.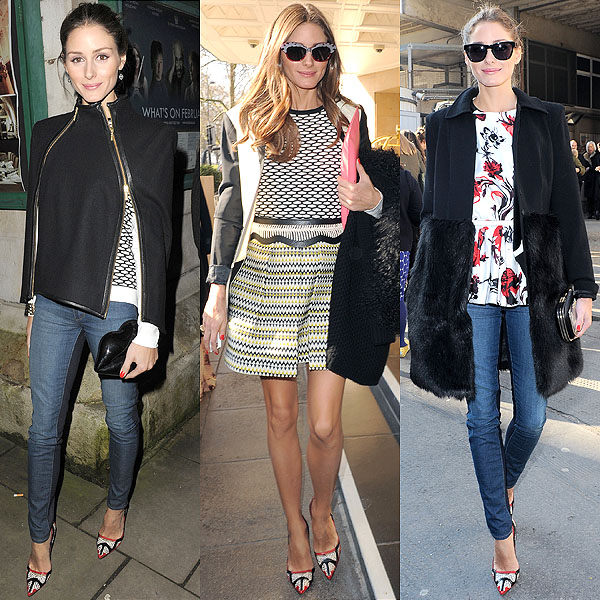 Olivia Palermo at different fashion shows held during London Fashion Week Autumn/Winter 2013 in London, United Kingdom from February 15 to 19, 2013
No wonder Olivia Palermo has been unofficially crowned as the queen of accessorizing. She effortlessly makes these tricolor printed pumps look like they go with absolutely everything!
Aside from the three-color combination, the polka-dot print, and the wavy straps, these pumps also have unique stacked heels of bronze metal beads, as you can see in the close-up below: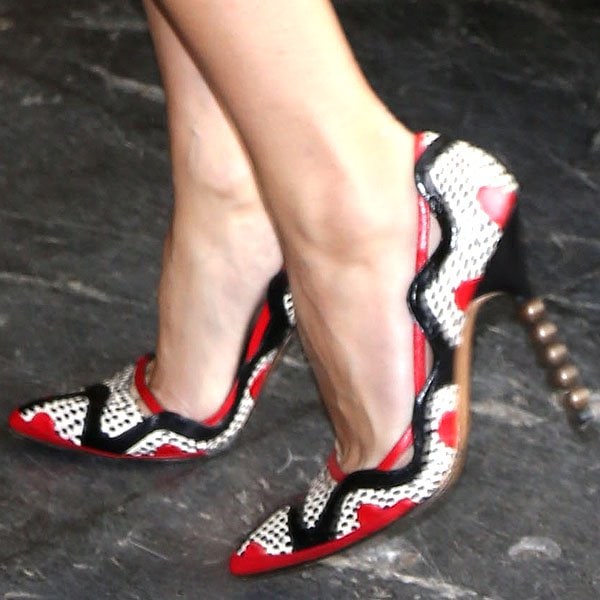 The heel is conspicuously different in the following version, but that's the least of our problems as these striking pumps are sadly now sold out everywhere.
Manolo Blahnik "Amiela" Pumps, $1,089
Not to worry though; Manolo Blahnik still makes pretty polka-dotted pumps like the "Tifo" style here:
Manolo Blahnik "Tifo" Fabric-Toe Pumps, $825 at Neiman Marcus
For less of a sticker shock, check out a similarly striking pair of red-white-black pumps going for as low as $30 from J. Renee:
J. Renee "Alison" Pointy-Toe Pumps, $30.97 to $89.95
Also, if you're looking for a pair in a style as close to the original as possible, few shoes will beat this one from Sergio Rossi:
Sergio Rossi "Siena" Tricolor Cap-Toe Pumps, $695.71
We completely understand Olivia Palermo's obsession with the Manolo Blahnik "Amiela" pumps. But, as lovely as they are, don't you think she should've switched things up a bit, especially since she was at the London Fashion Week?
Credit: Will Alexander/Karl Piper/Lia Toby