Altering absolutely nothing from the original runway outfit, Anne Hathaway rocked one of the bondage-inspired looks from the "chastity meets perversity"-themed Tom Ford spring 2013 RTW collection at last night's 'Les Miserables' New York premiere.
Anne Hathaway must be aware that wearing a 'Fifty Shades of Grey'-inspired outfit like this will mean that her mug will be all over celebrity gossip and fashion news websites. You can see how she was really trying to sell this look to us and making sure that we don't miss those weapon-concealer knee-high boot sandals on her feet!
Instead of just critiquing Anne Hathaway's outfit outright, we thought why not give her what she wants — all the attention that her Tom Ford spring 2013 RTW actually rightfully deserves.
We've got not just the usual one or two pictures in this post but a total of 9 pictures of Anne Hathaway's knee-high bondage sandals from every angle. Starting with the head-to-toe ensemble shot and the requisite closeup shot:
Anne Hathaway at the 'Les Miserables' New York premiere at the Ziegfeld Theatre in New York City, New York on December 10, 2012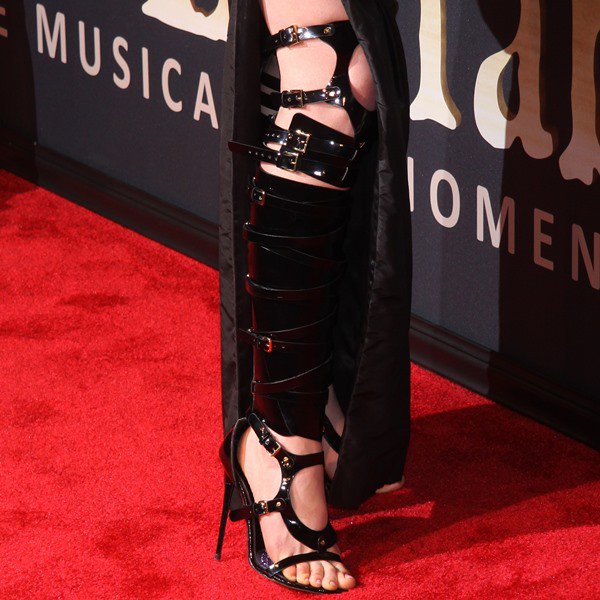 Here are the boot sandals from a 3/4 angle:
More pictures from the side: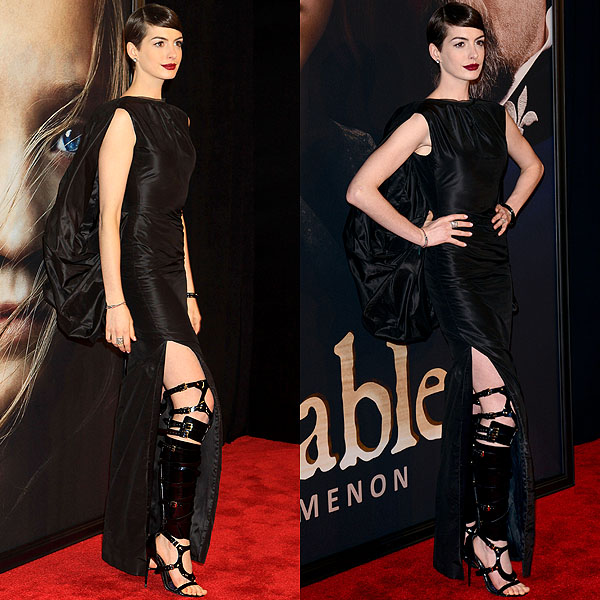 And finally from the back:
Oh and here are the sandals and the dress as part of the editorial:
Tom Ford Spring 2013 RTW Taffeta Dress and Knee-High Gladiator Sandals
We appreciate Anne Hathaway's efforts to go high fashion here, but we're not quite sure the runway look translates well on the red carpet.
What do you think? Is Anne Hathaway's Tom Ford spring 2013 RTW ensemble sold or not?
Remember, ladies, knee-high gladiator sandals are once again predicted to be a huge trend in spring. Are you ready for this comeback?
Credit: Ivan Nikolov/WENN/Michael Carpenter/PNP/photo courtesy of Tom Ford