If you've seen the 2012 film adaptation of Les Miserables, you've experienced Anne Hathaway's short but stellar performance.
Based on the 1862 French novel by Victor Hugo, the musical, known by many simply as Les Mis, is set in early nineteenth-century France during the June Rebellion, a time of unrest in the country. Anne Hathaway has little screen time, but her character has major significance in the film's storyline.
Anne Hathaway in a runway look from Ford's Spring/Summer 2013 collection at the world premiere of "Les Miserables" at Ziegfeld Theatre on December 10, 2012, in New York City (Credit: Debby Wong / Shutterstock)
Hathaway portrays the character of Fantine, an unwed mother forced into prostitution to support her young daughter, Cosette. The complicated and emotional role took a toll on Hathaway, who underwent physical and mental changes to portray the character as accurately as possible.
In addition to Hathaway, the film has an incredible all-star cast, including Russel Crowe, Hugh Jackman, Eddie Redmayne, Amanda Seyfried, Sacha Baron Cohen, and Helena Bonham Carter.
What Did Anne Hathaway Do to Prepare for the Role?
Anne Hathaway, who won a best supporting actress Oscar in 2013 for her brief appearance in the film, had to prepare emotionally and physically for her role as Fantine.
Hathaway later told the press that she lost 25 pounds in two weeks in order to appear tired and sickly, an accurate portrayal of the character's state throughout the film.
Amanda Seyfriend in a Balenciaga by Nicolas Ghesquiere dress and Alexandre Birman shoes, Anne Hathaway in a pearl studded Givenchy gown, and Samantha Barks in a Stella McCartney dress, Adler earrings, and Jimmy Choo shoes at the "Les Miserables" World Premiere at the Odeon Leicester Square on December 5, 2012, in London, England (Credit: INFphoto)
The sudden weight loss did more than physically affect Hathaway, as she felt mentally worn down and unwell because of it.
"I had to be obsessive about it — the idea was to look near death," Hathaway told Vogue about losing 25 pounds.
"Looking back on the whole experience — and I don't judge it in any way — it was definitely a little nuts. It was definitely a break with reality, but I think that's who [my character] Fantine is anyway."
Not only did Hathaway have a significant physical transformation, but getting into character to play the seamstress-turned-prostitute was so tricky that it continued to affect her even after filming.
Did Anne Hathaway Do Her Own Singing in the Film?
Anne Hathaway is only in the film rendition of Les Miserables for approximately 15 minutes, but she gives an incredibly unforgettable performance during that time.
Hathaway sang every take live of the haunting song "I Dreamed a Dream," perhaps one of Les Miserable's most well-known anthems.
Anne Hathaway lost 25 pounds to portray Fantine and impressed everyone with her singing in the 2012 epic period musical film Les Misérables (Credit: Universal Pictures)
In order to prepare for the role, Hathaway worked with a vocal coach to perfect her rendition of the beloved song. According to Hathaway, the pressure to audition for the film and perform the infamous song was a lot to take on.
"We did it upwards of 20 times, but it was the fourth take that Tom [Hooper, the director] came up to me and said, 'You know, I have it. That was the one. I don't imagine we're going to do better than that,'" she told Yahoo! Movies about singing "I Dreamed a Dream," a solo that is sung by the character Fantine during the first act.
"And I, of course, am like, 'No no no no, we gotta go, we gotta go,' and 'I can do it again…' And I never broke through in the same way again," Hathaway added.
"So, at the end of eight hours of singing the song we realized we could have finished after the first 20 minutes."
How Much Did Anne Hathaway Make Filming Les Miserables?
In addition to winning an Oscar for best supporting actress, Anne Hathaway earned her biggest paycheck yet from filming Les Miserables.
Hathaway played a small but essential role in the movie adaptation, making 10 million dollars for the part.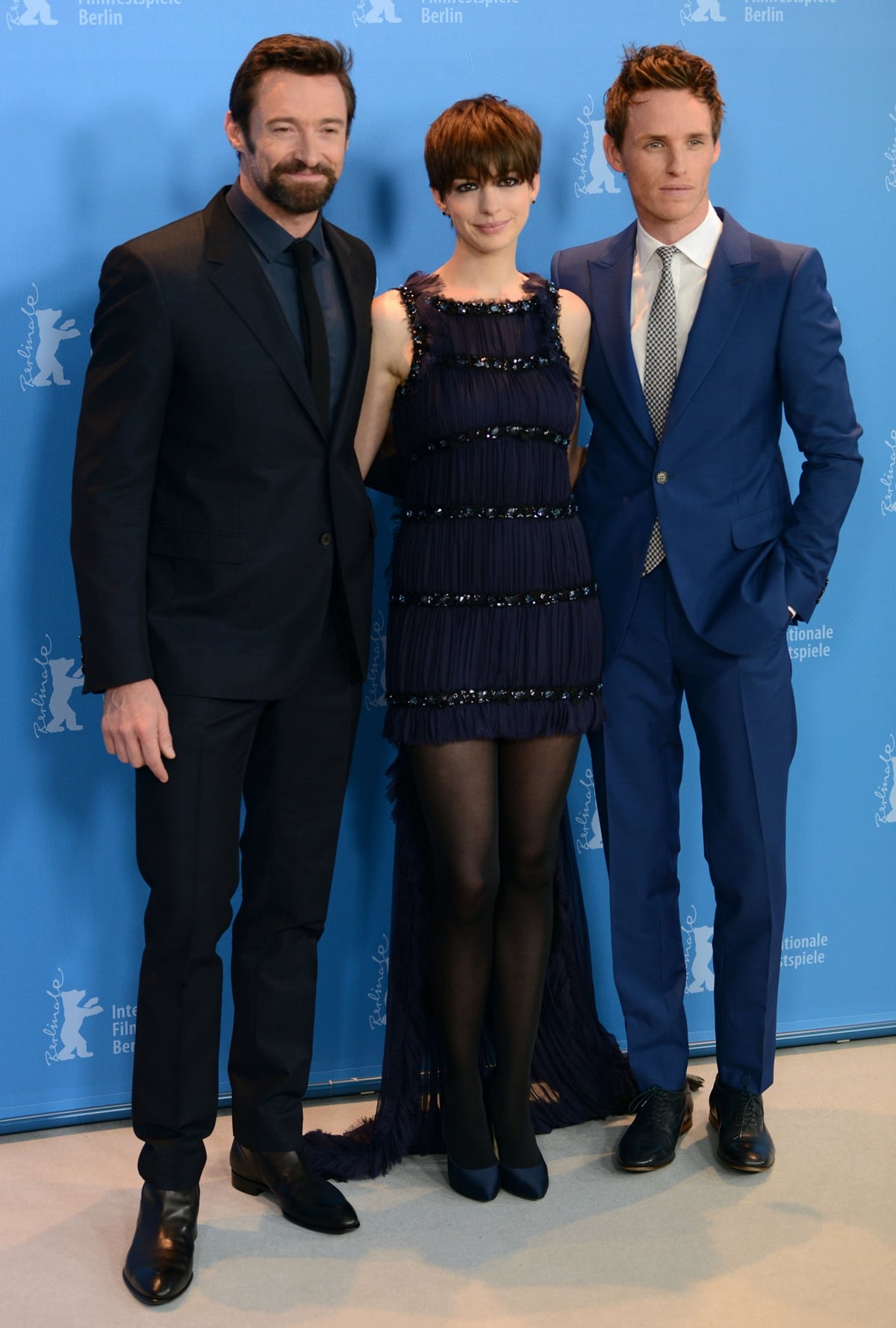 Hugh Jackman, Eddie Redmayne, and Anne Hathaway in a Chanel Couture gown attend a press conference from "Les Miserables" during the 63rd Berlinale International Film Festival on February 9, 2013, in Berlin, Germany (Credit: INFphoto)
That same year, Hathaway scored another important role in The Dark Knight Rises as Selina Kyle, aka Catwoman. You can safely say that Anne Hathaway had a great year in 2012!
Anne Hathaway is a great actress who has taken on several significant roles in her career. Her portrayal of Fantine earned her not only an Oscar for best supporting actress but also the distinct honor of playing one of film and theater's most unforgettable characters.
Anne Hathaway proved her vocal skills in "Les Miserables" and contributed to the film winning three Oscars (including best supporting actress for Hathaway) (Credit: Universal Pictures)
Hathaway's willingness to take on a major physical and mental transformation to play the incredible role is something film addicts and musical theater lovers will not soon forget.
Anne Hathaway may have portrayed a pauper in the musical "Les Miserables," but she looked anything but as she graced the Paris red carpet for the film's premiere.
Anne Hathaway, who clipped her hair for her role in "Les Miserables," shows off her still-short pixie cut at the Paris premiere of the film, held on February 6, 2013, at Cinema Gaumont Marignan in Paris (Credit: WENN)
Anne arrived at the premiere in a beautiful floor-sweeping pink gown by Prada accented by delicate Tiffany & Co jewelry.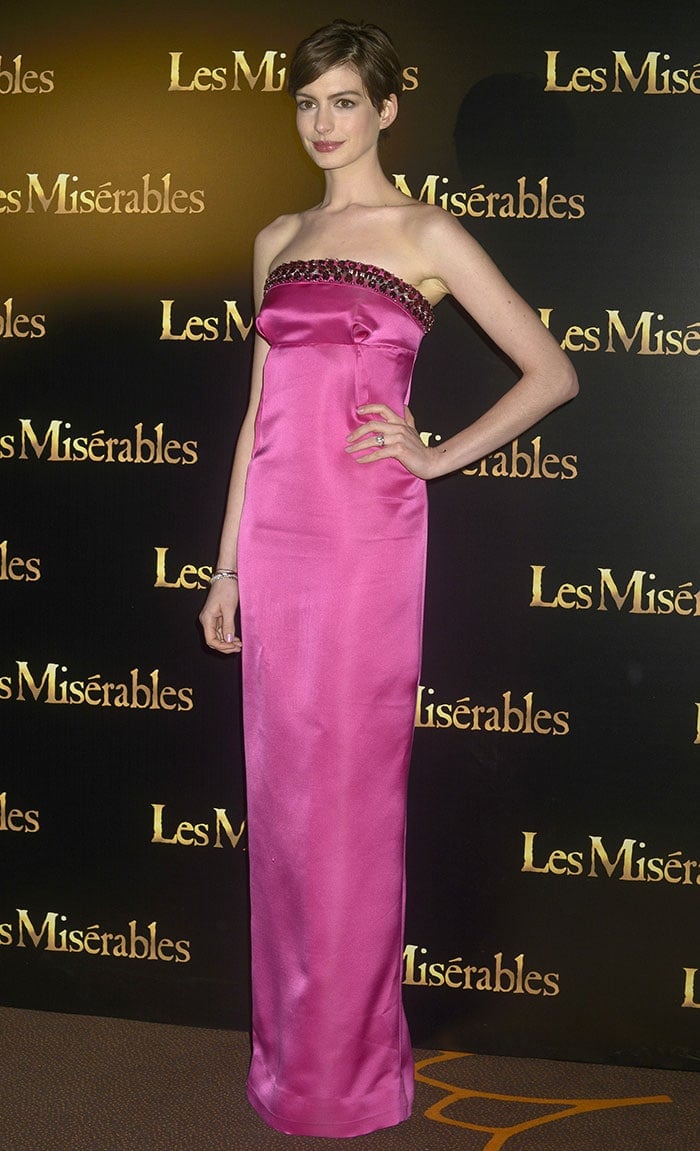 Anne Hathaway attends the Paris premiere of "Les Miserables" in a floor-length Prada gown (Credit: WENN)
Anne's pretty satin dress featured crystal-beaded detailing along the neckline and a knee-high slit at the back.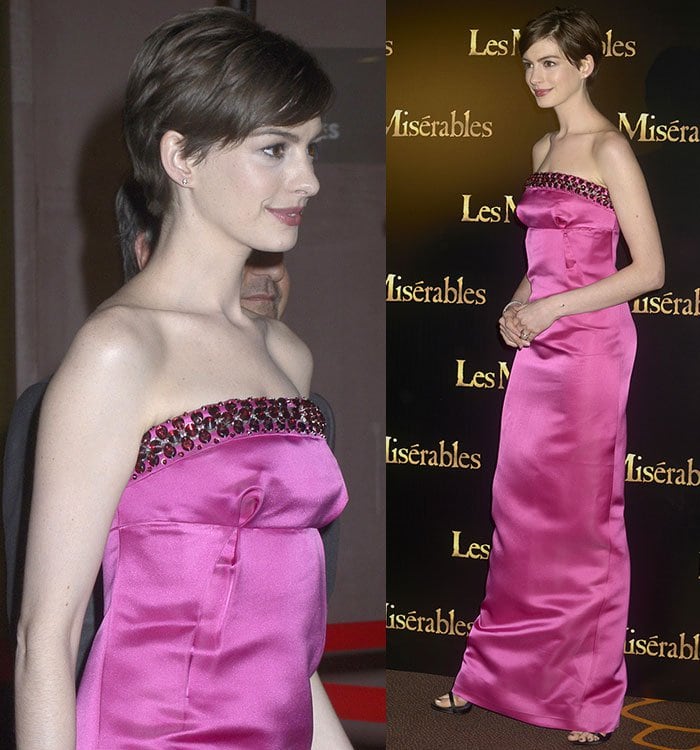 Anne Hathaway skips the necklace to show off the bejeweled neckline of her Prada dress (Credit: WENN)
With the exception of a bracelet, she went sans jewelry, which let her dress and gorgeous smile take center stage.
Her strappy black Giuseppe Zanotti heels complemented the trim of her gown while remaining understated and chic.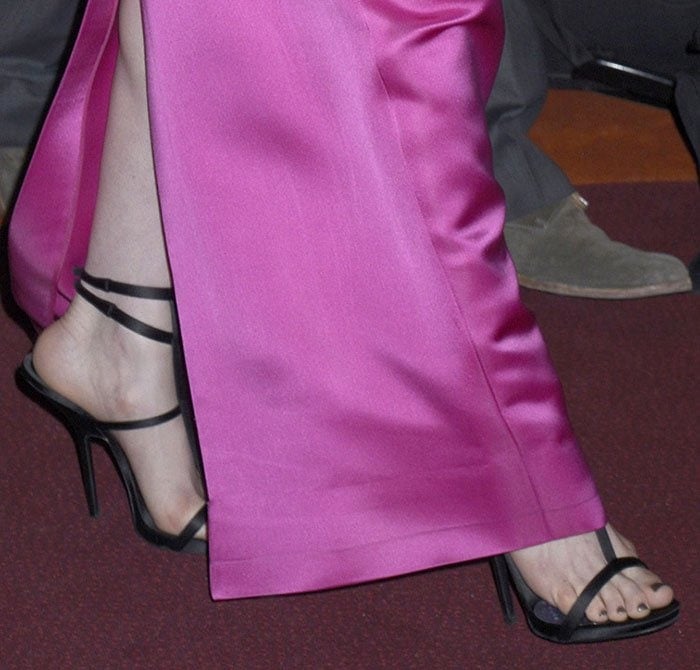 Anne Hathaway's feet in strappy black Giuseppe Zanotti sandals (Credit: WENN)
Anne's Giuseppe Zanotti sandals are both custom designed and vegan! Thanks to our amazing reader Lucia for helping identify this style.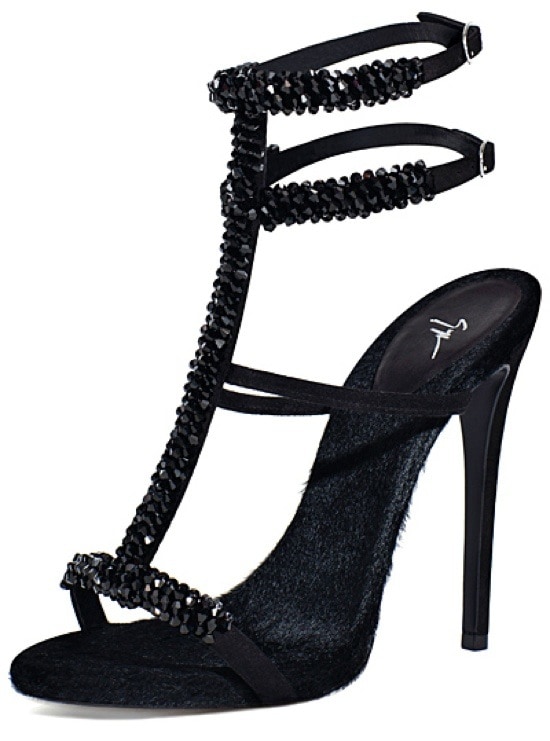 Giuseppe Zanotti sandals similar to Anne Hathaway's custom-designed vegan pair