Last Sunday evening was quite a star-filled night when A-list Hollywood star Anne Hathaway showed up wearing starry hand jewelry to the 'Interstellar' premiere. Serving as the night sky backdrop to her astral accessory was a midnight blue Richard Nicoll satin slip dress. A matching long necklace draped down the actress' back. A short wavy bob and kohl-rimmed eyes completed the look.
Anne's understated outfit is a big departure from the elegant and feminine style we're used to seeing on her, and the handpiece looks like something a teenage girl would pick to wear to junior prom. We also can't get over how her silver french manicure looks more like pencil lead under her nails. But then, Anne did fire Rachel Zoe earlier this year and is now being styled by Penny Lovell. How do you like Anne's new style under her new stylist?
Anne Hathaway arriving at the premiere of Paramount Pictures' 'Interstellar' at the TCL Chinese Theatre IMAX in Hollywood, California, on October 26, 2014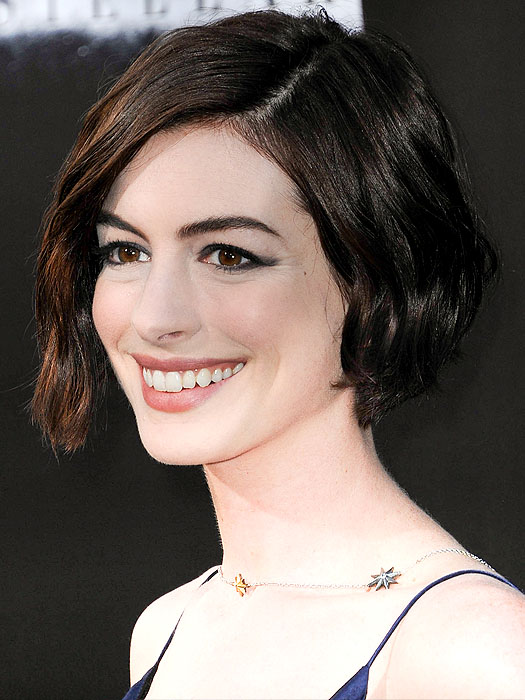 Anne Hathaway wearing a starry necklace by James banks Designs
Closeup of Anne Hathaway's starry hand jewelry by James Banks Designs
The starry hand jewelry not only was the highlight of Anne's look but also made for interesting poses. She appeared to have had a grand time trying to come up with different creative hand-on-thigh, hand-over-the-legs, and hand-on-shoulder poses just to properly model the piece for the cameras.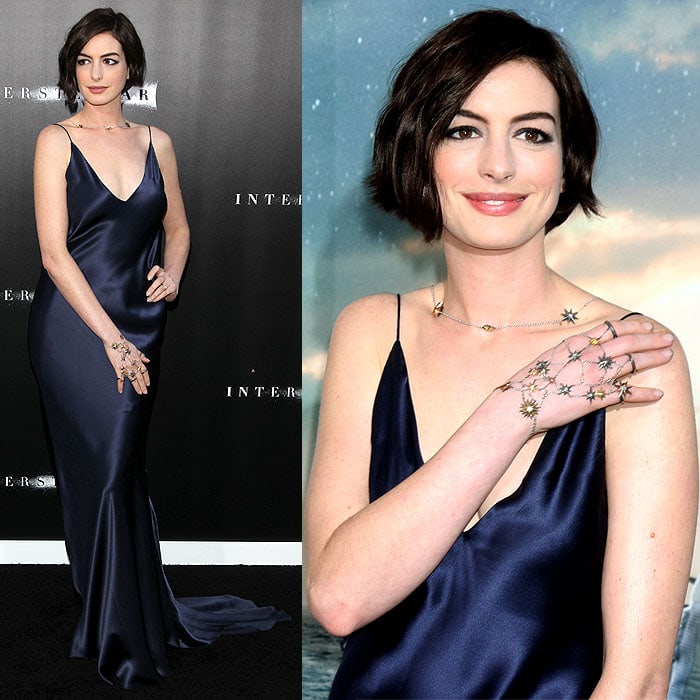 Anne Hathaway striking different poses to model her starry hand jewelry
As for the shoes, we got these glimpses of the Christian Louboutin fringe sandals on Anne's feet: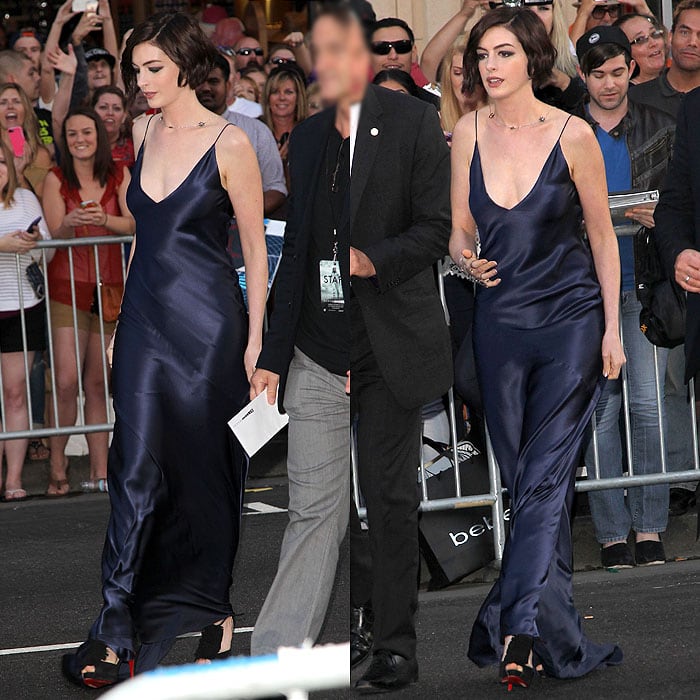 Christian Louboutin fringe sandals peeking out from Anne Hathaway's satin gown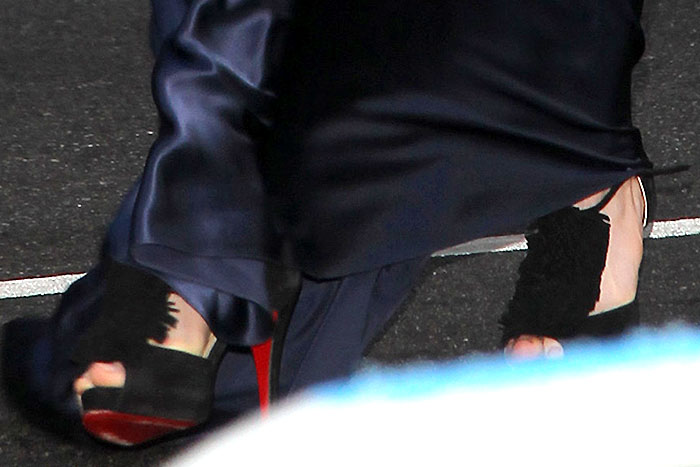 Christian Louboutin fringe peep-toe sandals on Anne Hathaway
These shoes are an old style from way back in 2007. Anne actually wore them the first time that year when she attended the Christopher & Dana Reeve Foundation's "A Magical Evening" gala in NYC.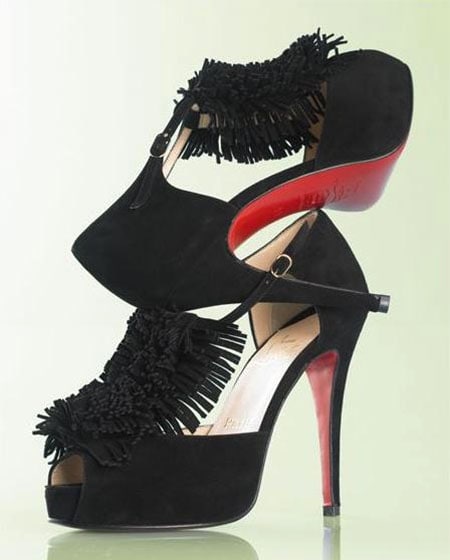 Christian Louboutin Fall 2007 Fringe Peep-Toe Sandals
We've got nothing against wearing old shoes, but fringed sandals don't really go so well with a sexy, slinky satin gown. Also, there are so many better styles from the latest Christian Louboutin collection that Anne could've chosen from, like these dark blue "Apostrophy" pumps featuring the new red-side heels:
Christian Louboutin "Apostrophy" Pumps, $645
These strappy sandals that glitter like the night sky are also a good option: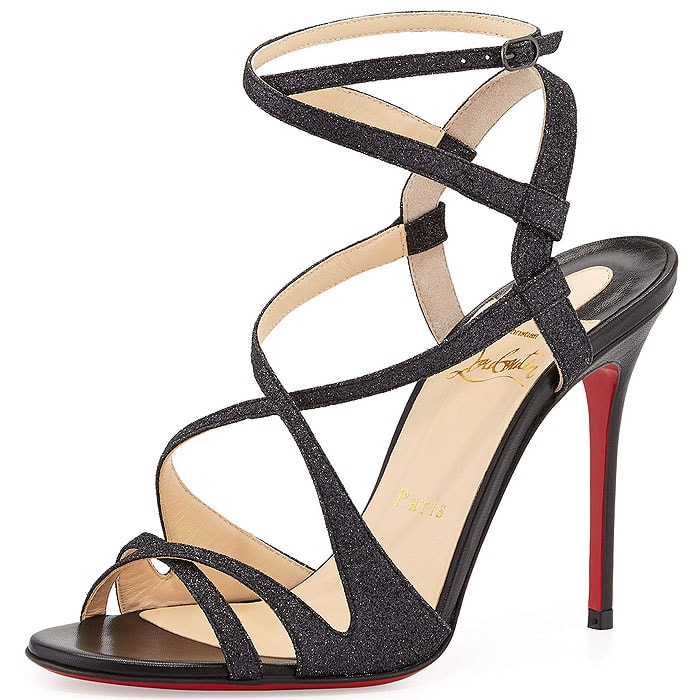 Christian Louboutin "Audrey" Strappy Glitter Sandals, $925
The following black suede pumps with gold studs would have perfectly matched the actress' starry handpiece: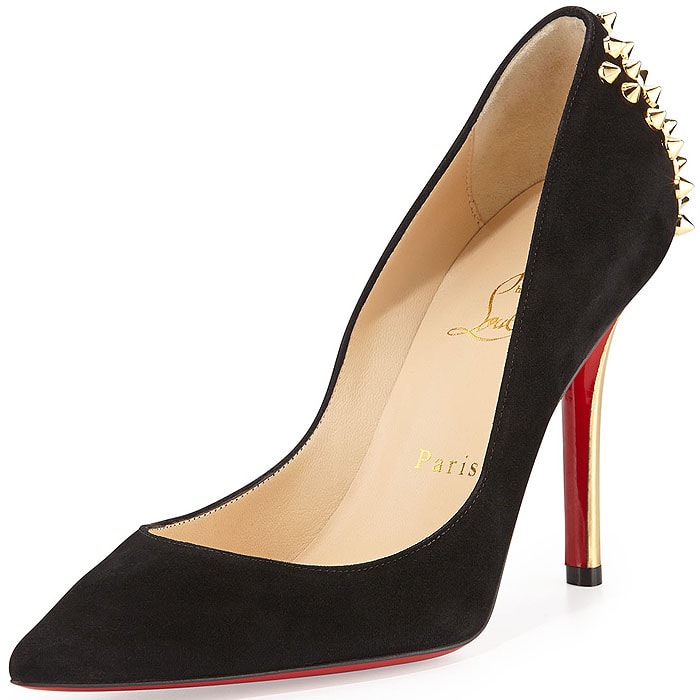 Christian Louboutin "Zappa" Spike-Heel Pumps, $745
Which pair do you think Anne Hathaway should've worn with her Richard Nicoll dress instead?
Credit: Adriana M. Barraza / Nicky Nelson / Bridow / FayesVision / WENN