Interstellar is a visually stunning and emotionally-charged science fiction epic that explores the mysteries of space and the limits of human endurance.
The film's all-star cast, which includes Matthew McConaughey, Anne Hathaway, and Jessica Chastain, bring their A-game to this thought-provoking and thrilling adventure.
Matthew McConaughey as Joseph Cooper in the 2014 epic science fiction film Interstellar (Credit: Paramount Pictures)
Whether you are a longtime fan of the film or are discovering it for the first time, let's take a closer look at the cast of Interstellar and delve into the characters they portray to provide a deeper understanding and appreciation of one of the greatest sci-fi films of all time.
What Makes The Martian Different From Interstellar?
Interstellar and The Martian are two of the most highly regarded science fiction films of recent years, and both feature the talented actor Matt Damon in leading roles.
Damon portrays Dr. Mann, an astronaut whose sanity began to unravel after being abandoned in space, in Christopher Nolan's film Interstellar.
Meanwhile, The Martian, directed by Ridley Scott, stars Matt Damon as astronaut Mark Watney, who must use his resourcefulness and ingenuity to survive after finding himself stuck on the red planet.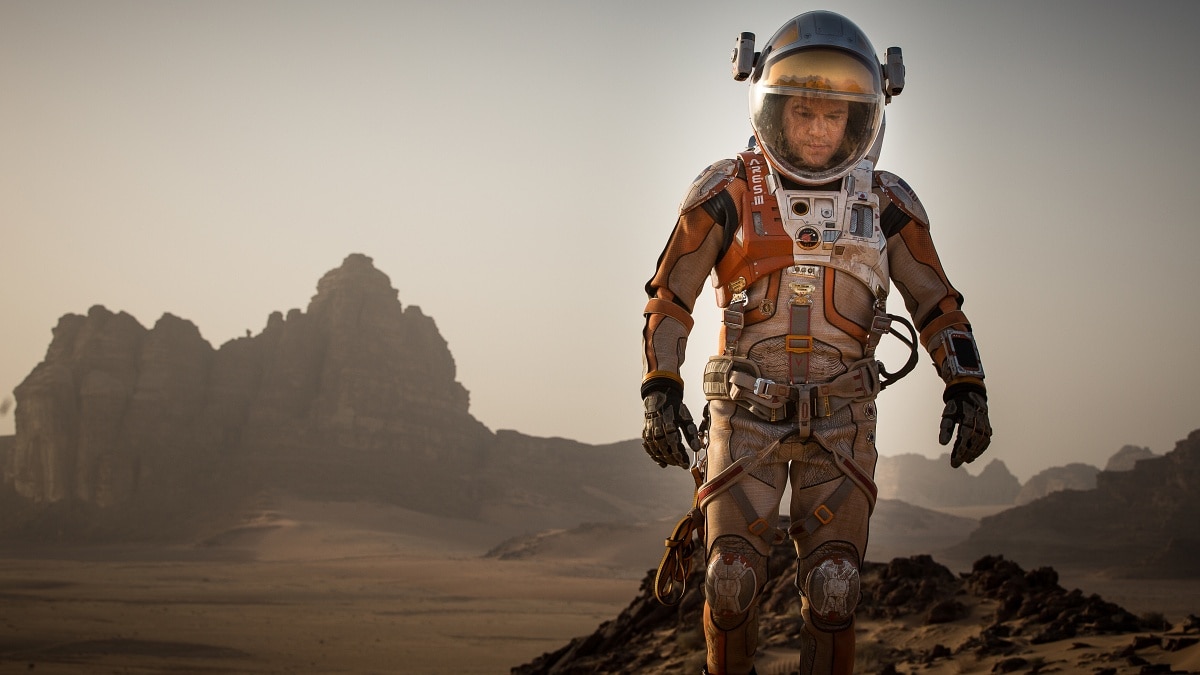 Matt Damon as Mark Watney in the 2015 science fiction film The Martian (Credit: 20th Century Fox)
While similar in some ways, these two characters are vastly different in others.
In an exclusive interview back in June 2015 with Yahoo! UK, the 52-year-old American actor and the director discussed the similarities and differences between the two films.
Damon said, "I'd never met Ridley [Scott], not even in passing. I went in to meet him; then I signed on really quickly. I went in, and I said, 'I really love this script, but my only hesitation is I've just done Interstellar, in which I played a dude stranded on a planet. It might be weird if, after taking a year and a half off, I played another dude stranded on a planet.'"
Matt Damon and Ridley Scott at the 30th Annual American Cinematheque Awards Gala held at The Beverly Hilton Hotel in Beverly Hills, California on October 14, 2016 (Credit: INFphoto)
The actor added, "I explained Interstellar to him, and he said, 'The movies are totally f***ing different. This is going to be f***ing fun. Let's do this!' He was so infectious; I couldn't really say no to him."
Matt Damon then elaborated on the distinctions between Interstellar and The Martian.
"One of the biggest differences is it's primarily me on my own for a lot of it. That's the big challenge. It has all the bells and whistles of NASA and the b-side of the story, the rest of the world trying to get this guy back."
The 52-year-old star continued, "But the other half of the movie is me and Ridley on Mars so that part's different. You start there; there's that mystery – what happened? How did he get left there? The mission part is the b-side, trying to figure out how to get back. So, structurally it's different to anyone that's ever been done."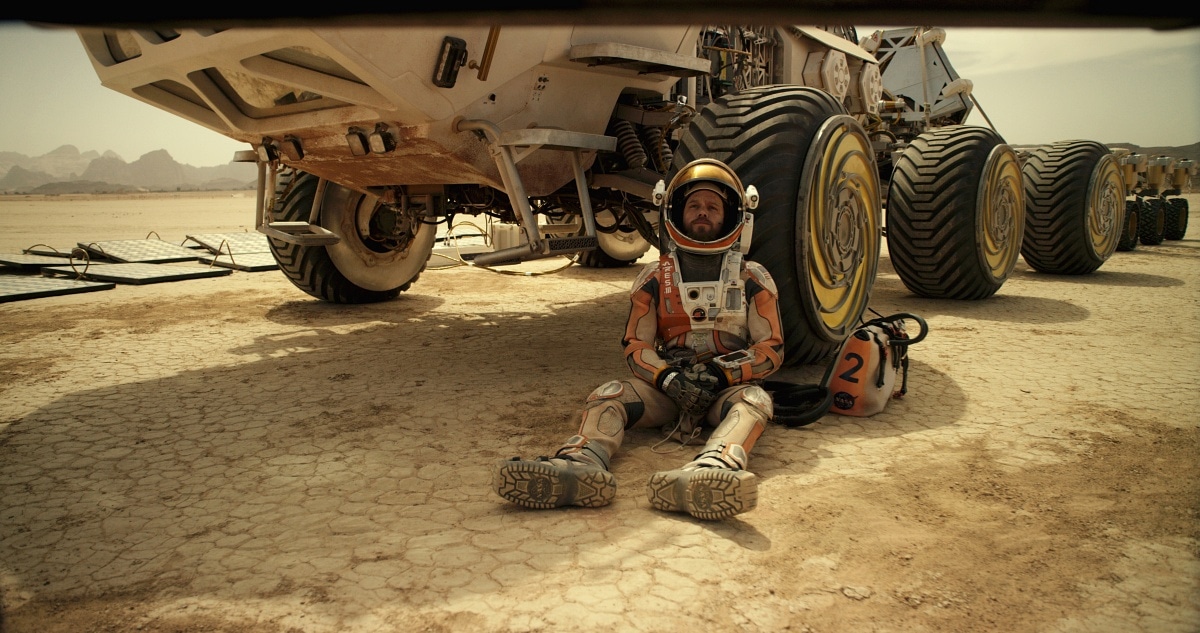 Erroneously presumed dead after a severe dust storm threatens to topple the orbiting vessel of the Ares III crew, Mark Watney gets left behind and must find a way to survive until the next Mars mission for a slim chance of getting rescued (Credit: 20th Century Fox)
What Is Interstellar About?
The human race gave up scientific endeavors like space travel in 2067 due to a pang of global hunger. Former NASA astronaut Joseph Cooper one day notices a gravitational abnormality in the bedroom of his daughter Murph.
He concludes that it is a series of GPS coordinates and finds the location of a top-secret NASA facility run by Professor Brand. Brand informs Cooper that he is currently working on a gravity equation and that she is on a covert mission to locate an exoplanet that can sustain life.
Along with three other scientists, including Romilly, Doyle, and Amelia Brand, he enlists Cooper's aid in guiding an exploratory spacecraft. The crew uses a wormhole to leave the Endurance and enter another galaxy.
Matthew McConaughey as Joseph Cooper, Anne Hathaway as Dr. Amelia Brand, and David Gyasi as Dr. Romilly in the 2014 epic science fiction film Interstellar (Credit: Paramount Pictures)
They have been sent to study three planets orbiting the Gargantua supermassive black hole, each previously investigated by a NASA scientist-explorer.
An aqua planet makes up the first planet. There, a NASA explorer is discovered dead, and a crew member perishes after being swept away by a sizable tidal wave. Cooper and Amelia Brand must wait until the probe's engines dry out due to the tide's effect on the machines.
The crew brings Mann out of cryostasis after discovering that he is still alive on the second planet. Later, he admits to Cooper that he had lied about the planet's livability to get NASA to send a rescue operation.
Finally, Amelia Brand establishes a new colony for the future human race to live in for a while on the last planet of the mission. She takes off her helmet and takes a deep breath of the atmosphere to demonstrate that the world can sustain human life.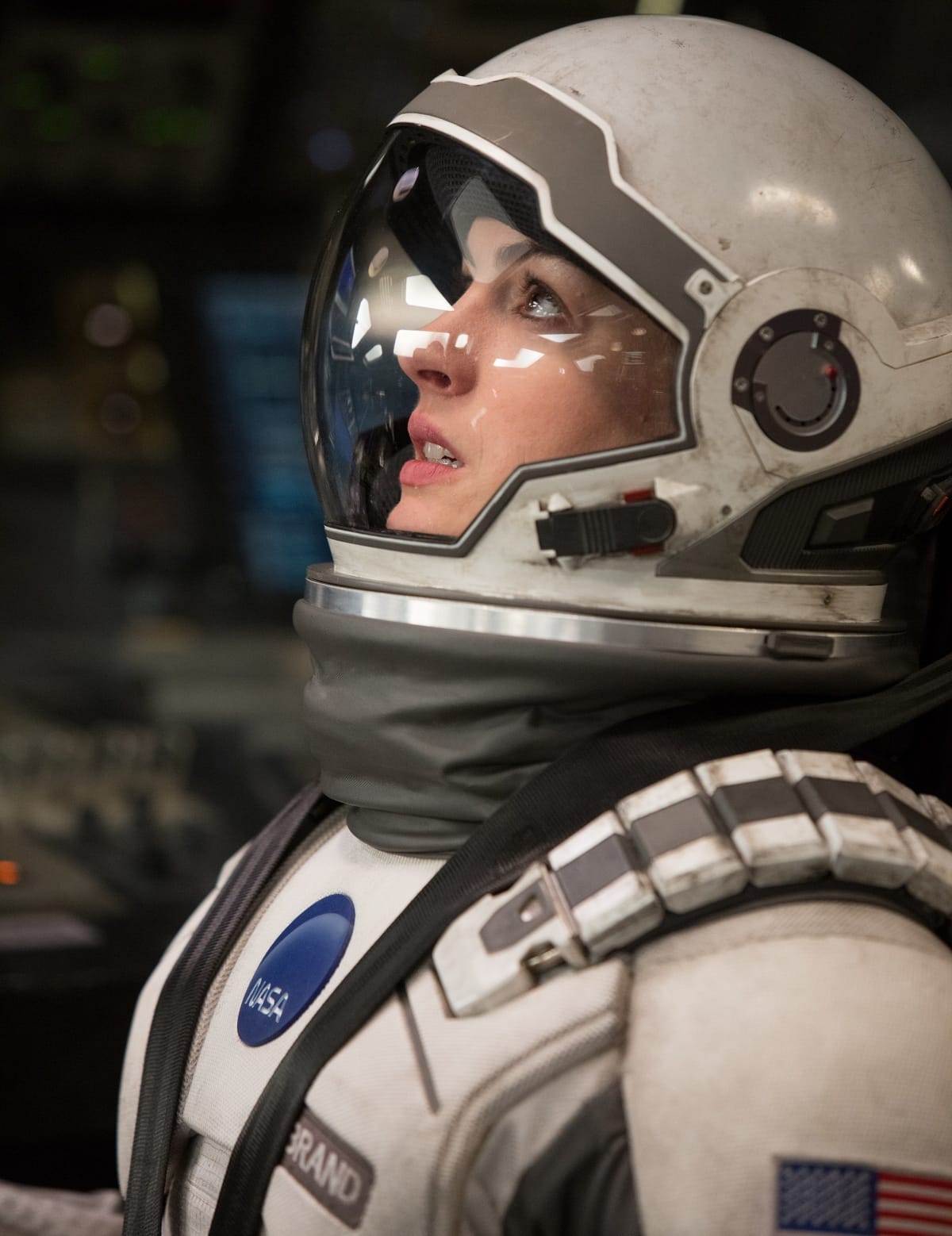 Anne Hathaway as Dr. Amelia Brand in the 2014 epic science fiction film Interstellar (Credit: Paramount Pictures)
The Stellar Cast of Interstellar
In Interstellar, Matthew McConaughey plays Joseph Cooper, a former astronaut turned farmer torn away from his family to undertake a dangerous expedition to ensure humanity's survival.
Next to Matthew McConaughey, Anne Hathaway plays a critical supporting role. She had just received an Academy Award for her performance in Les Misérables when she was accepted into Interstellar.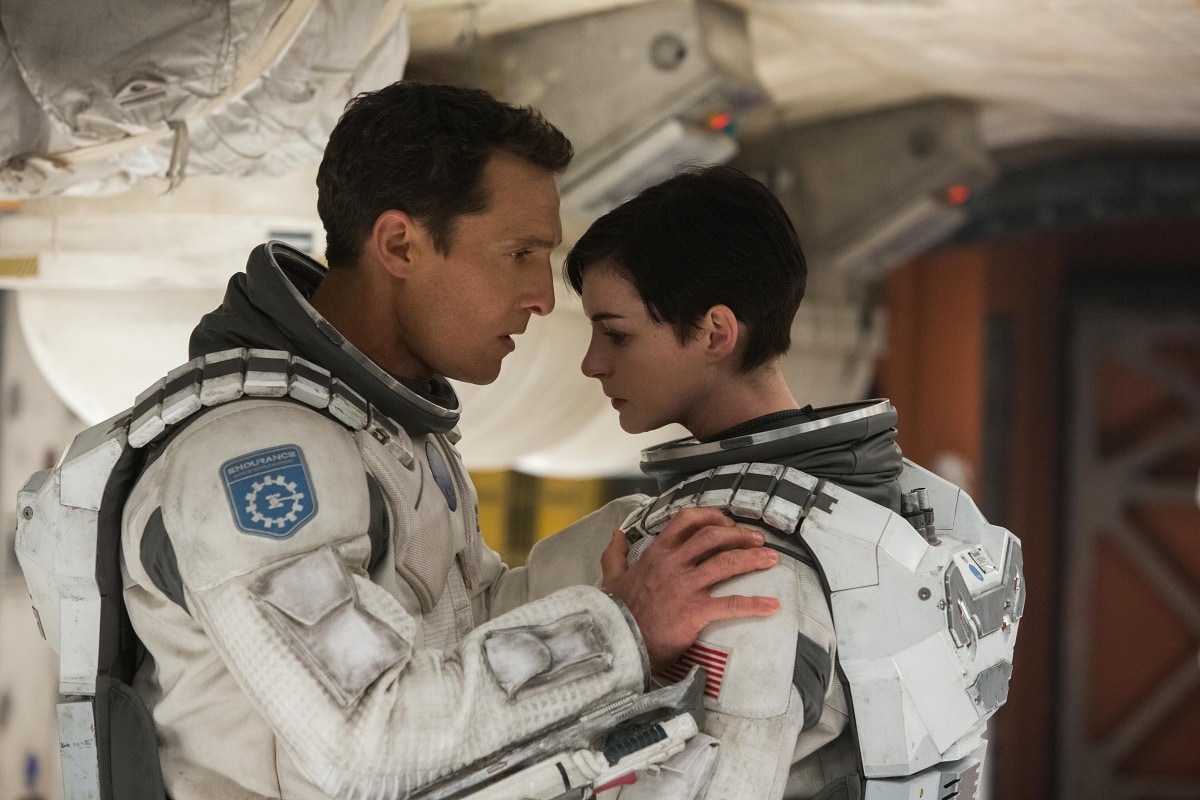 Academy Award winners Matthew McConaughey and Anne Hathaway gave phenomenal acting performances in the 2014 epic science fiction film Interstellar (Credit: Paramount Pictures)
Hathaway's character is Dr. Amelia Brand, a NASA scientist crucial to the organization and implementation of the expedition to discover a new home for the people of Earth. Since her astronaut suit was open while she was filming scenes in the chilly ocean in Iceland, Anne Hathaway experienced hypothermia during that time.
A generation gap develops between McConaughey's character and his loved ones back home after he and his group experience the negative impacts of time dilation on their mission.
His daughter, portrayed by Mackenzie Foy, who was only ten years old when he left home, becomes a fully-formed adult long before his job is finished, and Jessica Chastain plays the adult version of this role. Oscar-winner Ellen Burstyn also portrayed the elderly version.
Matthew McConaughey as Joseph Cooper, Mackenzie Foy as Young Murph Cooper, and Timothee Chalamet as Young Tom Cooper in the 2014 epic science fiction film Interstellar (Credit: Paramount Pictures)
Writing, producing, and directing powerhouse Christopher Nolan sent an assistant to Ireland, where Jessica Chastain was filming Miss Julie (2014), with a script that had Chastain's name watermarked all over it so he could offer her the part. While Chastain was permitted to read the script, she was not entitled to keep it.
At the beginning of Interstellar, Timothée Chalamet portrays McConaughey's son before Casey Affleck portrays him as an adult. Matthew McConaughey's father-in-law, played by John Lithgow, is left in charge of the kids while he goes on a space mission.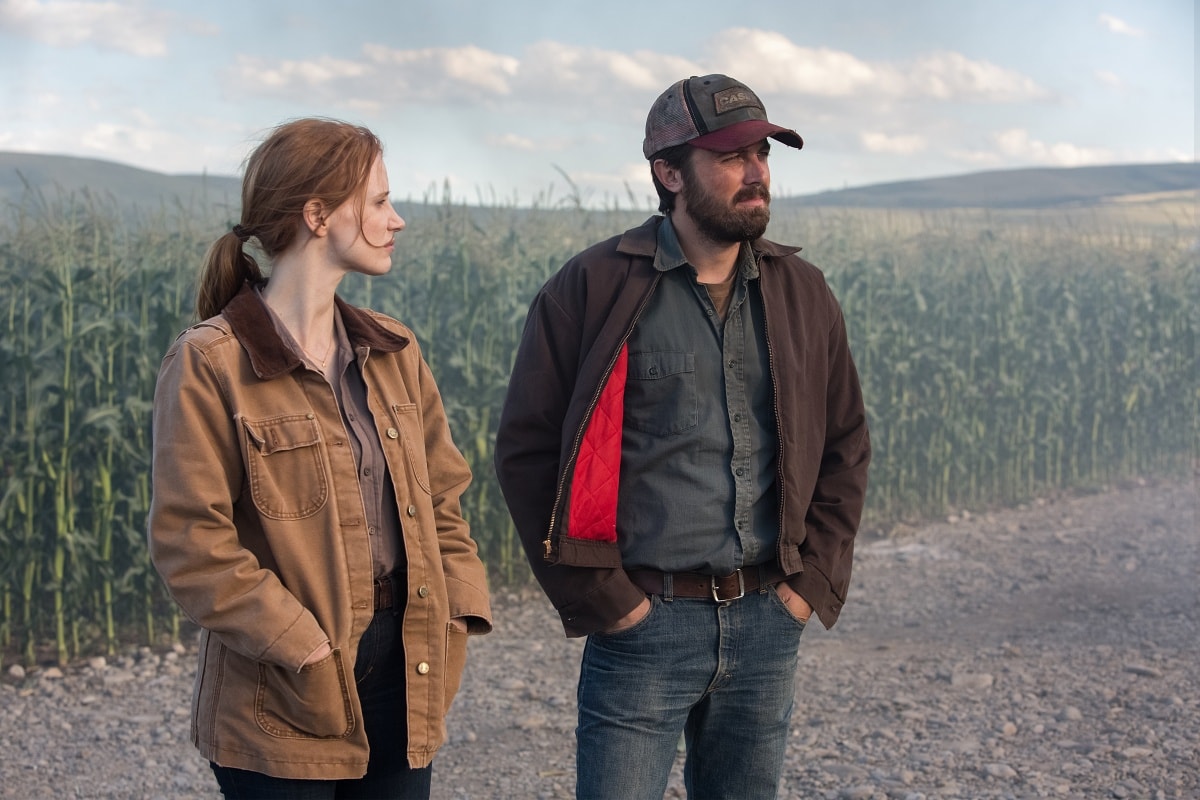 Jessica Chastain as Murph Cooper and Casey Affleck as Tom Cooper in the 2014 epic science fiction film Interstellar (Credit: Paramount Pictures)
In Interstellar, Matt Damon portrays Dr. Mann, an astronaut whose death was assumed when mission control lost contact with him after he landed on a frozen planet.
When the exploratory team helps him, he finds out to have been a touch stir-crazy from being stuck on this planet by himself and ends up playing a harmful role.
Sir Michael Caine also joined the cast playing a high-ranking NASA official in the movie.
Sir Michael Caine as Professor John Brand in the 2014 epic science fiction film Interstellar (Credit: Paramount Pictures)
How Successful Was Interstellar?
Theoretical physicist Kip Thorne inspired and oversaw the development of Interstellar's complex science fiction concepts, including wormholes, black holes, planetary exploration, and time dilation.
The movie quadrupled its $165 million budget to earn approximately $677.4 million globally and $773 million with later re-releases, ranking it as the tenth-highest-grossing movie of 2014. It won praise for acting, directing, writing, score, visual effects, concepts, and psychological resonance.
Jessica Chastain, producer Emma Thomas, Professor Brian Cox, theoretical physicist Kip Thorne, writer and director Christopher Nolan, composer Hans Zimmer, and legendary physicist Stephen Hawking attending Interstellar Live at the Royal Albert Hall in London, England on March 30, 2015 (Credit: Richard Young / Startraksphoto)
Numerous scientists have praised its depiction of theoretical astrophysics and scientific authenticity. Since its release, Interstellar has developed a legendary reputation and is now acknowledged as one of the greatest science fiction movies of all time by many specialists in the field.
At the 87th Academy Awards, Interstellar was recognized with five awards and took home Best Visual Effects, among many other honors.
The film's appeal has remained strong with time, and it consistently ranks well on fan-generated lists like the IMDb top 250 movies of all time.
When Interstellar was published, many cast performers were already well-known celebrities. Given the film's enormous popularity and critical praise, it is hardly unexpected that the lesser-known artists in the cast have managed to experience success in their careers over the years.
Interstellar is highly regarded as one of the best science fiction films of all time, with its accurate depiction of theoretical astrophysics and brilliant acting performances (Credit: Paramount Pictures)
With its stunning visuals and compelling storyline, Interstellar is a testament to the power of great acting and storytelling. The cast's contributions were a critical part of the film's success.