He has built a successful career in the film industry, with several blockbuster movies and various leading roles under his belt.
But for Matt Damon, being a husband to his wife Luciana Barroso and a father to his four daughters have got to be the two most important roles he has ever played in his life.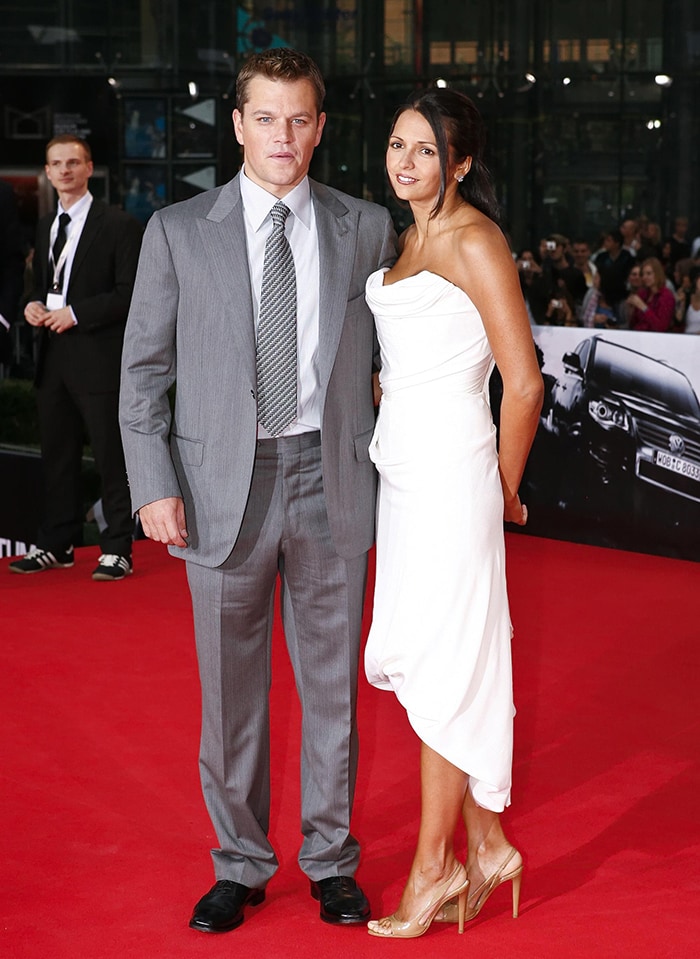 Matt Damon and wife Luciana Barroso pictured in 2008 at the Empire Film Awards
Married since 2005, Matt and Luciana have always kept their private life very private. And throughout their marriage, they have never been the subject of any tabloid.
The couple will be celebrating their 15th wedding anniversary on December 9, 2020. They wed in a private civil ceremony at the Manhattan Marriage Bureau in 2005 and are now parents to four beautiful children.
The eldest, Alexia Barroso, born in 1998, is Luciana's daughter from her previous marriage to Arbello Barroso.
Wearing an emerald green Marchesa Pre-Fall 2017 draped dress, Luciana Barroso joined her husband Matt Demon on the red carpet ahead of the 'Suburbicon' screening during the 74th Venice Film Festival at Sala Grande on September 2, 2017, in Venice, Italy
Matt has three biological daughters: Isabella, born in June 2006; Gia Zavala, born in August 2008; and Stella, born in October 2010.
Who Is Luciana Barroso?
She was born Luciana Bozan on July 31, 1976, in Salta, Argentina to a housekeeper mother and an insurance agent father.
Her grandmother, who was originally from Italy, raised her after her parents divorced following her birth.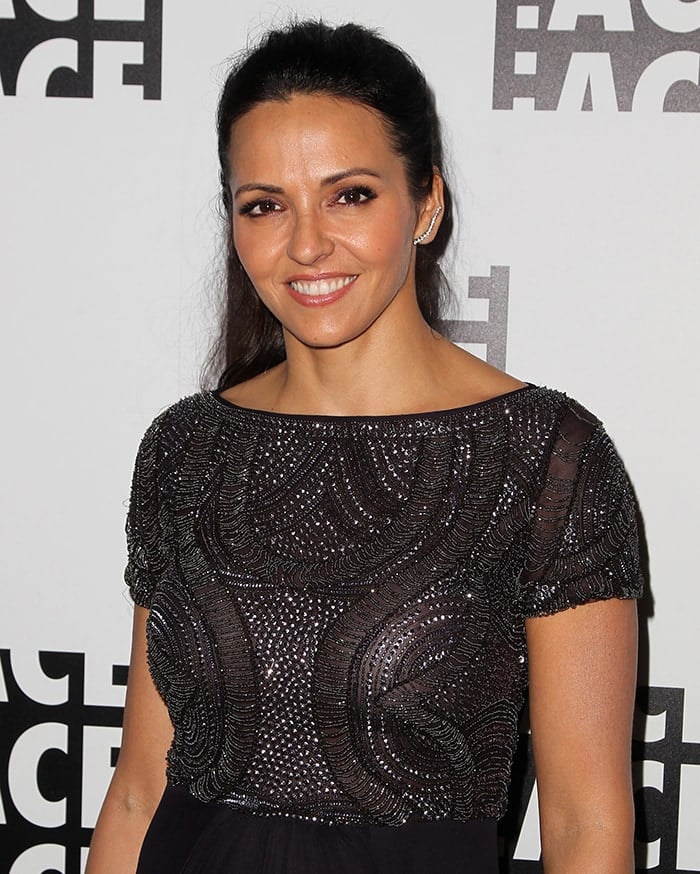 Argentinian Luciana Barroso, pictured in 2015, worked as an air hostess before meeting Matt Damon
Before becoming known as Matt Damon's wife, Luciana worked as an air hostess and later a bartender at Crowbar in Miami.
She was married to fellow Argentinian Arbello Barroso and had a daughter, Alexia, born in 1999. The two amicably divorced in 2004.
How Did Matt and Luciana Meet?
Luciana and Matt have always said that it was kismet that they met in Miami.
It started in 2003 when Matt was filming his movie, Stuck on You. Explaining the events that led to their first encounter, Matt told Ellen DeGeneres in 2011: "I don't know how else our paths would've crossed if that didn't happen if all those things didn't happen."
The 2003 comedy was supposed to be filmed in Hawaii, but the Farrelly brothers, who directed the movie, moved it to Miami.
"We were supposed to shoot in Hawaii, then the movie got moved to Miami. And then we were shooting in Miami and I'd never really hung out in Miami. Then one night, in the middle of the shoot, a couple guys [from the crew] said, 'Hey, we're gonna go get a beer somewhere.' I said 'Nah, I'm not really into it' and they kind of dragged me along."
They went to a bar, where Luciana was the bartender. He said: "I literally saw her across a crowded room."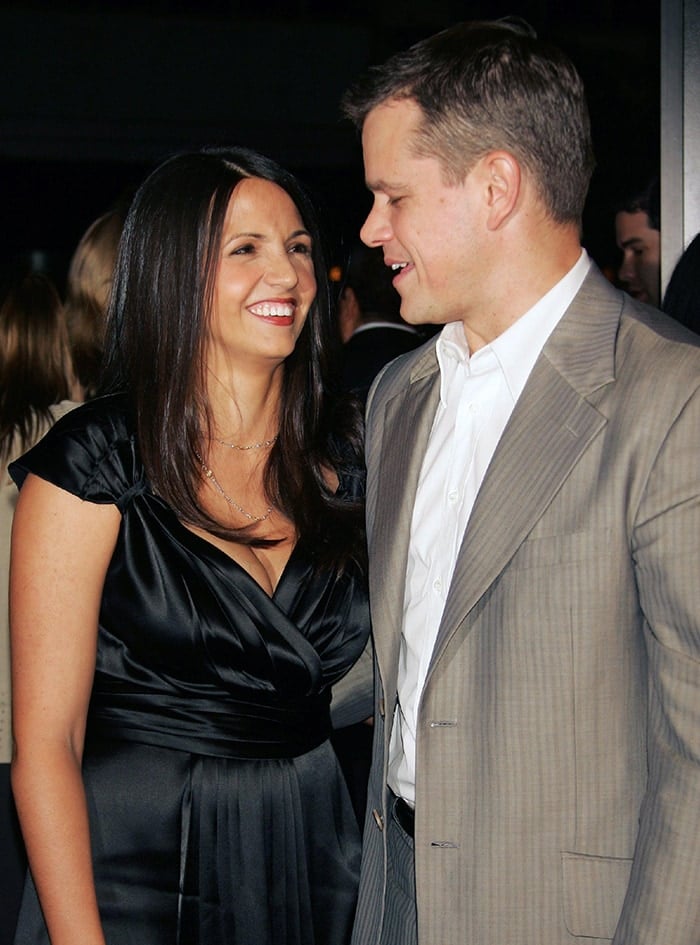 Luciana Barroso and Matt Damon first met in 2003 while Matt was filming Stuck on You
While Matt said it was love at first sight, Luciana's version of what happened that night was a little different.
She told Vogue Australia in 2018: "I was working as a bartender in South Beach and he was shooting a movie there and the crew ended up in the bar one Saturday night. Matt's story is that he saw me across the room and there was a light on me. And I'm like, 'Yeah, it was a nightclub, there were lights everywhere.'"
"But he had started getting recognized and asked for pictures and autographs, and then it got kind of aggressive because people are drinking and stuff, and so he came and hid behind my bar… [wanting to] just hang out back there and have a drink. He says 'oh I saw you and I really wanted to talk to you'," she continued.
Luciana wasn't exactly pleased and even had Matt work with her that night. She added: "So I put him to work with me! I said, 'You know, if you're going to be back here, you can't just be standing there!' He had trained as a bartender for a film years before, so he started making drinks. And he made me a ton of money in tips that night."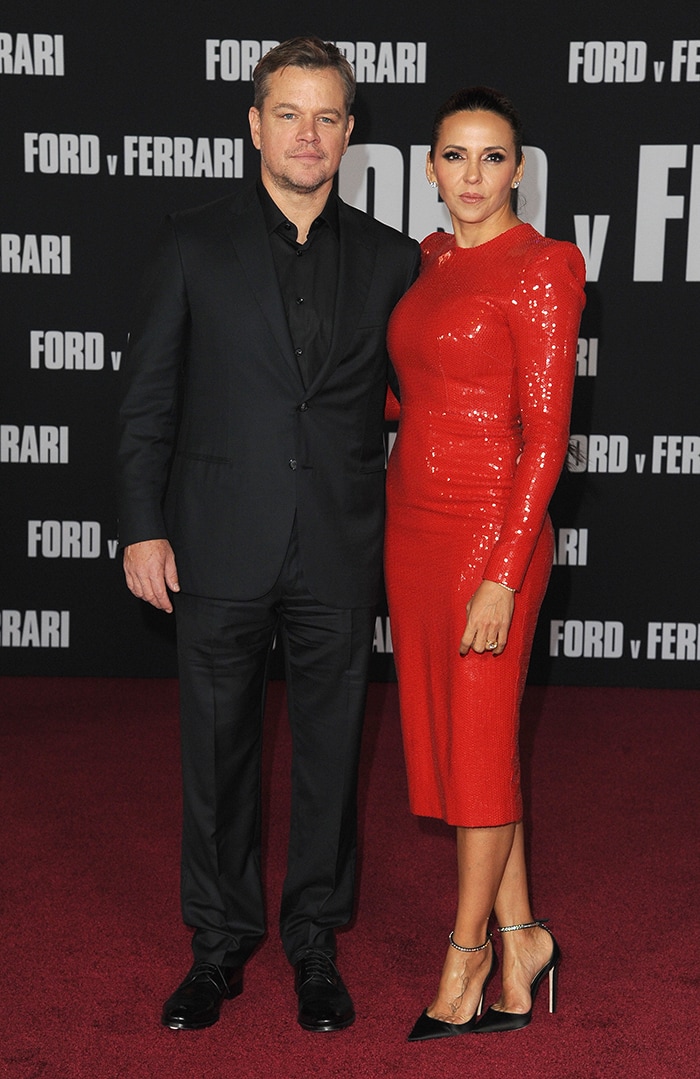 Matt Damon and Luciana Barroso at the Ford v Ferrari Los Angeles premiere on November 4, 2019
Luciana was already a single mom when they met and she said it was one of the things that Matt loved about her.
"We definitely had a connection right away, it was so easy to talk to each other, we were very comfortable [with each other], and by the end of the night he invited me to go out with his friends. But I was like: 'I can't, I have a four-year-old daughter, I'm not going anywhere.'"
Instead of reacting negatively, Matt told her: "I love that you're a mom and that's your priority."
"Some guys might have been different, they might think it's complicated, but for him it wasn't," she added.
Matt and Luciana's Vow Renewal
Eight years after their private civil ceremony, Matt and Luciana decided to renew their wedding vows. This time, they held a lavish but intimate ceremony in the Caribbean.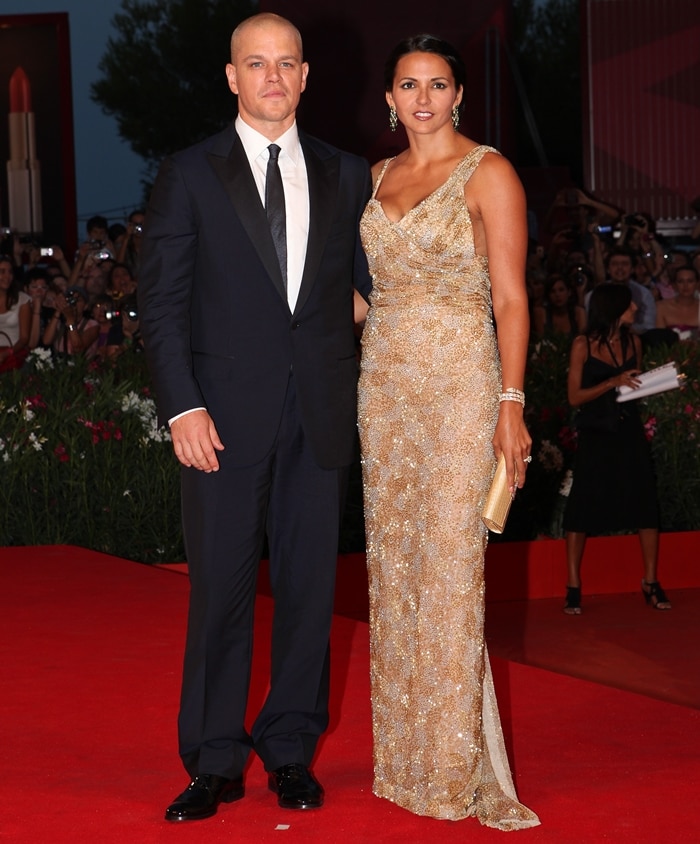 Wearing a sequined Gustavo Cadile dress, Luciana Damon joined her husband Matt Damon at the "Contagion" premiere during the 68th Venice Film Festival at Palazzo del Cinema on September 3, 2011, in Venice, Italy
Matt reportedly rented the entire Sugar Beach, A Viceroy Resort in Saint Lucia, which cost him $1 million. A-list Hollywood celebrities were invited, including Chris Hemsworth, Ben Affleck, Jennifer Garner, Jimmy Kimmel, Emily Blunt, and more.
An insider told US Weekly that it wasn't a "Hollywood" wedding. "Matt wanted it to be fun, happy, and private. He felt like Luciana deserves this, first and foremost."
Credit: FayesVision / Harald Fuhr / POP / Instar / WENN / Cinzia Camela