Known for his resemblance to Matt Damon, do you think Jesse Plemons looks similar to the star of the Bourne franchise?
Jesse Plemons is known as Matt Damon's lookalike
Is Jesse Plemons related to Matt Damon?
While they certainly look related, they are just two similar-looking white men with fuller faces.
Many fans even believe Matt Damon starred as Captain Robert Daly in "USS Callister," the first episode of the fourth series of anthology series Black Mirror.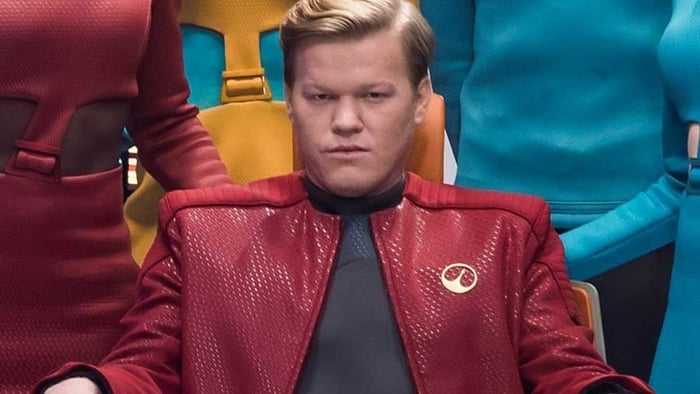 Jesse Plemons, not Matt Damon, starred as Captain Robert Daly in USS Callister
After Jesse Plemons appeared as the psychopathic villain Todd Alquist on Breaking Bad, fans nicknamed him "Meth Damon", due to the television show's centering on the meth business and his resemblance to Matt Damon.
Jesse Plemons and Kirsten Dunst arrive at the 77th Annual Golden Globe Awards held at the Beverly Hilton Hotel on January 5, 2020
Kirsten Dunst and Matt Damon's look-alike Jesse Plemons, who met on the set of "Fargo," hit the red carpet at the premiere of The Irishman during the opening night of the 2019 New York Film Festival at Lincoln Center in New York City.
Kirsten Dunst and her fiance Jesse Plemons attend the New York Film Festival 57th Opening Night Gala world premiere of "The Irishman" on September 27, 2019, at Alice Tully Hall in New York City
Kirsten Dunst's fiancé stars as Chuckie O'Brien in the epic crime film directed and co-produced by Martin Scorsese. It is based on the 2004 memoir I Heard You Paint Houses by Charles Brandt that you can buy on Amazon.
Styled by Liat Baruch, the then 37-year-old American actress looked fabulous in a floral silk dress from The Vampire's Wife, a fashion design house founded by Nick Cave's wife Susie Cave and partners. You can find the latest dresses from the trendy label at Matches Fashion.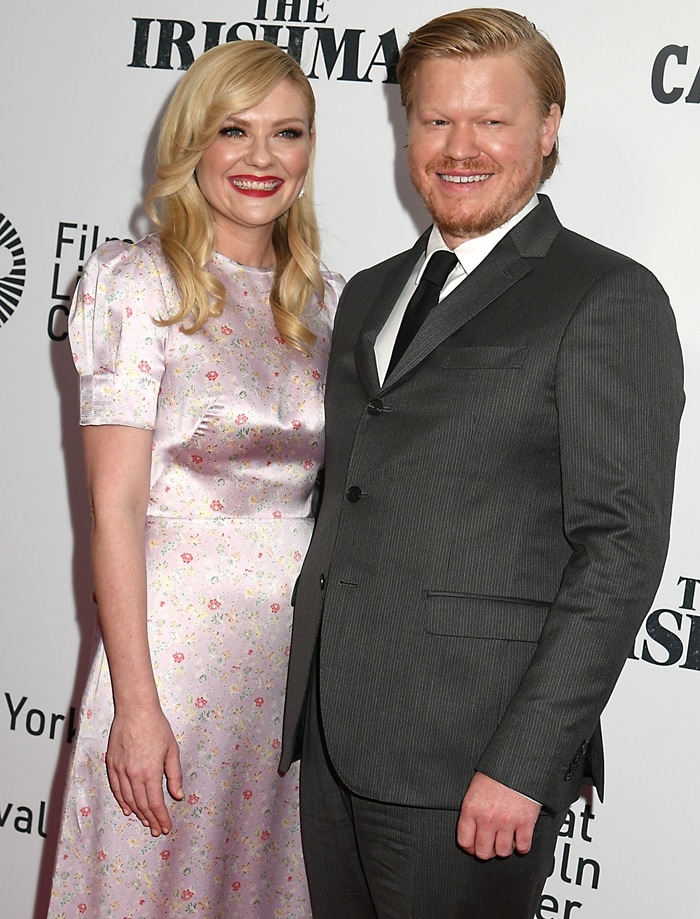 Kirsten Dunst and Jesse Plemons met on the set of Fargo in 2016
Raised in Mart, a small town outside Waco, Texas, Plemons began his career as a child actor.
Best known for his roles in Game Night (2018), Battleship (2012), and Black Mass (2015), he achieved a career breakthrough with his supporting role as Landry Clarke in the NBC drama series Friday Night Lights (2006–11).
Measuring 5′ 10″ (1.78 m), Jesse is the same height as Matt Damon. Kirsten Dunst is reportedly 5′ 7″ (1.70 m).
Jesse Plemons Facts
| Net Worth: | $3 million |
| --- | --- |
| Full Name: | Jesse Lon Plemons |
| Born: | April 2, 1988, in Dallas, TX |
| Dating: | Plemons began dating his Fargo co-star Kirsten Dunst in 2016 and they announced their engagement in January 2017. |
| Kids: | His son Ennis Howard Plemons was born May 3rd at 8:16 AM at Providence St. John's in Santa Monica |
| Weight: | 86 kg (190 lb) |
| Height: | 5' 10" (1.78 m) |
| Nationality: | American |
| Source of Wealth: | Professional Actor and Comedian |
| Ethnicity/Race: | English, Scottish and Scots-Irish/Northern Irish |
While making an appearance on Jimmy Kimmel Live earlier the same month, Dunst confirmed that she's not yet married despite rumors to the contrary. "[He's my] fiancé, we're not married yet," she told the television host.
The pair share a son named Ennis Howard Plemons who was born on May 3, 2018, in Santa Monica, California
"It's like an old cowboy name. … We found it online. You know, on those baby websites where you just keep scrolling. We were like, 'We like that. It sounds cool,'" the Jumanji actress told Jimmy Kimmel about her son's name in September 2019.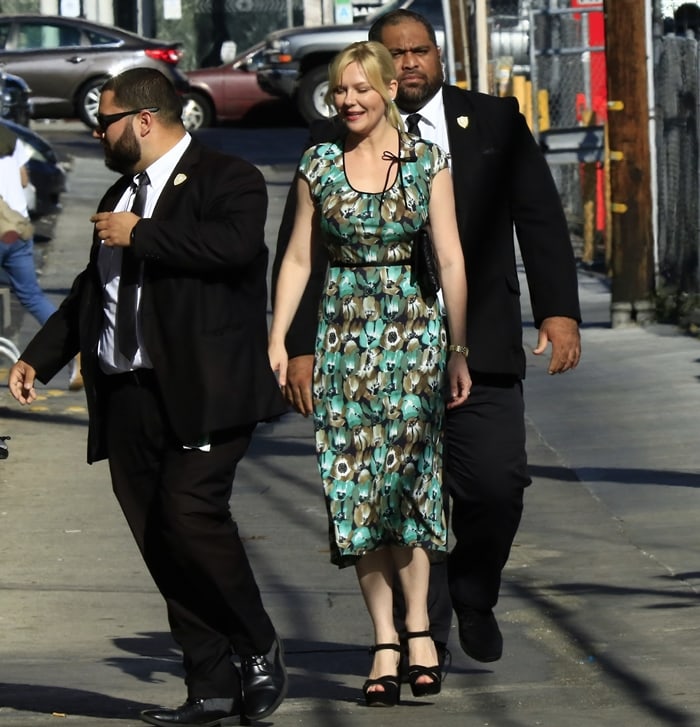 Kirsten Dunst arrives at the Jimmy Kimmel studio for an appearance on Jimmy Kimmel Live! on September 5, 2019, in Hollywood
"I know what Ennis will be called," the actress added about her son Ennis Howard Plemons. "Come on, you just stick a P in front of it. There's also anus. That's not a great one."
Wearing a floral Prada dress with a bold brown and green bloom print, she showed off her feet in black heels and wore her hair in a low ponytail.
The Spotless Mind actress talked about getting her star on the Hollywood Walk of Fame, having a baby, breastfeeding, coming up with her son's name, working with George Clooney, and her new show "On Becoming a God in Central Florida."
Credit: Avalon / WENN / Adriana M. Barraza / Instar