Kirsten Dunst was 12-years-old when she played the character 'Judy Shepherd' in Jumanji, a 1995 American fantasy adventure film directed by Joe Johnston. The filming began in October 1994 and wrapped up in January 1995.
Kirsten Dunst was 12 when playing the role of Judith "Judy" Shepherd in Jumanji
She was cast as Judith "Judy" Shepherd, the older sister of Peter Shepherd, played by Bradley Michael Pierce.
"I won't say I didn't have a crush on Kirsten. She's only about six months older than me, but she had done more film projects than I had. It was nice to have a friend my age to give me guidance. She gave me tips on how to keep your energy up so you're ready to film the next scene without being so rambunctious that it's unprofessional," Bradley Michael Pierce told The New York Times in November 2017 about his co-star.
Bradley Michael Pierce played Peter Shepherd, the brother of Kirsten Dunst's character Judith "Judy" Shepherd in Jumanji
In an interview with Entertainment Tonight in 2017, Dunst stated that she would jump at the chance to get involved in the Jumanji reboot if she was asked.
"That'd be fun," she smiled when asked if she'd return as a grown-up Judy Shepherd. "I would definitely do something in that if they wanted me to."
Jumanji was released on December 15, 1995, when Dunst was 13-years-old. Born on April 30, 1982, in Point Pleasant, NJ, she turned 14 on April 30, 1996.
Famous for her crooked teeth, in October 2015 Kirsten Dunst hit the red carpet for the Season 2 premiere of FX's "Fargo" at the Arclight Theatre in Los Angeles, California.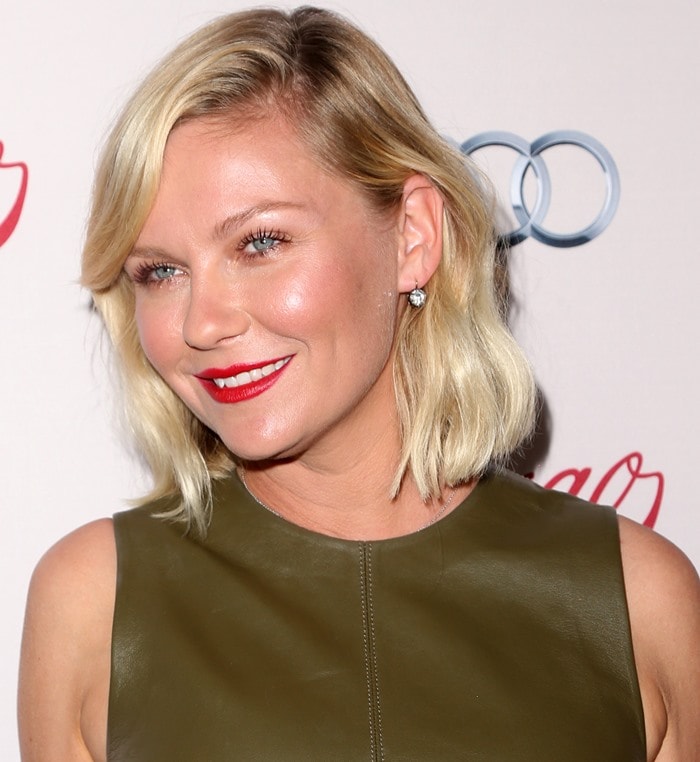 Kirsten Dunst attends the season 2 premiere of FX's "Fargo" at the Arclight Theatre in Los Angeles on October 7, 2015
The then 33-year-old American actress, singer, model, screenwriter, and director showed off her lean physique in a two-piece outfit from the Proenza Schouler Resort 2016 collection.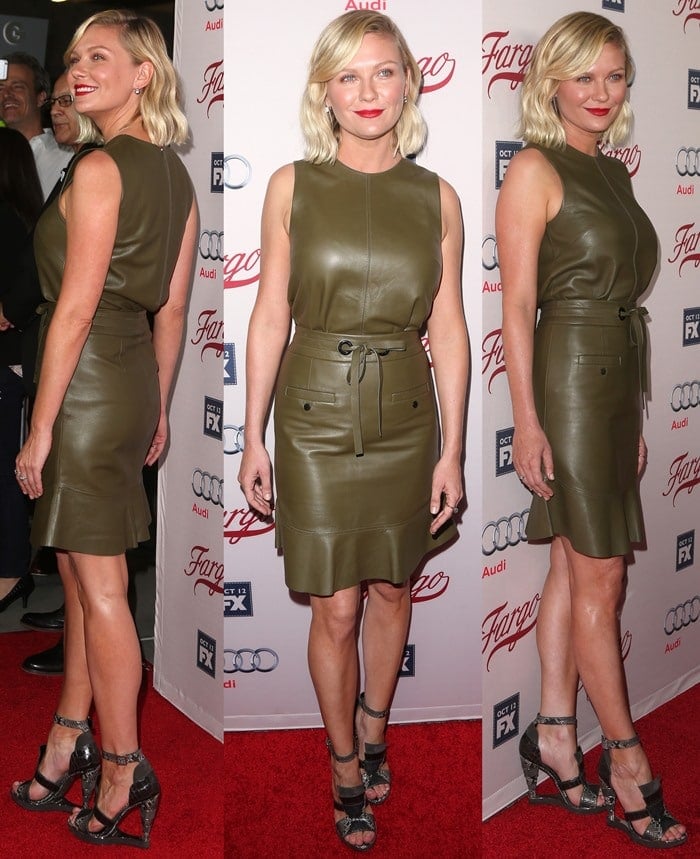 Kristen Dunst wears a green leather look from Proenza Schouler's Resort 2016 collection
She paired a sleeveless leather blouse with a matching high waisted skirt and styled the green leather look with a pair of silver and black wedge "Art Deco" sandals from Salvatore Ferragamo.
Kirsten Dunst shows off her feet in Salvatore Ferragamo sandals
She kept her accessories simple, wearing only a few rings and small earrings. You can buy her shoes at Farfetch.
Kristen Dunst displays her toes in silver and black Art Deco shoes
Do you think this outfit looked great on her or was it awful from head-to-toe?
Credit: FayesVision / WENN / Adriana M. Barraza