While many Hollywood celebrities are famous for their perfect smiles, stars like Melanie Martinez, Kirsten Dunst, Jessica Pare, Becky G, and Anna Paquin seem satisfied with their distinctive smiles.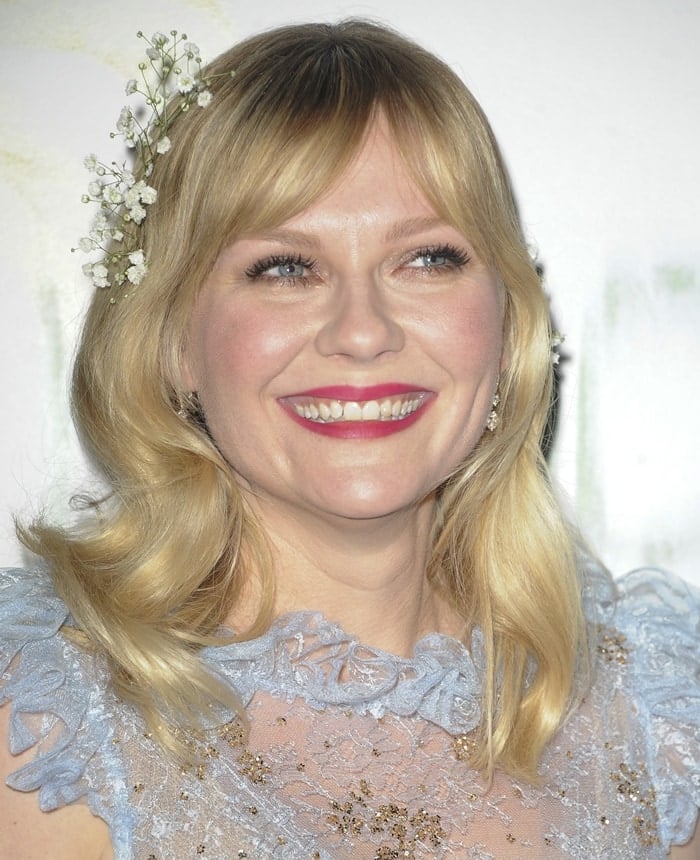 Kirsten Dunst smiles at the Los Angeles premiere of her new movie Woodshock held at ArcLight Cinemas on September 18, 2017, in Hollywood
In an interview with Vogue, Kirsten said "The Beguiled" director Sofia Coppola convinced her not to fix her crooked teeth.
"I always looked up to Sofia as a cool older sister," said the actress, who is 11 years the director's junior. "I remember she said, 'I love your teeth, don't ever fix them,' so when I was asked at 20 years old to fix them for a role, I said, 'No, Sofia thinks they're cool. I'll keep them.'"
Kirsten Dunst's crooked teeth at the 2018 Emmy Awards
The Jumanji actress said the same thing in a 2016 interview published in InStyle UK's May 2016 issue.
Sofia (Coppola) said to me when I was 16, 'Don't ever change your teeth.' By the time I got to Spider-Man, they were like, "You should change your teeth." I said, 'No, that's what makes me special.' I never felt like I had to become something I wasn't.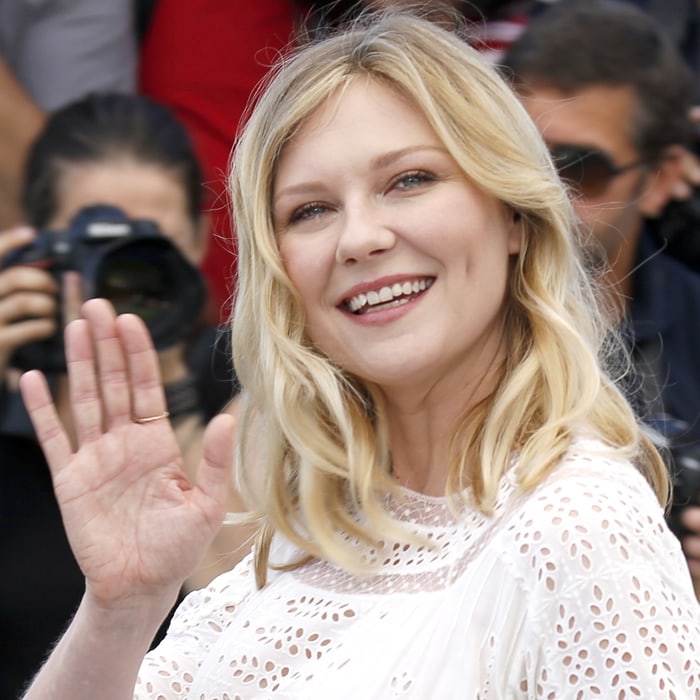 Kirsten Dunst, smiling at a photocall and press conference for The Beguiled held during the 2017 Cannes Film Festival at Palais des Festivals, was convinced by Sofia Coppola not to fix her teeth
In a November 2019 interview with an Australian news outlet, she revealed that producers on Spider-Man pressured her to fix her teeth.
"On 'Spider-Man' one of the producers tried to subtly coerce me into changing my teeth into those perfect Barbie doll teeth," she says about being requested to fix her teeth. "I was like, 'Nope, not doing that either.'"
Kirsten Dunst shows off her teeth at the 77th Annual Golden Globe Awards held at the Beverly Hilton Hotel on January 5, 2020
In November 2013, the popular actress stole the show at the premiere of "Anchorman 2: The Legend Continues" in Sydney.
Her stunning black-and-white polka-dot Dolce & Gabbana dress features a square neckline, and tie details on the shoulders.
Kirsten Dunst at the premiere of Anchorman 2: The Legend Continues in Sydney, Australia, on November 24, 2013
However, perhaps she should have worn the dress with a different pair of shoes.
Kirsten Dunst's black-and-white polka-dot Dolce & Gabbana dress
The pale blue strappy sandals, also from D&G, simply did not match her dress very well.
Kirsten Dunst showed off her feet in blue sandals
If the dress reminds you of summer, don't forget that November is a summer month in Australia.
Would you have styled the dress with a different pair of sandals?
While you, unfortunately, cannot buy Kirsten's patent leather ankle-strap sandals online, other Dolce & Gabbana shoes are available at Farfetch and Saks Fifth Avenue.
Credit: WENN / Apega / Adriana M. Barraza / Dave Bedrosian / Future Image / Avalon