In June 2016, Melanie Martinez showed off her big teeth gap when taking the stage for a performance on Jimmy Kimmel Live in Hollywood.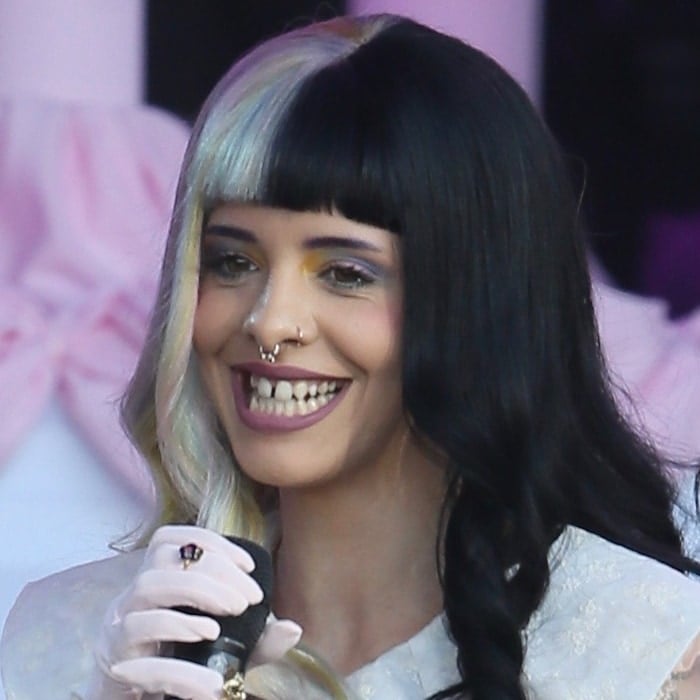 Melanie Martinez showed off her big teeth gap
She performed her new single "Pity Party" for her appearance, a song based on the 1963 Lesley Gore hit "It's My Party". Other celebrities who love showing off their tooth gaps include Becky G and Jessica Pare.
Melanie Martinez hit the stage for a performance on Jimmy Kimmel Live in Hollywood on June 29, 2016
In an August 2015 interview with Patrick O'Hagan published in Chattanoogan, Melanie revealed she can shoot chocolate milk out of the gap between her two front teeth.
If she fixed her teeth, she'd lose her trademark smile and her hidden talent as well. Melanie Martinez reportedly still has two of her baby teeth.
Showing off her numerous tattoos, Melanie Martinez appeared on Jimmy Kimmel Live! in September 2019 to promote her new album K-12
Growing up in a poor family, she had to teach herself how to play the guitar because her family couldn't afford music lessons.
It's unlikely that her parents Mery and Jose Martinez would have been able to pay the dental costs associated with fixing her teeth.
Melanie Martinez shows off her big teeth while performing at Shepherd's Bush Empire in London on December 9, 2019
"I think that 'Cry Baby' came from a nickname I was called as a kid," Martinez told Orlando Sentinel about being bullied while growing up.
"Growing up I always took things too personal, and was very emotional and got I made fun of for it," she added.
In October 2013, TV and stage actress Melanie Martinez, who was a member of Team Adam in the third season of the American television vocal talent show The Voice, shared some photos that show her wearing the Jeffrey Campbell "The Pointe" platform shoes that you can buy on Nordstrom.
Melanie Martinez's Instagram photo where she is wearing a prom dress and Jeffrey Campbell shoes on October 4, 2013

She first wore them to a wedding and later to a sold-out concert in Santa Ana.
Melanie Martinez's Instagram photo of her outfit for her concert at The Observatory in Santa Ana, California, on October 5, 2013
Melanie must have found love for her new shoes since she wore them on two consecutive days. How about you? Do you love them? Personally, I'm not into flatforms. They seem too big for my feet.
Melanie Martinez with her signature royal blue and black hair attending the fourth season premiere of her hit show American Horror Story: Freak Show held at TCL Chinese Theatre in Hollywood on October 5, 2014
The Long Island native and Voice alum also wore these shoes to the Los Angeles premiere for Freak Show. She styled them with blue lipstick, dyed pink eyebrows, and her signature royal blue and black hair.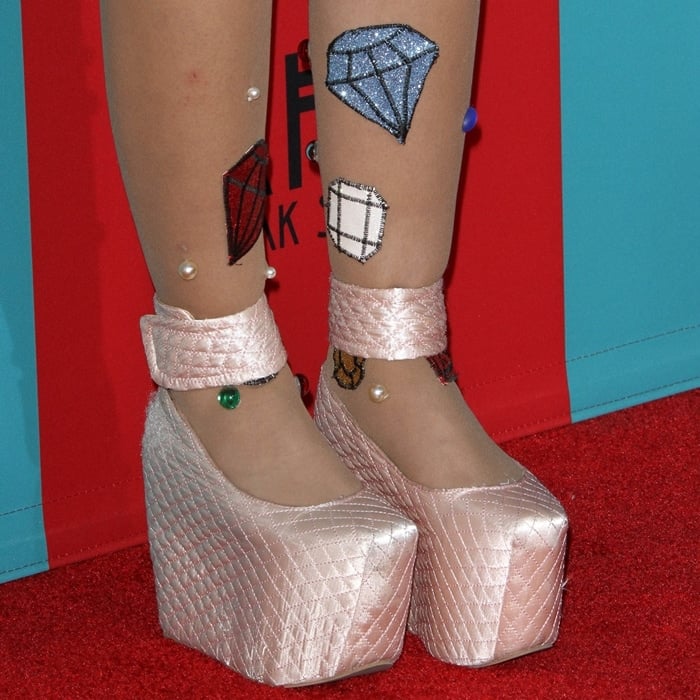 Melanie Martinez wears Jeffrey Campbell shoes
These Jeffrey Campbell shoes are like a pair of ballet flats that have, well, flatforms.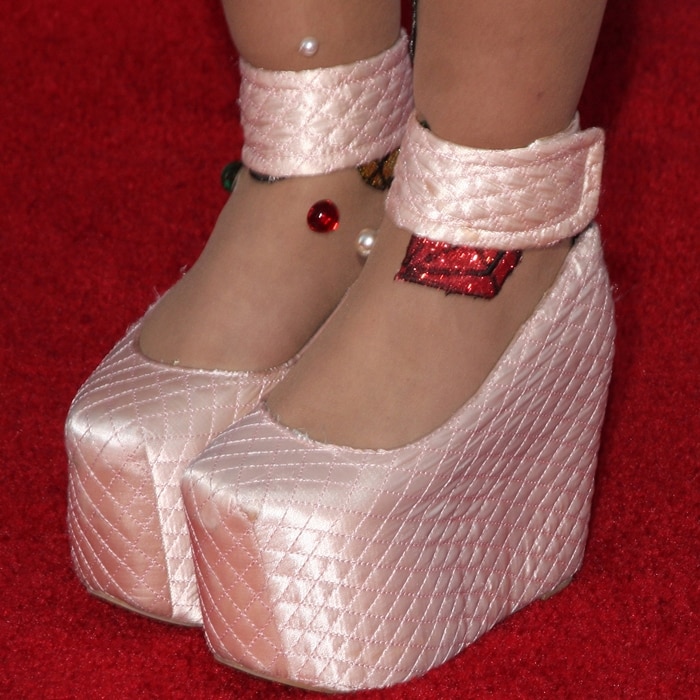 Melanie Martinez wears quilted pink satin The Pointe platform shoes
They feature 4.5-inch heels and 3.5-inch platforms. While they look chunky, the quilted satin material in pink and the velcro ankle straps add a soft touch. Would you wear them?
Jeffrey Campbell The Pointe Platforms in Quilted Pink Satin, $150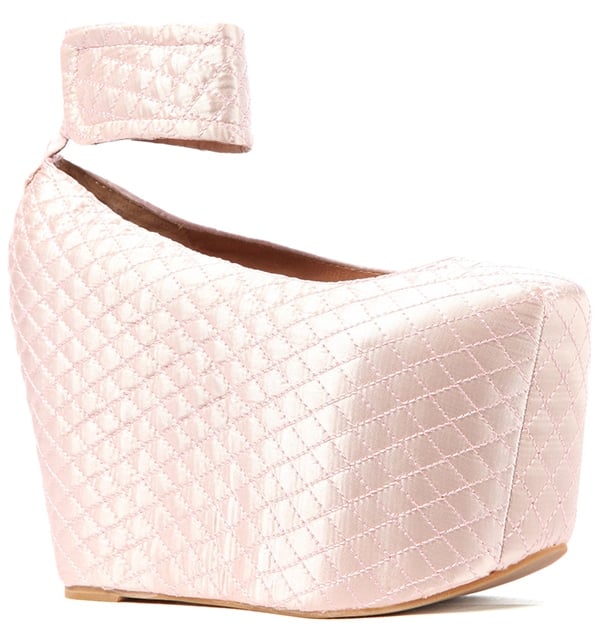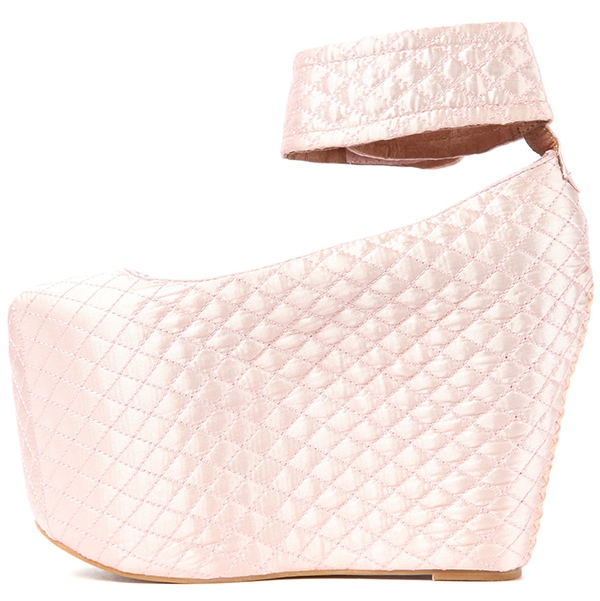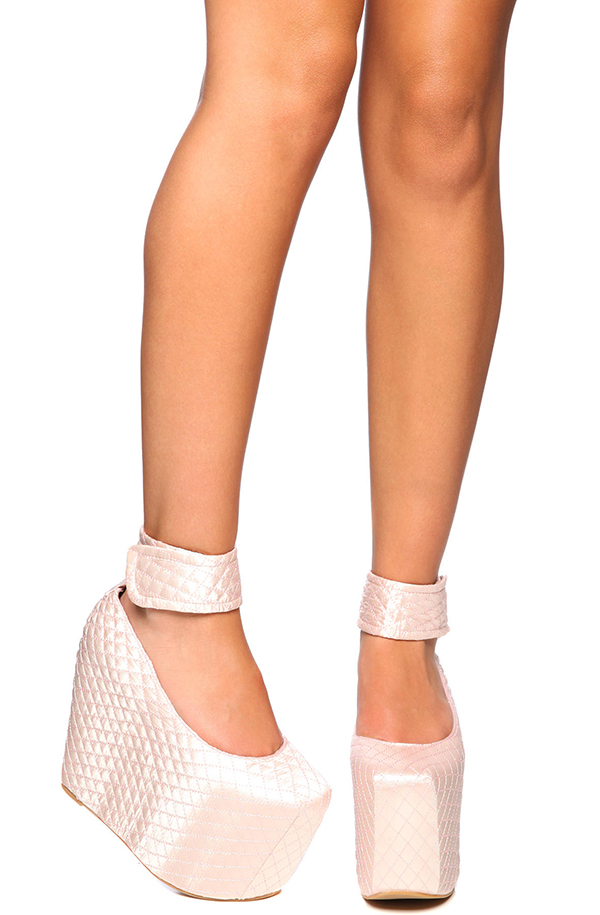 Credit: Melanie Martinez's Instagram / Michael Wright / WENN / 
Adriana M. Barraza / Nikki Nelson / Avalon / Instar