We've always known that shoes say a lot about a person, but researchers at the University of Kansas made it official in 2012 with a published study. Yes, you can judge a person by their shoes.
In the study, participants were shown images of strangers wearing shoes and asked to guess the wearer's age, gender, income, political views, social status, and other important personality traits.
They could correctly guess an astounding 90% of the wearer's characteristics — and all that was based just on that person's footwear!
We know shoes matter in making a first impression, but we didn't know they matter that much! So whether it be sexy red-bottom stilettos, hot sock boots, or classic nude pumps you love wearing, read on to find out what your favorite pair reveals to other people about you.
1. Expensive shoes equal a high-income earner
Let's start with the obvious: pricey shoes belong to people who earn high incomes.
As one of Hollywood's hottest celebrities, Jennifer Lawrence's tootsies are wrapped not only in luxurious designer shoe labels but also in the newest styles. It's only top brands like Christian Louboutin, Jimmy Choo, and Roger Vivier for Forbes' highest-paid actress of 2015 and 2016.
Jennifer Lawrence, one of Hollywood's highest-paid actresses, in Christian Louboutin's "Girlsbestfriend" heels at the Vanity Fair Oscar Party 2016 held at the Wallis Annenberg Center for the Performing Arts in Beverly Hills, California, on February 28, 2016 (Credit: WENN)
2. Flashy footwear shows that the wearer is an extrovert
Another obvious clue is showy, bright-colored shoes mean that the wearer is an extrovert.
Nicki Minaj, who has returned to her outlandish way of dressing, shows that she's outgoing from head to toe. Even when she adopted a tamed-down style, Nicki preferred wearing flashy shoes.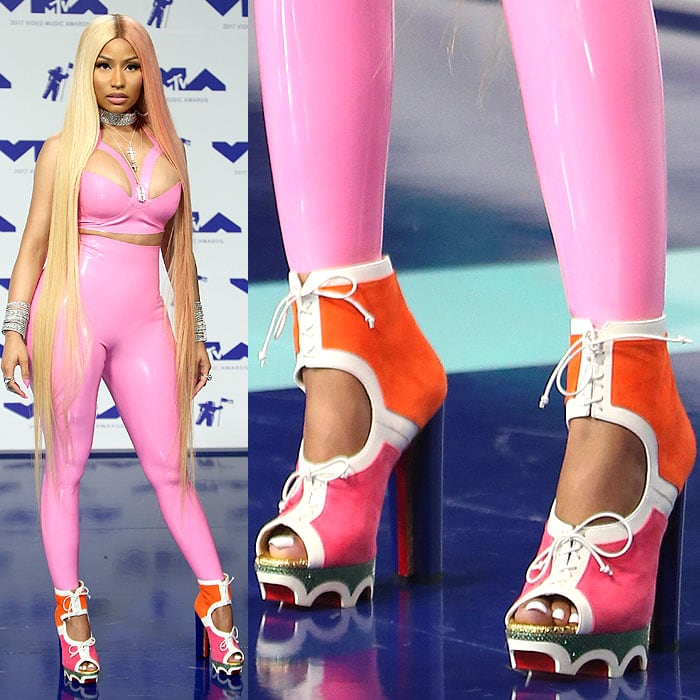 Nicki Minaj in orange-and-pink Christian Louboutin "Lolacrampon" booties at the 2017 MTV Video Music Awards held at The Forum in Inglewood, California, on August 27, 2017 (Credit: WENN)
3. Practical shoes mean the person is agreeable
Not surprisingly, practical shoes reveal that the person wearing them is agreeable.
Say what you want about Taylor Swift's love life, but she is constantly named as the most charitable and most generous celebrity. The singer's love for her fans is well-known, and so is her strong work ethic.
When she's not performing her heart out on stage or slaying it on the red carpet, Taylor switches out killer heels for sensible flats and comfy sneakers during her downtime.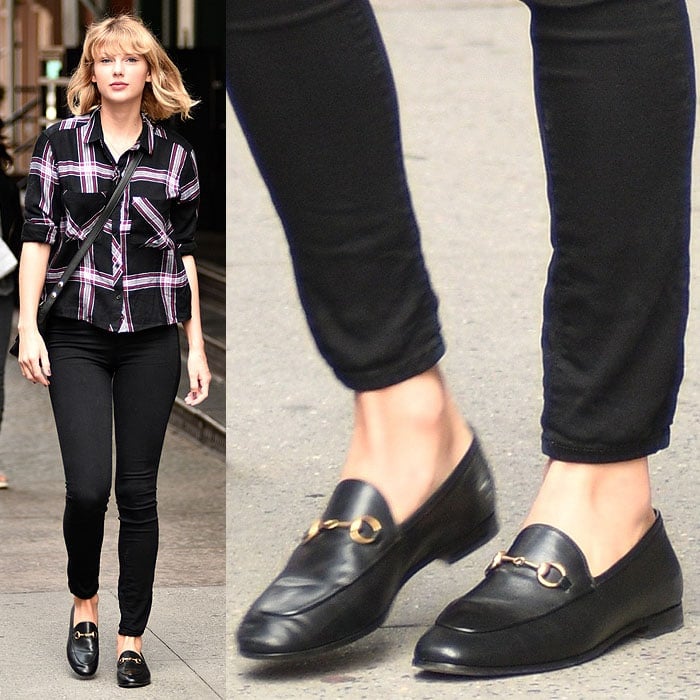 Taylor Swift in sensible Gucci "Brixton" loafers while leaving her Tribeca apartment in New York City on September 28, 2016 (Credit: WENN)
4. Old but well-kept shoes belong to a conscientious type of person
Shoes that are not new but look well-cared-for belong to conscientious people. A meticulous dedication to footwear upkeep likely translates to other aspects of the wearer's life.
Kate Middleton is the perfect example of this, as she is always seen repeating the same shoes over and over again.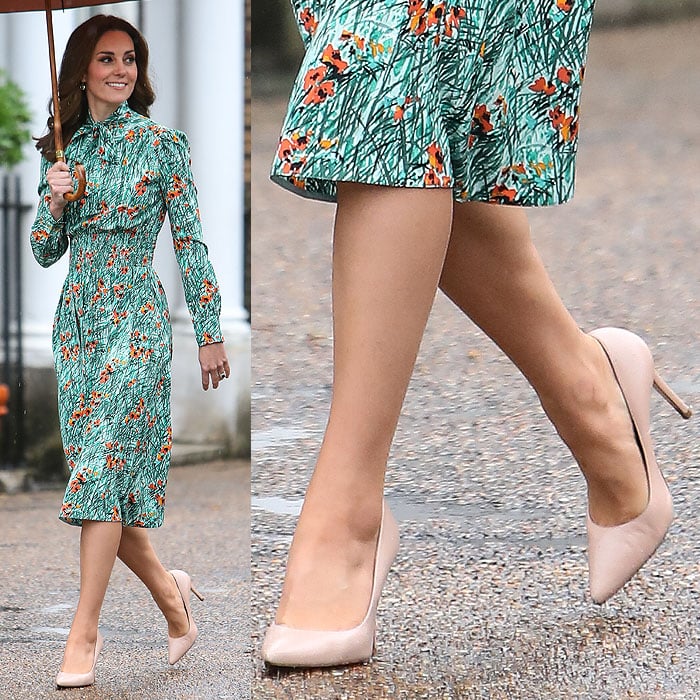 Kate Middleton wearing her favorite nude L.K. Bennett "Fern" pumps during a visit to The Sunken Garden at Kensington Palace in London, England, on August 30, 2017 (Credit: WENN)
The Duchess of Cambridge must've been spotted in her favorite L.K. Bennett "Fern" pumps over a dozen times now, but the nude-colored courts look as clean and tidy as the first few times she wore them in 2016.
5. Shabby shoes reveal a liberal thinker
Shabby-looking and inexpensive shoes, such as flip-flops and scuffed-up sneakers, give away a liberal-thinking wearer.
Right around the time when Miley Cyrus released her "Bangerz" album was also the time she began dressing as what she herself described as a "dirty hippie."
She posted Instagram pics of herself smoking weed, grew out her armpit hair, and was often seen in scruffy sneakers and flip-flops, even for a romantic date with Liam Hemsworth.
Miley may be religious, but the "Party in the USA" singer is very vocal about gay marriage, LGBTQ rights, and environmental issues.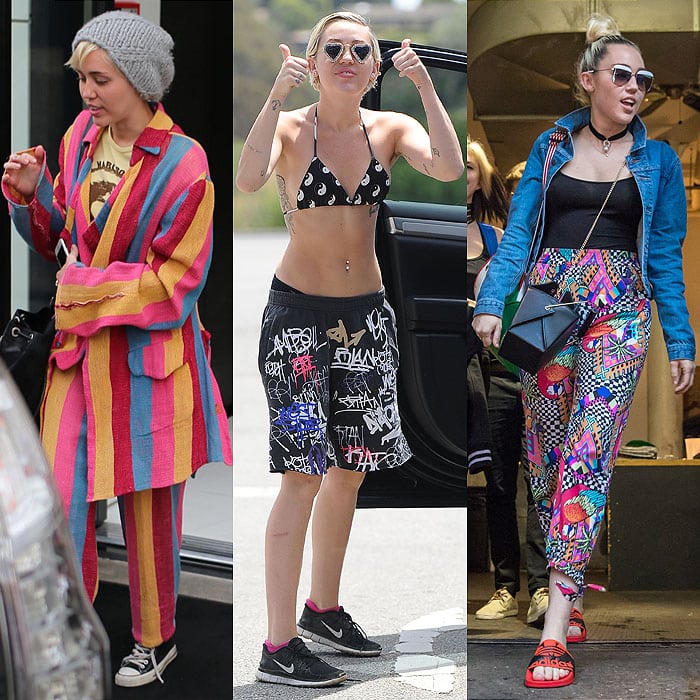 Miley Cyrus wearing scruffy Chuck Taylors with the laces untied while shopping at Chanel on Rodeo Drive in Beverly Hills, California, on April 21, 2015; Wearing dirty men's Nike trainers while out and about in Malibu, California, on April 30, 2015; Wearing Adidas "Adilette Trefoil" slides for a date with beau, Liam Hemsworth, at Soho House in Manhattan's Meatpacking District in New York City on June 15, 2016 (Credit: WENN)
6. Ankle boots? These belong to an aggressive person
Apparently, ankle boots mean that the person wearing them is aggressive. Can you imagine charismatic Gigi Hadid and sultry Bella Hadid as aggressive people?
The two sisters made ankle boots their go-to shoes this season and are responsible for making them a huge trend this year.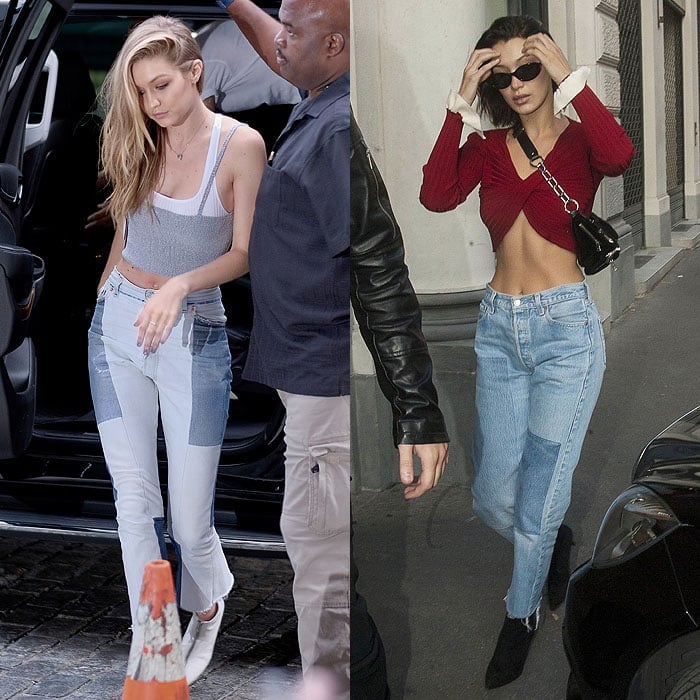 Gigi Hadid wearing Stella Luna "Zipper 50" zip-up ankle boots as she returns to her apartment in New York City on July 26, 2017; Bella Hadid in Stuart Weitzman "Cling" booties while out and about during Milan Fashion Week Spring/Summer 2018 in Milan, Italy, on September 23, 2017 (Credit: WENN)
7. Someone with a calm personality chooses uncomfortable shoes
The biggest revelation from the study is that people with calm personalities wear uncomfortable-looking shoes.
It's kind of astonishing to think that Lady Gaga, with her love for ridiculously high heels and exaggerated platforms, is actually pretty zen.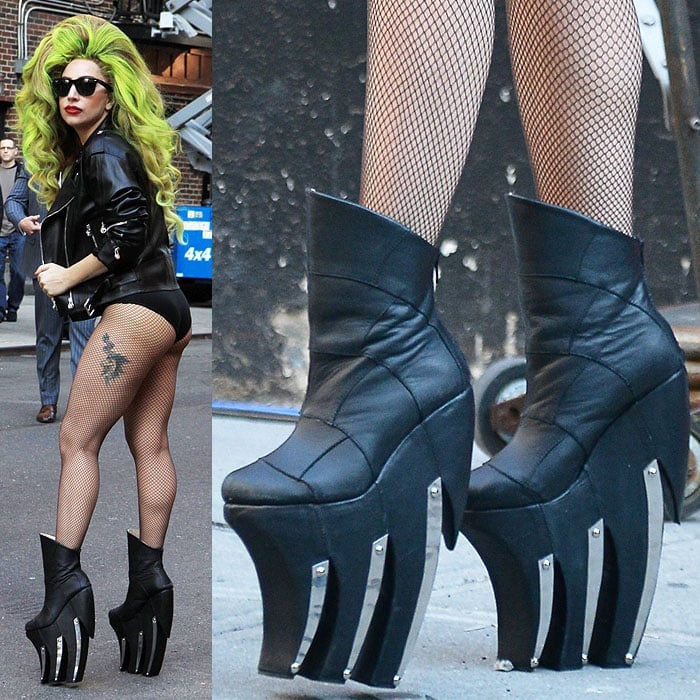 Lady Gaga wearing Long Tran "Longnecker" boots for her appearance on the "Late Show with David Letterman" at the Ed Sullivan Theater in New York City on April 2, 2014 (Credit: WENN)
8. Someone who prefers to wear new shoes is said to have attachment anxiety
People who are most worried about their relationships and are said to have "attachment anxiety" prefer to wear brand-new shoes.
The researchers say, "this may be because they worry so much about their appearance and what others may think of them."
Is this why "Sex and the City"'s shoe-loving Carrie Bradshaw had so many relationship problems?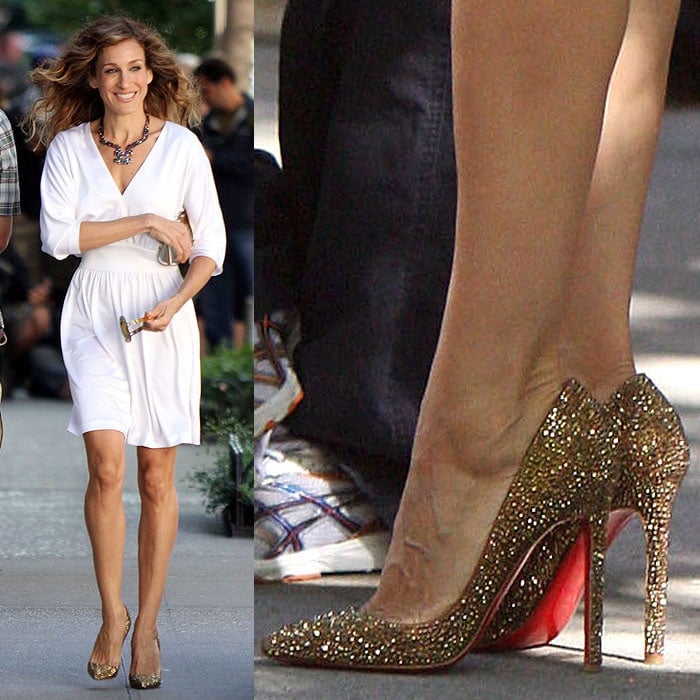 Sarah Jessica Parker as Carrie Bradshaw wearing Christian Louboutin "Pigalle" gold strass pumps while filming "Sex and The City 2" in Manhattan, New York, on September 1, 2009 (Credit: WENN)
9. Boring shoes reveal someone aloof and repressive
Finally, boring shoes reveal that the wearer finds it hard to form relationships. This was the one trait participants in the study could not guess correctly out of the 90% they could judge.
Boring shoe wearers described themselves as "aloof" and "repressive." They don't care what other people think of them, so they don't feel the need to stand out appearance-wise.
Do you think Angelina Jolie's boring shoes are a sign that she's aloof and repressive?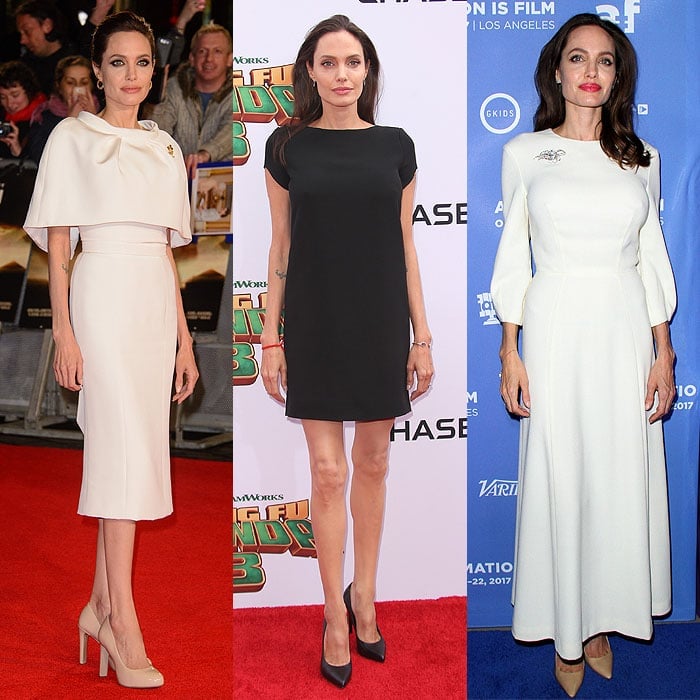 Angelina Jolie at the "Unbroken premiere" held at the Odeon Leicester Square in London, England, on November 25, 2014; at the world premiere of "Kung Fu Panda 3" held at the TCL Chinese Theatre in Los Angeles, California, on January 16, 2016; at the "The Breadwinner" premiere in Hollywood, California, on October 20, 2017 (Credit: Adriana M. Barraza / FayesVision / Joe / John Rainford / Michael Carpenter / TNYF / WENN)