Gone are the days of the usually bold and bizarre Nicki Minaj; no more colorful wigs, heavy makeup, and outlandish outfits.
The 31-year-old rapper has now switched to much simpler looks, and we're hoping it will last! But despite the shocking but more favorable style transformation, she still can't get enough of flaunting her famous assets. She just can't help it!
On April 21, while doing some promotional work for the romantic comedy movie, The Other Woman, where she plays the role of Lydia, Nicki was seen in body-hugging numbers and towering sandals. The "Super Bass" songstress shared a handful of photos on Instagram, showing off three hot looks for three different occasions in just one day.
She first appeared on ABC's Good Morning America, where she talked about her debut movie, her first day on the set, being described as the most influential rapper of all time, and even her new look!
For the interview, she wore a black Alexander McQueen two-piece outfit, including a crop top and a pencil skirt with cutout detail at the side that clearly hugged her curves. It was actually similar to what she wore at the 2014 MTV Movie Awards.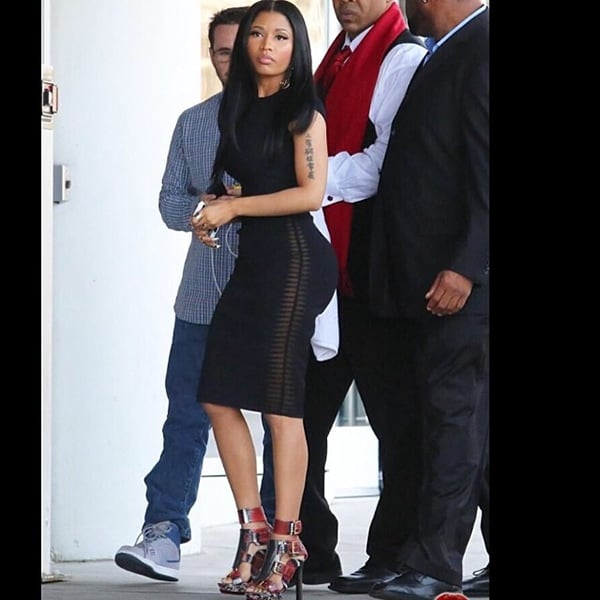 Nicki Minaj flaunted her legs in a black Alexander McQueen two-piece outfit
Nicki Minaj also posted a number of seductive pictures while wearing the same dress.
She finished off her look with a pair of Alexander McQueen Spring 2014 sandals that boast multiple buckled straps in red snakeskin material, Plexiglas plaque at the center, smoked Plexiglas island platforms, and towering thick heels that are more or less 5–6 inches high.
Nicki Minaj showed off her sandals from Alexander McQueen
Nicki Minaj in an Alexander McQueen outfit for some press work on April 21, 2014
We couldn't find Nicki's exact Alexander McQueen sandals online, but the green version was previously available at Zappos.
Alexander McQueen Plexiglas Plaque Sandals, $1,935 at Zappos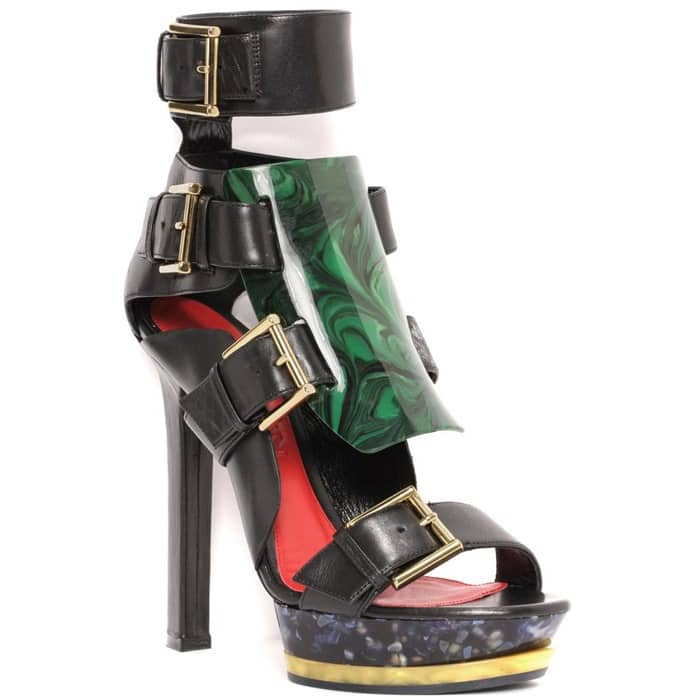 Later that day, Nicki Minaj attended the Los Angeles premiere of the movie at the Regency Village Westwood Theatre in another Alexander McQueen ensemble.
This time, she was seductively elegant in a floor-length knit cream dress that showed off her curvaceous frame.
Nicki Minaj wearing a textured-knit maxi dress by Alexander McQueen
The relatively conservative dress has a low-cut neckline that let Nicki put a generous amount of her cleavage on display.
Nicki Minaj with black center-parted and straightened hair
Her sleek black center-parted and straightened hair, her smoky eyes, and her sexy nude lip shade were the finishing touches to her look.
Nicki Minaj at the premiere of The Other Woman held at the Regency Village Westwood Theatre in Los Angeles on April 21, 2014
Nicki swapped her Alexander McQueen sandals for a pair of rope heels called the "Tangled" from Charlotte Olympia's Spring 2014 collection. They are crafted from twisted metallic ropes with suede trims.
Her shoes also feature buckled ankle straps, strappy vamps with knotted center, open toes, 1 1/4 inch platforms, and rope-wrapped sky-high heels that measure about 5 1/2 inches.
Nicki Minaj wearing Charlotte Olympia tangled rope platform sandals
Charlotte Olympia Tangled Rope Platform Sandals, $1,095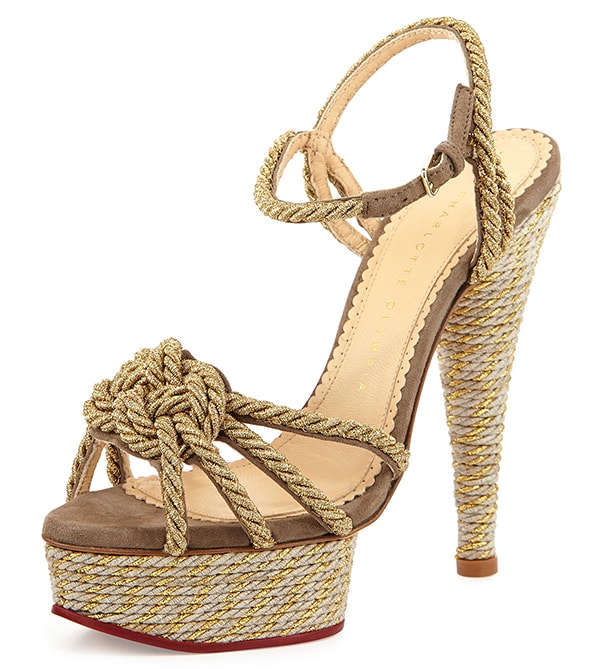 Right after the premiere, Nicki Minaj did a quick wardrobe change for the post-screening party at The W Hotel.
Nicki Minaj's colorful Jean Paul Gaultier dress
She again turned heads in a colorful Jean Paul Gaultier dress that features a cross-hatched bodice, showing off her midriff, with a white tube top and a red maxi skirt with a green accent.
Nicki then rounded out her look with another pair of strappy platform sandals, which we have yet to identify.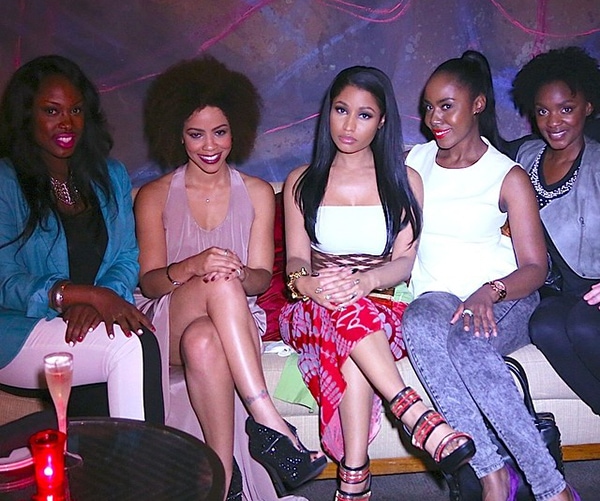 Nicki Minaj at The Other Woman premiere after-party held at The W Hotel in Los Angeles on April 21, 2014
Credit: Nicki Minaj's Instagram / Adriana M. Barraza / Nikki Nelson / FayesVision / WENN