Lady Gaga is all about dressing up in every type of fashion known to man in this 'Artpop' era, but lately, it seems like she's settled on wearing a pair of go-to shoes. Since this is Lady Gaga we're talking about, what she considers as wear-with-everything shoes is a pair of super-high platform boots with exaggerated platforms and jagged soles. She has worn them with many of her shocking outfits, and she actually owns them in at least three different colors.
Lady Gaga wore the black metal-plated version with a signature pantless look to her guesting on the 'Late Show with David Letterman' on Wednesday. Thanks to her butt-highlighting outfit that the paparazzi loved photographing from behind, we also got plenty of good back-view pictures of Lady Gaga's favorite shoes of the moment.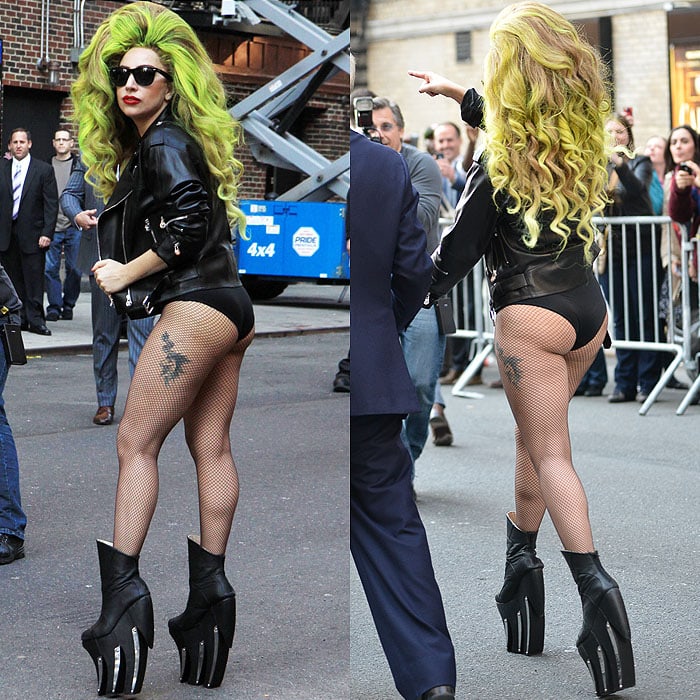 Lady Gaga posing for the cameras before heading into the 'Late Show with David Letterman' studios in New York City on April 2, 2014
In the closeup shot below, you can see that the extremely high boots are also somewhat heel-less. The back part of the jagged sole just hangs in the air and does nothing to support the foot.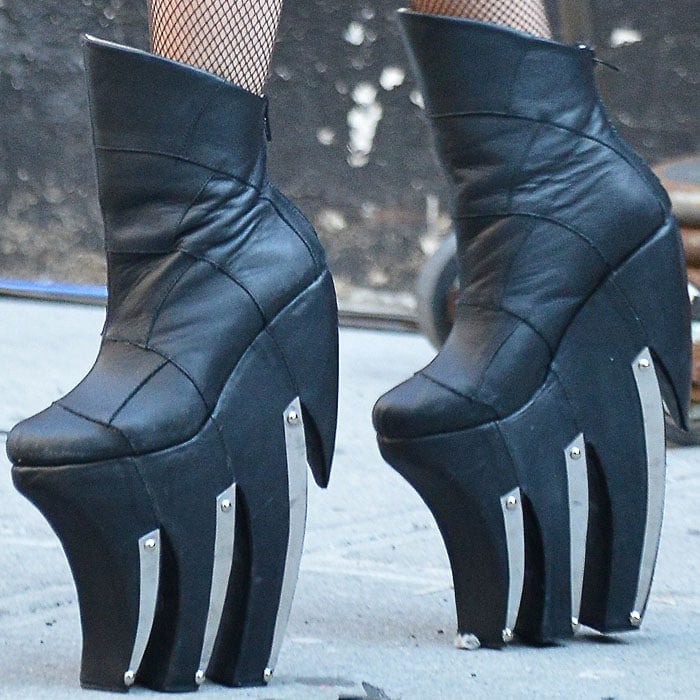 But trust Lady Gaga to find shoes like these to be comfortable. She's so used to wearing them, in fact, that she can even run in them.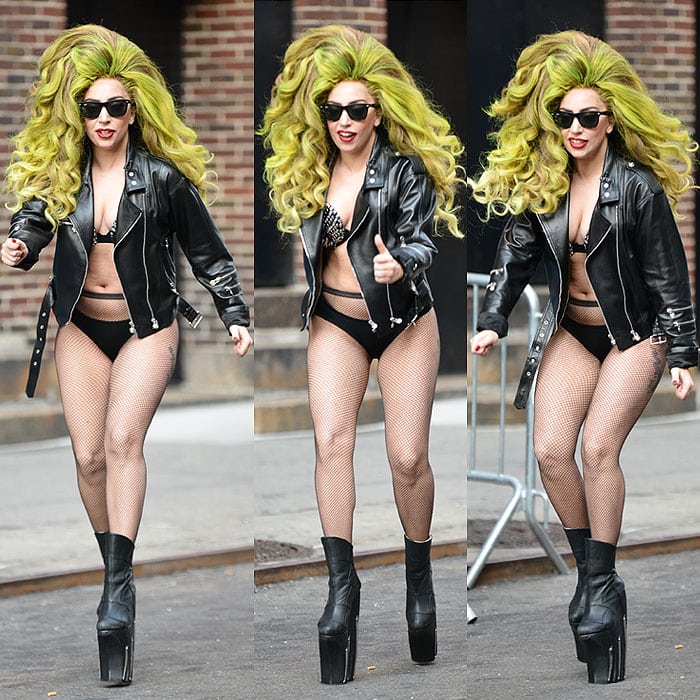 Lady Gaga doing a little jog in a pair of super-high platform boots
Lady Gaga first wore the pink variant of these boots to her gig at the Roseland Ballroom last week. She also showed plenty of skin in a nude bodysuit accented with strategically placed red roses.
Lady Gaga arriving at the Roseland Ballroom in New York City on March 28, 2014
Lady Gaga loves these jagged-sole boots so much that she also has the floral-printed version, which she wore to celebrate her 28th birthday.
We can imagine just how big of a thrill it is for designer Long Tran that Lady Gaga is obsessed with his "Longenecker" boots. Long Tran's conceptual design aesthetic is right up Lady Gaga's alley, so it was really only a matter of time before she got a hold of him.
Check out the Longenecker boots in motion in the following video:
Credit: Michael Carpenter/TNYF/Alberto Reyes/Dennis Van Tine/Future Image/WENN