I'm no Jennifer Aniston fan. In fact, I was a loud and proud Team Angie member when all that Mr. and Mrs. Smith hullabaloo broke loose.
But after spotting the paparazzi photos of the 'Friends' actress looking all sad and frumpy and dowdy, I was seriously worried.
Jen, is that you? Jennifer Aniston sports a bare, rough face while out in Los Angeles on April 4, 2014
Wearing a flimsy knitted white top underneath a loose grey cardigan, all on top of an even looser pair of wide-leg khakis, Aniston was a far cry from her bare-naked and toned GQ magazine cover.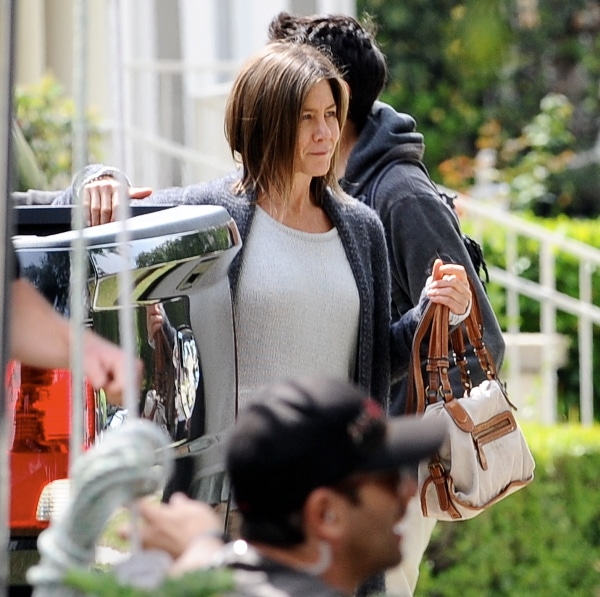 Jennifer Aniston wearing a flimsy knitted white top underneath a loose grey cardigan
She even looked like she gained a significant amount of weight. I actually thought that she got careless and accidentally showed the world a true glimpse of her post-40s body.
Large scars cover parts of Jennifer's neck and face– all make-up for an upcoming movie
Of course, the telling sign that it was all for a movie (aside from the scattered film equipment) was the frightening set of scars she had on her face and neck.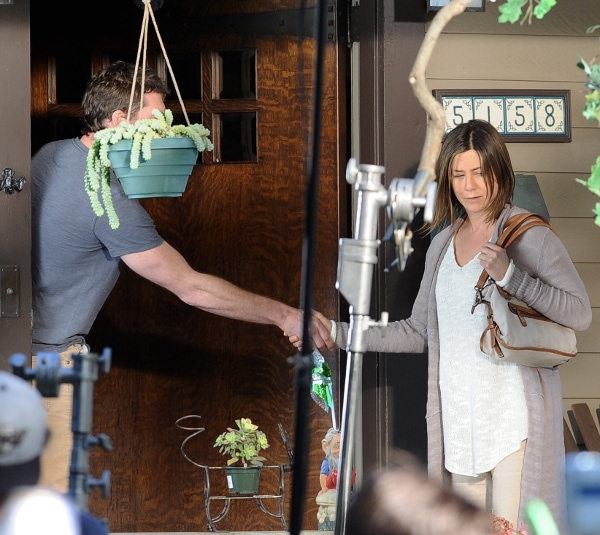 Jennifer Aniston wore no makeup filming Cake and felt it was fabulous, dreamy, empowering, and liberating
In this post-Chris Brown and Rihanna era, I figured we would know if Justin Theroux suddenly decided to be ungallant. Plus I spotted Sam Worthington in the pictures so I figured all is really well in Aniston-land.
Jennifer Aniston shooting tense scenes with Sam Worthington for the 2014 American drama film Cake
The movie, an indie film called 'Cake', is about "an acerbic woman who becomes fascinated by the suicide of another woman in her chronic pain support group."
"It was so empowering and liberating to just put scars on my face. The only time I had to sit in the makeup chair was just for scars," Aniston revealed at Deadline's "Contenders" panel.
Jennifer Aniston with severe scars on her face and neck
It wouldn't be Aniston's first foray in indie, but something tells me that this project might actually get her some post-Rachel Green critical acclaim.
Jen Aniston's grey, white, and khaki outfit match the gloomy theme of the movie
"Cake" is based on a screenplay by Patrick Tobin and is due to be released in 2015. Anna Kendrick and Mindy Kaling will also be in the film.
Credit: Cousart / JFXimages / WENN