Are they an on-screen couple? An off-screen couple?
In Hollywood, it can be hard to tell.
Take, for example, Mindy Kaling and B.J. Novak. On the beloved American sitcom "The Office," Mindy's character Kelly Kapoor dates B.J.'s character Ryan Howard.
However, Mindy and B.J.'s relationship carried over from the screen to real life.
The two dated on-and-off for several years, and B.J. is rumored to be the father of Mindy's children.
"The Office" co-stars Mindy Kaling and B. J. Novak dated on-and-off between 2004 and 2007 and he's rumored to be the father of her children (Credit: Kathy Hutchins / Shutterstock)
Mindy has never revealed the biological father of her two children — not even to her close friends.
B. J. Novak stars as Ryan Howard, Mindy Kaling portrays Kelly Kapoor, and Kate Flannery holds the role of Meredith Palmer in the American mockumentary sitcom television series "The Office" (Credit: NBC)
Mindy Kaling and B.J. Novak's Relationship
So, when exactly did Mindy and B.J.'s relationship carry over from the screen to the real-life bedroom?
"No one, including us, ever really knew," B.J. said in an interview with Vulture in 2012. "Is this dating? Is this not dating? We were never really dating, we were never really not dating. We didn't know. No one knew. All you'd know for sure was that you'd always find one of us next to the other, even if we weren't getting along."
"Sometimes viewers would ask, 'Are Ryan and Kelly together right now, not together?'," he continued. "It's not even that I wouldn't know. I thought the question was missing the point. Write whatever you want. So, Kelly needed a boyfriend this week, so Ryan goes on a date. Ryan and Kelly are getting engaged … I think it was sort of expressive of the relationship that we were in."
The couple dated — in real-life — on and off from 2004 to 2007 before they officially called things off. However, Mindy and B.J. remain extremely close friends.
"We are pretty inseparable best friends with a lot of chemistry ourselves, and we're not dating," B.J. said in a January 2013 interview with Entertainment Weekly. "Whenever we date anyone else, I think there's a period when the person is very skeptical of our friendship."
Romantic Relationship to Friendship
Back in 2014, Mindy revealed that B.J. "dumped her and broke her heart."
"That was the hottest I've ever looked because I stopped eating," she told Howard Stern in an interview. "When I get depressed, I stop eating. I was so miserable and I was so beautiful."
"I was 24," she added. "But for the record, if anyone had asked me to marry them, I would have said yes."
Following the breakup, B.J. said he wished they'd had gotten along better.
However, the two have clearly found a happy medium since the breakup. Their friendship sparked so much interest that it even got them a joint book deal in 2015.
Mindy also wrote about their relationship in her autobiography "Why Not Me?" which you can purchase on Amazon.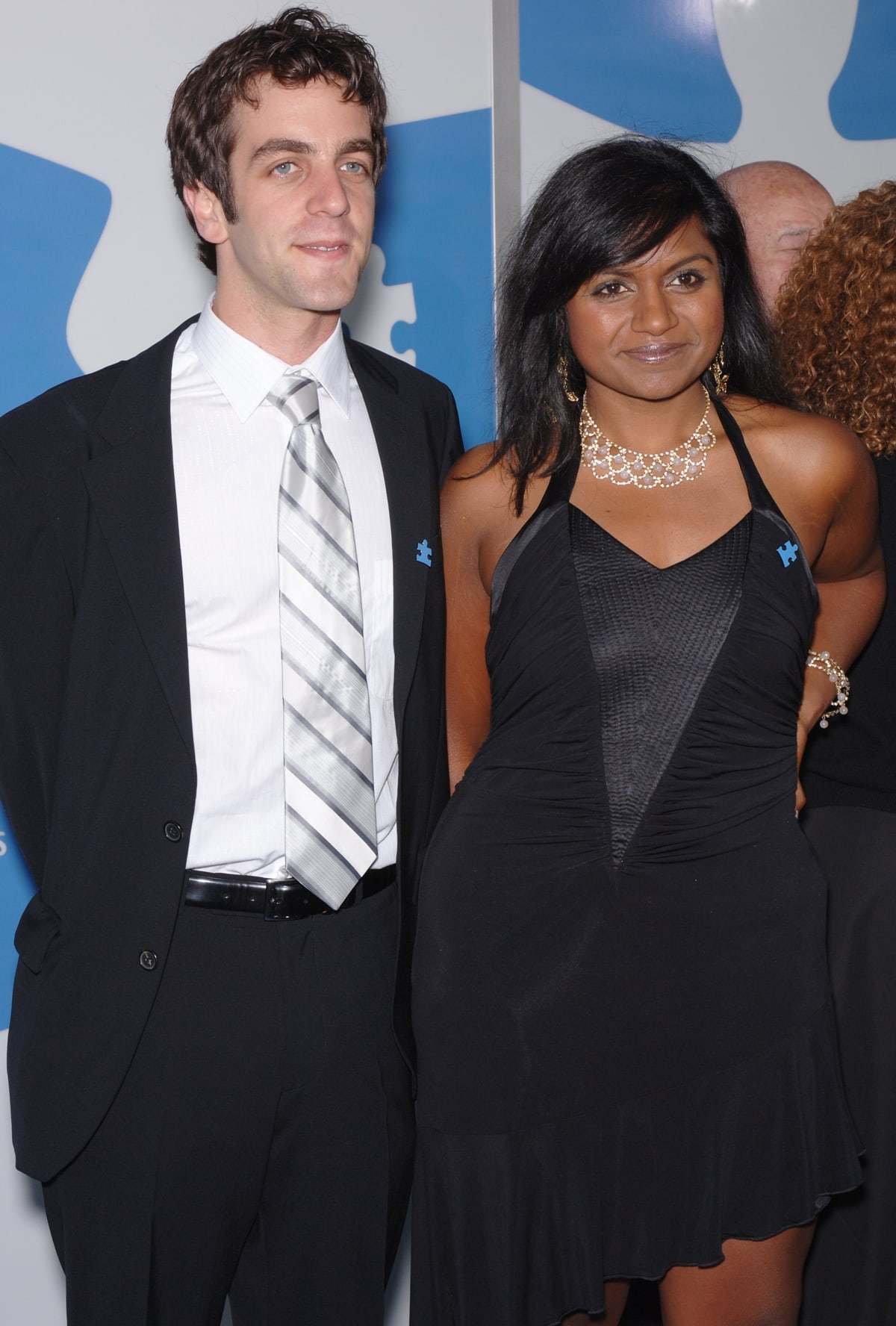 B. J. Novak and Mindy Kaling have remained close friends although they're no longer dating (Credit: Featureflash Photo Agency / Shutterstock)
Mindy has repeatedly said that she "loves when fans ship her and B.J. as a couple."
B.J. and Mindy have admitted to fighting a lot, but have also stated that their friendship brings out the best in each other.
The two still pose for photos on the red carpet together. They also still go out to shows together, dine together and maintain a mutually supportive relationship.
So now, years after the breakup, how would the two of them define their unique relationship-turned-friendship?
"Complicated," B.J. told People Magazine when asked to describe Mindy in one word. "A really complicated person and a really complicated friendship, but I wouldn't trade it for anything in the world."
B.J. later told The Guardian in 2016, "We're very close in a sort of natural, eternal way."
Mindy Kaling's Children
Mindy may constantly be in the spotlight due to her work as an actress, comedian and author, but she's still a very private person.
She gave birth to her first child Katherine "Kit" Swati Kaling in 2017, and remained mum on a lot of the private details.
During the time of birth, Mindy was 39 years old and wasn't romantically involved with anyone on a public level.
Given Mindy and B.J.'s history and close friendship, the public was quick to assume that her ex was the father.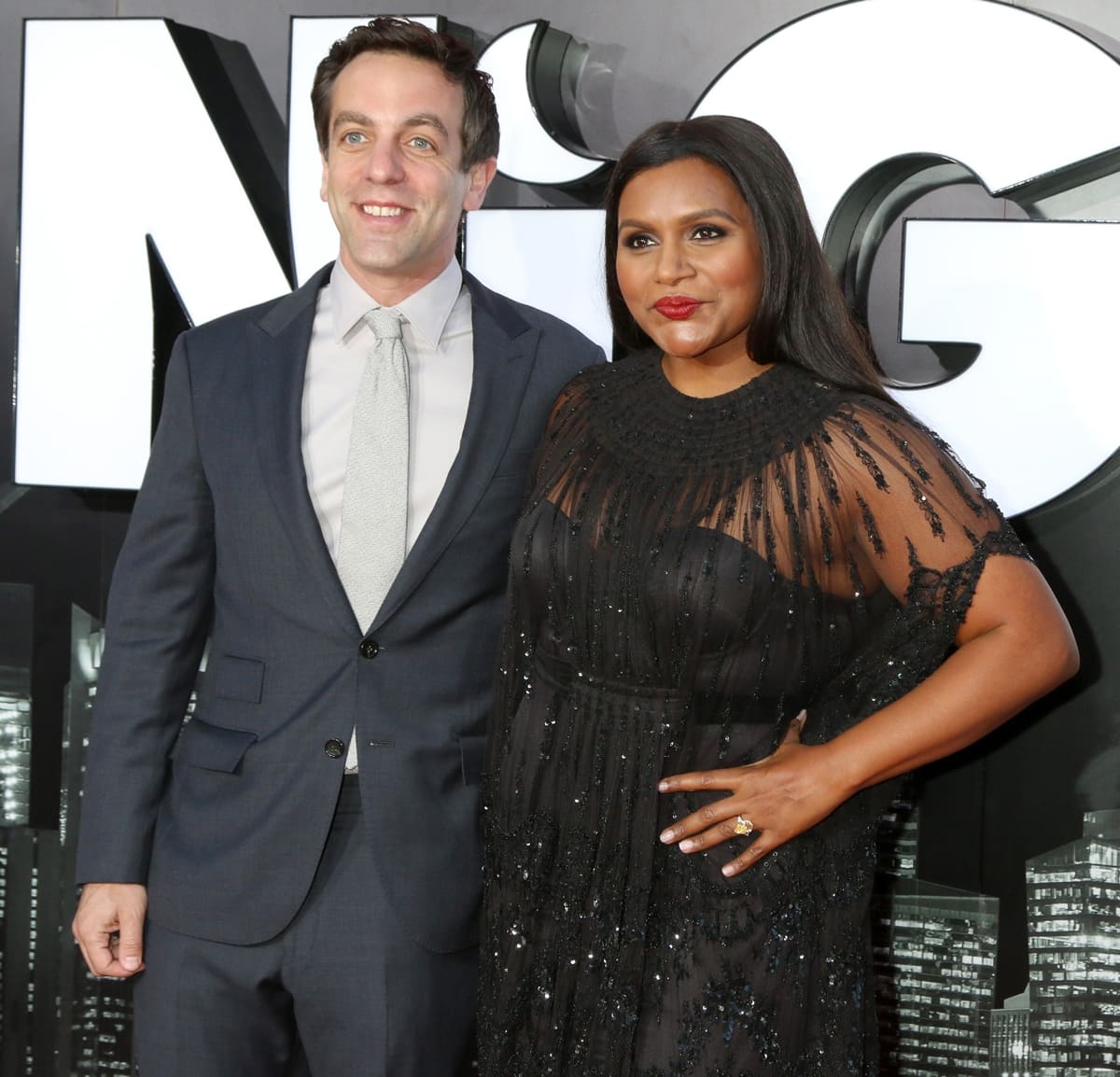 Mindy Kaling and B. J. Novak are good friends and are frequently seen together at red carpet events (Credit: Kathy Hutchins / Shutterstock)
Mindy's first pregnancy came as a surprise. Such a surprise, in fact, that a source admitted "Mindy doesn't even know who the father is."
Mindy later went on to give birth to her second child, Spencer Avu Kaling, in mid-2020.
Unsurprisingly, she's been mum as to the details of Spencer's lineage as well.
B.J. Novak, the Family Friend
While B.J. hasn't been confirmed as the father of Mindy's children, he has been confirmed as Kit and Spencer's godfather.
"He comes over like once a week," Mindy said. Sometimes he'll come just to hang out with (Kit)."
View this post on Instagram
While Kaling is an incredible single mother, many fans of Mindy, B.J. and "The Office" are glad to see her on-again-off-again on-screen partner step up and make a role for himself in the lives of Mindy's children.
Is There a Future for Mindy Kaling and B.J. Novak?
While many "The Office" fans want to see Mindy and B.J. get back together, that's not going to happen.
"I've known B.J. for 16 years," Mindy said during a 2019 interview with CBS Sunday Morning. "We met each other when we were 24 and were about to be 40. Anyone who's known each other for that long….I think it's nice, I like it when people think it's more romantic or sparkly than it is. Even though that's a less sexy characterization of our relationship, I think it's a deeper and closer one. We do spend a lot of time together and it's the great blessing of my life."
View this post on Instagram
What Is Mindy Kaling's Style Like?
We don't always see Mindy get sentimental since she's always trying to make people laugh, but when she does, it's pretty adorable.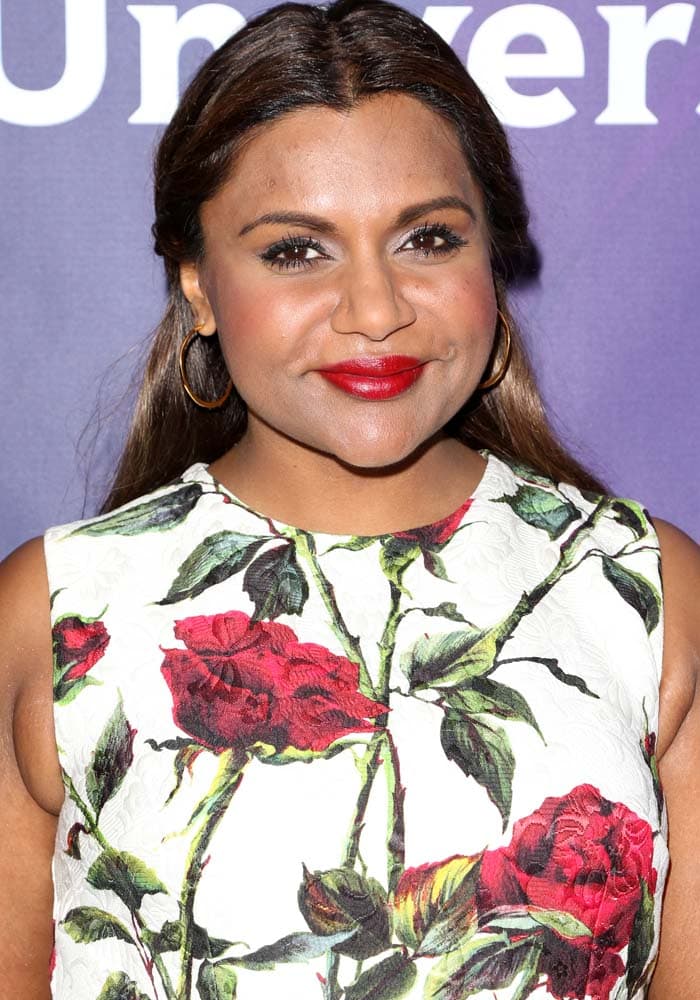 Mindy Kaling clips her hair back at the 2016 NBC Universal Summer Press held on April 1, 2016, at Westlake Village in California (Credit: FayesVision / WENN)
In April 2016, Mindy gave us an inside look at something pretty important to her in the midst of a grueling press day for "The Mindy Project."
Ironically enough, B.J. played Jamie, Mindy's ex-boyfriend, in the series.
Mindy was spotted hamming it up for the cameras on the red carpet of the 2016 NBCUniversal Summer Press Day held at Westlake Village in California. The American romantic comedy television series is inspired by her relationship with B.J. Novak.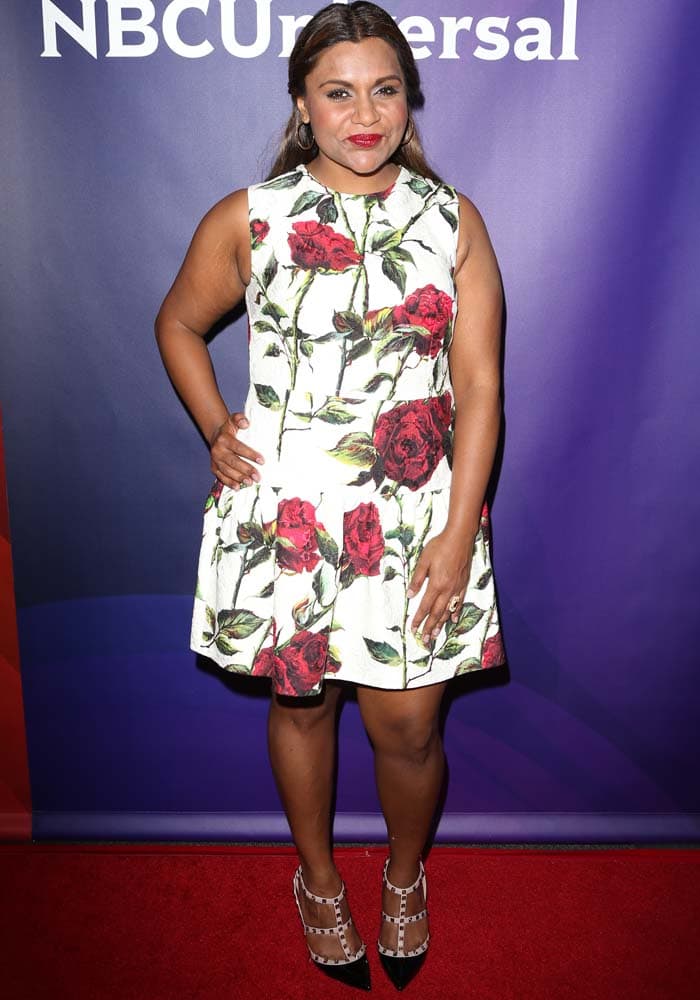 Mindy Kaling wears a flared floral Dolce & Gabbana dress on the red carpet (Credit: FayesVision / WENN)
Mindy welcomed spring in one of Dolce & Gabbana's infamous flared floral dresses which she paired with the Valentino "Rockstud" studded cage heels in patent black.
The actress opted for dramatic eyelashes and a soft red lip to complement her outfit.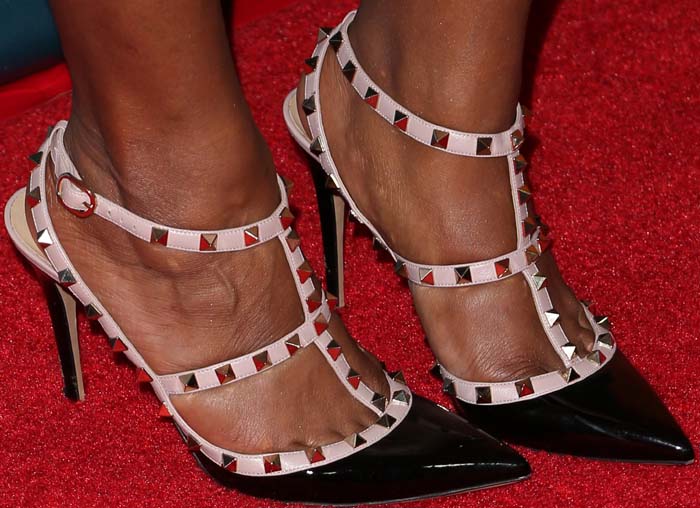 Mindy Kaling's feet in studded Valentino pumps (Credit: FayesVision / WENN)
Mindy mentioned that she chose to accessorize with a ring that belonged to her best friend's mother, who passed away about four years ago.
The actress uploaded a photo of the jewelry captioned, "My best friend @joce808 gave me this beautiful ring which belonged to her mom, who had the best taste. I love when I get to wear it."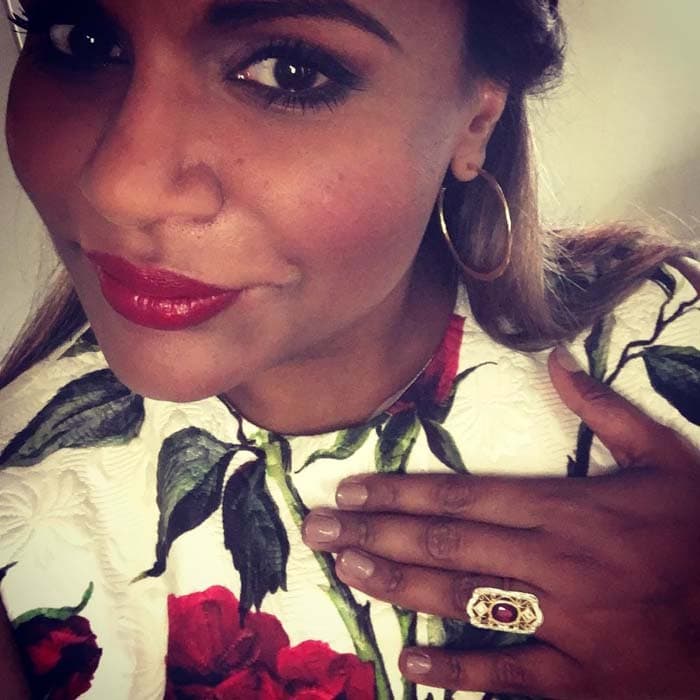 Mindy Kaling shows off her new ring inherited from her best friend's deceased mother (Credit: Mindy Kaling's Instagram)
We obviously can't find you Mindy's ring, but we can find those shoes!
You can order Mindy's spring look by grabbing a pair of Valentino "Rockstud" studded cage heels at Saks Fifth Avenue and Nordstrom.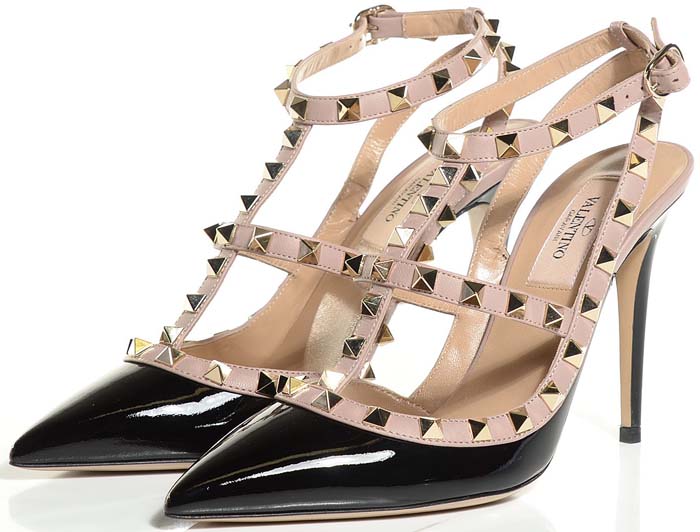 Valentino "Rockstud" Patent Pumps, $995