The 2016 Royal Tour has come to an end. And, in the tradition of all things royal, Kate Middleton wrapped things up in a spectacular, well, fashion.
The Duke and Duchess ended their tour of India and Bhutan at the Taj Mahal in Agra on April 16.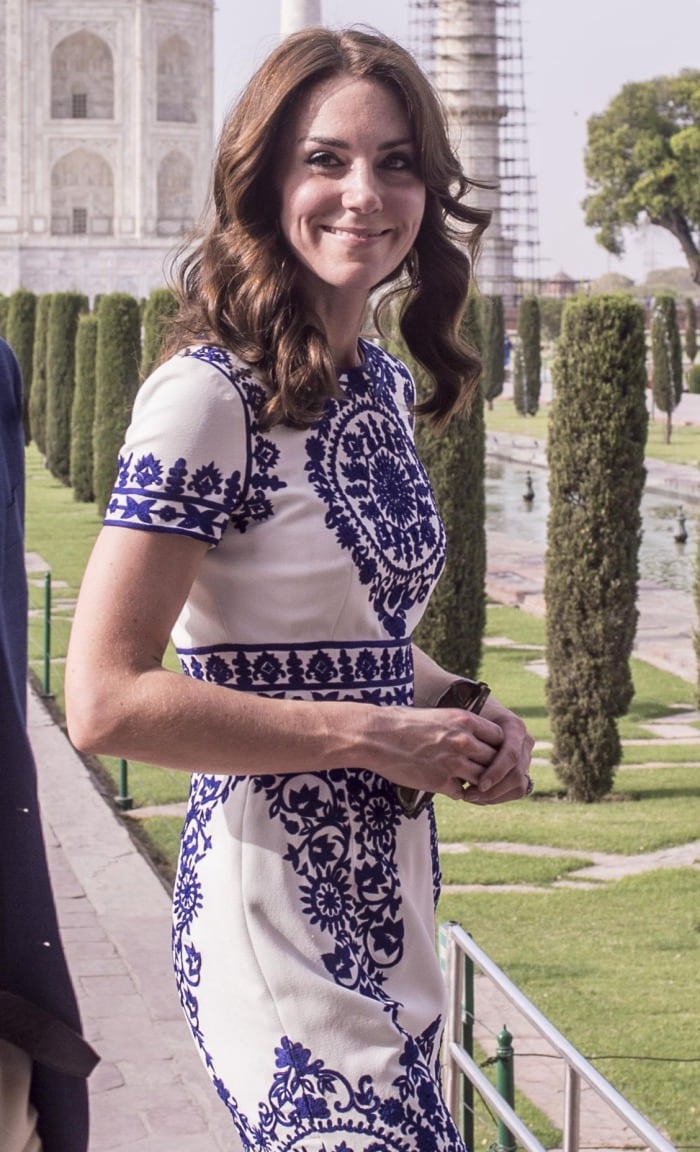 Kate Middleton wears her hair down as she ends her royal tour of India and Bhutan on April 16, 2016 (Credit: WENN)
Despite the scorching Indian sun, the royal couple managed to look poised and enthusiastic as they toured the grounds of the iconic mausoleum.
Kate Middleton and Prince William pose for photos in front of India's Taj Mahal (Credit: WENN)
Prince William was trendy in a casual navy blazer, white oxford shirt, and khaki pants, which paired nicely with the Duchess's patterned white and royal blue dress from Indian-American fashion designer Naeem Khan's 2015 Resort collection.
Kate Middleton wears an embroidered dress in front of India's Taj Mahal (Credit: WENN)
Kate's frock couldn't have been more appropriate for a tour of the Taj Mahal, which is known as one of the Seven Wonders of the World.
The short-sleeved knee-length white dress was covered in detailed blue embroidery.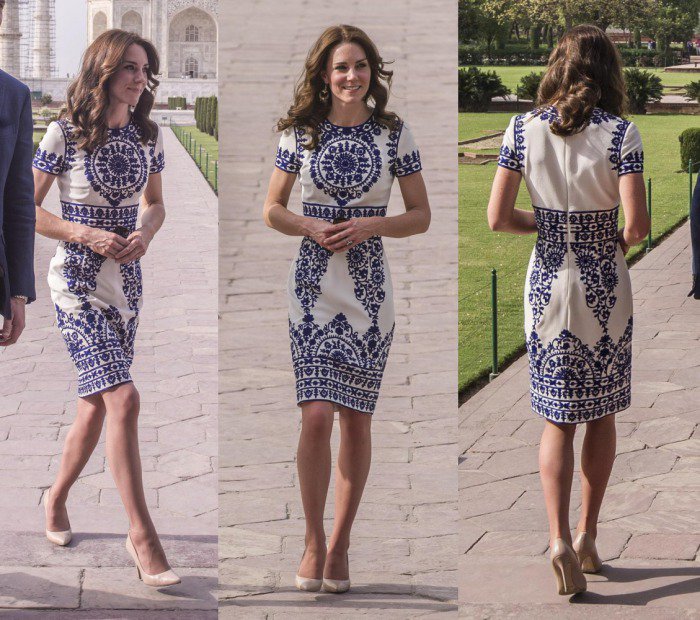 Kate Middleton wears a blue-and-white Naeem Khan dress in India (Credit: WENN)
Kate was careful to not overdo it for her appearance. She accessorized only with a pair of Ray-Ban sunglasses.
She wore her hair in her standard, graceful soft curls, and added to her height in a pair of nude pumps by London-based brand LK Bennett.
Kate Middleton's feet in nude LK Bennett pumps (Credit: WENN)
These pumps are the brand's "Fern" style and feature about 3.5-inch heels and a classic leather design.
Unfortunately, these exact pumps are currently unavailable, but you can join the waiting list or browse similar styles on their website.