Fashion brands can dominate the headlines one day and then fall into administration the next. L.K. Bennett is a British brand that found itself at the forefront of the fashion industry thanks to Kate Middleton.
The Duchess of Cambridge has become synonymous with the brand. Thousands of eagle-eye royal followers, aiming to 'Replikate' the Duchess' outfits, rush to buy anything that Kate Middleton is photographed wearing.
L.K. Bennett is a British affordable luxury brand that found itself at the forefront of the fashion industry, thanks to Kate Middleton, the Princess of Wales (Credit: Padmayogini / Shutterstock)
Kate's relationship with L.K. Bennett dates to her pre-royal days, with the British brand becoming her go-to for royal engagements, formal functions, and travel.
Her closet includes everything from the brand's signature floral dresses to nude heels and workwear essentials.
Catherine, Duchess of Cambridge, wears L.K. Bennett boots with a green Eponine dress to visit the Lavender Primary School in support of Place2Be's Children's Mental Health Week in London, England, on February 5, 2019 (Credit: John Rainford / WENN)
Her support of the brand wasn't enough to stop it from falling into administration in March 2019.
Thankfully for royal fashion fans, the British brand has turned a corner, going back into the black in 2022, with profits jumping by 55% year on year.
Kate Middleton's closet includes L.K. Bennett floral dresses and classic coats (Credit: PA Images / INSTARimages / Yui Mok / PA Images / Startraksphoto / action press)
Meet L.K. Bennett – Kate Middleton's Favorite British Brand
LK Bennett is a London-based contemporary fashion brand that was launched in 1990 by Linda Bennett. The first store was opened in Wimbledon to fill the gap between high-street brands and the designer footwear stores on Bond Street.
The brand's first success came from its footwear range, with Linda Bennett nicknamed the 'Queen of the Kitten Heel.' L.K. Bennet's first ready-to-wear collection launched in 1998, with its first international store in Paris in 2000.
"It is congratulations for 14 years of hard work. I think people like the shops because we provide high quality products at a good price," Bennett said in 2004 when she was named Business Woman of the Year by Veuve Clicquot.
Kate Middleton's L.K. Bennett Marissa ankle boots (Credit: WENN)
Linda Bennett stepped back from a creative role to become a non-executive director before returning to focus on product and brand development in 2017.
She later brought out the company from previous investors who entered the brand in 2004. LK Bennett has since been bought by Byland UK.
The brand is available throughout the UK at several department stores, including House of Fraser, Debenhams, John Lewis, and Selfridges.
Kate Middleton has remained loyal to the LK Bennett brand since her wedding to Prince William in 2011. Several of her most recognizable closet staples, including the 'Sledge' platform heels, are from LK Bennett.
These heels continue to make an occasional appearance in her current outfit choices.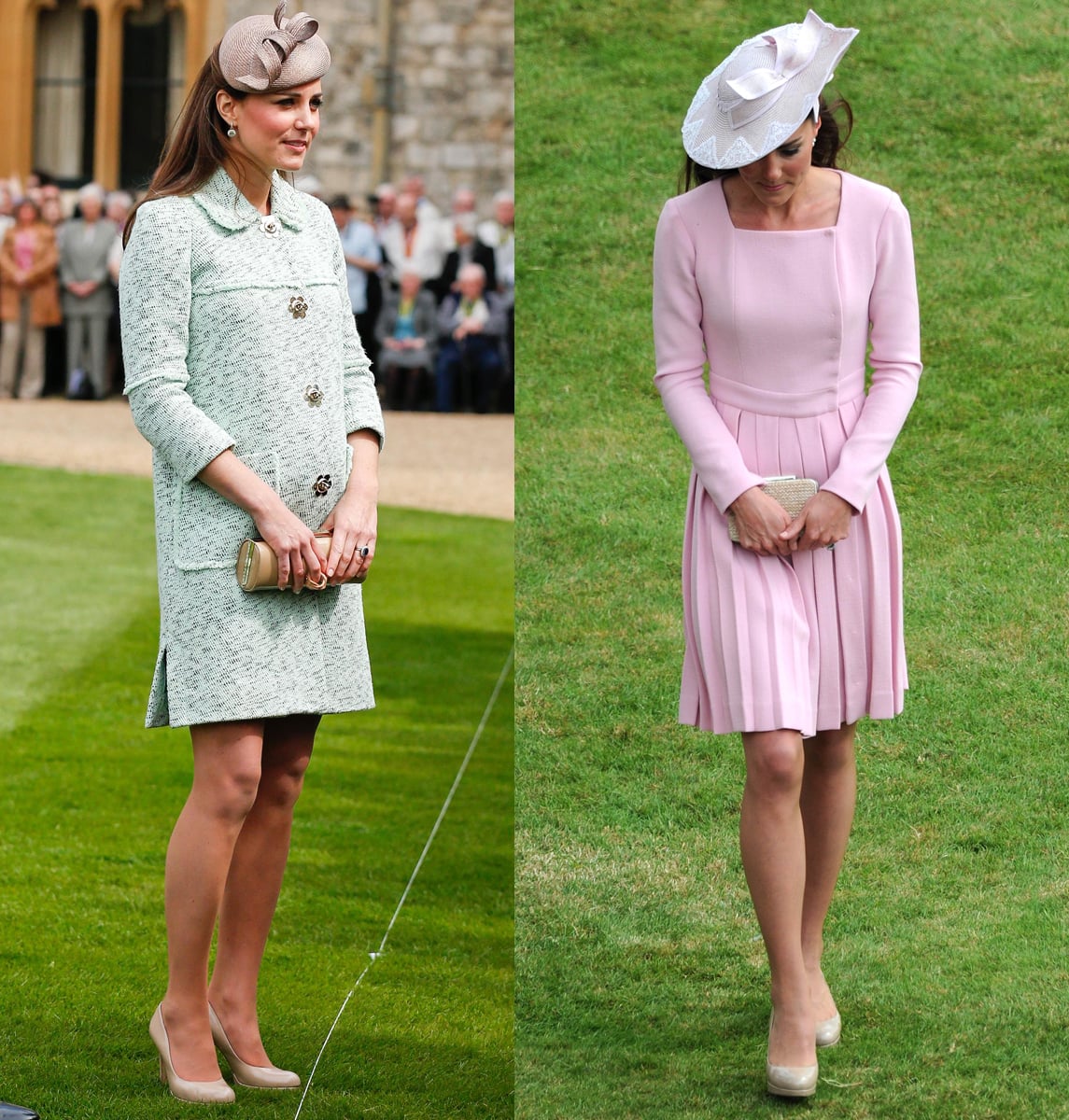 Kate Middleton wearing the LK Bennett Sledge platform pumps in nude leather (Credit: Barcroft Media / Michael Dunlea / Startraksphoto)
What is L.K. Bennett Known For?
L.K. Bennett is synonymous with some of the UK's most high-profile women, from members of the royal family to front-bench politicians. Its more attainable price point offers women access to classic designs and timeless silhouettes without breaking the bank.
Other loyal celebrity fans of LK Bennett include Pippa Middleton, Nina Dobrev, Isla Fisher, Emma Roberts, and Olivia Munn.
LK Bennett has also become synonymous with political fashion as a go-to brand for former Prime Minister Theresa May and former Home Secretary Amber Rudd.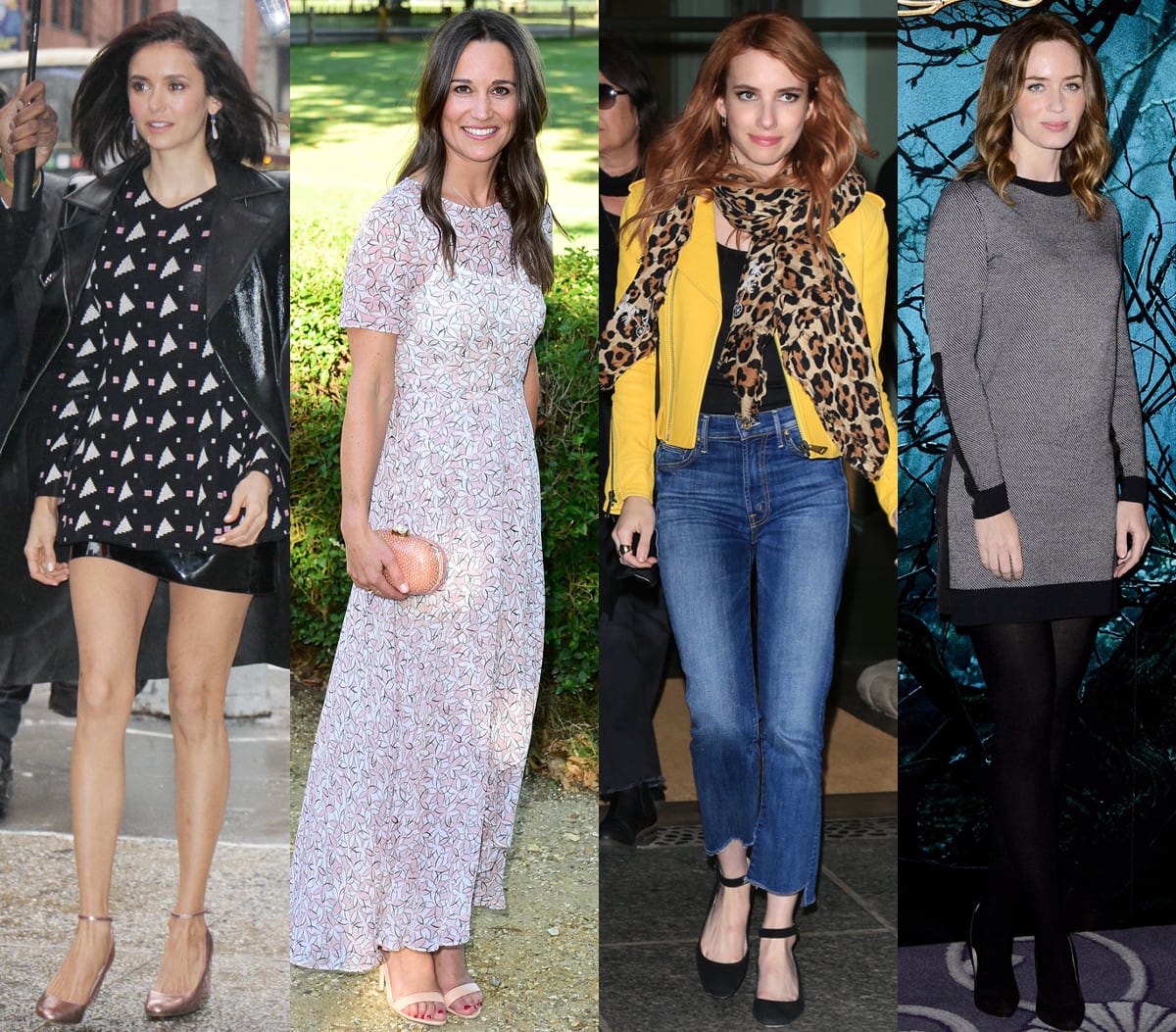 Nina Dobrev, Pippa Middleton, Emma Roberts, and Emily Blunt wearing LK Bennett heels (Credit: Roger Wong / INSTARimages / Ian West / PA Images / Startraksphoto / PapJuiceLA / INFphoto / Richard Young)
While L.K. Bennett seeks to bridge the gap between high street and luxury brands, its seasonal collections are often on sale. You'll typically see even the most popular LK Bennett items available for a discount on the brand's official website.
LK Bennett is now branching out into bridal wear, offering elegant wedding dresses and tuxedo suits for the modern bride. Its bridal wear range includes accessories, ready-to-wear, and footwear.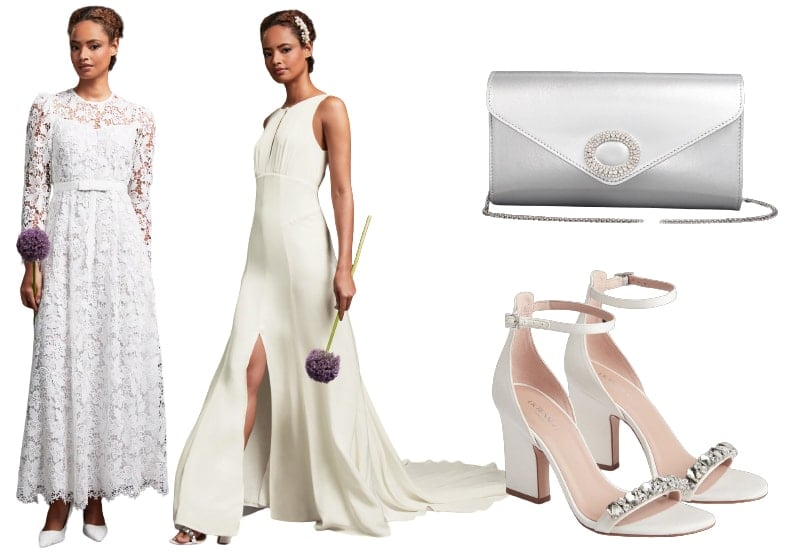 LK Bennett has also branched out into bridal wear, offering wedding dresses, footwear, and accessories
Is L.K. Bennett Eco-Friendly? | LKB Conscious
L.K. Bennett presents itself as a champion of slow fashion with a focus on creating clothing that you can wear forever.
The brand's 'LKB Conscious' program seeks to achieve the hallmark LK Bennett quality using sustainable, ethical, and responsible practices that protect the community and our planet.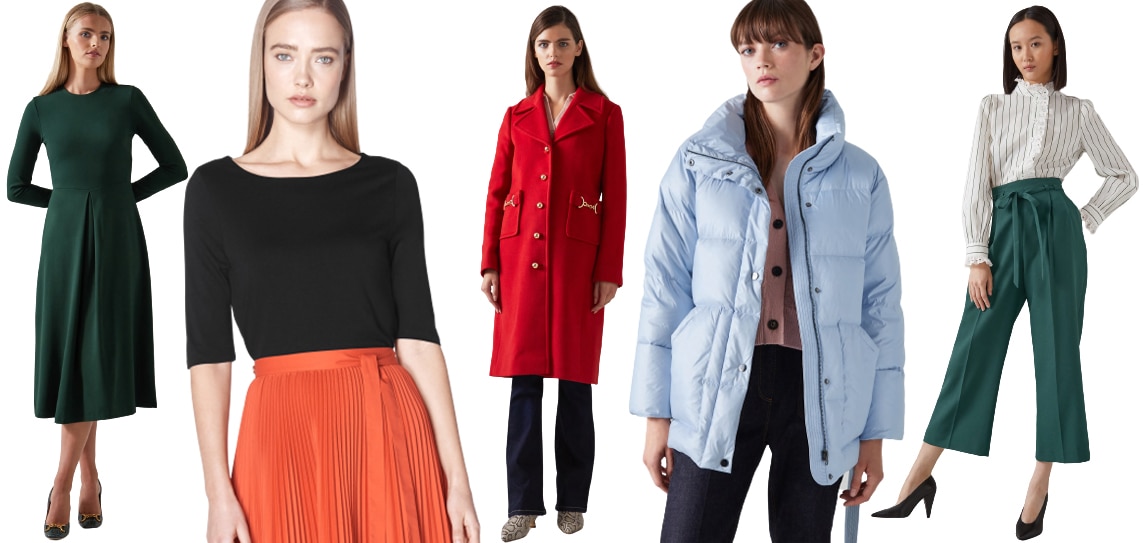 LK Bennett has an LKB Conscious program, wherein they incorporate organic cotton, recycled cotton, and recycled down in their manufacturing process
The brand is incorporating organic cotton, recycled cotton, and recycled down into its manufacturing process.
LK Bennett describes itself as not being "throwaway fashion" with a commitment to "continue to champion slow, and increasingly, sustainable fashion in our future."
Most LK Bennett shoes are made in Spain, with the origins of the brand's clothing and accessories varying.
L.K. Bennet's 4 Best-Selling Products
Although L.K. Bennett releases seasonal collections, many of its best-selling products have become part of its permanent range or are re-released each season in updated colors and patterns.
We're rounding up some of the most popular LK Bennett products that you can still buy today.
1. Sledge Patent Platform Courts
The "Sledge" platform heels are LK Bennett's best-selling product. They were everywhere you looked in British fashion from 2011 to 2014, at the height of Kate Middleton's relationship with the brand.
An LK Bennett classic, the Sledge pumps are crafted in Spain from glossy patent leather and have an almond-shaped toe, a slim 0.5-inch platform, and a 4-inch stiletto heel
These heels sit at a more attainable price point than designer heels from brands like Jimmy Choo, Christian Louboutin, and Manolo Blahnik.
These shoes are available in nude, black, and navy as closet staples that you'll reach for every season. Its almond toe makes it a shoe that will stand the test of time.
2. Fern Pointed Toe Courts
Another pair of LK Bennett shoes in Kate Middleton's closet is the "Fern" pump with a slim silhouette. It's a more contemporary take on the "Sledge" heels and has gone on to become one of the brand's best-selling styles.

The Fern court shoes feature a classic pointed-toe silhouette with a single sole and a slender 3.9-inch heel
The "Fern" heels are made in Spain using soft leather with a pointed toe and 100mm stiletto heel. The "Fern" heels are also available in suede and velvet, making them a cornerstone in the LK Bennett footwear range.
3. Dora Suede Envelope Clutch
The "Dora" clutch is another LK Bennett accessory made famous by the Duchess of Cambridge. This envelope clutch is owned by Kate Middleton in several colors, including a green version that she wore on a royal visit to Dublin.
A signature LKB style, the Dora Suede Envelope Clutch is roomy enough for your evening essentials and has a handy inside pocket and a detachable chain shoulder strap
LK Bennett re-releases the "Dora" clutch in several color options throughout the year with the latest suede styles, including scarlet red and sweet pea pink.
4. Alexis Wool Crepe Shift Dress
The "Alexis" dress is a style that's evolved with the LK Bennett brand. It's one of its most sustainable dresses and is made using surplus fabric and crafted in Europe with 100% wool crepe.
This asymmetric dress is a knee-length shift shape that can be styled as workwear or elegant attire for cocktail parties, weddings, and romantic dinners.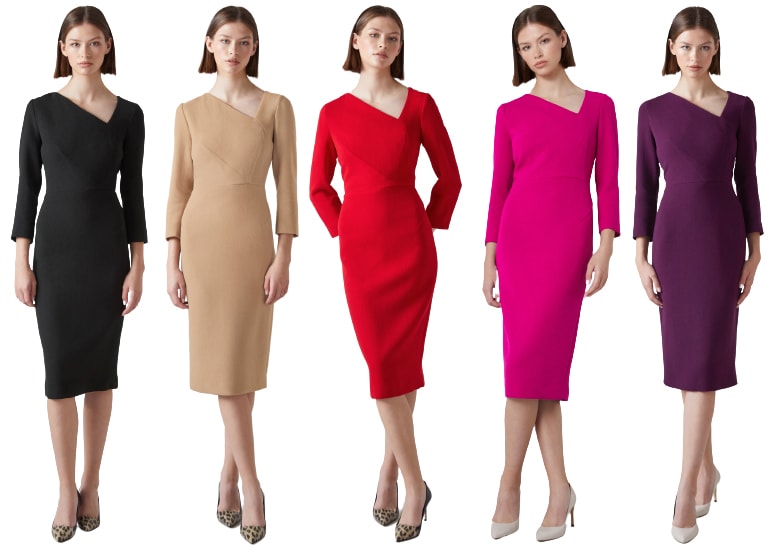 The Alexis dress is made from sustainable surplus fabric and features an asymmetric neckline, darting detail, long sleeves, a fitted, knee-length shift shape
How Does LK Bennett Sizing Work?
LK Bennett sizing is shown as standard in UK sizing, which differs from American sizing. You can also select EU and US sizing on the LK Bennett website.
To convert LK Bennett shoe sizes, you can use the following shoe size conversion chart.
| uk size: | us size: | euro |
| --- | --- | --- |
| 2 | 4 | 35 |
| 3 | 5 | 36 |
| 4 | 6 | 37 |
| 5 | 7 | 38 |
| 6 | 8 | 39 |
| 7 | 9 | 40 |
| 8 | 10 | 41 |
| 9 | 11 | 42 |
It's worth double-checking the sizing of an LK Bennett product to ensure you're searching for the correct sizing for your country.
The brand's products typically run true to size and can sometimes be larger than standard sizes. LK Bennett ready-to-wear is easy to tailor, with its footwear also available in half sizes.
LK Bennett is a brand making a comeback after falling into administration in 2019. You can own a piece of royal fashion history by investing in LK Bennett shoes or ready-to-wear.