Beyonce's daughter Blue Ivy was only 4. Still, she was already making friends with the people that would further her Hollywood career — starting with none other than Oscar winner and The Secret Life of Bees actress Jennifer Hudson.
The singer received Little B's stamp of approval for her performance at the 2016 CFDA Awards in New York.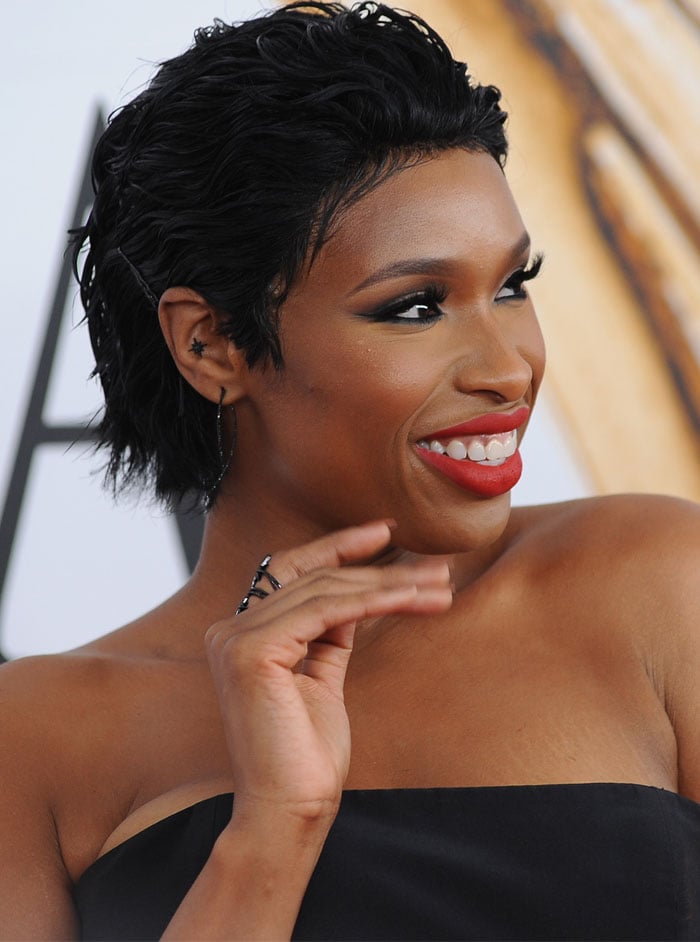 Jennifer Hudson shows off her clipped hair at the 2016 CFDA Fashion Awards held on June 6, 2016, in New York (Credit: Ivan Nikolov / WENN)
Eight years earlier, Jennifer Hudson was 27 years old when she appeared in the 2008 American drama film The Secret Life of Bees based on the novel of the same name by Sue Monk Kidd that you can buy on Amazon.
Dakota Fanning was 14 years old when The Secret Life of Bees was released in the United States on October 17, 2008.
Hudson was widely praised for her performance in the role of Rosaleen, a maid and mother figure to a teenage girl named Lily Owens (Dakota Fanning).
Director Gina Prince-Bythewood arranged for actors to stage an incident where Jennifer Hudson was verbally and racially abused while shopping to help Hudson understand the racially tense environment of the film's time period and to aid in her character development.
Dakota Fanning as Lily Owens and Jennifer Hudson as Rosaleen "July" Daise-Boatwright in the 2008 American drama film The Secret Life of Bees (Credit: Fox Searchlight Pictures)
"We had very little rehearsal time, and Jennifer was coming off of the whole Oscar experience and was in a whole other world (laughs). So she could get in Rosaleen's head, I set up an improvisation and hired some White actors to be in a drug store and told her and Dakota to meet me there. I told them it was an improvisation but I didn't know that Jennifer thought it was real,"American film director Gina Maria Prince-Bythewood told Essence.
Actress/singer Jennifer Hudson arrives at the Los Angeles Premiere of "The Secret Life Of Bees" at The Academy of Motion Arts & Sciences on October 6, 2008, in Beverly Hills, California (Credit: S_Bukley / Shutterstock)
"My only direction to her was not to hit anybody. The shopkeeper followed her around and accused her of stealing. When Jennifer would ask for help, another one would turn and answer to Dakota. The third guy used the N-word and I saw Jennifer's head whip over to him and I got scared for a second. She said all she remembered was not to hit anybody (laughs). When I talked to them afterward about what they got out of it, Jennifer said the hardest thing was feeling invisible. It was great bonding for [Fanning and Hudson]."
Jennifer Hudson stuns on the pink carpet in a red-and-black Prabal Gurung gown (Credit: Ivan Nikolov / WENN)
At the 2016 CFDA Awards, Jennifer turned to Prabal Gurung for her voluminous two-toned gown.
The strapless dress showed off Jennifer's toned arms. It featured a red-and-black design, which included an inner red lining that matched the geometric panels on the front of the gown.
Jennifer Hudson matches her red lipstick to the designs on her Prabal Gurung gown (Credit: Ivan Nikolov / WENN)
The gown also conveniently featured the brand's signature high-low hem, offering an easy peek at Jennifer's shoes: The Kurt Geiger "Bond" pumps in black that you can buy at Nordstrom and Zappos.
Jennifer Hudson's feet in black Kurt Geiger pumps
The Dreamgirls actress could not contain her happiness when she saw Blue Ivy bouncing to her Prince tribute and uploaded the snippet on her Instagram and proclaimed that it was the highlight of her night.
Yes, it looks like Blue Ivy's dancing even topped Jennifer's Prince tribute, which she performed in a $1.7 million Swarovski crystal-clad jumpsuit. It even topped Jennifer's experience meeting Anna Wintour.
Black Kurt Geiger "Bond" Suede Pumps, $299.99