While many were focused on what Kate Middleton's wedding dress was going to look like, we couldn't wait to find out what shoes the bride wore on her big day.
Kate finally stepped out and debuted her classic, lace-bodiced, high-collared, long-sleeved Alexander McQueen dress a little before 6:00 AM ET but as it always is with affairs concerning long gowns, we had to wait much, much longer before finding out what shoes she was wearing on her dress-concealed, hem-covered feet.
We scoured each and every photo from the royal wedding as soon as they were uploaded on the internet. But with the huge skirt and the long train on Kate's dress, it wasn't proving to be very fruitful for us.
Catherine Middleton arrives at Westminster Abbey with her sister and Maid of Honor Pippa Middleton to marry Prince William on April 29, 2011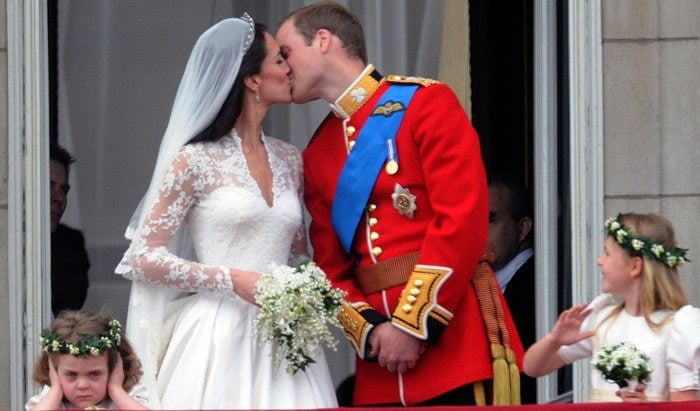 Prince William and Catherine Middleton kiss on the balcony at Buckingham Palace in London on April 29, 2011
Finally, at 9:00 PM today, the Royal website mercifully relieved us of our shoe speculation suffering and revealed that Kate also wore Alexander McQueen shoes.
According to the website, Kate's shoes were handmade by McQueen successor Sarah Burton and her design team and "are made of ivory Duchesse satin with lace hand-embroidered by the Royal School of Needlework".
How official!
Still, no actual pictures of Kate Middleton and her Alexander McQueen shoes but Net-A-Porter has put up this similar lace-covered nude satin pump up for sale on their website:
Alexander McQueen Lace-Covered Satin Pumps, $995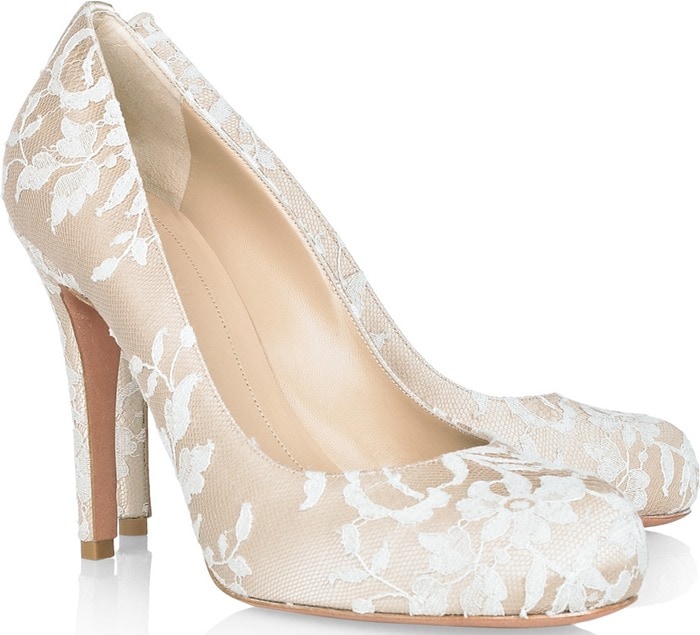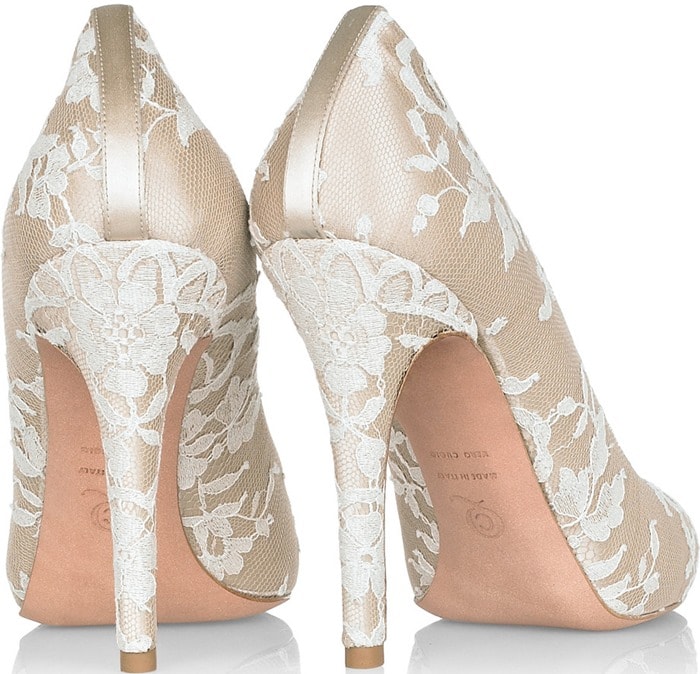 Brides-to-be, Alexander McQueen loyalists and moneyed royal wedding fanatics alike can get a part of Kate Middleton's wedding look with these pumps also by Alexander McQueen.
While we ponder if nearly a thousand dollars is too much for a pair of wedding shoes or is actually too little for a piece of history, we're going to continue our search for pictures of Kate Middleton's shoes on her wedding day. So far, it's proving to be the holy grail of the royal wedding. Wish us luck!
Credit: Anwar Hussein / WENN