That's it. I really can't ignore this trend anymore.
I thought it was just like an inside joke among a handful of designers and it would pass us like a breeze, but after seeing it as part of the new arrivals at Saks Fifth Avenue and Nordstrom (places where people can easily buy them), I had to stop laughing and realize that this is all serious and for real.
Dear readers, I'm talking about flatforms:
Ann Demeulemeester Leather Platform Sandals, $930.00
Derek Lam Stacked Wedge Platform Pumps, $590.00
Fendi Colorblock Platform Slingback Sandals, $895.00
Jimmy Choo Pepper Platform Espadrilles, $375.00
Prada Patent Leather Platform Sandals, $650.00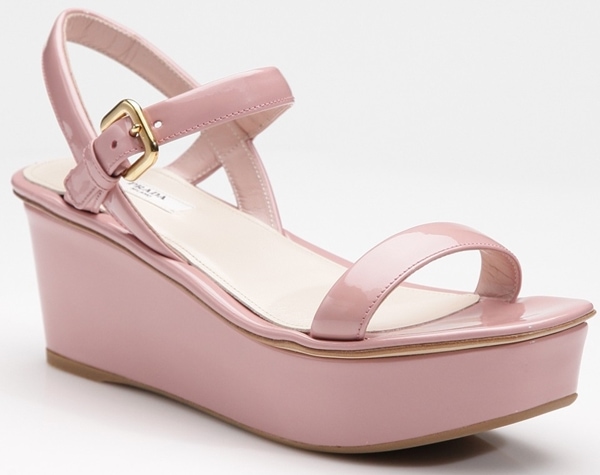 Valentino Canvas Wedge, $445.00
Let's see here: that's Ann Demeulemeester, Derek Lam, Fendi, Jimmy Choo, Prada and even the classically sexy Valentino who are getting in on this trend.
Okay, I have to give it to Valentino for adding a feminine floral detail and for retaining some of the sexy arches, but it still doesn't hide the fact that these are FLAT shoes. Imagine trying to walk in these: not only will the flatness hinder the ball-to-heel action we make while walking, but the rigidity will also increase your chances of tripping, something that is so not sexy.
I understand that we all need a break from high heels from time to time, but do flatforms need to be the alternative? Saks Fifth Avenue's Fashion Director Colleen Sherin even told Shine that flatforms "work very well with a fit-and-flared trouser or that 1970s-style jean that we're loving" and "with the new longer length skirts and dresses that we saw for spring", but it's a job that our beloved flats and wedges can do too.
Flatforms have been declared as the new "It" shoe for Spring 2011. Would you give this shoe trend a try?