Mytheresa is a globally recognized luxury fashion e-commerce platform operating since 1987, offering a wide range of designer ready-to-wear shoes, bags, and accessories for women, men, and children.
In 2006, they expanded their reach by launching their online platform, and in 2022, they further diversified their offerings by adding home décor and lifestyle products in the "Life" category.
The company sells a wide range of designer clothing, shoes, bags, and accessories from over 200 brands. Mytheresa is available in over 130 countries and offers free shipping on orders over $300.
Is Mytheresa a Legit Retailer?
Yes, Mytheresa is a legit retailer known for its high-quality products and excellent customer service.
The company has a team of experienced stylists who can help customers find the perfect outfit for any occasion. Mytheresa offers payment options, including PayPal, credit cards, and wire transfers.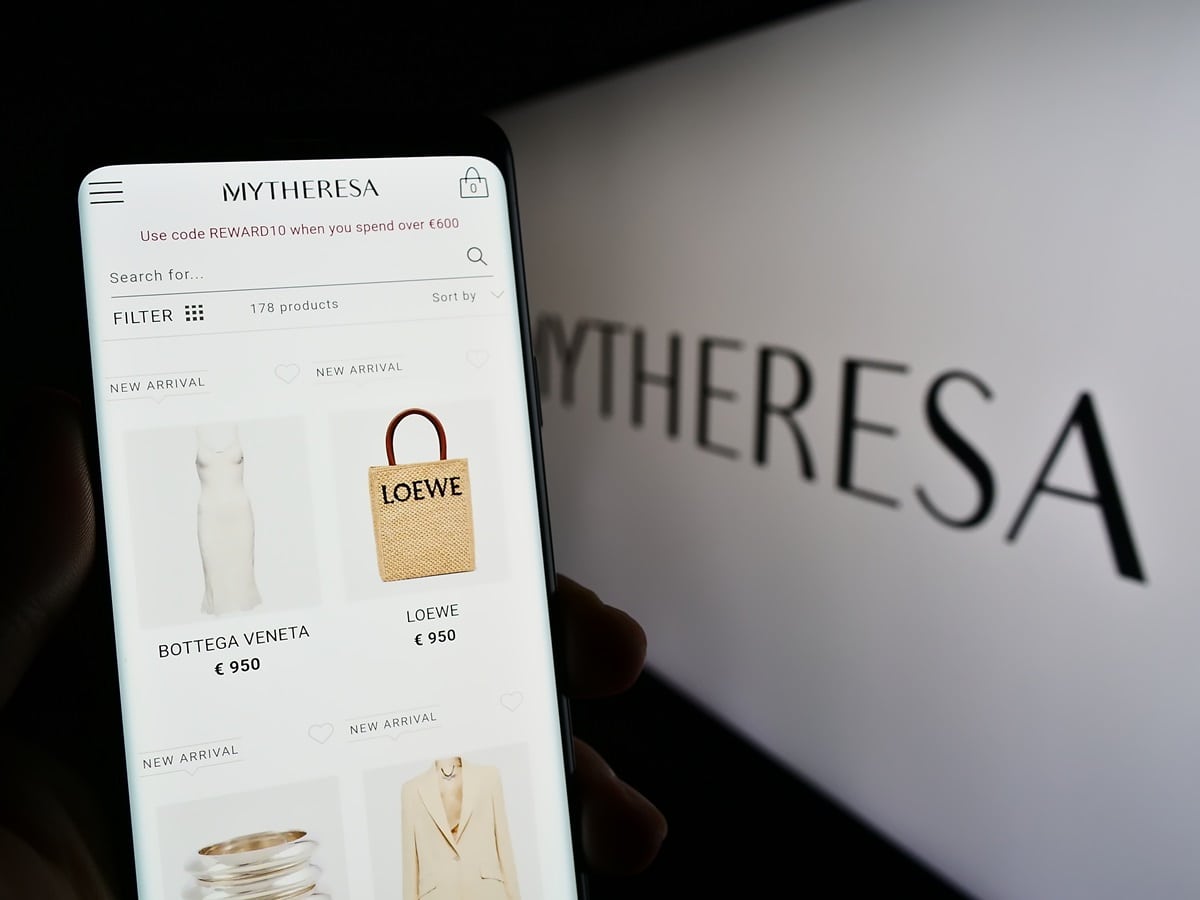 To find the best Mytheresa promotion codes, regularly check their website, sign up for their email newsletter, and follow them on social media for exclusive discounts and promotions (Credit: T. Schneider / Shutterstock)
In 2017, the company launched a new website and mobile app that offer a more personalized shopping experience. Mytheresa has also opened several brick-and-mortar stores in Europe and Asia.
How to Find the Best Mytheresa Promotion Codes
Here are some tips on how to find the best Mytheresa promotion codes:
Check Mytheresa's website regularly: Mytheresa often runs promotions and sales, so it's a good idea to check their website regularly for the latest deals.
Sign up for Mytheresa's email newsletter: Mytheresa will send you exclusive discounts and promotions if you sign up for their email newsletter.
Follow Mytheresa on social media: Mytheresa often posts about promotions and sales on their social media pages.
Mytheresa Returns and Exchanges Policy
Mytheresa understands the importance of customer satisfaction and aims to provide a delightful shopping experience. If you are unsatisfied with your purchase, Mytheresa offers a hassle-free returns and exchanges policy.
Customers can return any item within 30 days of receipt. To ensure a smooth return process, please follow the instructions provided by the carrier that initially shipped your order. Proper packaging is appreciated to prevent any damage during transit.
Discover a stunning selection of 16 must-have boots, heels, and sandals from Mytheresa that are bound to leave a lasting impression and elevate your style:
16. Rockstud M-Way Combat Boots by Valentino Garavani, $2,850 on Mytheresa
The Rockstud M-way combat boots by Valentino Garavani are crafted from brushed leather and adorned with a removable feather detail attached via a Velcro strap
15. Y/Project's Innovative Knee-High Boots, $1,550 on Mytheresa
Y/Project's leather knee-high boots, featuring stiletto heels and detachable appliqués secured with snap buttons, exemplify this unique approach to style

14. Puddle Boots: A Water-Resistant, Directional Look, $820 on Mytheresa
The Bottega Veneta Puddle boots feature bulky, rounded toes, mid-platform soles, and a rubber construction that offers water-repellency while creating a stylish and avant-garde aesthetic

13. Christian Louboutin's Striking Astrilarge Botta Pika Boots, $3,995 on Mytheresa
The Astrilarge Botta Pika boots, designed by Christian Louboutin and handcrafted in Italy, are a striking fashion statement

12. Aquazzura Tequila Pleaxi 105 Sandals, $1,395 on Mytheresa
Meticulously crafted in Italy from polished specchio leather in shimmery silver and clear PVC, this sophisticated style is designed with dazzling crystals across the slender straps, an adjustable buckle at the ankle, and sits on a seductive stiletto heel
11. Bogner's Skiwear Revolution: Les Arcs Snow Boots, $1,255 on Mytheresa
Bogner has redefined skiwear by creating versatile designs that effortlessly transition from the slopes to the chalet, exemplified by the Les Arcs snow boots featuring shaggy shearling and Michelin soles for optimal traction
10. Christian Louboutin's Brodeback Lug Botta Alta Thigh-Length Boot, $3,495 at Mytheresa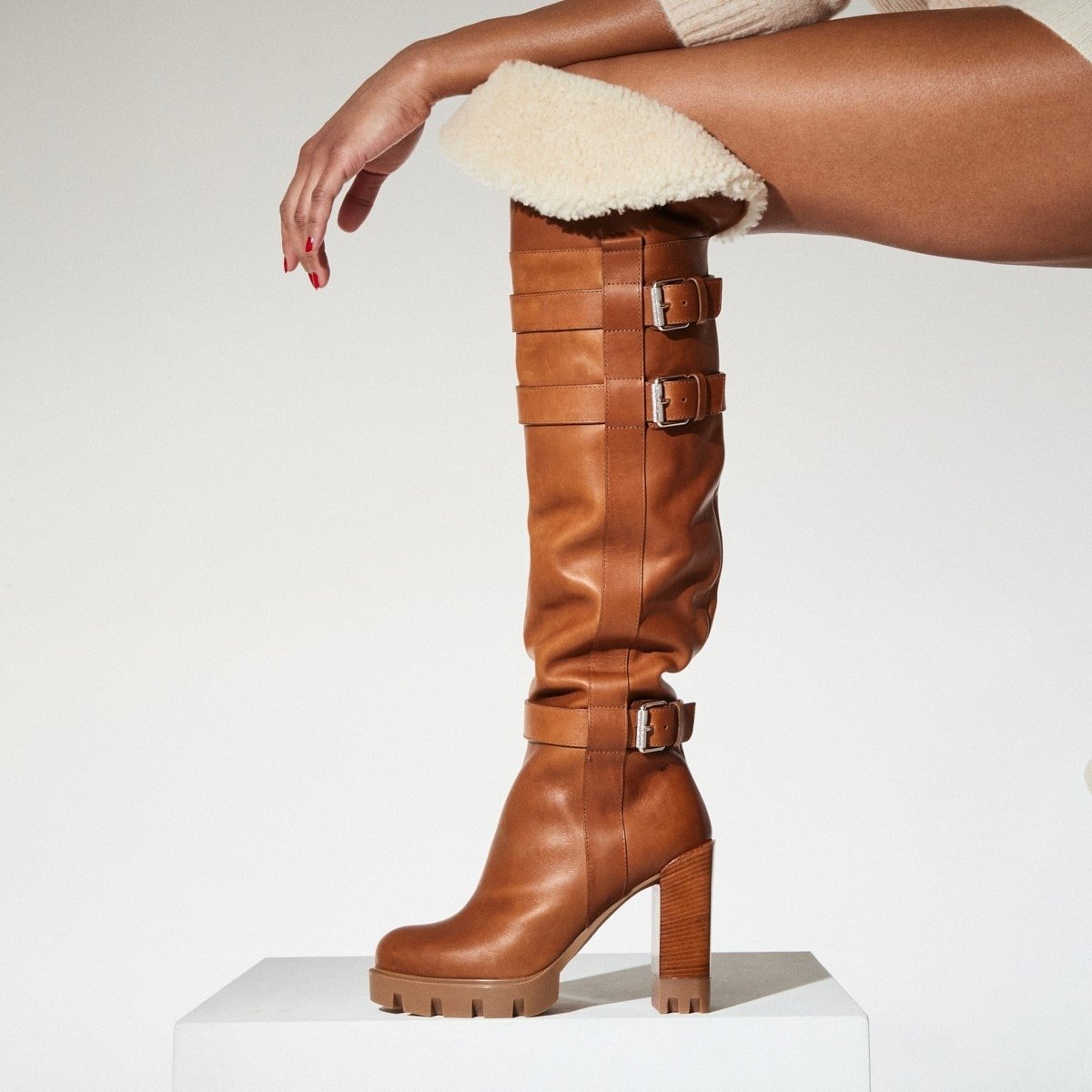 This luxurious boot is meticulously crafted from Terra brown waxed leather, beautifully complemented by white wool encasing the leg, creating a sophisticated and stylish look

9. Simone Rocha Trek Sandals – Clear PVC Lace-Up Design with Slanted Block Heels, $871 (30% off) on Mytheresa
Simone Rocha's Trek sandals feature a lace-up design made of clear PVC, thick rubber soles, slanted block heels, and a comfortable leather insole
8. MM6 Maison Margiela Padded Ankle Boots, $430 on Mytheresa
MM6 Maison Margiela has ingeniously reimagined timeless wardrobe staples infused with a rebellious spirit aimed at shattering norms.
These ankle boots, featuring a rounded toe and cushioned design, boast a substantial rubber sole and a slip-on construction, ensuring effortless wearability
7. Unveiling the Timeless Elegance of Givenchy's Shark Lock Ankle Boots, $1,995 on Mytheresa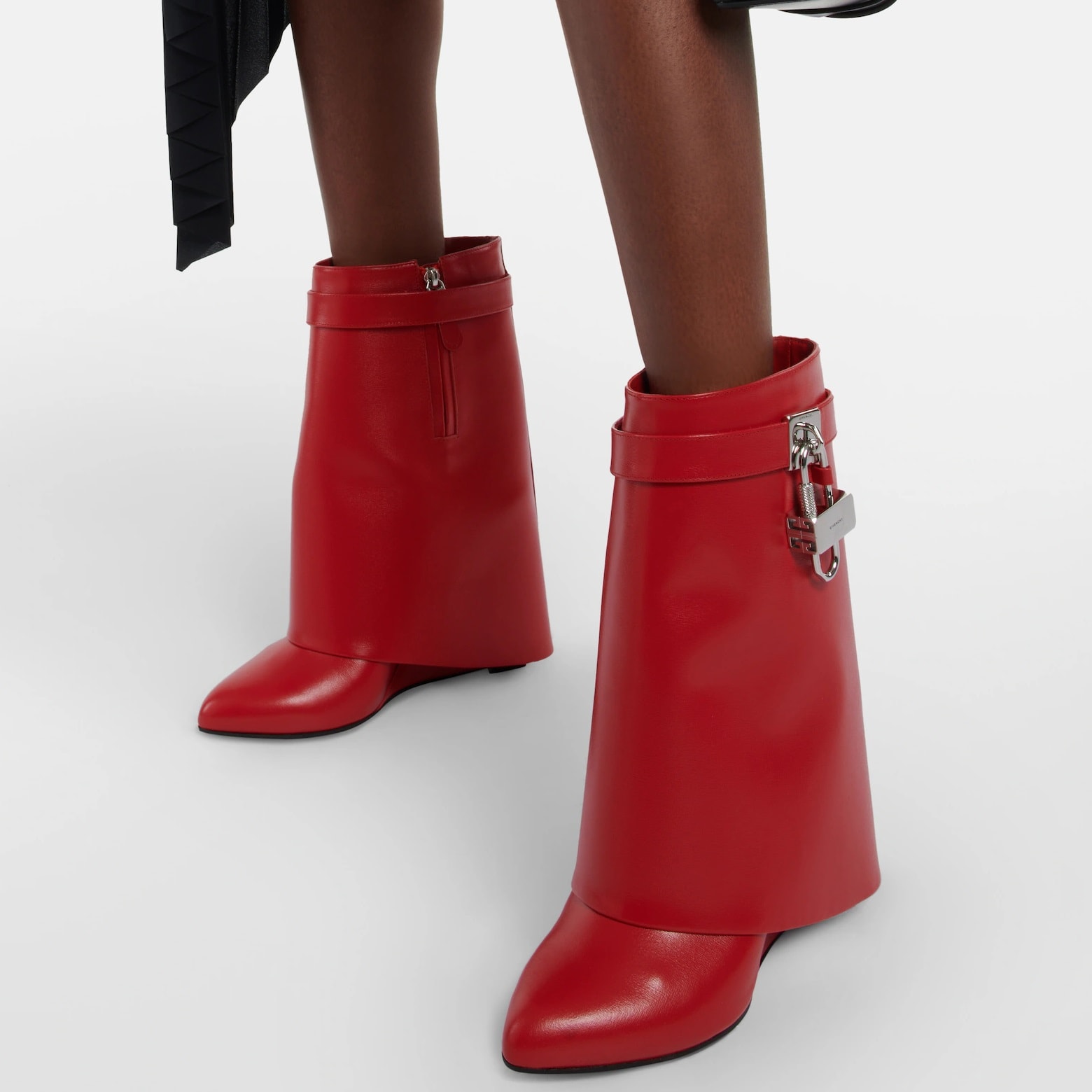 Crafted in Italy from polished calfskin, Givenchy's iconic Shark Lock ankle boots showcase fold-over shafts and boast high wedge heels for an added touch of allure

6. Aquazzura's Gatsby Slingback Pumps: The Party Shoes of the Season, $1,250 on Mytheresa
Made from elongating clear PVC and enhanced with 105mm stiletto heels, Aquazzura's Gatsby slingback pumps will make you feel confident and glamorous with crystal braids atop the pointed toecaps that add a touch of luxury and sophistication

5. Christian Louboutin Sevillana Sandal: A Fiery Celebration of Andalusian Culture, $1,095 on Mytheresa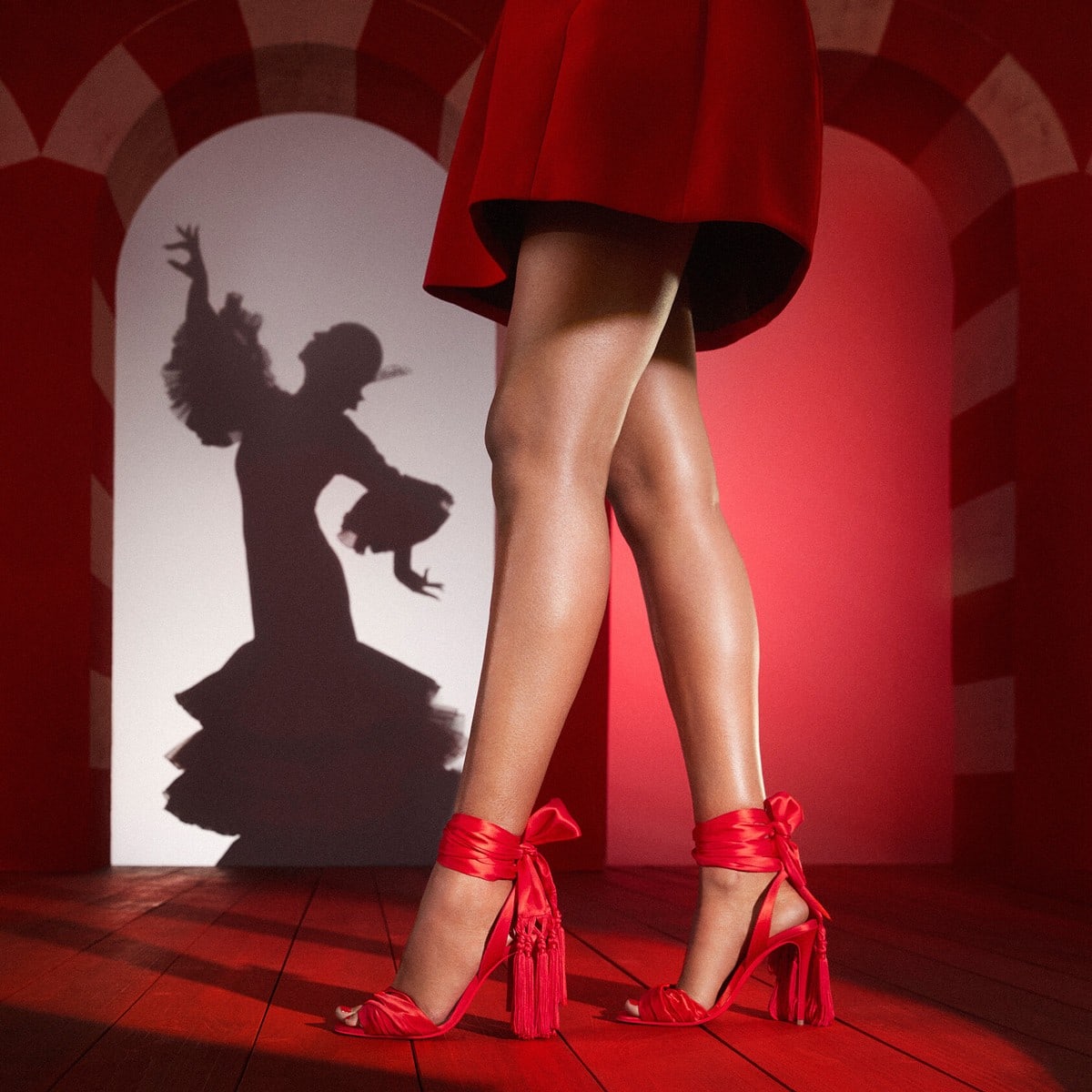 Inspired by the traditional Manila shawls worn by flamenco dancers, the Christian Louboutin Sevillana sandal features a plissé front, 100mm stiletto heel, and a feminine scarf tie with five passementerie tassels
4. Givenchy's Black G-Clog Boots with a Chunky Platform Sole and Architectural Rounded Heel, $906 (30% off) on Mytheresa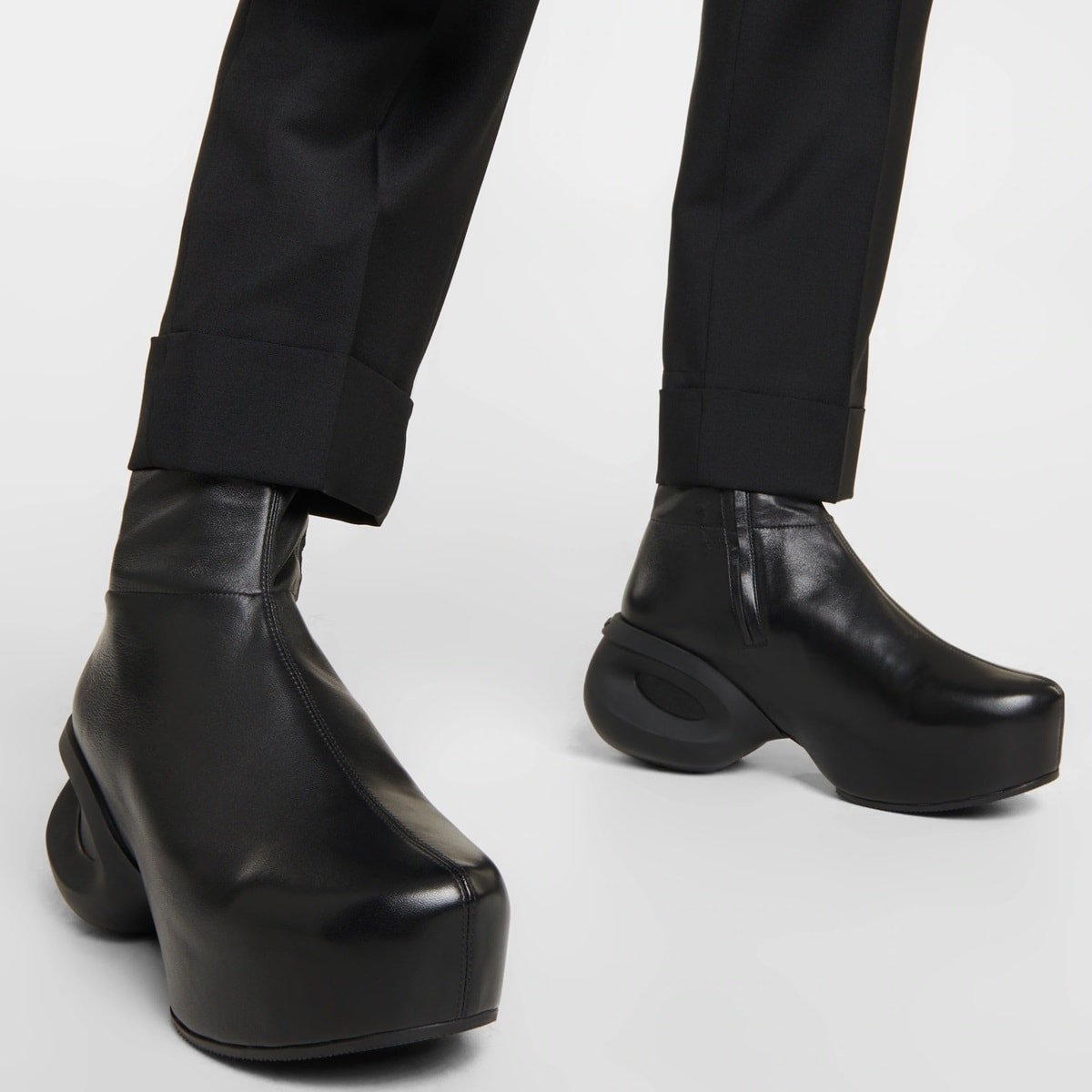 Givenchy masterfully balances style and comfort with these edgy Black G-Clog boots

3. Ankle Bootie With Classic Five-Pocket Trouser Details And Petal-Shaped Toe, $2,200 on Mytheresa
Established in 1846 as a leather goods enterprise, Loewe remains dedicated to the fusion of artistry and craftsmanship, upholding the highest quality standards.
Drawing inspiration from pant designs, the Toy ankle boots exemplify exquisite workmanship, constructed using sections of nappa lambskin leather.
These boots feature the distinctive petal-shaped toes and glossy toy heels that are a signature of the Spanish luxury fashion house Loewe
2. Stylish Knee-High Denim Boots With Appliqué Details from Y/Project, $2,067 on Mytheresa
Transform your edit with designs like these knee-high boots from Y/Project, a Parisian fashion brand founded in 2013 by Glenn Martens and known for its experimental and avant-garde designs.
Made from dyed denim and lined with leather, this pair features stiletto heels and appliqué detailing secured with snap buttons
1. Soulier Martinez Lola Boots: A Strong Look With Comfortable Heels, $409 on Mytheresa
Soulier Martinez' Lola boots are handcrafted in Portugal from stretchy faux leather that ensures a form-fitting fit.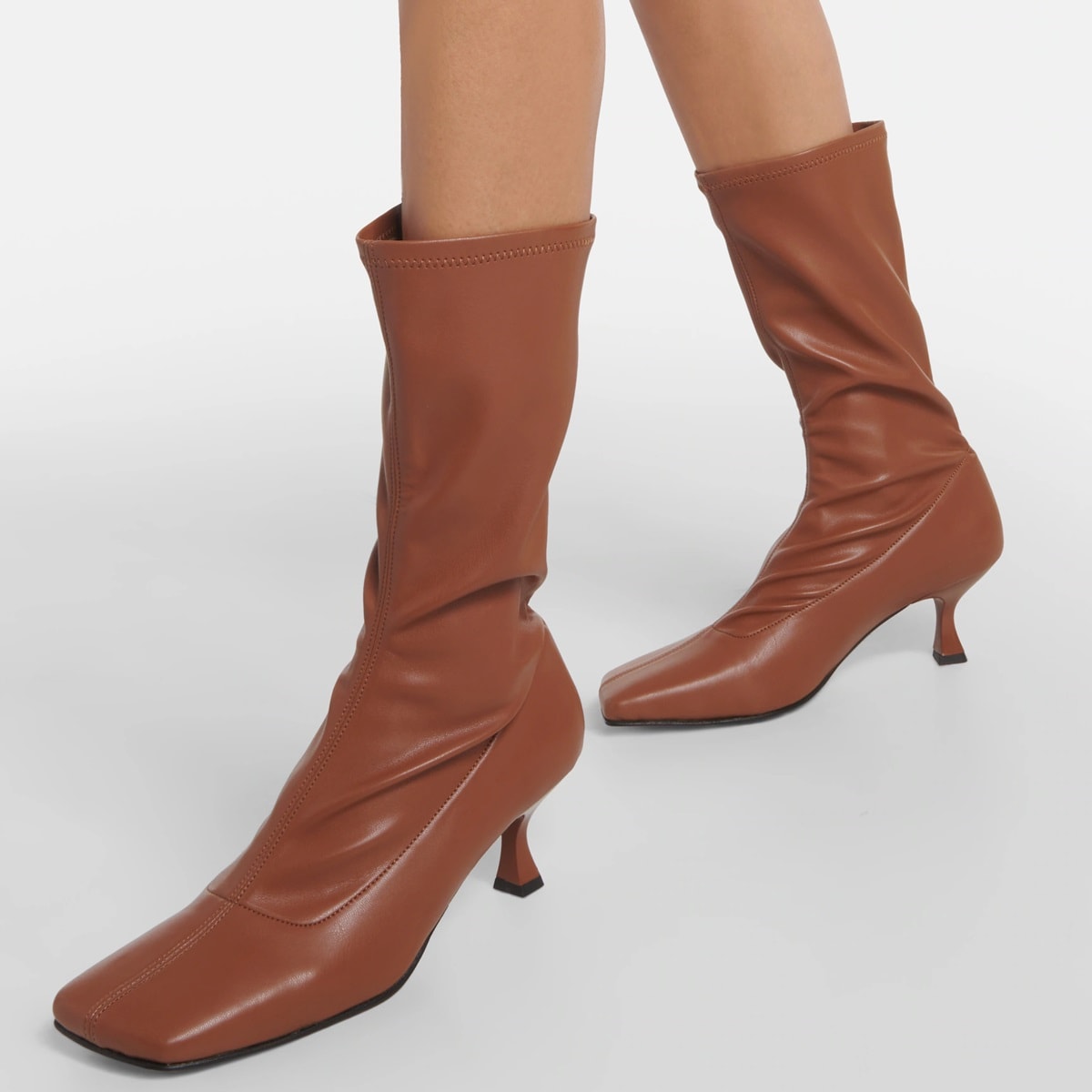 These Souliers Martinez Lola faux leather ankle boots feature a squared toe and stable, comfortable heels that give them an intense yet feminine look