After six years of dating, Kirsten Dunst and Jesse Plemons have finally tied the knot!
The couple secretly married at the GoldenEye resort in Ocho Rios, a luxury Jamaican location perfect for two Hollywood sweethearts to say "I do." The wedding took place over the Fourth of July weekend.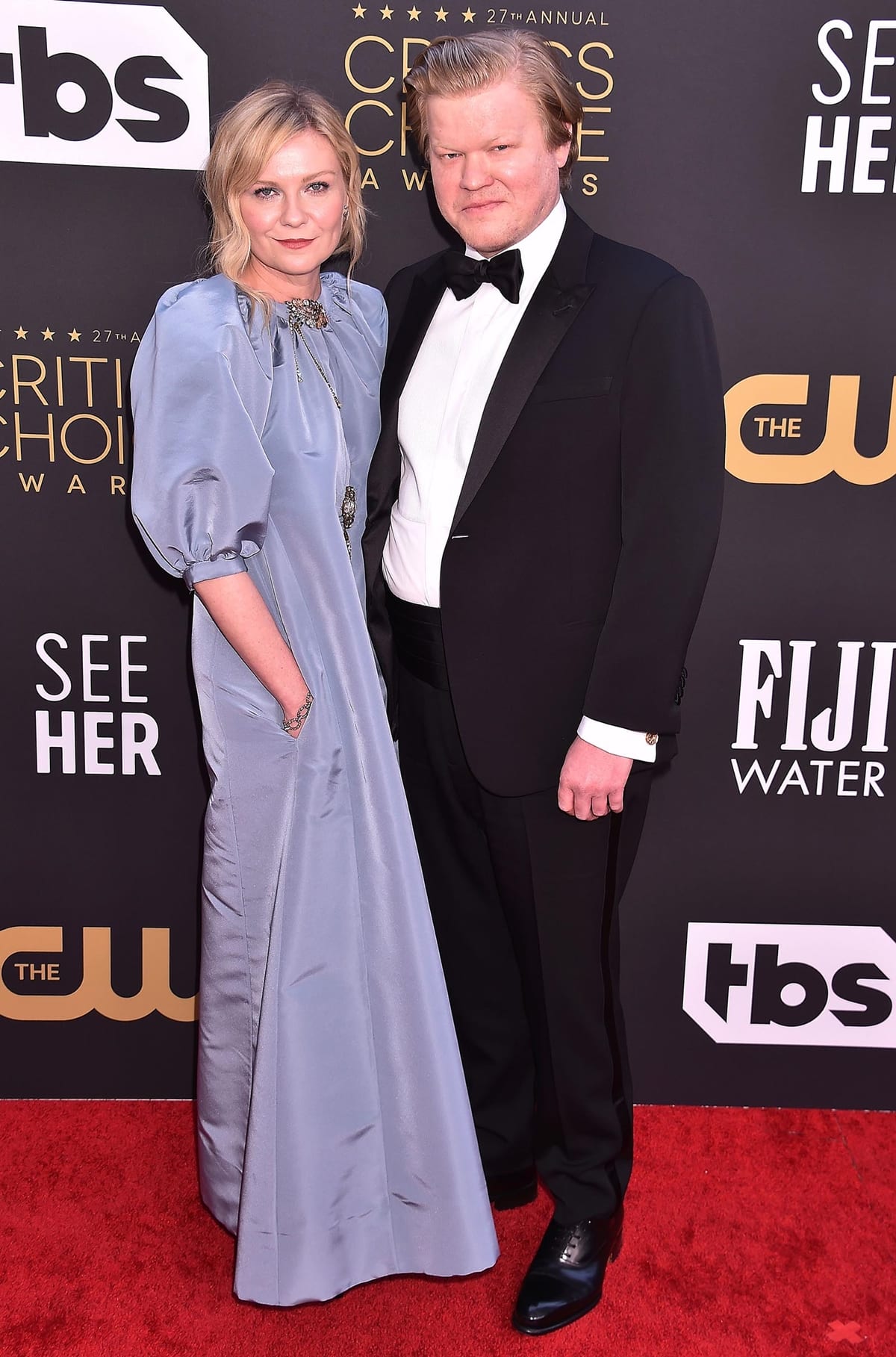 Jesse Plemons in a Giorgio Armani Made to Measure tuxedo and Santoni shoes and Kirsten Dunst in a silver-blue Julie de Libran Couture dress with bishop sleeves, Roger Vivier shoes, and Fred Leighton jewelry attend the 27th Annual Critics Choice Awards at Fairmont Century Plaza on March 13, 2022, in Los Angeles, California (Credit: PAPIXS / INSTARimages)
"I can just confirm they got married. No other details will be given," Dunst's rep told Page Six.
The location is well known amongst celebrities and was reportedly where Sting wrote his hit "Every Breath You Take," and Ian Fleming penned the James Bond novels.
How Did They Meet?
The famous couple has been together since 2016. They met on the set of FX's Fargo in 2015, where they played a married couple. They got together shortly after Dunst split from her long-term boyfriend, Garrett Hedlund.
Dunst dated Hedlund for four years. Their last public appearance was at the Golden Globes in January 2016, and many fans were shocked by the split.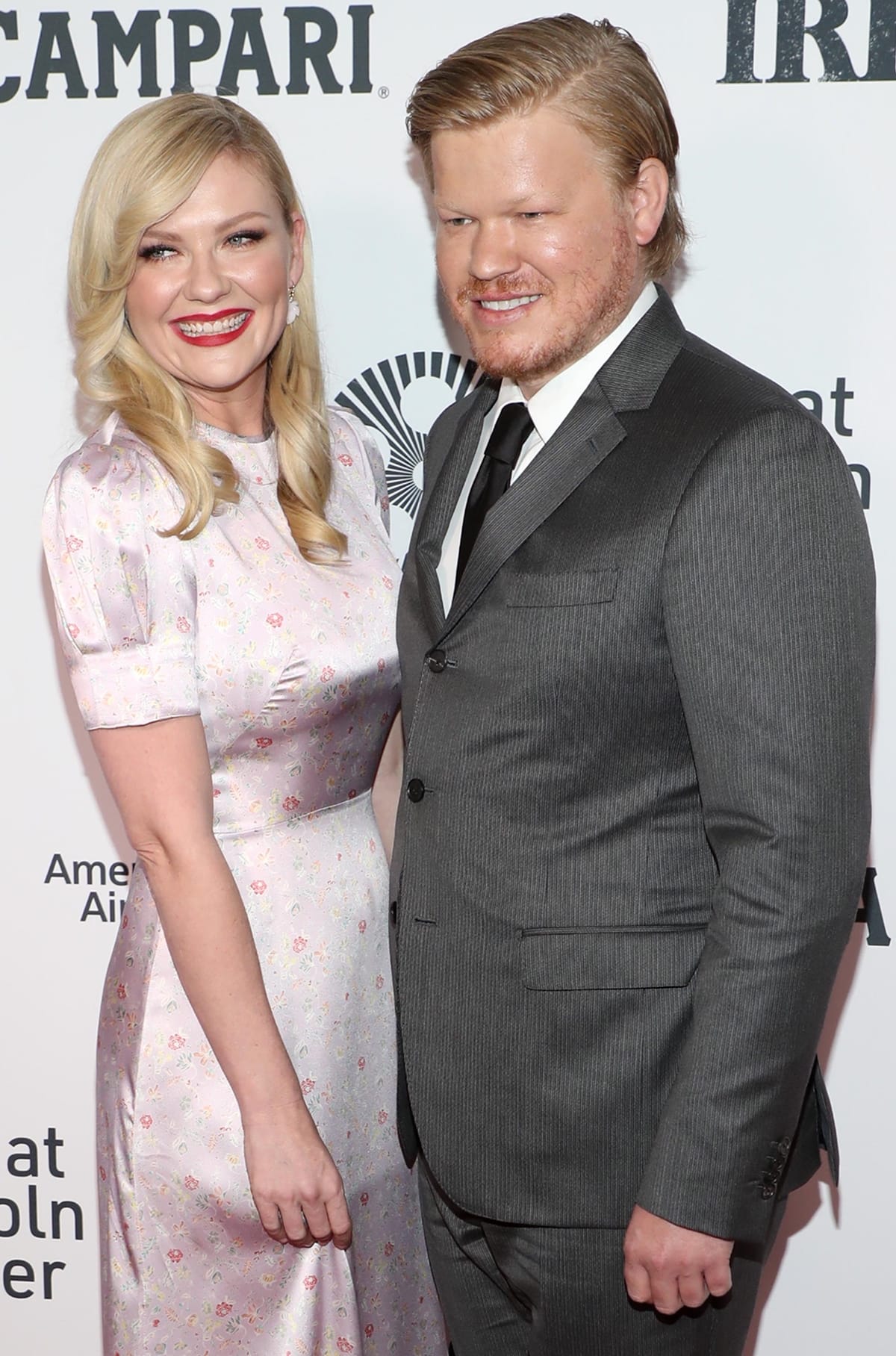 Kirsten Dunst and Jesse Plemons met on the set of Fargo in 2015 but didn't start dating until 2016 (Credit: Startraksphoto / John Nacion)
Dunst has a well-known dating history, including Jacob Soboroff, Adam Brody, and Jake Gyllenhaal.
Compared to his wife, very little is known about Plemon's dating history. He dated Courtney Peterson from 2014 to 2015.
When Did They Start Dating?
After working together on the set of Fargo and being friends for some time, Plemons and Dunst made their first public appearance in June 2016, after rumors of their dating spread. The speculation wasn't far off, as the couple had been spotted sharing a smooch behind a fence.
The couple shares a six years age difference. Born on April 30, 1982, in Point Pleasant, a borough in Ocean County, New Jersey, Dunst is 40 years old and six years older than 34-year-old Plemons, who was born on April 2, 1988, in Dallas, Texas.
Dunst is 5ft 5 ½ (166.4 cm) and significantly shorter than her husband Plemons, who is 5ft 10 (177.8 cm).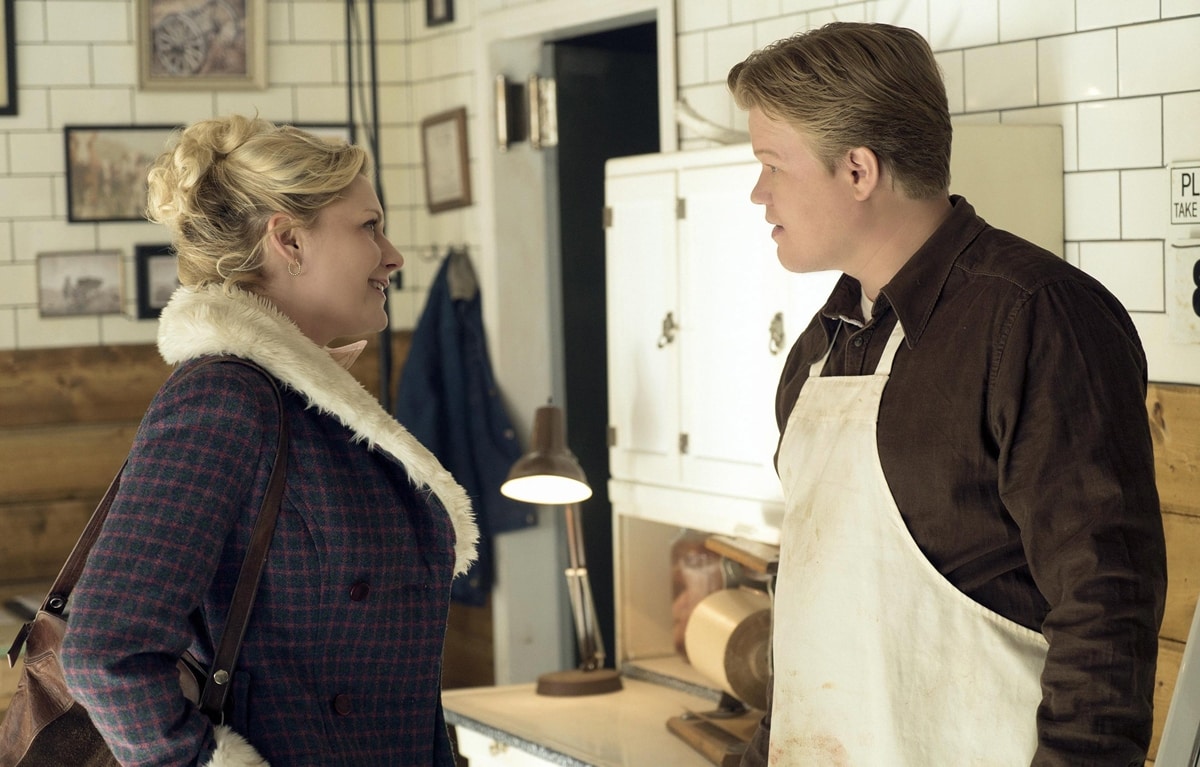 Kirsten Dunst as Peggy Blumquist and Jesse Plemons as Ed Blumquist in the American black comedy crime drama television series Fargo (Credit: FX)
The couple has kept their offscreen relationship on the down low, but that hasn't stopped them from occasionally gushing about their relationship.
Plemons said of meeting Dunst for the first time, "I don't often remember every detail about meeting someone… Immediately, without too many words being exchanged, I looked into her eyes and saw the beautiful, sweet, unguarded, welcoming human being that she is."
When Did They Get Engaged?
The couple reportedly got engaged in January 2017 over the Golden Globes weekend. By December of the same year, rumors were again swirling around the couple, where fans speculated that the actress was pregnant with her first child.
The star confirmed her pregnancy with a super chic portrait series entitled Women That Inspire Us for Rodarte's Autumn/Winter 2018 collection.
Pregnant Kirsten Dunst goes shopping with her six years younger boyfriend Jesse Plemons at Bloomingdale's in Los Angeles on April 4, 2018 (Credit: INSTARimages)
The monumental announcement came after Dunst told Marie Claire UK in 2017 that she was at a stage in her life where she was ready to have children.
"I'm at a stage in my life where I'm like, I've been working since I was 3. It's time to have babies and chill. I wasn't one of those 'I need a baby!' people until my goddaughter was born. I love her so much. That love is just like…you can't experience that unless you have a kid. I put her to bed last night and she woke up this morning and said to her mom, 'Where's Kiki?' I just love that love. That's what I want."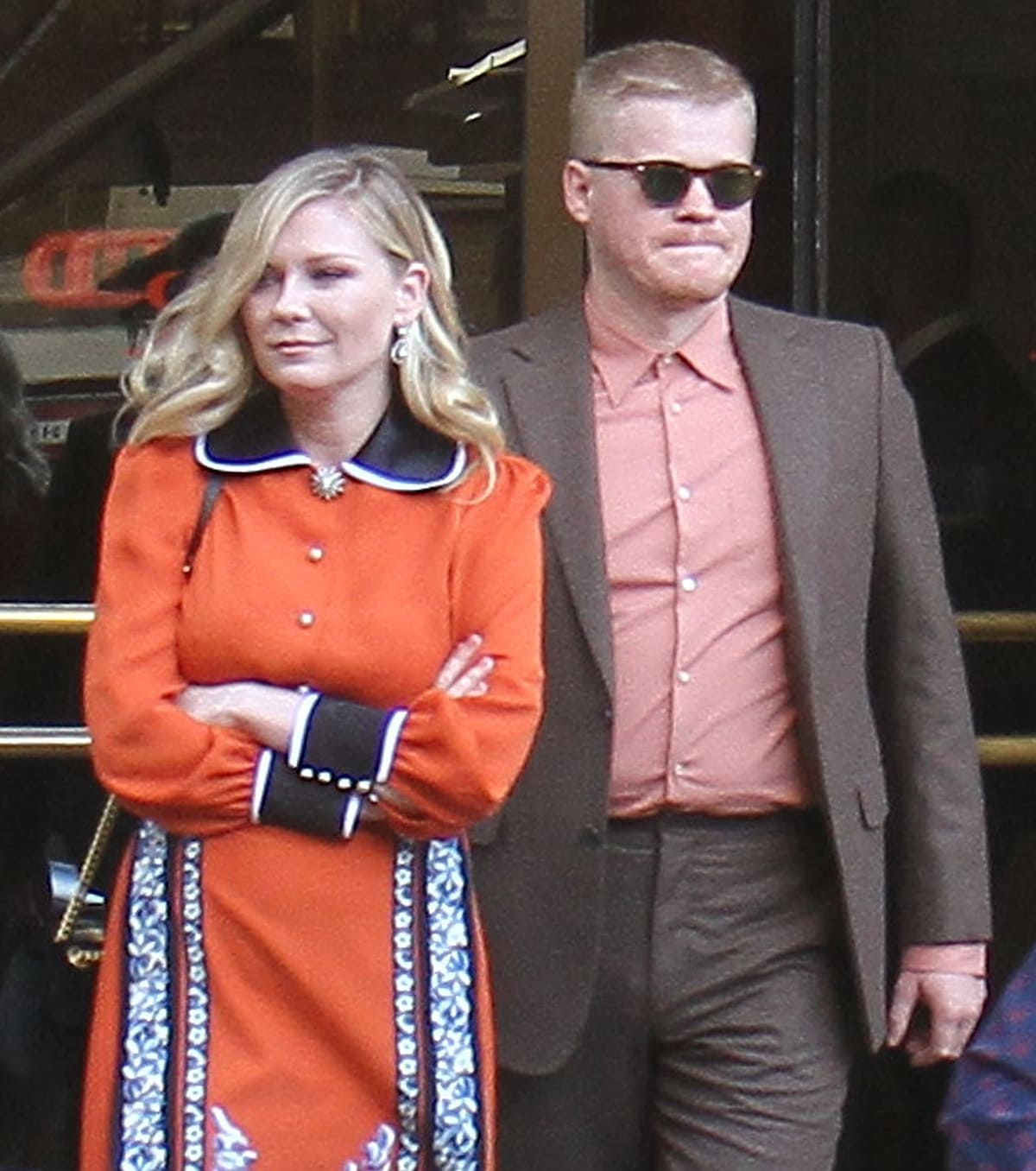 Kirsten Dunst and Fargo co-star Jesse Plemons leave the five-star Hotel Savoy in the heart of Florence, Italy, on May 29, 2017 (Credit: Firenze / IPA / INSTARimages)
The couple share son Ennis, who came into the world in May 2018, and son James, born in May 2021. She made her second pregnancy announcement in an equally star-worthy way when she appeared on the cover of W Magazine for its Directors Issue.
The Couple On Being Husband and Wife
The couple has called each other husband and wife for some time.
In August 2019, Dunst received a star on the Hollywood Walk of Fame, where Plemons called Dunst his "wife" in a speech during the ceremony. And Dunst talked about their postponed wedding in February 2022.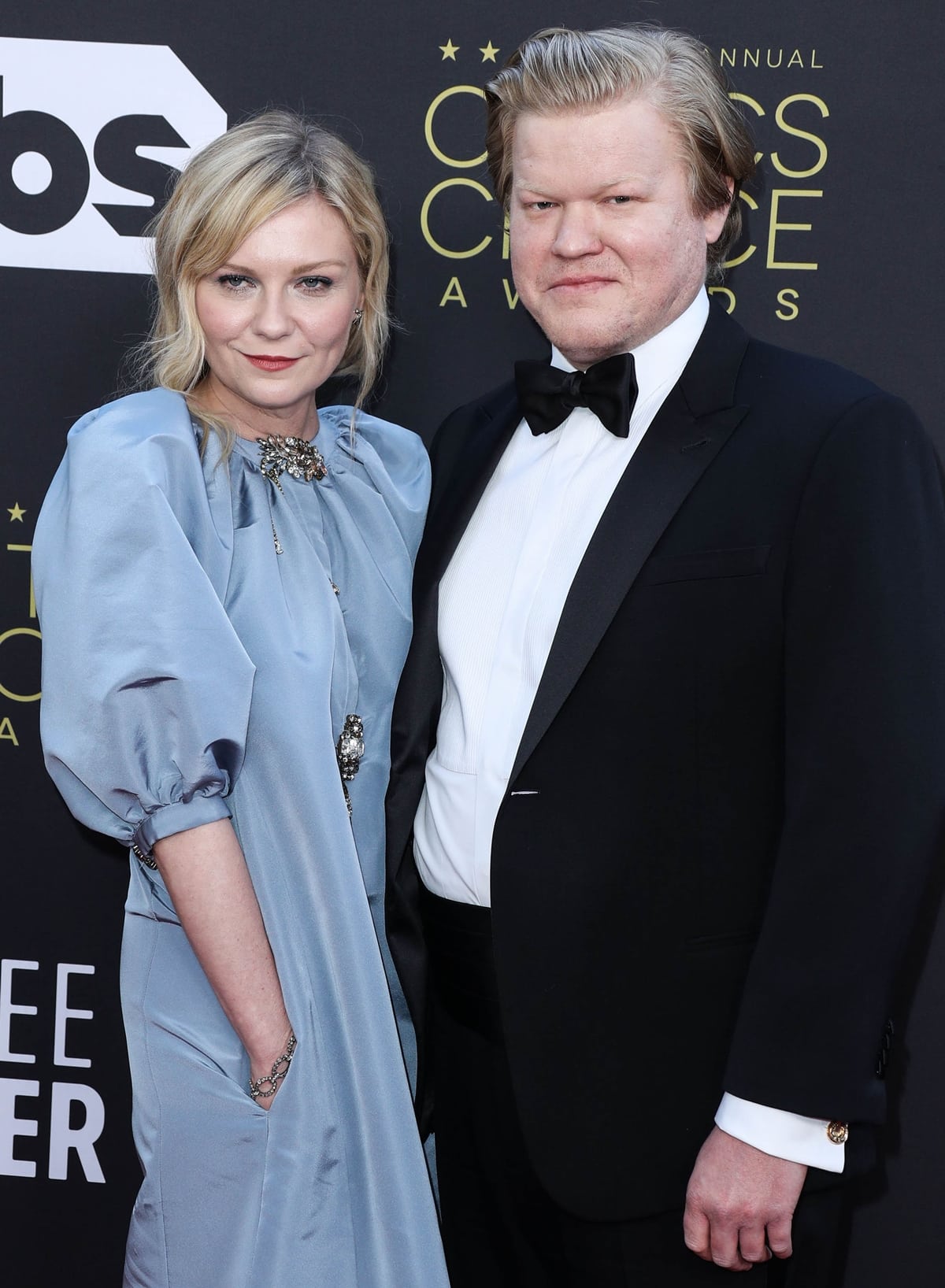 Kirsten Dunst and Jesse Plemons secretly married in July 2022 at the luxury GoldenEye resort in Ocho Rios, Jamaica (Credit: Xavier Collin / ABACA / INSTARimages)
"We have to get married at this point. It's ridiculous. We just haven't planned a wedding. I didn't want to be pregnant, get married, have a party, and not be able to have fun with everybody," Dunst told The Los Angeles Times earlier this year.
Kirsten Dunst posing next to her star on the Hollywood Walk of Fame in Hollywood, California, on August 29, 2019 (Credit: Nicky Nelson / WENN)
Finally, Kirsten Dunst got some recognition. In August 2019, the then-37-year-old movie actress opened up in her interview on SiriusXM's In-Depth With Larry Flick that she feels like she's never been recognized in her industry.
She said she's never been nominated for anything and that maybe people think of her as just the girl from Bring It On.
Well, Kirsten now had to swallow her words because just a few days later, she was honored with her very own star on the Hollywood Walk of Fame.
Kirsten Dunst getting support from fiancé Jesse Plemons at her Hollywood Walk of Fame Star Ceremony (Credit: Nicky Nelson / WENN)
During the ceremony, Kirsten was surrounded by her loved ones, including her then-fiancé Jesse Plemons and their adorable then-15-month-old son Ennis Howard.
Kirsten and Jesse began dating in 2016 after meeting on the set of Fargo. They announced their engagement in January of 2017 and welcomed their first son on May 3, 2018.
Kirsten received her well-deserved honor in a Chanel Resort 2020 tiered square-print dress.
Despite the dress having a geometric print and multiple layers, it still felt light thanks to the diaphanous fabric and the pastel colors.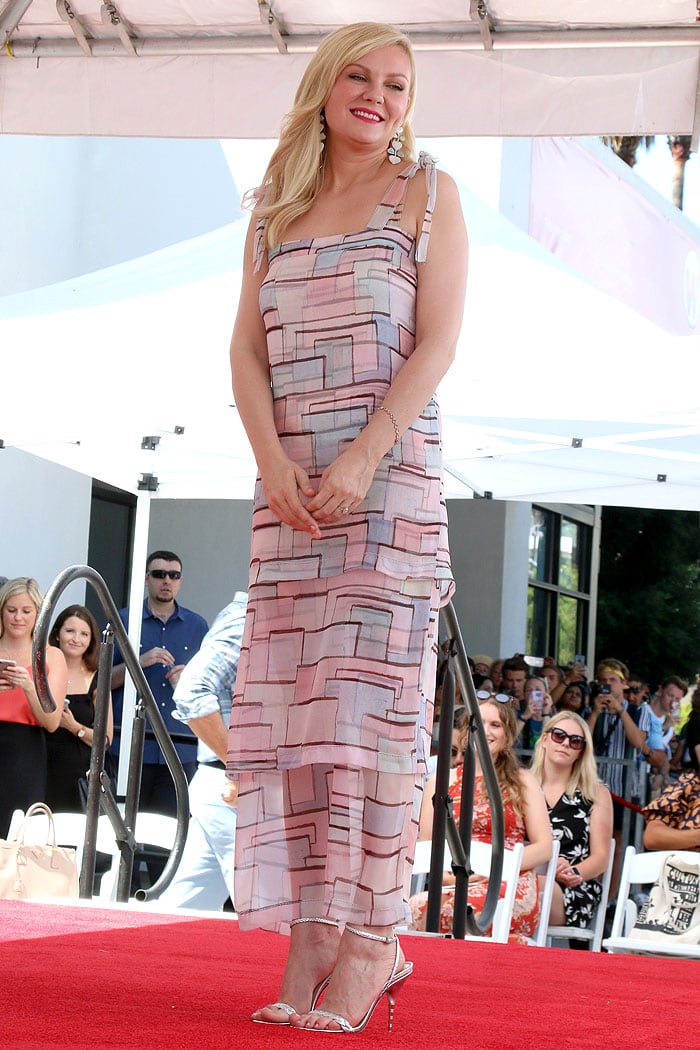 Kirsten Dunst in a Chanel Resort 2020 tiered geometric print dress and Gucci braided sandals at her Star Ceremony on the Hollywood Walk of Fame (Credit: Nicky Nelson / WENN)
The Interview with the Vampire star also wore lovely Irene Neuwirth opal and diamond heart earrings that helped keep things feminine and fresh.
Coupled with the fuchsia-pink lips, we think the earrings are what really made Kirsten's look.
$40,160 Irene Neuwirth opal and diamond heart earrings on Kirsten Dunst (Credit: Nicky Nelson / WENN)
A pair of barely-there Gucci sandals with braided straps rounded out Kirsten's Hollywood Walk of Fame Star Ceremony ensemble.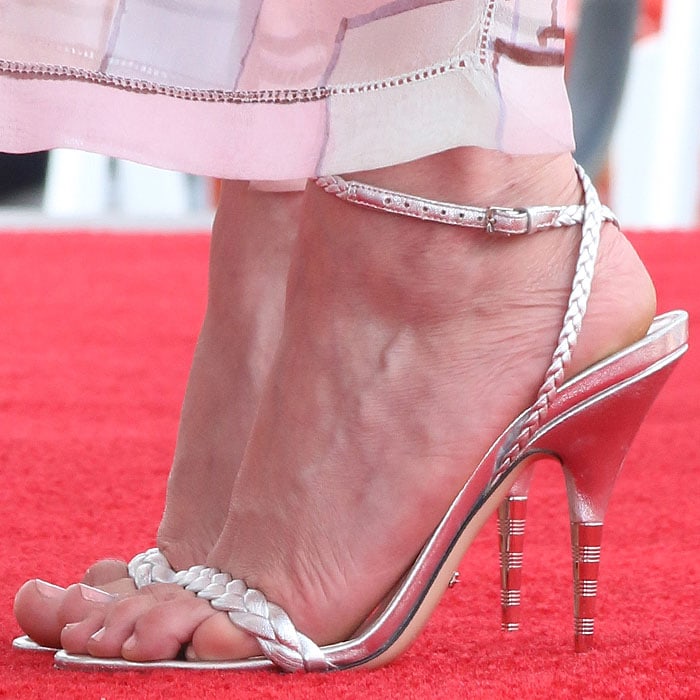 Kirsten Dunst's hot feet in Gucci braided metallic sandals (Credit: Nicky Nelson / WENN)
There is a contrast going on in Kirsten's Gucci sandals in that the soft braids are met by ridged metal heels.
They also come in black leather and red leather colorways that you can check out at Farfetch.
Gucci Braided Sandals in Silver, $850
A minimalist design in metallic silver leather with braided straps reflects the whimsical narrative of the Pre-Fall 2018 collection
Gucci Braided Sandals in Black Leather, $850
A minimalist design in black leather with braided straps and a thin heel enhanced by a textured detail in shiny metal
Gucci Braided Sandals in Red Leather
The thin heel is enhanced by textured detail in shiny metal