In January 2016, Fargo actress Kirsten Dunst was absolutely glamorous at Elle's 2016 Women in Television Celebration held at Sunset Tower Hotel in West Hollywood.
Kirsten Dunst wears her short blonde hair down at ELLE's Women In Television Celebration presented by Hearts on Fire Diamonds and Olay held at the Sunset Tower Hotel in Los Angeles on January 20, 2016
The then 33-year-old Jumanji actress joined celebrities — including Olivia Wilde, Priyanka Chopra, and Sarah Hyland — at the star-studded, fashionable gala.
One year earlier, she portrayed Peggy Blumquist in the second season of the American anthology black comedy–crime drama television series Fargo. She starred as the wife of Matt Damon's lookalike Jesse Plemons.
Her performance won her the Critics' Choice Television Award for Best Actress in a Movie/Miniseries and also required her to put on some weight.
Kirsten Dunst as Peggy Blumquist and Jesse Plemons as Ed Blumquist in Fargo
"Yeah, I gained weight for this role," Dunst told Kimmel during a Monday appearance on Jimmy Kimmel Live! in October 2015. "But really, I just sat in my bed, watched Friday Night Lights and, like, ate."
"I was in Calgary it was cold, so I ordered in a lot of pizza grilled cheese. I just had different cheeses and breads together."
While Dunst did not share how much weight she gained for the role, it's believed she gained around five to ten pounds. Her character Peggy Blumquist does not look at all overweight.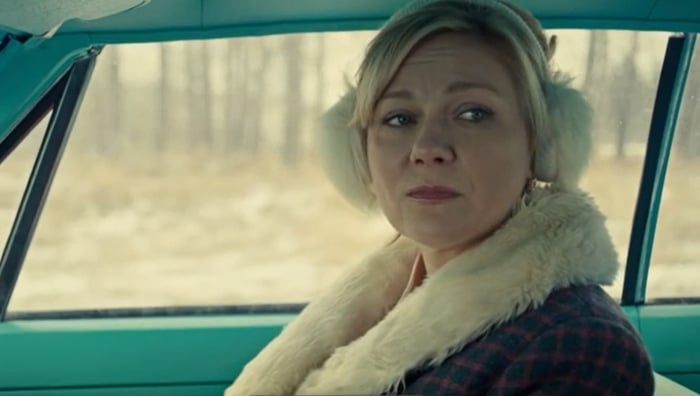 Kirsten Dunst ate pizza and grilled cheese to gain weight for her role in Fargo
She was also seen posing alongside Robbie Myers, the editor-in-chief of Elle magazine.
Kirsten Dunst and Elle Editor-in-Chief Robbie Myers pose for photos at Elle's Women in Television celebration
The "Fargo" star went with a black dress like many of the other event attendees, but Kirsten's was quite detailed in comparison.
She chose a sleeveless Marc Jacobs Resort 2016 midi dress, which featured petal-shaped cutouts and floral lace embroidery. Known for her imperfect teeth, Kirsten styled it with a black leather belt to help define her waist.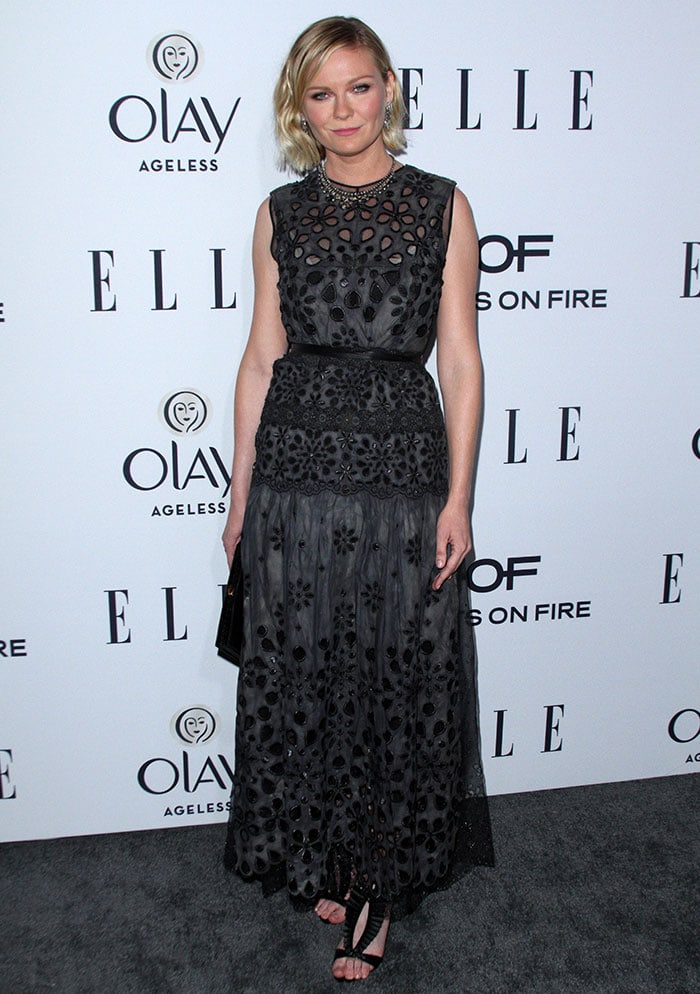 Kirsten Dunst poses for photos in a detailed Marc Jacobs dress
Kirsten amped up the glamour by accessorizing with Fred Leighton jewelry, including a pair of dangling earrings and a matching crystal-embellished necklace.
She carried a Salvatore Ferragamo clutch and teetered on a pair of sandals by Organa, a new Parisian shoe label.
The "Spider-Man" actress kept her hair and makeup simple. She wore her blonde bob in soft waves and sported soft pink makeup with subtle smoky eyeshadow.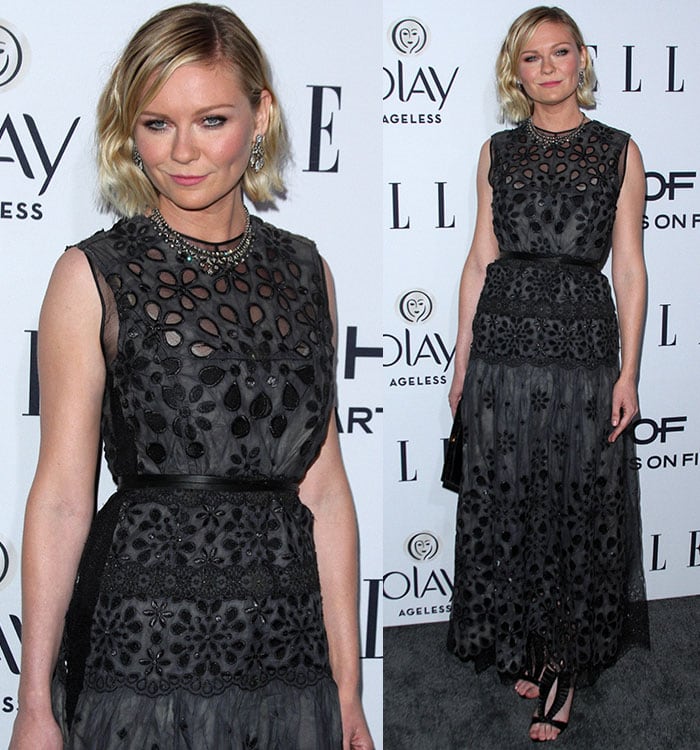 Kirsten Dunst gives a sultry glance at the camera while showing off her smokey eye makeup
Kirsten completed her all-black ensemble with a pair of Olgana "La Sensuelle" sandals from the label's Fall and Winter 2015 collection.
These unique sandals are made of silk satin and feature tuxedo-style pleated t-straps, adjustable ankle straps, open toes, and about 4.25-inch stiletto heels.
Kirsten Dunst's feet in pleated satin Olgana sandals
You can get these Olgana sandals in a black-and-white version at Matches Fashion.
Olgana Paris La Sensuelle Leather and Satin Sandals, $895
These black satin La Sensuelle pumps form part of Olgana Paris's elegant Black Tie collection
The pin-thin stiletto heel and open-toe front are complemented by contouring straps that are trimmed with white leather pleats – a detail inspired by the classic dress shirt
Credit: Adriana M. Barraza / WENN