In January 2016, Mystic River actress Emmy Rossum showed some support for her fiancé Sam Esmail at the 6th Annual Critics' Choice Television Awards held at the Barker Hangar in Santa Monica.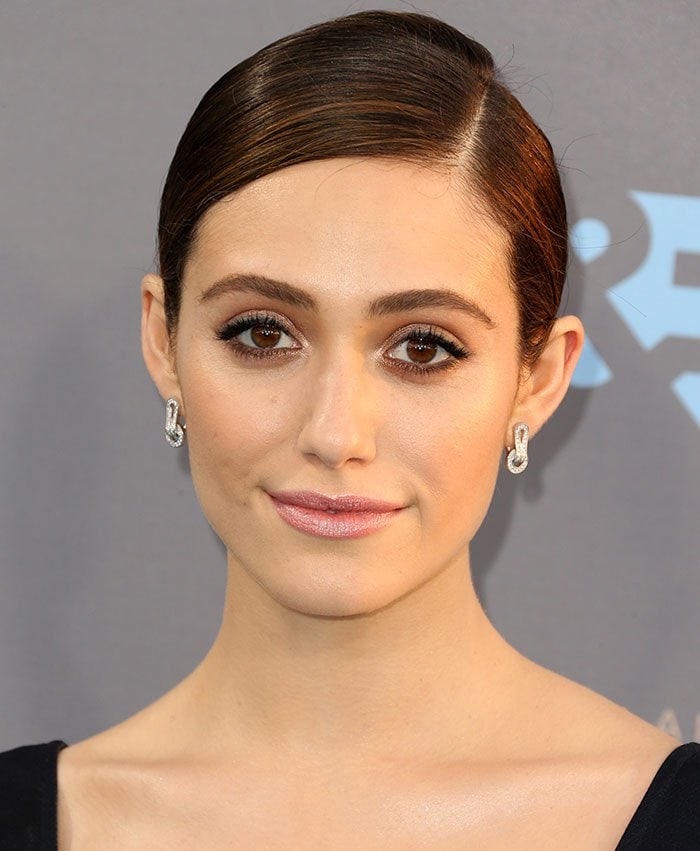 Emmy Rossum wears her hair back at the 21st Annual Critics' Choice Awards held on January 17, 2016, at The Barker Hangar in Santa Monica, California
How old was Emmy Rossum as Katie Markum in Mystic River?
13 years earlier, she gained recognition for her role in the 2003 American neo-noir mystery crime drama film Mystic River. Directed and scored by Clint Eastwood, she starred as James "Jimmy" Markum's (Sean Penn) 19-year-old daughter Katie Markum.
Katie is secretly dating Brendan Harris (Tom Guiry), a boy from a family Jimmy despises. After going out for the night with her girlfriends, she ends up being murdered.
Emmy Rossum's character Katie Markum ends up dead in Mystic River
Nominated for numerous awards and a box office success, the film was released on October 15, 2003, just one month after Emmy Rossum turned 17. Born on September 12, 1986, in Sunset Park, New York, she celebrated her 17th birthday on September 12, 2003.
"It was thrilling," Rossum told PopEntertainment in an interview in 2007.
"I auditioned for that. I sent Clint Eastwood a tape of me reading the character's part on a little video camera. I got cast off that. I didn't meet anybody until I walked on the set the first day. It was very surprising and exciting. The same day I got that call that I got Mystic River, I got the part in The Day After Tomorrow as well. I was flying back and forth between the two projects and everything had just taken off," she added.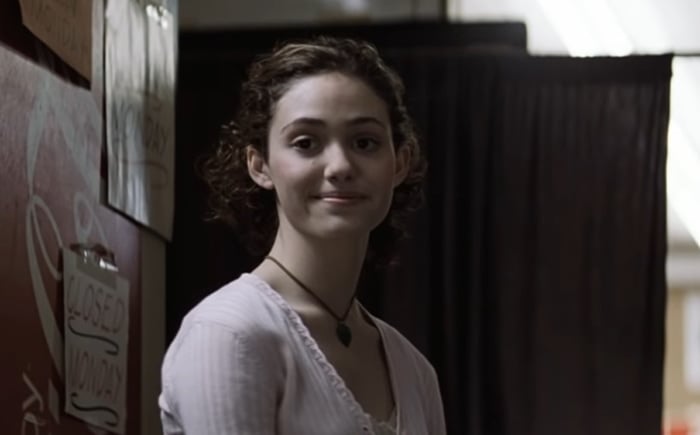 Emmy Rossum portrayed James "Jimmy" Markum's ill-fated daughter in Mystic River
"It was very exciting being a part of a small film like Mystic River, which I really felt was such an important cast and such an important learning experience for me. Also to be part of something like Day After Tomorrow, which was, I felt, so ecologically important… I always have tried to really take the jobs that I really believed in and never tried to do something I didn't really want to do."
Principal photography took place on location in Boston when Emmy Rossum was 16.
Emmy Rossum kisses Tom Guiry in Mystic River
Honoring the best in prime time TV programming, the awards show was presented — for the first time — alongside the movie awards.
Emmy Rossum and Sam Esmail pose for photos at the Annual Critics' Choice Awards
The then 38-year-old writer, director, and producer won three of four nominations, including Best Drama Series for "Mr. Robot."
The series' stars Rami Malek and Christian Slater won Best Actor and Best Supporting Actor in a Drama Series, respectively.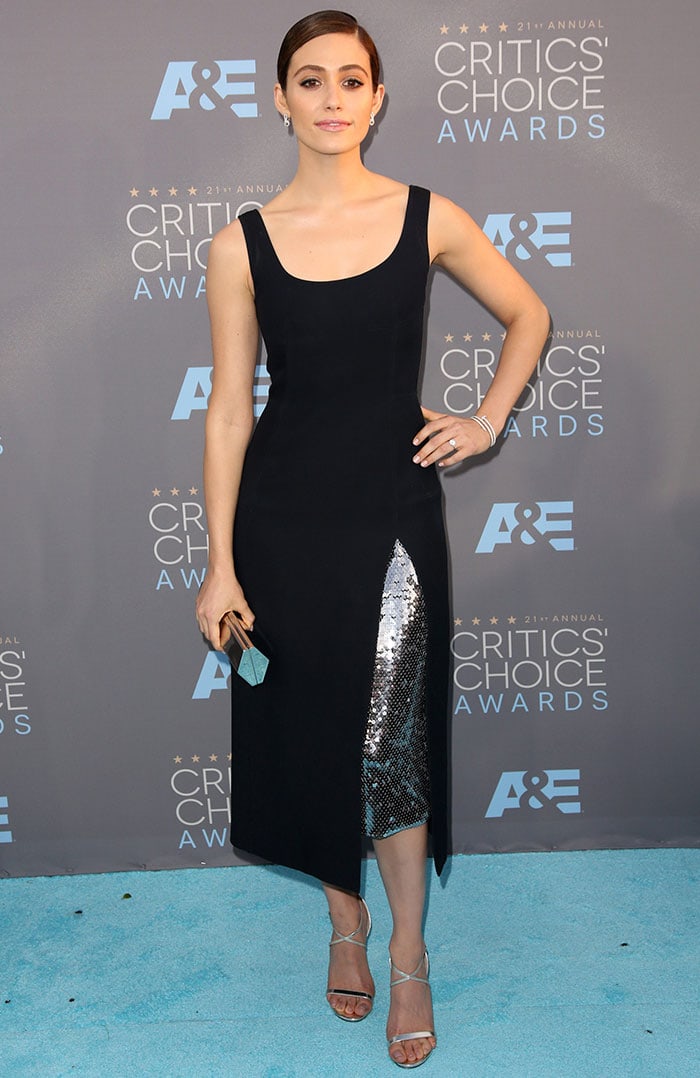 Emmy Rossum wears a Dior dress on the carpet of the Critics' Choice Awards
Sam looked neat in a black suit with a white shirt and a black tie underneath, while his fiancée looked classic in a black dress.
The Phantom of the Opera actress wore a simple and classy black sleeveless dress by Dior. Her form-fitting frock featured a scooped neckline and a sparkling, sequined inset that gave it a chic twist.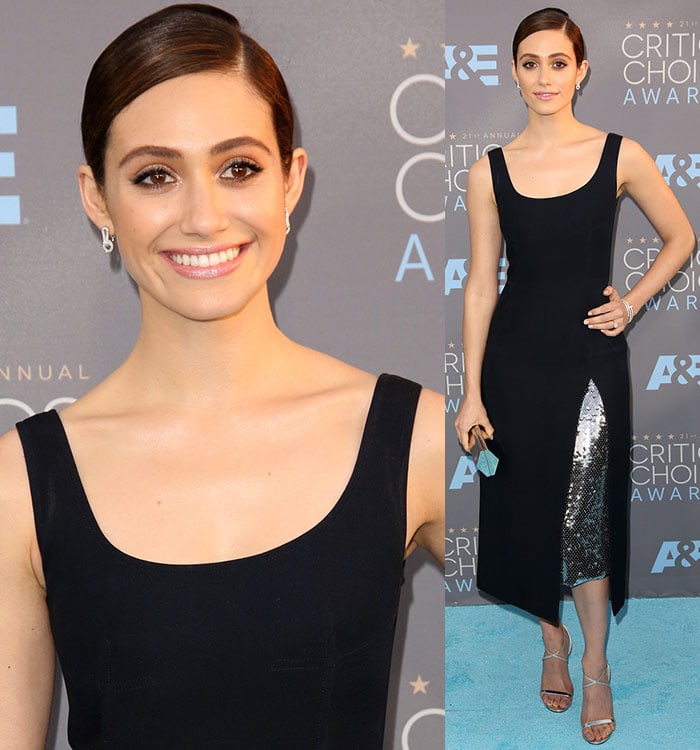 Emmy Rossum shows off the sequined inset of her Dior gown
The "Shameless" star added further sparkle and glamour to the look by wearing some jewelry, including a pair of diamond earrings, a bracelet, and her engagement ring. Emmy's best accessory, though, was her megawatt smile.
She wore her hair in a slicked side-parted updo and sported flawless makeup with shimmering pink lipstick.
Emmy Rossum sparkles in a Dior dress at the Critics' Choice Awards
To complete her look, Emmy carried a metallic Lee Savage clutch that matched her silver open-toe Jimmy Choo heels that you can buy at Farfetch and Mytheresa.
These mirrored ankle-strap heels added a few extra inches to the height of the 5'8" actress thanks to their about four-inch heels.
Emmy Rossum's feet in metallic Jimmy Choo sandals
Credit: Brian To / FayesVision / WENN