We love seeing Olivia Wilde on the red carpet. The Tron: Legacy actress knows how to make a bold and effortless fashion statement, which makes her stand out every time, and Elle's Women in Television celebration in January 2016 was no different.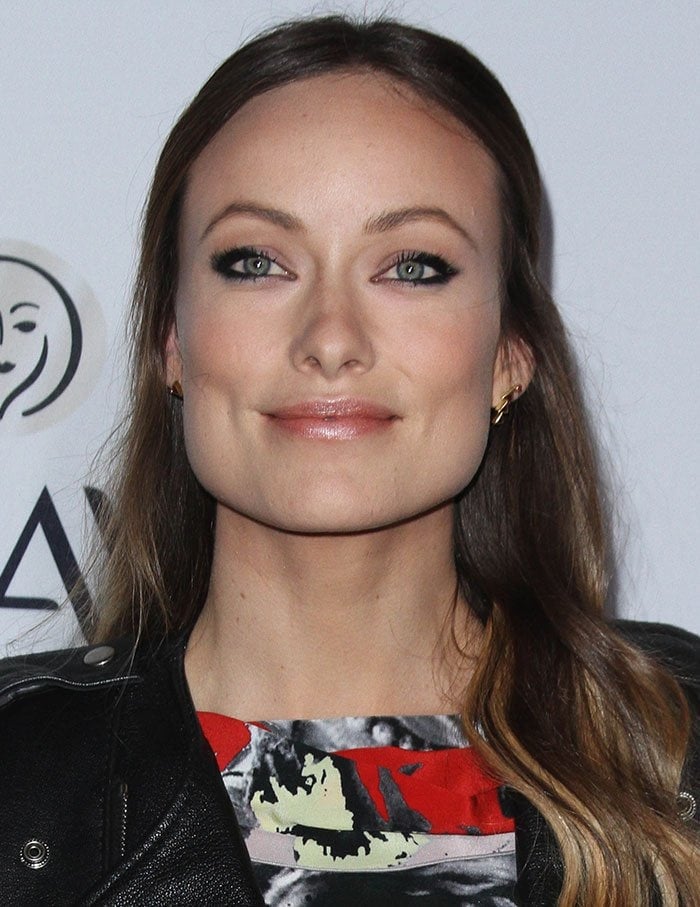 Olivia Wilde wears her hair half-up and half-down at Elle's Women In Television Celebration presented by Hearts on Fire Diamonds and Olay held Jan. 20, 2016, at the Sunset Tower Hotel in Los Angeles
The "House" star gave us a rock-chic and retro look as she arrived at Sunset Tower Hotel in West Hollywood.
6 years earlier, she starred as an isomorphic algorithm named Quorra in Tron: Legacy.
How old was Olivia Wilde in Tron: Legacy?
The science fiction action film directed by Joseph Kosinski premiered in Tokyo on November 30, 2010, when Olivia Wilde was 26 years old. Born on March 10, 1984, in New York, she celebrated her 26th birthday on March 10, 2010.
The film is a sequel to the 1982 film Tron, which Olivia watched for the first time before auditioning for Tron: Legacy.
Actors Olivia Wilde and Jeff Bridges attend the UK premiere of 'Tron: Legacy' at Empire Leicester Square on December 5, 2010 in London, England
"I saw it in its entirety shortly before I met Joe [Kosinski] and Sean Bailey. And I thought I'd seen it before that because of how it had woven in to the cultural fabric. I'd seen so many references to it, but I think that happens with iconic films. Given that Tron wasn't a huge box office success when it came out, it really stayed in the public's consciousness because there wasn't anything like it – and still isn't anything like it," she told Den of Geek in December 2010.
"We trained in mixed martial arts for many months, and we did all sorts of training – kapoeira, Ju-Jitsu, cross training and all these types of fighting, and this was before the suits would look like in the end. I just wanted to be as strong as possible, and do as many of the fighting stunts as I could myself," she added about fighting in high heels designed by Jerome C. Rousseau.
Garrett Hedlund as Samuel "Sam" Flynn and Olivia Wilde as Quorra in the final scene of Tron: Legacy
"But when we arrived on set and realised we had to fight in these suits, it was quite a challenge. Running in heels isn't easy, kicking in heels isn't easy, but it made it all more bad-ass in the end."
Principal photography for Tron: Legacy took place in Vancouver, British Columbia in April 2009, when Olivia Wilde was 25. It lasted for approximately 67 days.
Olivia Wilde was 25 years old when filming Disney's Tron: Legacy as Quorra
In January 2016, the then 31-year-old actress, who was joined on the red carpet by Elle Editor-in-Chief Robbie Myers, wore a pop art-inspired dress from Marc Jacobs' Spring 2016 collection, which featured prints of famous scream queens.
She added a touch of tough-chic edge to the look with a black leather biker jacket.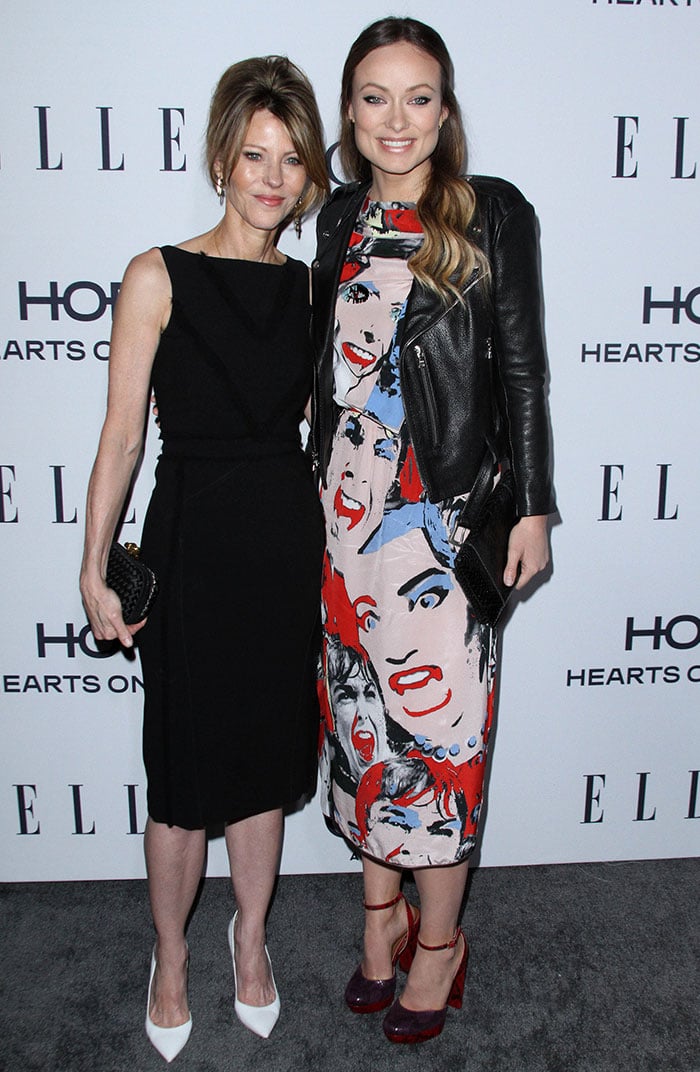 Olivia Wilde and Elle Editor in Chief Robbie Myers pose for photos together at Elle's Women In Television Celebration
Olivia kept the rest of her accessories to a minimum with a black vintage clutch and Jen Meyer jewelry. She completed the look by slipping on a pair of Kurt Geiger heels.
Olivia Wilde wears a leather jacket over a pop-art-printed Marc Jacobs dress
Olivia further amped up the look with subtle makeup. She wore her hair in a half-up, half-down style with subtle waves cascading over her left shoulder.
Famous for her eyes, Olivia kept her makeup subtle, opting for cat eye-makeup, soft blush, and shimmering pink lipstick.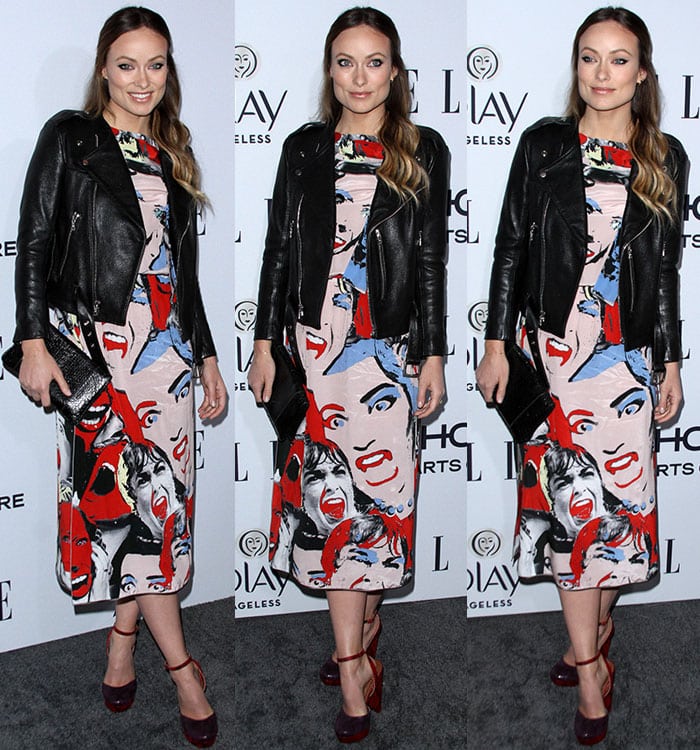 Olivia Wilde wears a blue-and-red Marc Jacobs dress under a black leather jacket
She added a bit more color to her look with a pair of KG By Kurt Geiger sandals.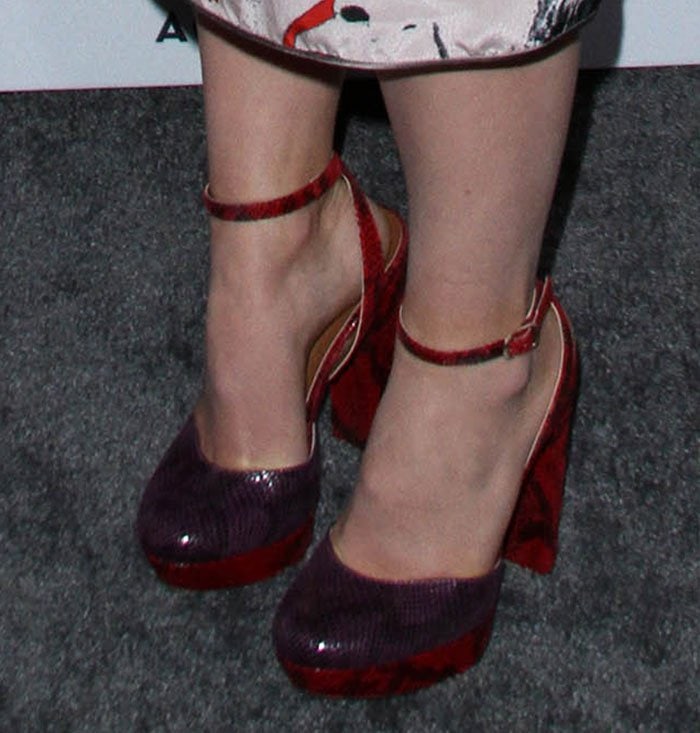 Olivia Wilde's feet in snakeskin KG by Kurt Geiger sandals
These snake-embossed faux leather heels feature halter ankle straps with buckle fastenings, about 1-inch platforms, and five-inch heels.
Olivia Wilde's feet in KG by Kurt Geiger sandals
You can find her KG By Kurt Geiger shoes on sale at Zappos and Nordstrom.
KG by Kurt Geiger Embossed Faux Leather Sandals, $225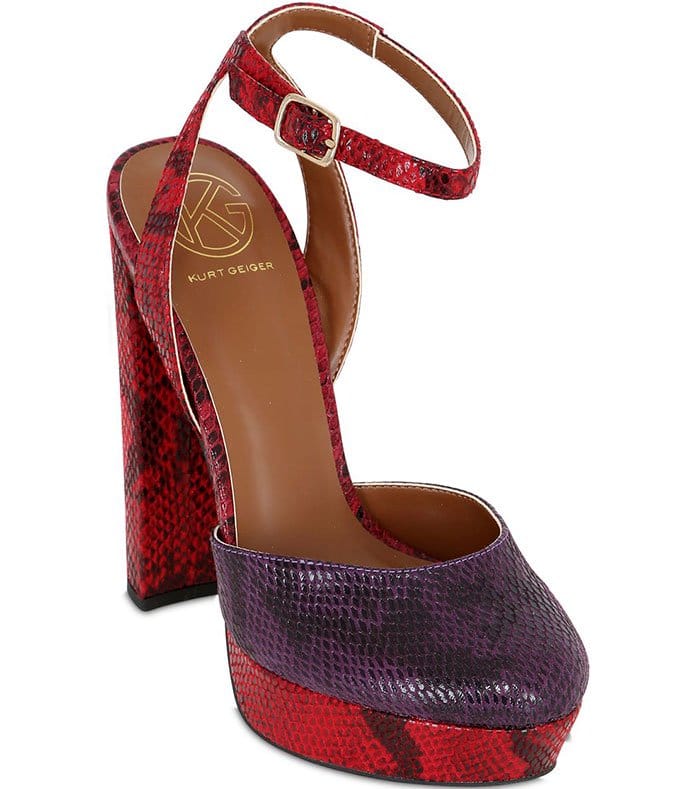 Credit: Adriana M. Barraza / WENN